October, 26, 2013
10/26/13
8:00
AM ET
JACKSONVILLE, Fla. -- Here are five things to watch in Sunday's
Jacksonville Jaguars
-
San Francisco 49ers
game at Wembley Stadium in London:
Weather:
According to The Weather Channel's web site, the forecast for Sunday is a high of 59 degrees with a 60 percent chance of rain. The bigger problem is the 23-mph winds, because that certainly impacts the passing game. The Jaguars are last in the NFL in rushing (63.0 yards per game) while the 49ers are third (143.3 yards per game). The Jaguars are also last in the NFL in rush defense (153.3 yards per game). If this turns into a ground-and-pound game because of the wind, that's a huge advantage for the 49ers.
Davis
Tight ends:
It seems like I write about this every week with the Jaguars, but it's certainly an issue again because they're facing
Vernon Davis
. Tight ends have caught 42 passes for 401 yards and five touchdowns against the Jaguars this season. Davis is by far the best they'll have played. What makes him so tough is he's a big-play machine. Eight of his 26 catches have been for 20 or more yards, and he's averaging 17.9 yards per reception. He also has six touchdown catches. It's going to be a tough day for linebacker
Geno Hayes
and safeties
Johnathan Cyprien
and
Josh Evans
.
Emotion meter:
Jaguars coach Gus Bradley said the team came out flat last week, and for the first time this season showed a lack of effort. How will the players respond? There's obviously a sentiment of wanting to play hard for Bradley because of the death of his father, but the players also would like to redeem themselves for the poor performance against San Diego. The Jaguars had shown progress in the two previous games, and last week's showing wasted that.
More MoJo?
Maurice Jones-Drew
touched the ball just 11 times last Sunday despite offensive coordinator Jedd Fisch saying he wants to get Jones-Drew 20-plus touches each game. Part of the problem was the way the game unfolded. San Diego's long drives, helped by converting on their first six third-down attempts, chewed up clock and the Jaguars had the ball just twice in the first half. Expect a bigger workload for Jones-Drew, especially if the weather limits the passing game.
Henne time:
The Jaguars have opted to go with
Chad Henne
over
Blaine Gabbert
(for this week, at least). Henne has played solidly the past two weeks, throwing for more than 300 yards against Denver and San Diego. However, Henne has his own issues with consistency, and this is a game where it might be tough to get anything done through the air.
October, 24, 2013
10/24/13
12:00
PM ET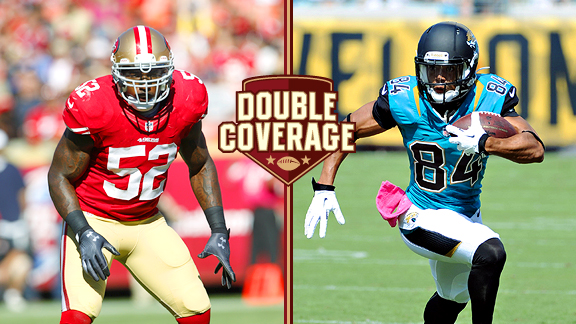 Getty Images, USA Today SportsPatrick Willis' 49ers meet Cecil Shorts' Jaguars in the second NFL game in London this season.
JACKSONVILLE, Fla. -- The
San Francisco 49ers
have righted the ship after a shaky start. The
Jacksonville Jaguars
are still sinking.
The teams going in opposite directions will meet Sunday in London's Wembley Stadium in the second of two NFL games being played in the United Kingdom this season.
The 49ers (5-2) have won four games in a row -- and scored at least 31 points in each of those games -- since starting the season 1-2. The Jaguars are 0-7 and are the first team since the 1984 Houston Oilers to lose their first seven games by double digits.
That makes Sunday's game look like a giant mismatch, yet the Jaguars were 28-point underdogs to the
Denver Broncos
two weeks ago but lost by only 16 points -- and trailed by just two at halftime.
ESPN.com Jaguars reporter Michael DiRocco and 49ers reporter Bill Williamson break down the matchup:
DiRocco:
The 49ers used the read-option the most they have all season against Tennessee in Week 7. Will that be a bigger part of the offense again as the season progresses?
Williamson:
Mike, I think it is going to be a week-to-week situation. The 49ers used the read-option seven times last week after using it a total of nine in the first six games. The 49ers saw they could exploit Tennessee's defense using it. I think we will see it again, but probably in more challenging games and only in certain situations, when the 49ers are confident it will work. We could maybe see it some in London, but I have a feeling it will be more like the first six weeks of the season.
Mike, if the 49ers do run a lot of read-option offense, do you think the Jaguars can handle it?
DiRocco:
Probably not. The Jaguars are last in the NFL in rushing defense (153.3 yards per game) and have given up a league-high nine rushing touchdowns. The defense's biggest problem against the rush is that it has given up a lot of explosive plays. Jacksonville has allowed an NFL-worst 10 rushing plays of 20 or more yards. Stopping the read-option is assignment football and the Jaguars' ends have not been as disciplined as needed. For example, Oakland's
Terrelle Pryor
ran for 50 yards in Week 2, including a 27-yard run in which the entire defensive front bit on the inside fake.
Bill, the Jaguars have had trouble with tight ends all season and now they face
Vernon Davis
. Who is the last team that's shut him down how?
Williamson:
Davis hurt his hamstring late in the Seattle game in Week 2. He was pretty well shut down in that game before getting hurt. He missed Week 3 against the Colts and then came back against the Rams. He's been good and he is healthy. If the Jaguars have trouble against tight ends, the 49ers will exploit it. Davis and quarterback
Colin Kaepernick
have a great chemistry going this season. The 49ers' coaching staff is great at exploiting weaknesses.
Mike, do you seeing this being a big problem for Jacksonville?
DiRocco:
Absolutely. Tight ends have combined to catch 42 passes for 401 yards and five touchdowns against Jacksonville this season. Depending on the defense called, the Jaguars will either have a safety or linebacker on the tight end. At times, the job has fallen to middle linebacker
Paul Posluszny
, who is very good against the run but not fast or quick enough in pass coverage. The Jaguars won't use the approach New England did against New Orleans standout
Jimmy Graham
-- the Patriots put their best corner,
Aqib Talib
, on him -- so I'd expect Davis to have chances to exploit some matchups with linebackers on Sunday.
Speaking of exploitation, the
Anquan Boldin
trade looked like a steal in Week 1. How is it regarded now?
Williamson:
Still, unabashed thievery. Sure, Boldin had 13 catches in the first week and a combined 21 catches in the following six. But the 49ers would be in trouble without Boldin. He had three circus catches at Tennessee and he's been the team's only reliable wide receiver with
Michael Crabtree
and
Mario Manningham
out. The 49ers would not be 5-2 without Boldin.
Mike, do you think the Jaguars will keep him in check Sunday?
DiRocco:
The Jaguars have done a solid job the past two weeks of playing umbrella coverage and making sure they don't give up deep throws. That does leave the short and intermediate routes open, though, and that's where Boldin thrives. He's a physical receiver and the Jaguars don't yet have the kind of personnel to match up with him. Coach Gus Bradley wants to build a secondary similar to the one he helped build in Seattle, which includes big, physical corners. The Jaguars still have work to do there, although rookie third-round pick
Dwayne Gratz
(5-foot-11, 201 pounds) is finally back from his high-ankle sprain.
.
October, 4, 2013
10/04/13
12:00
PM ET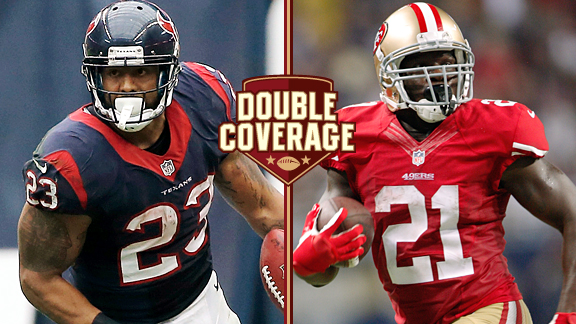 Getty ImagesTwo of the NFL's top rushers, Arian Foster and Frank Gore, will try to carry their teams Sunday night.
The
Houston Texans
are not pleased with themselves, and neither is their Week 5 opponent, the
San Francisco 49ers
.
After starting off Week 4 the right way with a big win at St. Louis, the 49ers bitterly watched the Texans blow a huge fourth-quarter lead at home in an eventual overtime loss to Seattle, allowing the Seahawks to maintain their two-game lead over the 49ers in the NFC West.
San Francisco will try not to fall further behind when it welcomes the shell-shocked Texans to Candlestick Park on Sunday night. Texans reporter Tania Ganguli and I discuss the matchup.
Ganguli:
What changed for the 49ers between Weeks 3 and 4? Is it as simple as playing a weaker opponent, or did they rediscover their identity?
Williamson:
Easier competition may have had something to do with it. Against Seattle and Indianapolis, the 49ers were outscored by a combined 56-10. Against the Rams, the 49ers had their way in a 35-11 victory. I truly think the 49ers' struggles this season have been more because of themselves than their opponent. The trouble in Weeks 2 and 3 started on offense. The 49ers badly miss injured receivers
Michael Crabtree
and
Mario Manningham
; they don't have much beyond
Anquan Boldin
and tight end
Vernon Davis
, who has been injured. Fortunately, the rushing game got going in Week 4. If the 49ers can keep the run game hot and if quarterback
Colin Kaepernick
can get the ball to Boldin and Davis, the 49ers will be fine. That will take pressure off a good defense that wasn't the main problem against the Seahawks or the Colts.
Tania, do you believe the Texans are up to the task of staying with the 49ers, especially after the heartbreak of the Seattle loss?
Ganguli:
They were angry about that loss, especially
J.J. Watt
, who held a menacing news conference (menacing in general, not menacing toward reporters) after the game. They have taken steps to regroup mentally, holding a players-only meeting that allowed for venting, but I think their ability to bounce back will depend on being able to fix some of the problems they had in their first game. Those problems go well beyond quarterback
Matt Schaub
, who made the most costly and talked-about error this past Sunday in throwing a pick-six late in the fourth quarter. The Texans gave up a crucial fumble, dropped a couple of passes and committed a 15-yard penalty that helped set up the game-winning field goal. You're right that the Texans' defense hasn't been the team's biggest problem this season, but Houston has given up drives of 99 and 98 yards this season, and it would like to change that.
How has losing
Aldon Smith
affected San Francisco's defense?
Williamson:
It would be inaccurate and na´ve to think the 49ers don't miss Smith. He will be away from the team for about a month as he seeks treatment for alcohol abuse. Smith had 4.5 sacks in the first three games this season, and he has an NFL-high 38 sacks since 2011. Last week, the 49ers dominated the Rams' offense without Smith and star inside linebacker
Patrick Willis
, who was out with a groin injury, and recorded five sacks. Rookie
Corey Lemonier
and special-teamer
Dan Skuta
both played well in place of Smith, and linebackers
NaVorro Bowman
and
Ahmad Brooks
led the way with big games. Still, Smith is such a presence. The 49ers will be hard-pressed to have sustained dominance without him.
Tania, do you think the Texans can take advantage of Smith's absence?
Ganguli:
The Texans have had their own issues in the trenches lately. Left tackle
Duane Brown
has missed the past two games with turf toe and is still considered day-to-day. Left guard
Wade Smith
rotated with second-year guard
Ben Jones
last weekend. Coach Gary Kubiak said that was to preserve Smith for the long term; Smith had knee surgery during the preseason and returned from it after three weeks. Meanwhile, right tackle
Derek Newton
, another young player, has really struggled. In fact, Brown's replacement,
Ryan Harris
, has played far better than Newton, Houston's regular starter on the other side. Now right guard
Brandon Brooks
is hurt with a toe injury that's got his foot booted. The most consistent player, in terms of health and production, on the offensive line has been center
Chris Myers
, but Schaub has faced a lot of pressure this season.
Speaking of Schaub, he had a rough weekend against the best secondary in the NFL. What challenges will he face against the 49ers?
Williamson:
I think Schaub's struggles start with him, and I think the 49ers will try to pressure him quickly to see if he crumbles again. You know better than I do, but from seeing replays, Schaub looked broken after the
Richard Sherman
pick-six. The 49ers are well aware that Schaub has thrown interceptions that have been returned for touchdowns in the past three games, and they will be looking to add to the list. A player to watch is rookie safety
Eric Reid
. He has proven to be a ballhawk already. I could see him benefiting from Schaub's issues.
This is a huge key to the game, Tania. Do you think Schaub can bounce back and be effective?
Ganguli:
That will be the most important factor in this game. While I don't blame the entire collapse on Schaub, you're absolutely right that he looked broken after Sherman's interception. By contrast, in Week 2, Schaub threw a late pick-six against Tennessee that put the Texans in an eight-point hole, but he recovered quickly enough to lead a game-tying drive that forced overtime. He didn't bounce back as well against the Seahawks. He made a few nice throws, including a 17-yard pass to
Andre Johnson
, but overall, looked rattled. If he can't recover, the Texans have no chance. But if he can rediscover the guy who led that comeback effort you and I watched live against San Diego in Week 1, I think the Texans are in good shape.
September, 20, 2013
9/20/13
12:00
PM ET
The Tree Bowl is upon us.
In one of the more intriguing matchups of Week 3, coach
Jim Harbaugh
and his
San Francisco 49ers
will host quarterback
Andrew Luck
and the
Indianapolis Colts
-- and their new running back
Trent Richardson
.
This is a homecoming for Luck and a reunion for both men. Luck played for Harbaugh at nearby Stanford. They were the toast of college football, and Harbaugh played it into a job with the 49ers after the 2010 season. Luck stayed on The Farm another year and had a brilliant rookie season last year.
However, there is much more than the Harbaugh-Luck angle in this game, as both 2012 playoff teams are coming off a loss in Week 2. Colts' reporter
Mike Wells
and I discuss the matchup in Double Coverage:
Wells:
Quarterback
Colin Kaepernick
looked like he was more than a read-option quarterback when he threw for 412 yards in Week 1, but he was back to normal against Seattle, only throwing for 127 yards. Which game is the real Kaepernick -- the Week 1 performance or Week 2 at Seattle?
Williamson:
I think he has shown the real Kaepernick is much closer to the one we saw against the Packers. The Seattle game was Kaepernick's worst in his 12 NFL starts. Kaepernick is still inexperienced and still growing. I think he will learn from the Seattle game. Plus, the Colts' defense is beatable in the air and on the ground. Kaepernick will likely bounce back. I expect to see Kaepernick have some success on the ground, similar to the success Oakland's
Terrelle Pryor
had against the Colts in Week 1.
Wells:
Kaepernick will be a problem for the Colts. The only time the Colts had the answer for Pryor was when he decided to try to beat them with his arm instead of his feet. The Colts intercepted him twice, but I don't see them having that same kind of success against Kaepernick. He's a better runner and definitely a better passer than Pryor. You obviously cover Kaepernick on a daily basis, you know about Luck and you were in Seattle this week. Do you think the 49ers' quarterback deserves to be mentioned in the same breath as Luck,
Russell Wilson
and RG III?
Williamson:
Oh, I'm a big Luck fan. As far as I'm concerned, the question should be whether the other young quarterbacks deserve to be mentioned in the same breath as Luck. Yes, he is a different quarterback than the other young stars. But this is what Luck has that will never go out of style -- he is a great pocket passer. He is a traditional star who would have been dominant in any era he played. I fancy myself as someone who stays grounded and doesn't speak bombastically about analysis. With that said, on the night Luck was drafted, I predicted his career will end with a ceremony in Canton, Ohio. I truly believe that and look forward to seeing him play in person for the first time Sunday.
Wells:
Of course, this game became much more than Harbaugh and Luck when the Colts made the blockbuster deal for Richardson with Cleveland on Wednesday. Will the 49ers prepare as if they'll be facing Richardson on Sunday, or will they go in with the mindset that it'll be
Ahmad Bradshaw
and
Donald Brown
, since Richardson will only have two practices and a walk-through to learn Indianapolis' system?
Williamson:
It definitely changed the 49ers' week. They are in a tough spot. They made their plan for the Colts and were actually executing it on the practice field for the first time when the trade went down. I don't think the 49ers totally changed their game plan because of the trade. But it altered it. Coaches suddenly had to watch film of Richardson and make adjustments. Because Richardson is a running back, I expect to see him a lot Sunday. He doesn't need a lot of time in the playbook. The Colts gave up a first-round pick for Richardson so they can win now. They will start using him when they can, and I'd think that will start Sunday. But the 49ers are good against the run. They were fourth in the NFL last season. They will attack this curveball with confidence.
Wells:
Anything Richardson can give the Colts will be an upgrade over Brown, a former first-round pick who hasn't lived up to expectations. Bradshaw is still rounding into shape after not playing in the preseason, so having Richardson share some of the snaps with him will help the Colts' running game and hopefully open the passing game for Luck. The Colts are dealing with their fair share of injuries, losing starting tight end
Dwayne Allen
for the season. How big of a loss is nose tackle
Ian Williams
on defense for the 49ers?
Williamson:
It hurts, but it's not devastating. Injuries happen to every team. Williams is a nice player and he was coming into his own. Free-agent pickup
Glenn Dorsey
was rotating with Williams. Now Dorsey is the starter. I think the 49ers will survive this injury as long as Dorsey stays healthy. There is not much depth behind him.
Wells:
The Colts will test Dorsey, because Bradshaw and Richardson are both straight-ahead backs who run like they're angry at somebody. So much is being made about the Luck-Harbaugh reunion, but the real reunion is between brothers Vontae and
Vernon Davis
. Do you think Vernon will play with a purpose because his kid brother is on the field?
Williamson:
It's really interesting, Mike. Vontae has been in the league since 2009, but this will be the brothers' first meeting. The Dolphins played the 49ers the year before they drafted Vontae, and they played the 49ers last season, shortly after dealing Vontae to the Colts. Vernon has been out of practice with a hamstring tweak. However, he has indicated he will play. I fully expect him out there. Vernon is a prime-time guy, and playing against his little brother will get his juices flowing. And of course, Harbaugh can tell Vernon all about the intensity of going against a sibling.
August, 21, 2013
8/21/13
9:40
PM ET
INDIANAPOLIS --
Vontae Davis
and
Greg Toler
are linked together for more than just being the
Indianapolis Colts
starting cornerbacks.
Davis
Toler
Their connection originated about 600 miles east of Indianapolis. They're both from the Washington D.C. area. Toler recalls crossing paths with Davis, three years his junior, while playing football and running track. Toler also knew Davis because he's friends with his older brother, Vernon, the All-Pro tight end for the
San Francisco 49ers
.
Toler and Davis are back together trying to prove that there shouldn't be any concern with the two of them at cornerback.
"He's always been like a little brother to me," Toler said. "I'm proud to see him grow and mature into the man he's become today. It's surreal sometimes. You pinch yourself. We were young growing up in D.C. and now we're in the same locker room together trying to be lockdown defenders."
Davis is in his second season with the Colts. Toler signed with the Colts during the offseason after spending his first four seasons with the
Arizona Cardinals
.
Toler has already made his presence felt. He came underneath and intercepted an
Eli Manning
pass in last weekend's game against the
New York Giants
.
"I think number one, both are physical guys," Colts defensive coordinator
Greg Manusky
said. "They can play press. And they understand the game of football. ...They're accepting the challenge and they're going out there and playing pretty good football right now."
Davis and Toler will be teamed with safeties
Antoine Bethea
and
LaRon Landry
in the secondary. That group has seen limited time together because Landry has been out the past two weeks with a knee injury. He returned to practice Wednesday. There's a chance he could play against the
Cleveland Browns
on Saturday.
"It's like a ticking time bomb," Davis said. "We're trying to get all four of us on the field at the same time. We know how good we can be. Everyone says how good it looks on paper, but we just have to execute and be the best we can be."
March, 29, 2011
3/29/11
1:07
PM ET
Dallas Clark
and
Marcedes Lewis
made strong showings in ESPN.com's newest positional Power Rankings where we sorted through the league's tight ends.
Here's Bill Williamson's piece
on the rankings, where Clark came in third and Lewis finished eighth.
Those seem reasonable placements to me and aren't far out of line with my ballot:
Dallas Clark
Marcedes Lewis
The primary controversy involved
Tony Gonzalez
, whose one second place vote kept Gates from tying Witten at No. 1. I explained my non-vote for Gonzalez thusly:
"Gonzalez is still an excellent player. But as I struggled to find room for the 10 I felt needed to make the cut, he fell off. In 2010 his numbers suggest he was more quantity than quality. I'm not looking for giant plays from my tight end, but Dallas Clark-replacement
Jacob Tamme
matched Gonzo's 9.4-yards a catch, and while Gonzalez's first-down percentage was good (55.7) it was way lower than that of the three top rookies and smaller than that of guys like
Heath Miller
, Ben Watson and
Todd Heap
, who I hardly considered. One final note: As I've got access to Frank Wycheck during three shared radio appearances a week, I asked him for a ballot. I'm sure he admires Gonzalez's body of work. But right now Gonzalez wasn't in Wycheck's top 10 either."
Houston's Owen Daniels didn't make the cu. My note was his only one, and got him a tie for 15th. He was coming off a blown-out knee last season and had some hamstring issues. So he wasn't himself much of the year. When he is, I have no doubt he's a top 10 guy, a tight end who runs receiver-caliber routes.
Overall, I expected to have an easier time putting together this ballot. But even avoiding rookies altogether, I struggled.
"After a hellish pass-rusher ballot, I thought tight ends would be far easier," I told Williamson. "They were just as difficult. There is a great deal of young talent too. I steered clear of first-year guys, but in another season or two, this could be even more brutal to sort through."
November, 30, 2009
11/30/09
12:25
PM ET
Houston Texans
Ever inventive with
big-game failures
, Texans squander 17-0 lead in latest loss to Indy, says John McClain.
Richard Justice doesn't hold back. The Texans
choked like dogs
, he writes.
The Texans were
victimized by Peyton Manning
yet again, says David Barron.
Why the Colts are winners and
the Texans are losers
, from McClain.
Left tackle Duane Brown
will have an MRI on his knee
, says the Chronicle's notebook.
Settling for field goals
cost the Texans, says Dale Robertson.
McClain's interactive
report card
.
"Truth is, at this point, the Texans are losing
because of coaching issues
," says Richard Justice.
"Sometime soon, someone will have to
be accountable for these mistake-filled lapses
-- the goal-line fumbles, the missed Kris Brown field goals, the second-half defensive breakdowns -- that have cost [Bob] McNair and his Texans too many games this season. And yes, that guy is fourth-year head coach Gary Kubiak." Nancy Gay's column.
The talented Texans
continue to be mediocre
, says Steve Wyche.
"The Texans have now lost three straight games to the Colts with a fourth quarter lead, and they are losing almost every close game they play in this year. After four years,
that will get you fired
." Lance Zierlein thinks Kubiak is in trouble. Note his very interesting stuff about a celebration that left the Texans defense unprepared for the next snap.
The Colts are models of
consistency and poise
, writes Gay.
Indianapolis Colts
The Colts stay perfect with thre
e late touchdowns
, says Phil Richards.
Bob Kravitz's
report card
.
After a bad first half, the
Colts' defense played great after halftime
, says Mike Chappell.
Manning
quick snapped a big play
as the Texans celebrated the previous play for too long, says Mike Chappell.
John Oehser reviews the game
here
and
here
.
Wins like this
just don't happen in the NFL, says Deshawn Zombie.
Jacksonville Jaguars
The Jaguars were
flattened by the 49ers
, says Vito Stellino.
The Jaguars' performance in San Francisco was
not what Maurice Jones-Drew was expecting
, says Michael C. Wright.
Any team with playoff aspirations
can't be this deficient
far away from home, says Gene Frenette.
A big fourth-down catch by Vernon Davis was
a key moment
, Stellino said.
The 49ers use of the spread offense
seemed to surprise Jacksonville
, says Wright.
Frenette's
report card
.
The Jags are
still in the playoff race
, but must play better, says Vic Ketchman.
Jacksonville and the West Coast
don't mix
, says Cole Pepper.
David Garrard was under
too much pressure
, says Gil Samson.
Tennessee Titans
A game-winning drive
engineered by Vince Young produced a TD on the last play of the game and got the Titans their fifth consecutive win, says Jim Wyatt.
Young's heroics
helped the Titans beat the clock, says Terry McCormick.
The Titans are defying odds
and restoring hope, says David Climer.
The Titans are the team
no one wants to play
, says Joe Biddle.
It was Young's
best comeback effort
with the Titans, says Wyatt.
Young
knows how to win
while Jay Cutler doesn't, says Clark Judge.
Wyatt's
report card
.
LenDale White was inactive because he was
late for Saturday's walk through
, reports Wyatt.
Lavelle Hawkins and Jared Cook were
significant contributors
, says Gary Estwick.
Kenny Britt
atoned for a fumble
with the game winning score, says McCormick.
The Titans are believing
anything is possible,
says Dan Graziano.
A look at Young
from before the game, from Karen Crouse.
November, 29, 2009
11/29/09
7:42
PM ET
By
Scouts Inc.'s Matt Williamson
| ESPN.com
The host
San Francisco 49ers
played a mistake-free game. The same can't be said for the
Jacksonville Jaguars
. Mistakes killed them.
Jacksonville quarterback
David Garrard
was pressured all day in a
20-3
loss. As has been a terrible trend all season long, Garrard's penchant for fumbling was critical to the Jaguars' loss, too. Led by
Patrick Willis
, San Francisco's defense was fundamentally sound.


We saw very little from
Maurice Jones-Drew
in the first half, as he posted just 18 rushing yards on only five carries. Jacksonville underutilized Jones-Drew -- which is a mistake any way you cut it. When the Jags did move the ball, it was via the short, controlled passing game that Garrard managed and executed quite well. He distributed the ball to eight different receivers, with seven of those getting multiple catches.
But 49ers quarterback
Alex Smith
did much of the same –- and his team made fewer errors. The woes of Jacksonville's pass defense were exposed yet again. Jacksonville was without its best cornerback,
Rashean Mathis
, and the Jags have one of the league's worst pass rushes.
The Jaguars defensed the first touchdown of the game – a short Smith pass to tight end
Vernon Davis
-- poorly. Davis was all alone.
Jacksonville's red-zone performance also left a lot to be desired, as did the kicking by
Josh Scobee
, who missed two field goals.
November, 3, 2009
11/03/09
9:26
PM ET
Posted by ESPN.com's Paul Kuharsky
The suggestion from mdcady80:
Although Addai's throw to Wayne was indeed a game changer, the sack on Smith afterwards was much bigger.
Alex Smith
was leading a counter charge midway through the 4th quarter, leading the 49ers past midfield. On 3rd down, Smith goes back for a pass, and gets sacked by
Dwight Freeney
, taking them out of field goal range and giving Manning 5 minutes to wind the game down. If the 49ers pick up the first down, momentum builds and a field goal or touchdown is almost certain. The colts didn't get as much pressure as they would have liked, but that sack was very timely and changed the course of the game."
The sack was actually by
Robert Mathis
and it wasn't San Francisco's last possession, but it was a giant play nonetheless.
The situation:
San Francisco ball, third-and-2 from the Indianapolis 35-yard line with 11:49 to go in the game and the Colts ahead 18-14.
The 49ers line up three wide with
Isaac Bruce
wide left,
Josh Morgan
in the slot left and
Michael Crabtree
wide right.
Vernon Davis
is a couple yards off the left tackle, standing up.
Frank Gore
is to the right of Alex Smith, who's in the shotgun.
The Colts have nickel personnel on the field.
What I saw unfold after the snap:
Linebackers
Gary Brackett
and
Clint Session
, who had crept close to the line of scrimmage before the snap, both peel out to help in coverage, Brackett with
Jerraud Powers
on Davis, Session to the middle.
Defensive tackle
Raheem Brock
also drops back into coverage, leaving a three-man rush with right end Freeney, tackle
Eric Foster
and left end Mathis.
Foster is single blocked by center Eric Heittmann and doesn't gain any ground.
Freeney draws a double team from left tackle
Barry Sims
and left guard
David Baas
, who give ground but do well to stave him off.
Mathis puts a spectacular spin move on right tackle
Adam Snyder
, acting as if he's going to rush inside and going from Snyder's right shoulder to beating him outside his left shoulder in the blink of an eye. Gore runs through the line where Mathis started, offers no blocking help, turns to the right flat and doesn't get there quickly enough to be of service.
Smith drops three steps from where he takes the shotgun snap, and by the time he sets, Mathis is just two yards and one step to the side away. He gets a hand on Smith's shoulder, another on his waist and drags him down for an eight-yard loss.
Result:
The sack takes the 49ers out of field goal range in their only foray into Colts' territory in the second half.
Ultimate outcome:
Indy's offense runs 17 of the game's remaining 24 plays as the Colts hold on to remain perfect at 7-0.
October, 25, 2009
10/25/09
4:42
PM ET
Posted by Scouts Inc.'s Matt Williamson


Some observations from the Texans' win over San Francisco.
October, 23, 2009
10/23/09
4:00
PM ET
╗
NFC Final Word
:
East
|
West
|
North
|
South
╗
AFC
:
East
|
West
|
North
|
South
Posted by Scouts Inc.'s Matt Williamson
Five nuggets of knowledge about Week 7:
| | |
| --- | --- |
| | |
| | Fernando Medina/US Presswire |
| | The Colts can expect to see a lot of Steven Jackson in Week 7. |
Will Indianapolis contain Steven Jackson?
St. Louis really only has one weapon, Jackson, and everyone knows it. The problem is that Jackson is superb and just keeps coming down after down. He is capable of breaking a long one at any time and is a big-time factor in the passing game. So, even if the Colts are playing with a lead, which seems likely, Jackson will not go away. In fact, the Rams might run a lot of perimeter screens to their bell-cow back in an effort to slow down
Dwight Freeney
and
Robert Mathis
. That being said, running backs have not produced much at all against the Colts over their last four games.
Could there be complacency on the Colts' part after the bye?
Considering the level of competition Indianapolis faces this week, this is a legitimate question. But considering the level of excellence within the Colts organization, I contend that a letdown is very unlikely -- especially with
Peyton Manning
at the controls. This could be the week to get the running game rolling though and I wouldn't be surprised to see a
Donald Brown
coming out party, which just might signify the changing of the guard at the Colts' running back position.
Joseph Addai
should still have a significant role going forward, but I contend that Brown is the better player and the lead job should be his. This might just be the week that he makes that happen.
Who are the playmakers to fear on the 49ers?
Vernon Davis
has been playing great and looks to have made a substantial step up in his career under Mike Singletary. He is extremely fast for a tight end and is capable of getting behind the defense for a big play. However, Houston has been very strong in defending opposing tight ends. The other receiver who needs mentioning is, of course,
Michael Crabtree
who is making his NFL debut in Houston. I have a hard time believing that Crabtree is in top-notch football shape. After running numerous routes and blocking in the run game, which is required in San Francisco, I would expect fatigue to set in at some point. He probably will only run a handful of different routes. Still, he is going to play and even without NFL seasoning, he is very capable of beating any member of Houston's secondary and making a big play.
Can Houston equal the 49ers' level of physicality?
That is what Singletary preaches -- to be the most physical football team on the field on both sides of the football. While I do concede that San Francisco is more physical than Houston overall, the Texans did show me a lot last week in Cincinnati with their run-stopping prowess. The Texans could stand to do a much better job of moving defensive bodies out of the trenches however and if they are unable to get a consistent push this week,
Patrick Willis
will have a field day against
Steve Slaton
and Houston's struggling rushing attack.
How do the Texans' playmakers stack up with San Francisco's cover men in the passing game?
Matt Schaub
is playing at a very high level right now and his numbers over the past four games are out of this world. Obviously
Andre Johnson
has an awful lot to do with that, but so does
Owen Daniels
, who has become a consistent matchup nightmare and Slaton, who is very adept in the screen game. The good news for Houston is that opposing wide receivers have been doing a lot of damage to the San Francisco secondary, but on the other hand, the 49ers have been very stout against tight ends. Still, I like Houston's chances if Daniels is one-on-one with any of the 49ers' linebackers or safeties. Maybe this is the week that
Kevin Walter
breaks out of his slump and
Jacoby Jones
is quite dangerous.
Nate Clements
has been playing quite well for the most part, but
Roddy White
had a huge day in Week 5 and the San Francisco secondary must tackle better as a whole.