December, 19, 2013
Dec 19
10:00
AM ET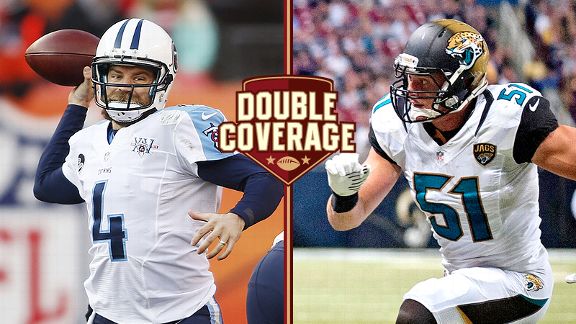 USA Today SportsPaul Posluszny and the Jags are aiming for a season sweep of Ryan Fitzpatrick and Tennessee.
JACKSONVILLE, Fla. -- Maybe
Delanie Walker
shouldn't feel so bad now.
The Titans tight end said he was embarrassed after the Jaguars won 29-27 in Nashville on Nov. 10 to pick up their first victory. Since then, the Jaguars are 3-2 with victories over Houston (twice) and Cleveland. The Titans are 1-4 with a victory over Oakland.
There seems to be much more stability in Jacksonville, too, because of the uncertain status surrounding Tennessee coach Mike Munchak.
Jaguars reporter Michael DiRocco and Titans reporter Paul Kuharsky break down Sunday's matchup at EverBank Field.
DiRocco
: Some Titans players were pretty vocal about being embarrassed due to becoming the first team to lose to the Jaguars. Is that something that still stings, and how have they rebounded from that loss?
Kuharsky
: It definitely left a mark. They are only 1-4 since then. It kind of set a bar for how bad they can be and re-established their propensity to lose to teams that are really struggling. The Jaguars are on an upswing since that game, and the Titans are on a downward spiral. If Tennessee losses to the Jaguars again, the Titans will be in line to finish in third place in an awful division, which is well short of their goals and expectations. The Titans are a better team than they were last year. But losing closer isn't a really big difference in the really big picture.
Let's turn that around. How has life changed for the Jaguars since that Nov. 10 breakthrough?
DiRocco
: I could go into a lot of stats that show how much better the Jaguars are playing, but that's not what's really important. The past six games have been more about the validation of the process, establishing the foundation of the franchise's rebuild, and confidence in the new regime. Coach Gus Bradley never wavered from the plan that he and general manager David Caldwell established. His message stayed the same throughout the eight-game losing streak to start the season: trust in the process, work hard, and focus on improving and not victories, and the victories will eventually come. Because that has happened, the players appear to have completely bought into what Bradley and Caldwell want to do, and there's a confidence in the locker room that the franchise is headed in the right direction.
We talked about
Jake Locker
the last time these teams met, but that was before he suffered a season-ending injury to his foot. How does that change the Titans' outlook on him and are they in the market for a quarterback in the offseason, too?
Kuharsky
: Locker is certain to be on the 2014 Titans. His fourth year isn't that costly and it's guaranteed. But they can't execute a spring option for his fifth year that would line him up for over $13 million. A lot of his fate depends on whether Munchak is back as the head coach. It's possible they go forward with Locker,
Ryan Fitzpatrick
and just-signed
Tyler Wilson
as their quarterbacks. It's also possible they'd draft a new guy, and depending on how high of a pick he could land in competition to start. I think it's less likely they chase a free agent like
Jay Cutler
if he comes free, but they have to assess all the possibilities. How can they completely commit to Locker based on his injury history?
One side effect of the Jaguars' surge is they aren't going to be in position to draft the first quarterback taken. What's your sense of what Bradley and Caldwell want in a quarterback and do you expect one to arrive in the first round?
DiRocco
: Offensive coordinator Jedd Fisch said something interesting last week. He said he wants his QB to scramble around, take off running to get yards and take some chances throwing the football. To me, that sounds like a pretty accurate description of Johnny Manziel. I'm not sure how that reconciles with the ideas of his bosses. Bradley comes from Seattle, which has the mobile
Russell Wilson
. Caldwell comes from Atlanta, which has the considerably less mobile
Matt Ryan
. My sense is that Bradley and Caldwell probably lean more toward the Wilson end of the spectrum. People think that eliminates Teddy Bridgewater, but that's not the case. He's not a runner but he can run if needed. If he's around, I'd expect them to take him. If not, then I would still expect them to go quarterback. It's their most glaring need.
You mentioned Munchak's job status. What's your take on whether he will be back next season -- and should he be?
Kuharsky
: He's shepherded improvement, but his team lacks an ability to finish. He's 0-4 in the worst division in football, 1-9 in the past two years. His teams have lost to the previously winless Jags in 2013 and the previously winless Colts in 2011. He's 4-18 against teams with winning records when the Titans played them and 2-19 against teams that finished the season with a winning record. To me, three years is a sufficient sample size to know what you've got and those numbers are the most telling thing on his resume. Keep him and they deal with all the limitations connected to a lame duck coach. I don't know what Tommy Smith, the head of the new ownership, will do. But the fan base overwhelmingly wants change, if that's worth anything. People still pay for tickets because they've got investments in personal seat licenses they do not want to throw away. But a lot of people are staying home on Sundays now.
Cecil Shorts
is done and
Maurice Jones-Drew
is uncertain. How can the Jaguars threaten on offense without their two best weapons?
DiRocco
: They were able to put up 20 points and post their second-highest yardage total of the season, including a season-high 159 rushing, in last Sunday's loss to Buffalo. Running back
Jordan Todman
stepped up big time and ran for 109 yards (Jones-Drew cracked 100 only once in the first 13 games) and tight end
Marcedes Lewis
was more involved in the passing game than in previous weeks (four catches for 54 yards and a touchdown). But I'm not sure that is sustainable. Teams will certainly concentrate on stopping Lewis and make quarterback
Chad Henne
move the ball with three receivers who have a combined 75 career catches. Todman doesn't scare anyone, either. The Jaguars will have to be creative on offense (they've run gadget plays the past three weeks) and capitalize on every opportunity they get.
February, 19, 2011
2/19/11
9:51
AM ET
Dave from Japan writes:
Dude, I'm sorta bummed out about the Jags. We're leaking assistant coaches. Wayne [Weaver] looks nervous, but not about assistant coaches. Vic [Ketchman] left. Can you give us Jags fans a few encouraging words?
Paul Kuharsky:
Has to be the first time in league history that someone leaving the publications area of the front office gets put into the formula people are using to say a team is sinking. You lost two assistants, and the guy you got may be better than them, who knows? Relax.
---
Alan Mills from Springfield, Ohio writes:
Former Colts and Bills quarterback Art Schlichter latest arrest is only discussed on Ohio State's forum. Why is not on here as he played longer for the Colts then he did for Ohio State? I would really like to have an answer to that. It just puzzles me why Ohio State has to be the only organization having to deal with this.
Paul Kuharsky:
Blogger's choice, pretty much. I don't think my readers feel connected to or concerned with him, so I choose not to go there. It would be different if they were still the Baltimore Colts, since he was a first-round selection in Maryland just before the relocation.
---
Tom in Brentwood, TN writes:
What is up with the Chris Palmer hire? Couldn't they find some up and comer or someone that doesn't have any affiliation with the Titans. This move is going to set the Titans bad even farther than where they've been. If you're planning on going backwards for a while, I would rather have someone with a fresh perspective and an upside down the road. Seems to me, it's going to be the same ole same ole, just under a different regime.
Paul Kuharsky:
Palmer's not an exciting name. He's got some duds on his résumé. But he has done some good work too and is said to be a good teacher, which is a major consideration for Mike Munchak. I know the inclination is to prejudge. But we have to wait and see what he does in order to deliver a verdict. It's like with a draft pick -- you can't declare a hit or miss until you have some work to measure.
---
Fred Dykes from Johnson City, TN writes:
Kelvin Hayden
is scheduled to make $9 million for the Colts next year. That is almost what you would pay a shutdown corner, and he is not one. I say they should cut their ties with him, or see if he will re-do his contract. [Justin] Tryon could handle his spot if needed. What do you think about Hayden's situation?
Paul Kuharsky:
That's a lot of money, but it's also his cap number and not his salary. He's due a $6.105 million salary and a $250,000 bonus. You'd be making a huge jump from him to Tryon. Being good as a fill-in and situational guy is a lot different than being good as a full-timer. I think they need a cornerback pool with Hayden,
Jerraud Powers
,
Jacob Lacey
, Tryon, a healthy
Kevin Thomas
and maybe a draft pick.
---
Ty from Texas writes:
I have heard that if there is a lock out then it is a full work stoppage and there would be no games. Why couldn't the league just use replacement players as they did years before?
Paul Kuharsky:
Because of the very nature of a lockout. They'd be locking out players. They couldn't choose to lock some out and sign others they would let in. The replacement players were used during a strike. Big difference if it's the owners stopping games or the players stopping games.
---
Detlef from Newport Beach, CA writes:
Hi Paul, it seems like you do not give any love to the Texans. They have not made the playoffs, but most sports fans would tell you when they play the Texans, it's gonna be a good fight. I think getting Wade Phillips is huge and will improve our playoff chances significantly. What about you?
Paul Kuharsky:
You got me, I am a complete hater.
No. What exactly should they be getting love for? I'm not in the business of passing out love to bad teams. You're not going to find a lot of cheerleading or sympathy for pathetic play here.
Phillips, their new defensive coordinator, should help, but they have major, major holes on defense that will be hard to fill in one year. And how many years in a row do you want people to buy the this-is-the-breakout-year talk? Better to reduce expectations.
If you missed
this week's column
, it was about new secondary coach Vance Joseph.
---
Shawn from Arizona writes
: It seems like Munchak would like to install the West Coast offense. With the biggest offseason question for the Titans being QB, how does this style of offense change our approach with acquiring both a veteran QB and one through the draft? It sounds like
Kevin Kolb
would be #1 on the list, followed by
Matt Flynn
perhaps -- who do you see in the draft fitting that offense?
Paul Kuharsky:
I've not heard him say he wants to run a West Coast offense.
We don't know if Munchak coveted Packers quarterbacks coach Tom Clements as offensive coordinator. If that was the hire, people were speculating that would be the direction. That's a big jump to say that's the direction Munchak wants without Clements, who we don't even know he asked to talk to.
Munchak can't pick the offense and then find the quarterback for it. The pool of candidates is small enough without narrowing it further. He needs to pick the quarterback, then shape the offense.
---
Kingpin from Grinnell, IA writes:
PK - Love your work, but gotta call you out on this comment from the mailbag - "Football is usually not baseball, where you unload a guy for picks." Baseball draft picks cannot be traded; think you meant basketball. Keep up the (usually) excellent work! – Kingpin
Paul Kuharsky:
Point taken. I did mean baseball, but I know in baseball you unload the star for prospects as opposed to picks. That's the comparison I intended. Sorry I was not more clear.
---
Joe from Blackwater, VA writes:
Paul, love the blog. Check it too many times a day! Haven't seen anything at all about CJ though in some time. Any word on the Titans getting him a new contract since they reworked it last year to make him happy?
Paul Kuharsky:
Thanks much.
Chris Johnson's renegotiation was in July. So the Titans can't do anything else for a full year from that. Hopefully the labor issue will be resolved and we'll be talking about it then.
February, 4, 2011
2/04/11
10:44
AM ET
Reading the coverage…
Houston Texans
For Arian Foster,
attitude is the key
, says Nick Scurfield.
John McClain
talks Texans
and Super Bowl. (Videos.)
Bill Romanowski's thoughts on how Brian Cushing
handled things
, found by Alan Burge.
Matt Schaub
talked
to Battle Red Blog.
Indianapolis Colts
Marshall Faulk could be
a Hall of Famer
tomorrow, says Mike Chappell. (More from me on Faulk later today.)
The NFL will
leave a legacy
in Indianapolis, says Bob Kravitz.
Nate Dunlevy loves Pro Football References' piece on
quarterbacks in the playoffs
.
Jacksonville Jaguars
Vic Ketchman
turns out the lights
and we wish him well.
Tennessee Titans
Mike Munchak could make the
rare jump
from position coach to head coach, says John Glennon.
Mike Mularkey's approach looks like it
would fit
Tennessee well, says Jim Wyatt.
Munchak might just be
the calm
in the center of the Titans' storm, says David Climer.
Kevin Mawae has
high praise
for Munchak, says Wyatt.
Tracy Rocker could be a guy
the Titans chase
to replace Jim Washburn, says Wyatt.
February, 2, 2011
2/02/11
10:13
AM ET
Reading the coverage…
Houston Texans
Before he was a Pro Bowl corner for a Super Bowl team, Tramon Williams was an
undrafted free agent
for the Texans, says John McClain.
Cameron Jordan is the pick at 11 for Houston in Lance Zierlein's
first mock draft
.
The Texans shouldn't
treat free agency
as a big, scary bad thing that can ruin a football team, says Houston Diehards.
Indianapolis Colts
Super Bowl representatives from Indianapolis are
watching and learning
in North Texans, says Bob Kravitz.
This should have been
Indy's Super Bowl
, Kravitz says.
Marvin Harrison's Hall of Fame case
shouldn't be necessary
, says Nate Dunlevy.
Looking at the Colts'
defensive tackles
and
defensive ends
, with Brett Mock.
Jacksonville Jaguars
Byron Leftwich has
embraced his second chance
with the Steelers, says Vito Stellino.
Jaguars' fans
will miss Vic Ketchman
, says Gene Frenette.
Ketchman's
final chat
at jaguars.com is at noon ET Wednesday.
How prospects fit so far into
one formula
for drafting quarterbacks, from Alfie Crow.
Tennessee Titans
Mike Heimerdinger
is upbeat
about the job opportunity and his health and Jim Mora is expressing interest, say John Glennon and Jim Wyatt.
Bud Adams' dreams for his next coach
don't match reality
, says Joe Biddle.
Even with his team on the verge of a Super Bowl, Ted Thompson
is curious
about Mike Munchak and the Titans, says Wyatt.
Ray Sherman still
has not heard
from the Titans, says Wyatt.
The Titans are
no worse off
than the 2007 Falcons, and look at Atlanta now, says Bob McClellan.
January, 20, 2011
1/20/11
10:54
AM ET
Reading the coverage:
Houston Texans
The Texans could hire Reggie Herring today, but he said he
has an offer
to remain with the Cowboys, says John McClain.
Indianapolis Colts
Bob Sanders could return with a restructure and six other
Colts' issues
from John Oehser.
Jacksonville Jaguars
Vito Stellino's story on Vic Ketchman's
pending move
.
NFL fans cheer
the game
, not the greed, says Gene Frenette.
Tennessee Titans
The Titans offered defensive line coach Jim Washburn
a three-year dea
l, but he went to Philly, says Jim Wyatt. Offering an assistant a long-term deal when the head coach is a lame duck says a lot about how the franchise valued him.
Running back coach Craig Johnson could jump
to the Vikings
as soon as today.
January, 19, 2011
1/19/11
7:07
PM ET
When I started covering the division in 2008, I was more than a bit skeptical about Vic Ketchman of jaguars.com.
Reporter/journalist/columnist/senior editor, whatever tag a person wears, when he is on the team payroll, most of us in the business automatically wonder about autonomy.
Can he write what he wants? Does he have special access? Are people inside the building feeding him things to spin in a direction that favors them?
Here's what I know about him now: He calls it like he sees it, he does a nice job of melding his great knowledge of history and the game with new media and, most importantly, for a big share of the team's fan base he provides a tangible connection to EverBank Field and what goes on in it.
So it's a huge loss for the franchise that he's going to the
Green Bay Packers
, news I learned
via tweet from Vito Stellino
.
Ketchman's "
Ask Vi
c" column and editorials for the team web site from games have been regular links in our "Reading the coverage" entries. And I know that's been redundant for many Jacksonville fans, because they read him before they read me.
The Jaguars will have a difficult time re-establishing that sort of connection with fans. It's something they should definitely try hard to do.
December, 29, 2009
12/29/09
10:50
AM ET
Houston Texans
The
playoff pulse
is beating, says McClain.
Andre Johnson is just
the second receiver in history
with back-to-back 1,500-yard seasons, says John McClain.
Breaking down
the win
over Miami with Lance Zierlein.
Dominique Barber is
heading to IR
and John Busing will start against New England, says Battle Red Blog.
Does Gary Kubiak let his foot
off the gas
with a lead? Battle Red Blog assesses.
Indianapolis Colts
Colts fans
are ticked
, but Jim Caldwell defends pulling his starters, writes Mike Chappell.
More on Caldwell defending
how things were handled
, from John Oehser.
A city councilman wants fans who were at Lucas Oil Stadium to get their
money back
, says Francesca Jarosz. Dude wants his name in the headlines, and I won't fall for it here. Get back to work on zoning regulations and getting potholes repaired.
The Colts
move ahead
and prepare for the Bills, says Phil Richards.
A look at the Colts worthy of
a Pro Bowl spot
from John Oehser.
The quotes from his radio show make it sound like Bill Polian was
somewhat defensive
. Oehser's review.
There has always been
a disconnect
between fans and team, says Phillip B. Wilson.
It's Jim Irsay who can and should say something here to
soothe fans
, says Deshawn Zombie.
A look at win streaks and how they don't correlate to playoff success, from Zombie. Here's my issue:
Momentum isn't measured only by wins
. Are you playing your best heading into the playoffs? Is it not reasonable to want that? The Chargers could lose next week and the Vikings could win, but would you rather be San Diego or Minnesota heading into the postseason?
Stampede Blue: "By acting the way he has acted, and saying the things he has said these last two days, Bill Polian has guaranteed a Super Bowl win for his fans. If he doesn't deliver, fans will indeed demand his (proverbial) head on a silver platter. You don't treat people like children, say "I KNOW BEST!", and then not deliver without there being some kind of accountability.
Polian better deliver, or else
."
Jacksonville Jaguars
Jack Del Rio
remains steadfast
in the face of criticism resulting from the swoon, says Vito Stellino.
Jeff Lageman fills in for Vic Ketchman and
takes fan questions
. We wish Vic, a great guy with strong opinions, a speedy recovery. I've been told he's doing well.
Gene Frenette
on Ketchman
.
Is this 2006
all over again
, asks Jonathan Loesche.
Assessing
where the Jags stand
after facing Indy and New England with Brian Fullford.
Tennessee Titans
The Titans
need a reverse
from Vince Young, says Jim Wyatt.
Unsurprisingly, Jeff Fisher won't say
what Chuck Cecil
said to draw an unsportsmanlike conduct penalty in the loss to San Diego. But he's really going to pretend Cecil was talking to the staff and not the officials?
Wyatt would give the ball to Chris Johnson
as many times as it takes
. So would I.
Nick Harper's injury could
benefit Rod Hood
, says Gary Estwick.
The Seahawks are in
sad shape
, says Gregg Bell.
February, 18, 2009
2/18/09
2:20
PM ET
Posted by ESPN.com's Paul Kuharsky
At the start of the month, in conjunction with a bigger project unfolding in its final stages on "SportsCenter" this week, I asked you what faces belong on a Mount Rushmore for the Jaguars.
You provided some great feedback with comments and notes to the mailbag.
The team's brief history and early success led to quite a consensus.
A sampling of your comments:
Harperslaw: You've got to go with Freddie T, Tony Boselli, and Jimmy Smith. #4 is up to debate. I say Mark Brunell, but my alternates would include Donovan Darius, Wayne Weaver, and even Tom Coughlin. The problem is after 15 years in the league there's not a lot of tradition to chose from. It's still a work in progress.
JvilleJag2: The four people that should be on the Jaguars Mount Rushmore is kind of easy. Tony Boselli, Fred Taylor, Jimmy Smith and coach Tom Coughlin. Mark Brunell was good, not great. The shortness of the existence makes it a little easier.
GoJags4362seats: Fred Taylor, Tony Boselli, Jimmy Smith, Mr. Weaver
Mark in Jacksonville: For the Jags the Mount Rushmore should be Tony Boselli, Mark Brunell, Jimmy Smith and Fred Taylor with a smaller unfinished statue of Maurice Jones-Drew on the side.
BIgdawg1101: Tony Boselli, Fred Taylor, Jimmy Smith and Mark Brunell, although I think Jones-Drew will eventually be worthy. He is still early in his career so at this moment in time I would go with these 4.
Charles in Jax: Jags Mt. Rushmore: Tony Boselli, Jimmy Smith, Fred Taylor and Tom Coughlin. Coughlin (2 champ game appearances and multiple playoff appearances off the bat) is a close choice over Brunell and Keenan McCardell. Brunell was always more popular than his production warranted, and McCardell was great during his time here but was outshined by Jimmy Smith and didn't play as long here.
Seth Roy in Newark, Ohio: Jacksonville Jaguars Mount Rushmore: 1. Fred Taylor: One of the most under-appreciated, yet best, running backs in the NFL. He is the quiet face of the franchise. 2. Jimmy Smith: Easily the best receiver in Jaguars history. And one of the best players. Since he left, the receiving core has been pedestrian at best. 3. Mark Brunell: Leader of the team at the beginning, and a large part of why they were so successful so soon. 4. Tony Boselli: First player in the Jags' Hall of Fame. Epitomizes the physical nature of the Jags. I had a tough time leaving Tom Coughlin off this list. A defensive player should also be on the Jags' Mount Rushmore. Possibly Marcus Stroud or John Henderson. Kevin Hardy or Donovin Darius could also be on there (I might overrate Donovin slightly, because he's a Syracuse alum.)
Matt in Charlotte: Jags Mt Rushmore: Mark Brunell Jimmy Smith Tony Boselli Fred Taylor But to give Wayne Weaver the credit he deserves, I name the mountain Mt. Weavermore.
Jon in Jacksonville, FL: Wayne Weaver, Tom Coughlin, Tony Boselli, & Fred Taylor. A case can be made obviously for Jimmy Smith, Brunell, and even Jones-Drew somewhat, but those four were the four faces that people thought of on a national level when you talked about the Jacksonville Jaguars. Weaver & Coughlin built the franchise from the ground up, making it the most successful expansion team in the history of pro sports at the time. Boselli was the cornerstone of the young franchise and our first national "face", not to mention the most dominant player at his position in the league and a certain HOF'er if his career was not shortened. He's also the first & currently only inductee on the Jaguars' "Ring of Honor". Taylor simply IS the Jaguars. His career stats will likely make him the first Jaguar to gain strong consideration for the Hall and there is not one player who has given more for the franchise, than Fred.
Kenny San Diego: I have to assume that Fred Taylor, Jimmy Smith, and Mark Brunell will be the sure three on the Jags Mt. Rushmore. For the 4th guy, we should go defense, and I think Big John should be that guy. Maybe Donovin Darius, maybe Mike Peterson, or maybe Rasheen Mathis
Allen in Gainesville, FL: The Jaguars Mt. Rushmore: Mark Brunell, Jimmy Smith, Fred Taylor, Tony Boselli. That's it, and it was fairly easy.
Oddest nominations: Jaxson de Ville (mascot), Vic Ketchman of jaguars.com.
Key debate and what surprised me: That there was not more debate. I think I got a bigger response on this from Jaguars faithful than the three other AFC South teams and expect there will be few complaints about the mount.
Hardest to leave off: Tom Coughlin's tenure didn't end well, but he did remarkable work getting an expansion franchise up and running and competitive quickly, and all four of the faces on the mountain owe a great deal to him. Still, I couldn't put him over Brunell, who was a big key to the team's early success.
And so, the Jacksonville Jaguars' Mount Rushmore is: Jimmy Smith, Fred Taylor, Tony Boselli and Mark Brunell.