March, 18, 2013
3/18/13
9:41
AM ET
Reading the coverage ...
Compensatory picks are supposed to be announced today. Stay tuned.
Houston Texans

The Texans face
a full agenda
at the NFL's owners meetings in Phoenix says John McClain of the Houston Chronicle.
Andre Johnson thinks Chad Johnson will get another opportunity and return to old form, he told CSN Houston. (
Video
.) Chad Johnson said he'd love to be a Texan but is in
no position to be picky
.
To which I say:
I can't imagine the Texans deciding they were interested in the sideshow Chad Johnson can bring, and I expect them to draft a receiver with one of their top picks.
If Ed Reed doesn't happen, Ryan Cook of Toro Times thinks we could see the Texans
turn to
Nnamdi Asomugha.
Indianapolis Colts

The wide receiver Colts owner Jim Irsay is tweeting about the team pursuing
is not
New York Giants restricted free agent Victor Cruz, writes Mike Chappell of the Indianapolis Star.
To which I say:
Maybe they will pull a rabbit out of a hat, but it seems like Irsay is guilty, again, of overhyping a possible move.
Considering some wide receiver
possibilities
with Brad Wells of Stampede Blue. How many of them would you rate as franchise altering?
Reasons to feel good
about the signing of Patriots free-agent guard Donald Thomas, from Olly Dawes of Colts Authority.
Jacksonville Jaguars

The Jaguars'
most expensive player
in 2013 is not on the roster, says Vito Stellino of the Florida Times-Union. That receiver Laurent Robinson holes that distinction shows how much big contracts have hurt Jacksonville.
To which I say:
Absorbing $24 million of cap money this season will help the Jaguars in future years.
Nine Jaguars made $100,000 or more through the NFL's
performance-based pay
enhancement, says Ryan O'Halloran of the Florida Times-Union.
Considering Dion Jordan
as a fit
for the Jaguars at No. 2 with Alfie Crow of Big Cat Country.
Tennessee Titans

In Sammie Hill, the Titans believe they've got a pocket-collapsing run-defender who will
make things better
for the pass-rushers on the outside, says John Glennon of The Tennessean.
New Titans tight end Delanie Walker went from the high of playing in the Super Bowl to the low of losing his aunt and uncle in a
horrific accident
near New Orleans just hours after the game, writes Jim Wyatt of The Tennessean.
Safety Bernard Pollard, cut by the Ravens in an apparent cap savings move,
has visited the Titans
, says John Glennon of The Tennessean.
Aaron Wilson of the Baltimore Sun says the Titans
have an interest
in Elvis Dumervil.
To which I say:
So far there hasn't been much noise to suggest the Titans are real serious, but he'd be quite an addition.
March, 17, 2013
3/17/13
9:05
AM ET
Give
Indianapolis Colts
owner Jim Irsay credit. He knows how to get fans of his team speculating, debating and anticipating.
With a couple of tweets on Saturday night, he's set off a frenzy.
ColtFans,we already past the cap cash wise/ we're workin on a deal,1 we've been workin on for 5 days/ we're very,very close 2 making it work

— Jim Irsay (@JimIrsay) March 17, 2013
Colt Fans,hint------ it's a Wide Receiver!!

— Jim Irsay (@JimIrsay) March 17, 2013
Some observers were quick to point out he's got a propensity for overstatement. The last time he really hyped up a pending move, the Colts traded for cornerback
Vontae Davis
. He's a good player, but based on Irsay's Twitter feed, it sounded more like the Colts would be getting
Deion Sanders
in his prime. When the team recently signed 49ers backup defensive lineman
Ricky Jean Francois
, Irsay's tweet about it included more than 20 exclamation marks.
The Colts need a third wide receiver to go with
Reggie Wayne
and
T.Y. Hilton
, and their hope is that they find a player who ultimately can take the aging Wayne's place as
Andrew Luck
's No. 1 target.
The first name that jumps out is
Victor Cruz
, the
New York Giants
' restricted free-agent receiver and salsa dancer. Cruz had 86 catches for 1,092 yards and 10 touchdowns last season. Pittsburgh's
Emmanuel Sanders
, who reportedly had a visit scheduled with New England, is also a restricted free agent.
Teams can sign restricted free agents to an offer sheet and have to give up draft-pick compensation if the original team doesn't match it. Cruz is tendered at a first-round level and Sanders at a third-round level.
If the player is willing, his original team can work out a trade instead of seeing the offer sheet procedure play out.
But "workin on a deal" doesn't mean a trade for certain. General manager Ryan Grigson could be negotiating with a free agent. None of the
unsigned receivers
, however, appear deserving of the excitement level Irsay's suggesting.
The Colts already are without a second-round pick from the Davis trade. If they made a blockbuster trade, a team that's pledged to build through the draft could be left with little to work with early in the draft.
November, 1, 2012
11/01/12
4:20
PM ET
The list of the league's top third-down receivers includes one very surprising name.
[+] Enlarge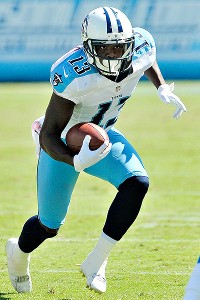 Jim Brown/US PresswireKendall Wright, a rookie wide receiver, has played in all eight games this season for the Titans.
There, ahead of
Wes Welker
,
Michael Crabtree
,
Victor Cruz
,
Brandon Marshall
and
Reggie Wayne
is Titans rookie
Kendall Wright
.
Wright's got an NFL-best 19 receptions on third down, ahead of Welker (17) and those other four (16).
And of those 19 catches by Wright, 14 have created first downs, tied with Wayne for the most in the NFL.
I asked
Matt Hasselbeck
why he and
Jake Locker
have looked to Wright so much in big situations.
"Probably trust, I think," Hasselbeck said. "Third down is where, as a quarterback, that's when they bring all their exotic stuff, that's where they game plan for you specifically and you in those situations go to somebody that you trust.
"I was actually not aware of Kendall getting so many balls. But in my past, usually third down you need it. It's not a time to just give it anywhere, I mean you've got to have it."
Wright has made some nice progress, but I feel like he's still underachieving. His biggest attribute coming into the league was an ability to take a short pass and run a long way with it, and he's not broken off that sort of play yet.
"It's coming," he said when I spoke with Wright on Wednesday. "I don't know when. It could be this game. It could be next game. I honestly don't know when it's going to happen. I'm positive that it's going to happen, that I can make a short pass into a big gain."