November, 29, 2013
11/29/13
12:00
PM ET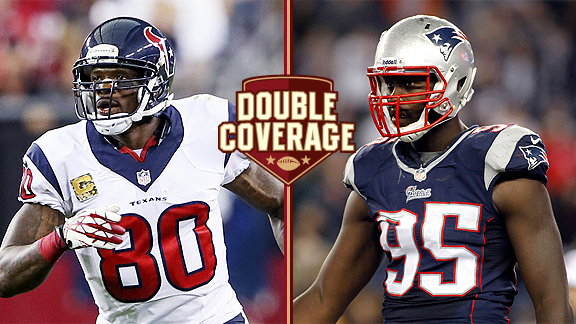 USA Today SportsAndre Johnson, left, and the Texans hope to surprise Chandler Jones and the Patriots.
HOUSTON -- The last time the
Houston Texans
faced the
New England Patriots
during the regular season, Houston was 11-1 and the hottest team in the league. To celebrate their youthful camaraderie, they ordered letterman jackets, the kind high school teams wear, and the jackets happened to come in right before the Patriots game.
That game marked a turning point for the Texans.
The timing of the jackets had nothing to do with the opponent; former Texans Connor Barwin and Shaun Cody were simply trying to create a tradition. That they lost so badly just after unveiling them turned the jackets into a punch line.
The Patriots won 42-14, and the Texans finished their season having lost three of their last four games. That meant losing the home-field advantage that seemed theirs before that game and led to another meeting with the Patriots in the divisional round of the playoffs. New England won again, 41-28.
It was a lesson for the Texans in what it takes to be a great team.
Heading into this season, many thought the Texans were positioned to be one of the top teams in the NFL. The Patriots seemed poised for a down year, by their standards, but here we are in Week 13 and they sit in their usual spot atop the AFC East.
ESPN.com Texans reporter Tania Ganguli and Patriots reporter Mike Reiss discuss the matchup.
Ganguli:
Mike, how has the loss of so many of his top targets from last season impacted Patriots quarterback
Tom Brady
?
Reiss:
We saw it impact Brady more significantly through the first eight games. But things have started to click the past two games, and it's no coincidence that it coincides with tight end
Rob Gronkowski
's reaching a new level of comfort since his return Oct. 20, and running back
Shane Vereen
's coming off the injured reserve list. With those two joining receivers
Aaron Dobson
,
Julian Edelman
,
Danny Amendola
and
Kenbrell Thompkins
, the pass-catching corps has been as stocked as we've seen all season.
I know it's been a down year for the Texans, but is
J.J. Watt
still creating havoc? Is that defense still tough?
Ganguli:
Watt is still creating havoc. He has 9.5 sacks, three forced fumbles and four passes defensed. He is someone opposing offenses must track on every play. The Texans' defense has played well, but it has holes. On Sunday, the Jaguars had success with the matchup of receiver
Cecil Shorts
against cornerback
Brandon Harris
in the slot. Injuries to middle linebacker
Brian Cushing
and strong safety
Danieal Manning
have been particularly damaging. The Texans have statistically been much better with Cushing than without him since he was drafted. Their attempt to add some mental toughness with
Ed Reed
didn't work as they had hoped, so two young players are starting at safety --
Shiloh Keo
at free safety and
D.J. Swearinger
at strong safety. Swearinger is the Texans' rookie second-round pick. He will be really good, but right now he's learning a lot about playing at this level. They haven't allowed a lot of yards, but have allowed too many points and not created enough turnovers.
Speaking of turnovers, as I watched Sunday night's Patriots game against the Broncos, it seemed every time I looked up the Patriots had either committed or forced a turnover. What did you make of that? Was it an aberration?
Reiss:
The forced turnovers were the norm, as the Patriots recently ended a streak of 36 games with at least one forced turnover (Nov. 18 vs. Carolina). The Patriots' committing turnovers was a little more out of character, although one of the pressing issues facing the club is what to do with lead running back
Stevan Ridley
(3 lost fumbles in the past three games). The Patriots are traditionally strong in turnover differential, and this season is no different, as they are plus-8 with 23 takeaways and 15 giveaways.
I know this probably comes out of left field, but how is the playing surface at Reliant Stadium? Patriots followers remember the last visit, in 2009, when
Wes Welker
tore his ACL. I saw a recent game, and it looks like there are patches of grass on the field with noticeable seams in certain parts.
Ganguli:
Not out of left field at all. If the game you saw was the Texans' Nov. 3 Sunday night game against the
Indianapolis Colts
, this was a major topic of conversation that night. The field looked pretty bad, mostly because there was a college game played on the same grass that week. They replaced the center of the field, but the outer grass was a mess. The University of Houston has played five games at Reliant Stadium this season while its stadium is being renovated. It has played most of them on field turf. The Cougars will play again on Friday morning, and none of the grass will be replaced between that game and the Texans-Patriots game Sunday. I believe the thinking is that will give it enough time to recover. Something to watch, though.
Let's talk more about defense to wrap up here. Will
Aqib Talib
be assigned to
Andre Johnson
on Sunday? How do you think he'll fare?
Reiss:
That would make a lot of sense, as Talib has often been assigned the opponent's top receiver. After a rocky game Nov. 18 against Carolina and
Steve Smith
, he was very good this past Sunday night against
Demaryius Thomas
in the 34-31 win against the Broncos. Talib has been key for the pass defense. Meanwhile, the loss of key players to season-ending injuries (defensive tackles
Vince Wilfork
and
Tommy Kelly
, and linebacker
Jerod Mayo
) has hurt the run defense at times, such as in the Broncos game. But they played a 4-2-5 nickel for most of the game, and I don't think that will be as much of a factor against the Texans. The Patriots will probably be in their base defense more often, and they played well against the Panthers' tough running attack in that package.
One thing I think Patriots followers would be interested to hear is what has happened to the Texans? How could a team go so quickly from the AFC divisional round of the playoffs and talking about "letterman" jackets to vying for the No. 1 pick in the draft?
Ganguli:
Even with some of the missteps in the offseason, it would have been difficult to foresee this. There are a lot of issues, but I'll focus on the quarterback situation. The biggest mystery is what happened to quarterback
Matt Schaub
. He was never on the level of Brady, but he gave the Texans what they needed. He was consistent and productive. He actually played really well in leading comebacks against the
San Diego Chargers
and
Tennessee Titans
this season. That seems so long ago. The Texans' turnover margin has been among the worst in the league all season, and Schaub was part of that. He became the first quarterback in NFL history to throw pick-sixes in four consecutive games. He threw one on the first pass of the game against the
San Francisco 49ers
, and that game marked the only time this season Schaub played poorly from start to finish. There were myriad other problems, but Schaub lost his starting spot when he suffered a foot and ankle injury in Week 6. First-year quarterback
Case Keenum
took over, but his play hasn't meant victories. In his first three starts, he played well in the first half and not so well in the second half. His most recent game, against Jacksonville, was his worst of the season. Keenum threw for 169 yards, no touchdowns and one interception.
.
January, 11, 2013
1/11/13
12:20
PM ET
Interior defensive lineman
Vince Wilfork
was extraordinarily disruptive in New England's regular-season win against Houston.
Wilfork
For the rematch, in matchup graphics, we're seeing right guard
Ben Jones
vs. Wilfork as a key matchup. But the rookie Jones will leave the field for some series with
Brandon Brooks
taking over. Brooks is also a rookie. He's 15 or 20 pounds heavier than Jones.
The two are sure to get a lot of help from the team's scheme and play calls. Wilfork can move around, so center
Chris Myers
and left guard
Wade Smith
will play a role in blocking him, too.
"Vince Wilfork was a tremendous problem for Houston in the first game," CBS analyst Phil Simms said in his preview of the game. "What will Houston's plan be this week to maybe change Vince Wilfork's production? What will Houston do on the defensive side? When you give up 42 points, you have to try something different. Because whatever they did last time, it didn't work. That's what NFL coaching is about. And that is why coaches are so important in the NFL. They have to change game plans in order to change the performance and thought process of all the athletes they're asking to do these things."
The Texans rely on lateral movement in their zone-blocking scheme, and they try to cut guys to the ground. By the fourth quarter, a big defensive lineman who's been repeatedly cut to the ground can grow awfully tired.
Houston hopes they are able to wear Wilfork down.
"He's extremely tough," Texans left tackle
Duane Brown
said. "I had one encounter with him where I pulled inside and didn't really get much movement. He's a big guy, creates great leverage, very smart player, can read a lot of stuff.
"When running away from him, it can be very important to get him on the ground so he's not able to pursue and get tackles for losses. They've got a very talented interior defensive line, and can rotate in a lot of big guys. If you're able to run the ball effectively for the majority of the game, it'd be nice to wear them down a little bit. We weren't able to get that accomplished in the last game."
January, 9, 2013
1/09/13
9:54
AM ET
Reading the coverage…
Houston Texans

Gary Kubiak's
endorsement
of Rick Dennison as a head coaching candidate is a lot like Mike Shanahan's once was for Kubiak, says John McClain of the Houston Chronicle.
"None of this is calculus," says Dale Robertson of the Chronicle. "If the Texans' giveaways are fewer than their takeaways in their Foxborough encore,
the statistical odds suggest
they have a reasonable chance of reversing the outcome of a month ago when the Patriots administered a painful 42-14 razor cut at Gillette Stadium."
Ben Jones versus Vince Wilfork is
a key matchup
, says Reid Laymance of the Chronicle. Jones should get a ton of help.
A look at
the Texans' worth
beyond wins and losses from Loren Steffy of the Chronicle.
More consideration of
the red-zone issues
from Stephanie Stradley of the Chronicle blogs.
Houston's offensive line
played the best
of all the teams that were in action on wild-card weekend, says Phil Gaskin of The Pulling Lineman.
Indianapolis Colts

Bruce Arians' return to Indianapolis included at least a stop at
another hospital
, says Mike Chappell of the Indianapolis Star. But he's said to be fine and is likely to start interviewing for head coaching jobs at the end of the week.
Reggie Wayne thought Ray Lewis' final celebration Sunday was
disrespectful
, says Chappell.
A fan post at Stampede Blue by "JPZ" offers some interesting thoughts on
free agents
and draft picks the team could target.
Season awards
for the Colts from Josh Wilson of Stampede Blue.
Receivers
let down
Andrew Luck in the loss to Baltimore, says Kyle Rodriguez of Colts Authority.
Jacksonville Jaguars

New Jaguars GM David Caldwell is likely to
bring
Chris Polian with him as director of pro personnel, says Ryan O'Halloran of the Florida Times-Union.
Gene Frenette of the Times-Union offers Caldwell advice on his new job. It includes this: "A lot of popular/veteran players -- Rashean Mathis, Derek Cox, Terrance Knighton, (Daryl) Smith and Brad Meester -- have expiring contracts.
Forget sentiment
. Put on the tape, then let your scout's eye dictate whether to bring them back."
To which I say:
I doubt a new guy's going to have any sentiment for people who have been part of a previous, unsuccessful regime.
What Caldwell does at quarterback
will define him
as the Jaguars general manager, says Vito Stellino of the Times-Union.
Tennessee Titans

Tight end coach John Zernhelt felt good about the work he did and was
surprised to be fired
by Mike Munchak, writes Jim Wyatt of The Tennessean.
To which I say:
All the change so far has been to the offensive staff. Surely some alterations to a defensive staff that oversaw a unit that allowed the most points in the NFL are coming as well, right?
Derrick Morgan says pass rush coach Keith Millard
helped him get better,
says John Glennon of The Tennessean.
"Ultimately,
what happens next
will determine how this season is remembered," says David Boclair of the Nashville City Paper. "Either it will be the beginning of the end for Munchak's time as head coach, which began with so much promise, or it will be the crucible that forged resolve and development among the many younger players currently on the roster."
September, 7, 2012
9/07/12
8:37
AM ET
Reading the coverage …
Perhaps the best ESPN
commercial
ever. A must watch and must share.
Houston Texans

The guy coaching up rookie quarterback Ryan Tannehill is a close friend of Gary Kubiak's -- former Texans assistant Mike Sherman. John McClain of the Houston Chronicle looks at
the friendship
, which dates back to 1992.
How did we get to a place where everyone is questioning Andre Johnson, asks Jerome Solomon of the Chron. "Johnson, 31, might not be an NFL youngster, and he admits the championship 'window is not as big as it used to be,' but he is
hardly on his last legs
."
Arian Foster and Brooks Reed
ended practice early
, says Dale Robertson of the Chron.
Key matchups
for the Texans against the Dolphins, from Houston Diehards.
Indianapolis Colts

Phillip B. Wilson of the Indianapolis Star profiles Chuck Pagano, who is "…an emotional guy with an indefatigable work ethic, a man who
balances football with family
while not losing sight of the importance to respect and connect with people,"
These Colts should remind us of
the 1998 team
with Peyton Manning as a rookie, says Bob Kravitz of the Star.
Guard Mike McGlynn
adds some nastiness
to the Colts' offensive line, says Wilson.
Jacksonville Jaguars

Blaine Gabbert and Christian Ponder, who square off this weekend, struck up a friendship at the draft and
get together to fish and golf
, writes Vito Stellino of the Florida Times-Union.
The Jaguars need Andre Branch to be
a difference-maker
in the mold of Tony Brackens, says Gene Frenette of the T-U.
"Often during staff meetings, [Bob] Bratkowski and the offensive staff would discuss ways to utilize (Maurice) Jones-Drew …
once he showed up
," writes Ryan O'Halloran.
Tennessee Titans

Bill Belichick's plan will seek to make Jake Locker uncomfortable and
confused
, writes Jim Wyatt of The Tennessean. The Patriots coach is 4-2 against quarterbacks making their first start.
Tennessee center Fernando Velasco will be challenged by
two big interior defenders
in Vince Wilfork and Kyle Love, says John Glennon of The Tennessean.
Defensive end Pannel Egboh
almost gave up
, but now he'll play in his first NFL game, says Glennon.
How should New England
attack Tennessee
? Nate Dunlevy of Bleacher Report asks and answers.
How much respect
will the Patriots show Jared Cook in the way they cover the tight end, asks David Boclair of the Nashville City Paper.
September, 6, 2012
9/06/12
11:56
AM ET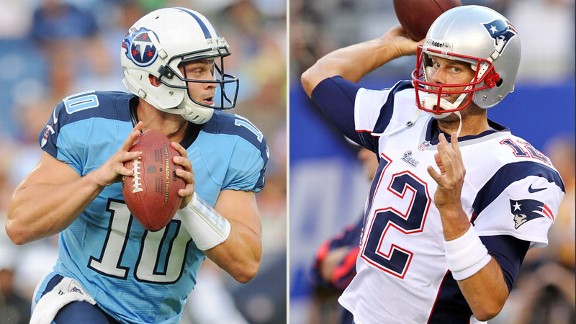 US PresswireIn his first start, Jake Locker, left, faces Tom Brady and the defending AFC champion Patriots.
They've got a lot of young talent, headlined by a young and unproven quarterback.
And on opening day at LP Field, the
Tennessee Titans
have the ultimate measuring stick: The
New England Patriots
are the defending AFC champions and the franchise that's been the model for consistently contending in the conference.
Titans general manager Ruston Webster and coach Mike Munchak are in their first and second years, respectively, in their posts. They seek to establish a pathway to finding and fielding talent and a team culture the way Bill Belichick has in New England.
A Titans upset Sunday would do a lot for the early stages of the process. It won't come easily, as the Patriots will bring an eight-game opening-day winning streak to Music City.
In advance of the game, I invited Mike Reiss of ESPNBoston.com to banter about it.
Paul Kuharsky:
The popular thinking during the Titans' quarterback battle was that veteran
Matt Hasselbeck
would be better able to handle a team like New England than
Jake Locker
would. But it's Locker who will be under center Sunday, making his first start against the defending AFC champs.
New England might not be a defensive football team, Mike, but I feel pretty confident that the Patriots will have a laundry list of things intended to overwhelm a young quarterback making his first NFL start.
Mike Reiss:
Part of me wonders if Belichick would have preferred seeing Hasselbeck in there, just because there is more NFL background on him to study. Belichick often talks about how the opening game of a season is so unpredictable, and this adds another layer to the preparation. The main thing Belichick has been stressing with Locker is how athletic he is, so keeping him in the pocket with good rush-lane integrity figures to be a focus for the revamped Patriots defensive front. Belichick figures to make limiting running back
Chris Johnson
a No. 1 priority, with the idea of putting the game in Locker's hands to see how he responds. It seems that's the place to start with the Titans' offense -- Johnson and Locker.
PK:
The interior run blocking and Johnson's effort were huge questions in Munchak's first season as head coach. Johnson has admitted his holdout affected his game more than he expected it would. Tennessee looked at a bunch of free-agent centers, including
Dan Koppen
, before sticking with the status quo. Then center
Eugene Amano
suffered a season-ending torn triceps early in camp. So
Fernando Velasco
is the guy now. While new left guard
Steve Hutchinson
will do all he can to help, I figure the Patriots will be hoping to get Velasco and the Titans' lesser guard,
Leroy Harris
, in bad spots against
Vince Wilfork
. As for Johnson, no less an authority than Eddie George said the speedster got into a bad habit last season when he stopped moving his feet upon initial contact. We'll be watching for that Sunday at LP Field. Does he make a quick lateral move and give himself a chance to keep going when the first guy gets to him? Or does he stall? If it's the second option, he'll be doomed.
How about running back the other way?
BenJarvus Green-Ellis
is gone now, so what's the Patriots' pecking order at the position? The Titans seem pretty solid up the middle if they are at full strength with
Sen'Derrick Marks
and
Jurrell Casey
. Isn't New England's group of backs mostly littler than you?
MR:
I see what you did there, Paul. Very clever. But as
Wes Welker
,
Danny Woodhead
,
Kevin Faulk
and others have shown us over the years, sometimes the smallest dog in the fight has the biggest bite. The Patriots have really turned over their running back position from just two years ago. What was once the oldest position on the roster is now defined by youth -- second-year backs
Stevan Ridley
(third round, LSU) and
Shane Vereen
(second round, Cal) top the depth chart, with the 5-foot-8, 200-pound Woodhead (fifth year) the change-of-pace back who plays a lot because of how much the offense is in the shotgun. Rookie
Brandon Bolden
, who took the same path as Green-Ellis to make the roster as an undrafted free agent out of Mississippi, is the fourth option. Ridley and Bolden are both 5-11 and 220 pounds. They run with power. Vereen (5-9, 205) brings more of a speed element, although it is unlikely we will see him after he hobbled off in the team's third preseason game and hasn't practiced since. There is more big-play potential with this group that they had last year with Green-Ellis leading all running backs by playing 34 percent of the snaps. Don't sleep on this group, although it's safe to say the Patriots are an attack that will lean more heavily toward the pass. So protection for
Tom Brady
figures to be key, and they had a shaky preseason in that area.
PK:
In my view, for the Titans to have a chance to pull an upset here, they'll need to really harass Brady. I think making New England use
Rob Gronkowski
and
Aaron Hernandez
as help in pass protection will wind up their best chance to defend those tight ends. Rookie linebacker
Zach Brown
was drafted because he can keep up with guys like that, but in his first game – while I expect him to have some sort of nickel role -- I think it'd be awfully hard to be a successful part of slowing them. Tennessee's pass rush looks to be operating inside out -- Casey may be their best defensive lineman -- so it will be interesting to see how effectively Brady can slide or step up, and if a second guy will arrive to get to him.
One matchup I think can be better than most think is
Alterraun Verner
against Welker. Certainly there are some plays where you cannot stop what Brady and Welker are doing. But Verner had a real knack for disrupting the quick stuff that gets fed to slot receivers. I look for him to make a couple plays.
MR:
Watching the Patriots this preseason, it's fair to say pass protection is a concern. Brady took some big hits, fumbling against the Saints and Buccaneers. This has been a successful formula for teams that can pull it off -- disrupt the passing game by getting to Brady early. The problem is that not all teams can do that. Here are a few things to keep in mind: 2011 first-round draft choice
Nate Solder
is now the team's permanent left tackle, stepping in for the retired Matt Light. There have been some growing pains, so if we're talking matchups to watch, how about Solder against
Kamerion Wimbley
? Also, there is some uncertainty as to who will start at center, as the team's longtime option there, Koppen, was released at the final cutdown. Add in that left guard
Logan Mankins
(coming back from a torn ACL) played just 11 snaps this preseason and right tackle
Sebastian Vollmer
(returning from a back injury) played just nine snaps in the preseason, and this is a unit that bears watching on Sunday. The Titans have a chance to control the line of scrimmage.
PK:
That's good work in terms of talking me out of feeling like we're going to watch a blowout unfold. (Yes, 2009 is ancient history, but it's hard to forget 59-0 at Gillette Stadium.) I remained convinced the Patriots will find their points. Heck, they scored 30 or more 12 times last season, topping 40 twice. Add
Brandon Lloyd
to the mix on offense, and I expect Brady to help them post a crooked number. To pull an upset, I think Locker will have to manage the same.
That's as close as I'll come to picking it -- I hate putting myself in position to root for a result to make myself look smart. You know what a challenge that is for me even without making a pick.
MR:
I think this is a game the Patriots should win. The Titans are a team that if you sleep on them, they will beat you, but that usually isn't a problem for the Patriots, because Belichick doesn't allow for complacency. The Titans probably hoped for higher temperatures than the predicted mid-70s. Still, look for Belichick to rotate a lot of his personnel as a way of keeping them fresh. The one position that won't be in play is quarterback, and I think it's fair to say that's the big difference in this game -- Brady. Big advantage there for the Patriots.
PK:
Impossible to argue that point, so this looks like our ending.