April, 19, 2012
4/19/12
1:23
PM ET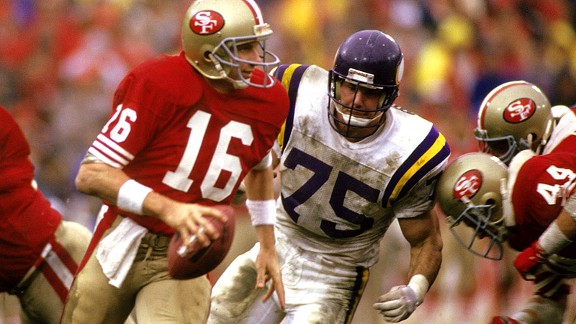 MPS/Getty ImagesKeith Millard, the Titans' new pass rush coach, collected 58 sacks over his eight-season career.
NASHVILLE -- After 15 minutes on the phone with Keith Millard, I was ready to rush the passer.
The newest addition to Titans coach Mike Munchak's staff won't oversee a position but a skill set. And although Millard will spend a lot of time with defensive line coach Tracy Rocker and his group, he'll also rove and talk nuances of getting to the quarterback with linebackers, safeties and even cornerbacks.
His initial speech will go like this:
"Before you even start, you've got to pick a line and you've got to stay on that line. And that goes for every position, no matter what you are doing. It's from wherever you start to the quarterback and that thing can't vary. You know the old saying the shortest distance between two spots is a straight line? That's as true in pass rush as there is. You stay on that line, get your blocker off it. Now how you do that is where it gets interesting, where technique and fundamentals come in."
Tennessee needs to rush the passer better than it did last season, which was its first without Jim Washburn since 1998. The former defensive line coach, now in Philadelphia, pieced together an effective four-man rush most of the time.
After Munchak hired Jerry Gray as defensive coordinator, the team concluded that getting to the quarterback at all costs wasn't the way to go because the run defense suffered.
In Year 1 of the new regime, the team sacked the quarterback less -- managing just 28 sacks, 31st in sacks per play in the NFL -- and was still just 24th against the run.
Both the personnel and the coaching need to be better.
[+] Enlarge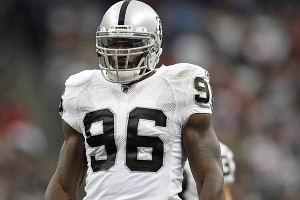 Brett Davis/US PresswireThe Titans brought in former Raider Kamerion Wimbley to boost their pass rush.
Enter
Kamerion Wimbley
, the former Oakland Raider whom the Titans pounced on when he was released. Enter Millard.
Wimbley should be a boost for the pass rush. He's worked a lot in his career as a 3-4 outside linebacker but in Tennessee he'll be a 4-3 end. He can rush the passer well from there, but the team could put his durability to the test if he's on the field for too many snaps.
Millard's a big believer in a four-man rush, as the Titans have long been. But if they can't get to the quality quarterbacks they are scheduled to face in 2012 with just four rushers, they should be better equipped to bring more blitzers than they have been in some time after Millard coaches them up.
"I'm thrilled about Millard," Titans outside linebacker
Gerald McRath
said. "For me, I've never had someone who took time to teach me pass rush. You can fine tune a skill, and that's a skill that makes you more valuable to your team. I think that will be great, that you can have someone who can focus on that."
Munchak and Gray talked about the idea early on after the new staff was assembled. It didn't come together during the initial staff assembly and the lockout. But then Millard came free after Raheem Morris and the Tampa Bay staff were let go.
Millard played nine seasons as an NFL defensive lineman, primarily with Minnesota. He coached in Denver and Oakland before spending 2011 in Tampa Bay.
Although he's worked mostly as a defensive line coach, he was a pass rush coach at times with the Broncos and Raiders.
Specialized coaches are increasingly popular in the NFL. Many 3-4 teams have outside linebacker coaches. Some teams have cornerback and safety coaches in their secondary, or a coach who concentrates on the nickel defensive backs.
A coach like Millard qualifies as being outside the box for the Titans. He gets fired up talking about his office, and initially makes it sound big. Then you realize he means big enough to have three or maybe four guys in there at a time to go over pass-rush nuances.
"Not only is he going to be doing D-line, and that's a good thing, we're going to be sending him linebackers and safeties and things like that," said Gray, who played nine seasons as a cover corner. "I'll be honest and tell you I don't know anything about blitzing. Beating a running back, I can tell you, but I've never felt that. So I really don't know how it feels.
"He'll be able to help us, more than saying 'Hey, I've got a clear open spot for you to hit the quarterback.' The best thing you can do is offer a one-on-one. Now show me how to win the one-on-one. That's what he's going to be doing."
Warren Sapp, who's widely regarded as an all-time great pass-rushing tackle, raved about Millard's influence on him to The Tennessean after the Titans made the hire.
[+] Enlarge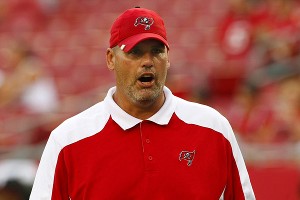 Cliff Welch/Icon SMIKeith Millard has had coaching stints with the Broncos, Raiders and Buccaneers.
Gray still emphasizes the need for players to stop the run. Millard and Gray talk about earning the right to pass rush. And nothing does that more than stuffing a run play on first down to help create second- and third-and-long situations.
Millard calls himself a self-taught pass-rusher.
He's eager to share what he knows, and says it will be a lot more about feet than hands for both blitzers and guys who make a living rushing the passer. For Millard, that second group generally falls into two styles, straight-liners (like
Kyle Vanden Bosch
or Jason Taylor) and basketball types (like Sapp and
Derrick Burgess
).
"I think doing it myself from different positions has given me a real edge at teaching the true fundamentals," Millard said. "Being able to study blockers and find their weaknesses and how to take advantage of them. I'm really about teaching the concept of getting the blocker on your terms and how to do that. It's not so much a repertoire with your hands as it is your footwork and trying to work a blocker's weaknesses against him.
"Hands are really just kind of a second nature thing. When you really get down to it, it's about feet. Getting blockers off balance and using your hands to keep them off balance. Whether you are bull-rushing, whether you are going from one edge to the other and back, it's really got to be about balance and footwork and your approach -- getting to a point where you own that guy, you know where his weaknesses are and you just continually, constantly, work on those weaknesses. There is a lot that goes into that."
Millard will spell out for a guy what his body has to do to counter the body trying to block him: flipping hips, making yourself small, understanding what blockers are doing with their hands. Get the guy in your way off balance and keep him off balance.
It seems uncertain just where and how Millard will fit into the regular practice schedule, but he's certain to work with specific guys before and after practices and outside of regular meeting times.
Those office sessions will be kept small -- he'll rarely work with more than two linebackers or two defensive backs at a time.
If he's what Munchak and Gray expect, the Titans will do a far better job of getting from Point A to the quarterback and the defense will make big gains.
Millard's motivated me. I'm heading outside right now to see about making myself small and finding the best way to stay on my straight line.
February, 13, 2012
2/13/12
9:49
AM ET
Reading the coverage …
Houston Texans
Former Texans linebacker Morlon Greenwood has
taken up boxing
, says Daniel Gotera of KHOU.
Indianapolis Colts
Dave Rappoccio puts
Peyton Manning's face
into the logo of every NFL team. Some are very amusing. Hat tip to Aaron Schatz.
Jacksonville Jaguars
In this Vito Stellino piece about Mike Mularkey's first month, the coach addresses the biggest Blaine Gabbert issue: "Of Gabbert's habit of sometimes ducking in the face of the pass rush, Mularkey said, 'I don't want to get into the things that took place last year, but [I think] there were things in his head even before the ball was snapped. He knew there may be a chance the rush could get to him for a variety of reasons. I don't want to step on any toes, but I've got to get that
out of his head
.'"
With several Jaguars watching, a once-paralyzed Jacksonville boy
played flag football
, writes Tania Ganguli of the Florida Times-Union.
Tennessee Titans
Warren Sapp thinks the Titans made
a great hire
in pass-rushing coach Keith Millard, writes Jim Wyatt.
April, 7, 2011
4/07/11
9:32
AM ET
January, 12, 2009
1/12/09
4:57
PM ET
Posted by ESPN.com's Pat Yasinskas
TAMPA, Fla. -- Forget for a second the Super Bowl victory and all the great players he coached. If you want to know what truly set Tony Dungy apart from other football coaches -- really, apart from a lot of human beings -- there is a story you need to read.
| | |
| --- | --- |
| | |
| | Greg Crisp/Getty Images |
| | Tony Dungy was more than just a football coach with the Tampa Bay Buccaneers. |
It sums up Dungy, who is retiring from the Indianapolis Colts and the National Football League today, as a person and a coach. It's the story of a man with a vision and the courage to stick to it quietly, no matter how much the world outside was banging on the windows.
The year was 1997. The Tampa Bay Buccaneers, in Dungy's second year as head coach, were showing some signs the lowly franchise might be ready to escape the so-called Curse of Doug Williams. With a young cast that featured Derrick Brooks, Warren Sapp, John Lynch, Warrick Dunn, Mike Alstott and Trent Dilfer, the Bucs got hopes up with a 5-0 start.
Then, it all seemed as if the season was about to fall apart because of one man. Well, make that two men because Dungy could see the problem as clear as the rest of Tampa Bay. But that stubborn streak that would become a part of his legacy was keeping him from, outwardly, doing anything about it.
The Bucs had a talented young kicker named Michael Husted who all of sudden started missing kicks. Not only was Husted missing field goals, but even extra-point attempts were flying badly off target.
The fans and the media were up in arms. It seemed Husted had to go or else the whole season would spin out of control. It was obvious to everyone, it seemed, except Dungy.
Week after week, he stood there with his arms folded on the sidelines, never showing the slightest emotion when Husted missed a kick. The Bucs lost three games in a row.
Any other coach would have simply brought in another kicker. But Dungy had laid out a philosophy that would end up applying to every player he ever coached and he had to stick to it. He knew something the rest of the world didn't.
While media and fans were breaking down Husted's kicking technique, Dungy knew what was in the kicker's head and heart.
The real story here was Husted's mother, Ann, was dying of cancer up in Virginia.
"I always prided myself on being a pro and being able to separate off-the-field stuff from what I did on the field,'' Husted said Monday morning from his home in San Diego. "But it got to the point where my mom's situation was taking up all of my thoughts."
On the Monday after the third straight loss (to Minnesota), special-teams coach Joe Marciano sat down with Husted and said, "What would you do if you were in our shoes?'' Husted pretty much shrugged and braced himself for the inevitable.
The next morning, Dungy called and Husted was sure he was being cut. Dungy's words said something else.
"He just said, 'You're a Buccaneer. You're part of our family. You're our kicker,''' Husted said.
Mission accomplished. The next Sunday, the Bucs went up to Indianapolis. Husted made a game-winning field goal that broke his slump. The season was saved and the Bucs went on to make the playoffs for the first time in a generation. Ann Husted died after the season, but not before she came to several games and sat with Dungy's wife, Lauren, in a private box.
"What he did was relieve the pressure from me,'' Husted said. "A lot of other coaches would have just let me go. I'm forever grateful to Tony for how he handled that. It speaks a lot about the type of individual he is and how he's not going to let outside forces influence what he knows is right.''
Throughout his career, Dungy has been criticized for being too stubborn or too soft. But, deep down, wouldn't you rather have someone who cares about you and not someone who flies off the handle and listens to the whims of the world?
That should be as much a part of Dungy's legacy as all the games he won and as much as becoming the first African-American head coach to win a Super Bowl. Yes, he did things differently at times, but, in the end, you can't argue with the results.
The Super Bowl win still is fresh in the minds of many. But what Dungy did in Tampa Bay might have been even more remarkable. He took over a franchise that was in disarray, replacing Sam Wyche as the coach soon after owner Hugh Culverhouse had died and Malcolm Glazer purchased the team. In those days, the Bucs played in dreary Tampa Stadium and there was speculation about them moving anywhere from Los Angeles to Baltimore.
In 1996, a very quiet man took over a mess.
"The thing is Tony just brought this silent, commanding respect,'' Husted said. "We never felt like there was a clear road map. He came in and established what we wanted to do and how to go about it. People bought into it in the locker room and we started winning.''
The Bucs got their new stadium in 1998 and consistent winning followed. Dungy couldn't quite get the Bucs over the Super Bowl hump. Jon Gruden came in and did that. But Dungy's contributions in Tampa Bay are going to be evident for a long time. The franchise has been respectable since his arrival, and the stadium has been full for years.
Respect might be the most fitting single word to sum up Dungy's career and that's fitting. Through it all, he always earned respect.
"I think the biggest thing was you never wanted to disappoint coach Dungy because of how he treated you,'' Husted said. "I think any player who ever played for him will tell you it was an honor to play for him. The league is going to miss him and I wish you could clone him and make every coach like that because it would benefit the whole league. But you know that whatever he does going forward, he's going to keep doing it the right way and he's going to positively impact a lot of people.''