August, 23, 2011
8/23/11
10:23
AM ET
Three backs who've run for 1,000 yards on the same team sounds like a rarity.
But after writing about the Texans and Arian Foster, Derrick Ward, and Steve Slaton Monday I asked Stats & Info how often it's happened and they took it to Elias. Apparently, it's not so uncommon, especially when Michael Bennett (who ran for 1,296 yards for Minnesota in 2002) is involved.
There have been three instances of a team having three 1,000-yard rushers in just the last five years.
2008 Tampa Bay Buccaneers -- Michael Bennett, Warrick Dunn and Cadillac Williams
2008 Washington Redskins -- Shaun Alexander, Ladell Betts and Clinton Portis
2007 Kansas City Chiefs -- Michael Bennett, Priest Holmes and Larry Johnson
Foster and Ward are definite for the Texans. If Slaton sticks, they'll be added to this list. He has to rank fourth at best right now, behind Ben Tate.
August, 11, 2010
8/11/10
2:21
PM ET
ANDERSON, Ind. -- Sometimes, when working to build a post, the entry is accelerated and breaks into pieces.
Since arriving at Colts camp, I've been asking questions about Clyde Christensen, who's in his ninth season with the team but his first as offensive coordinator.
It's a job he's held once before in the NFL, and his offense in 2001 with the
Tampa Bay Buccaneers
was not very good. (
Here's an interview
he did leading into that season.) On Wednesday I asked head coach Jim Caldwell about Christensen in his new position and about that Tampa Bay experience. His answer prompted me to look back at those Bucs and to write now even though I expect to talk to Christensen on Friday.
The Bucs were 30th in rushing with an injured Warrick Dunn, 15th in passing, 26th in total offense and 15th in scoring.
[+] Enlarge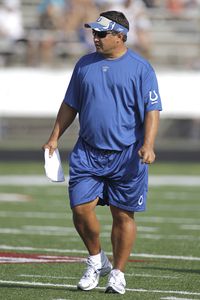 AP Photo/Darron CummingsJim Caldwell says he is confident in what Clyde Christensen (above) brings to the offense.
After 12 games, Christensen told the St. Petersburg Times: "It has to begin with me. That's my job. To get them coordinated. I have no problem with the criticism. The bottom line is the performance, and we should be better than we are.
"If I was giving myself a grade, I'd say about a C. Dead average. That's disappointing, because being average is not satisfactory."
Then after Philadelphia routed the Bucs 31-9 in the wild-card round, Tampa Bay receiver Keyshawn Johnson said: "A lot of guys on this team have a lot of bark, but no bite. Guys have to just shut up and play."
Per Caldwell's request, I checked the stats, and here's what I think he was driving at: A year after Tony Dungy and his staff were fired and Jon Gruden took over, the Bucs won the Super Bowl.
But that championship offense, in a league with one more franchise, was 27th in rushing (three spots better than Christensen's), 15th in passing (same), 24th in total offense (two spots better) and 18th in scoring (three spots worse.)
Gruden was regarded as an offensive genius at that point, but his offense had a lot of the same weak spots as Christensen's did.
While Caldwell indicated he thinks Christensen got a bad rap in Tampa Bay, the Colts coach also mentioned how a lot of coaches who were perceived to be not great in their first go-around rebounded to fare much better in a second chance.
He pointed to his own poor win-loss record as coach at Wake Forest, mentioned the difference in Dennis Green from college to the NFL and nodded in agreement when I mentioned Bill Belichick as another example.
"You ought to check the stats and see what exactly we were trying to get done and what we got done," he said of Christensen's year as coordinator with the Bucs, when Caldwell was quarterbacks coach on the same Dungy staff. "A lot of people make assumptions and have preconceived notions about things.
"But he's a very good football coach, he's a very capable guy, he's an excellent leader and I think you'll see he'll do a great job."
In Indy, Tom Moore is still around as senior offensive assistant and
Peyton Manning
is still determining what exactly to do on a play as he assesses things after breaking the huddle. We aren't going to see a discernable difference because Christensen is now officially at the helm. He's put in good years with the team, earned Caldwell's trust and loyalty as well as this promotion. He's obviously inheriting a great offense.
Still, it's reasonable to look at that stint in Tampa Bay and wonder how it will go.
"He's in his position because he's capable," Caldwell said. "He's a very good, very strong offensive mind. He knows our system extremely well. He's been working in it for a number of years now, had played a major role in it, oftentimes behind the scenes. ... [He's worked on] our red zone, we've been very effective in that particular area, and our third-down packages as well."
Stay tuned for more on him, and hopefully from him, later this week.
July, 3, 2009
7/03/09
10:45
AM ET
January, 12, 2009
1/12/09
4:57
PM ET
Posted by ESPN.com's Pat Yasinskas
TAMPA, Fla. -- Forget for a second the Super Bowl victory and all the great players he coached. If you want to know what truly set Tony Dungy apart from other football coaches -- really, apart from a lot of human beings -- there is a story you need to read.
| | |
| --- | --- |
| | |
| | Greg Crisp/Getty Images |
| | Tony Dungy was more than just a football coach with the Tampa Bay Buccaneers. |
It sums up Dungy, who is retiring from the Indianapolis Colts and the National Football League today, as a person and a coach. It's the story of a man with a vision and the courage to stick to it quietly, no matter how much the world outside was banging on the windows.
The year was 1997. The Tampa Bay Buccaneers, in Dungy's second year as head coach, were showing some signs the lowly franchise might be ready to escape the so-called Curse of Doug Williams. With a young cast that featured Derrick Brooks, Warren Sapp, John Lynch, Warrick Dunn, Mike Alstott and Trent Dilfer, the Bucs got hopes up with a 5-0 start.
Then, it all seemed as if the season was about to fall apart because of one man. Well, make that two men because Dungy could see the problem as clear as the rest of Tampa Bay. But that stubborn streak that would become a part of his legacy was keeping him from, outwardly, doing anything about it.
The Bucs had a talented young kicker named Michael Husted who all of sudden started missing kicks. Not only was Husted missing field goals, but even extra-point attempts were flying badly off target.
The fans and the media were up in arms. It seemed Husted had to go or else the whole season would spin out of control. It was obvious to everyone, it seemed, except Dungy.
Week after week, he stood there with his arms folded on the sidelines, never showing the slightest emotion when Husted missed a kick. The Bucs lost three games in a row.
Any other coach would have simply brought in another kicker. But Dungy had laid out a philosophy that would end up applying to every player he ever coached and he had to stick to it. He knew something the rest of the world didn't.
While media and fans were breaking down Husted's kicking technique, Dungy knew what was in the kicker's head and heart.
The real story here was Husted's mother, Ann, was dying of cancer up in Virginia.
"I always prided myself on being a pro and being able to separate off-the-field stuff from what I did on the field,'' Husted said Monday morning from his home in San Diego. "But it got to the point where my mom's situation was taking up all of my thoughts."
On the Monday after the third straight loss (to Minnesota), special-teams coach Joe Marciano sat down with Husted and said, "What would you do if you were in our shoes?'' Husted pretty much shrugged and braced himself for the inevitable.
The next morning, Dungy called and Husted was sure he was being cut. Dungy's words said something else.
"He just said, 'You're a Buccaneer. You're part of our family. You're our kicker,''' Husted said.
Mission accomplished. The next Sunday, the Bucs went up to Indianapolis. Husted made a game-winning field goal that broke his slump. The season was saved and the Bucs went on to make the playoffs for the first time in a generation. Ann Husted died after the season, but not before she came to several games and sat with Dungy's wife, Lauren, in a private box.
"What he did was relieve the pressure from me,'' Husted said. "A lot of other coaches would have just let me go. I'm forever grateful to Tony for how he handled that. It speaks a lot about the type of individual he is and how he's not going to let outside forces influence what he knows is right.''
Throughout his career, Dungy has been criticized for being too stubborn or too soft. But, deep down, wouldn't you rather have someone who cares about you and not someone who flies off the handle and listens to the whims of the world?
That should be as much a part of Dungy's legacy as all the games he won and as much as becoming the first African-American head coach to win a Super Bowl. Yes, he did things differently at times, but, in the end, you can't argue with the results.
The Super Bowl win still is fresh in the minds of many. But what Dungy did in Tampa Bay might have been even more remarkable. He took over a franchise that was in disarray, replacing Sam Wyche as the coach soon after owner Hugh Culverhouse had died and Malcolm Glazer purchased the team. In those days, the Bucs played in dreary Tampa Stadium and there was speculation about them moving anywhere from Los Angeles to Baltimore.
In 1996, a very quiet man took over a mess.
"The thing is Tony just brought this silent, commanding respect,'' Husted said. "We never felt like there was a clear road map. He came in and established what we wanted to do and how to go about it. People bought into it in the locker room and we started winning.''
The Bucs got their new stadium in 1998 and consistent winning followed. Dungy couldn't quite get the Bucs over the Super Bowl hump. Jon Gruden came in and did that. But Dungy's contributions in Tampa Bay are going to be evident for a long time. The franchise has been respectable since his arrival, and the stadium has been full for years.
Respect might be the most fitting single word to sum up Dungy's career and that's fitting. Through it all, he always earned respect.
"I think the biggest thing was you never wanted to disappoint coach Dungy because of how he treated you,'' Husted said. "I think any player who ever played for him will tell you it was an honor to play for him. The league is going to miss him and I wish you could clone him and make every coach like that because it would benefit the whole league. But you know that whatever he does going forward, he's going to keep doing it the right way and he's going to positively impact a lot of people.''