AFC South:

Week 7 Injury Replacements
October, 21, 2013
10/21/13
3:20
PM ET
INDIANAPOLIS -- The
Indianapolis Colts
entered the season with talent at wide receiver . It was also their thinnest position behind
Reggie Wayne
,
Darrius Heyward-Bey
and T.Y. Hilton because
LaVon Brazill
was suspended the first four games for violating the league's substance abuse policy and nobody stepped up to be the team's fourth receiver.
Wayne's season is over with a torn ACL, leaving the Colts trying to find a way to fill the void.
Colts general manager
Ryan Grigson
is likely burning up his cell phone minutes looking for a way to acquire another receiver on the roster.
But for the time being, it truly is "next man up" -- the Colts' staple statement when a player goes down.
"We'll see who steps up, and we're more than confident with the guys we have here," quarterback
Andrew Luck
said. "They've done a heck of a job, and they'll continue to do so."
There's obviously no replacing Wayne, a future Hall of Famer, so the Colts will have to do it by committee for the time being.
Heyward-Bey will likely be the No. 1 receiver on the Colts' depth chart. But that won't mean anything if he can't catch the ball. He made up for a rough game against the
San Diego Chargers
in Week 6 by having four catches for 44 yards and a touchdown against the
Denver Broncos
on Sunday. Heyward-Bey added a 30-yard run off a reverse. Heyward-Bey, however, has only 190 yards receiving this season. Those numbers won't cut it.
Hilton has been the Colts' most explosive receiver of the season. He's averaging a team-high 15.3 yards per catch, including a career-long 73 yards against Seattle in Week 5. He's been the second-best receiver behind Wayne.
Brazill is the wild card of the group. He's been back two weeks since returning from his suspension, and he's had more of an impact on special teams than with catching passes. Brazill has yet to catch a pass.
The same can be said about
David Reed
, who was inactive against the Broncos. He's returned 11 kickoffs for 276 yards but he's been non-existent playing behind Wayne, Heyward-Bey, Hilton and Brazill at receiver.
Griff Whalen
and Da'Rick Rogers are both on the practice squad.
"Again, it will be next man up, and they're going to have to raise their level of play," Colts coach Chuck Pagano said. "Again, you can't replace [Wayne], but somebody will rise up. Just like when we lose anybody else."
October, 20, 2013
10/20/13
10:44
PM ET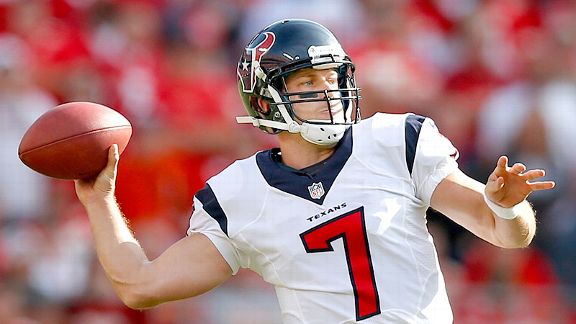 AP Photo/Ed Zurga"I learned a lot today," Houston Texans quarterback Case Keenum said of his first outing. "That was a big stage, obviously, and a really good football team."
KANSAS CITY -- The drive didn't end how any of the
Houston Texans
had hoped, but the young, inexperienced quarterback got into the huddle and urged his teammates with confidence.
"Let's take it 99,"
Case Keenum
said, as Texans center
Chris Myers
recalled.
It was the fourth quarter of a game the Texans' trailed by one point. Their net gain was negative-1 yard that quarter and that particular possession was their only fourth quarter possession with positive yardage. It ended in a punt after Keenum was sacked.
"I told him before the game, keep everyone upbeat," Myers said. "Everyone enjoys an upbeat huddle."
For a first outing, it showed promise. And it leaves the Texans with a tough decision for their next game.
"Energetic, excited, ready to go," running back
Ben Tate
said of Keenum. "Natural born leader."
Keenum was poised. It wasn't apparent this was the first time he'd played in a meaningful game since his sixth and final year at the University of Houston. (Keenum insisted last week that the preseason games in which he's seen action since then are meaningful, too.) He took chances and he recovered well when those chances didn't work.
This was the toughest defense he's ever faced and the toughest crowd he's ever seen, both of which showed late in the game.
"They were doing a good job, and I got confused," Keenum said.
He was sacked four times in the fourth quarter, fumbling the ball twice. The second time he did so, the Chiefs recovered the fumble and thus ended the Texans' comeback bid. From there Kansas City ran out the remaining 1:34 in the game.
Keenum opened up a deep passing game that the Texans moved away from lately. According to ESPN Stats and Info, he completed three of five pass attempts longer than 20 yards including one for a touchdown to
DeAndre Hopkins
. In the previous four weeks, the Texans had attempted only six such passes total.
He finished with a passer rating of 110.6, completing 15 of 25 passes for 271 yards and a touchdown. He was sacked five times -- all in the second half -- by perhaps the best defense in the NFL.
"I learned a lot today," Keenum said. "That was a big stage, obviously, and a really good football team. I learned that it's those small one or two plays here and there that make a difference."
His performance left Texans' owner Bob McNair thrilled.
"I thought he did a hell of a job," McNair said. "He was outstanding."
It left coach Gary Kubiak feeling like he'd made the right decision when he chose Keenum because the Texans needed a spark.
"Yeah, we definitely did [get a spark]," Kubiak said. "We found a little heartbeat today."
This week's decision was between Keenum and
T.J. Yates
, who entered the season as the Texans' backup quarterback. Yates won the backup job in the preseason, but was deposed after a two-interception performance against the
St. Louis Rams
last week.
Keenum was chosen with starter
Matt Schaub
out with an injury to his foot and ankle that he suffered against the Rams. Schaub said he suffered some ligament damage, but no broken bones.
But now the Texans have a bye week, which might give Schaub time to heal.
So if he's healthy what do the Texans do?
Before this week, my opinion was that Keenum was a desperation choice. Start him if you have nothing to lose.
After this game, there might be more there. It's hard to tell, still, what Keenum's future will be. But there are a lot more unknowns about his potential than there are about veteran quarterback Matt Schaub.
It's likely Keenum benefited a bit from the Chiefs defense's unfamiliarity with him. It's also likely that as he learns more about reading defenses, he'll get better at it.
The answer will lie in which direction pulls him more strongly.
AFC SOUTH SCOREBOARD
Thursday, 12/18
Sunday, 12/21