AFC South:

Willis McGahee
June, 18, 2013
6/18/13
7:19
AM ET
The screw in
Ahmad Bradshaw
's right foot could be an issue for him going forward.
Greene
Bradshaw
If he's healthy, he could be a heck of an acquisition for the
Indianapolis Colts
.
And the price sure seems right: It's a one-year, $1.1 million contract that came with a $250,000 signing bonus. There is another $650,000 available in per game roster bonuses.
I fielded a good question in the last couple days about whether or not Bradshaw's contract and the Denver Broncos' release of
Willis McGahee
sheds further bad light on the Titans contract with
Shonn Greene
.
I don't really factor in McGahee -- he's a bigger injury question than Bradshaw and that's why Denver is moving on.
But compare the Bradshaw price to Greene's. Green got three years at $10 million, with a $2.5 million signing bonus and $4.5 million guaranteed.
It's one-third the time under contract for Bradshaw. But he could well be starting for the Colts while Greene is the No. 2 back for the Titans. Yet over the life of this contract, Greene's average per year will be nearly double.
If Greene gives the Titans what they want, his deal won't seem outrageous.
If Bradshaw has a solid and healthy year, the Colts will have to spend more to keep him longer.
The verdict will take time. Right now things look to tip to Indianapolis.
September, 27, 2011
9/27/11
1:02
PM ET
»
NFC Stock Watch
:
East
|
West
|
North
|
South
»
AFC
:
East
|
West
|
North
|
South
FALLING
1. Matt Turk, Jacksonville Jaguars punter
: The Jaguars pride themselves on having a good special-teams unit. They were without one of their premier special-teamers,
Kassim Osgood
, in Carolina; another standout,
Montell Owens
, probably will be on the injury report this week. The thinking was they'd help Turk look good. But through three games he has a 33.4-yard net punt average and has given up touchbacks on four of his 10 punts. Coach Jack Del Rio said it hasn't been good enough, and if it doesn't get better, the Jaguars could ponder an alternative.
2. Red zone offense, Houston Texans
: That killer instinct I've written about repeatedly always comes into question when the Texans settle for field goals. They moved the ball great in New Orleans but stalled when they got close, and then called on
Neil Rackers
too often. The good news is, no team has been inside the 20 more than Houston (16 trips). But five touchdowns for a .313 percentage in the red zone puts them 30th in the NFL. With their offense, that's just not sufficient. (It could be worse, though. The Jaguars are dead last in red zone efficiency. They've been in the red zone a grand total of one time, when they kicked a field goal.)
3. Quarterback accuracy, Indianapolis Colts
:
Kerry Collins
and
Curtis Painter
combined to hit on just 18 of 40 passes in the Colts' loss to Pittsburgh. Each missed open guys at crucial moments. The stat sheet says
Reggie Wayne
was targeted 13 times, which is as it should be. But he caught only three passes for 24 yards, which is something we can really second-guess. Painter missed a wide open
Pierre Garcon
on a play that could have changed the game. We're not going to get anything close to
Peyton Manning
out of these guys. But whoever is under center needs to get the ball in the hands of Wayne,
Austin Collie
,
Dallas Clark
and Garcon.
RISING
[+] Enlarge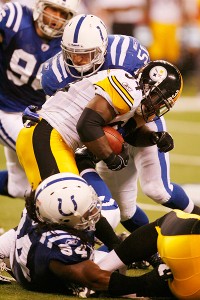 Brian Spurlock/US PresswireLinebacker Pat Angerer (51) racked up 21 tackles against the Steelers.
1. Pat Angerer, Indianapolis Colts linebacker
: In a game in which the Colts' defense really woke up and made things work,
Dwight Freeney
and
Robert Mathis
led the line and harassed
Ben Roethlisberger
. Angerer keyed the second level. Game statisticians credited him with 21 tackles, twice as many as anyone else in the game. And he added one on special teams for good measure. He was constantly around the ball, and he wasn't collecting "cheap" tackles by jumping in late or from behind.
2. James Casey, Houston Texans fullback
: It's still early to rate the tight end-turned-fullback as a run-blocker. But getting him on the field gives the Texans another high-quality pass-catcher. The Saints struggled to cover him, leaving him alone on a 62-yard reception. And his diving 26-yard touchdown catch was just beautiful. Casey finished with five catches for 126 yards, just two fewer than the best receiver in the NFL,
Andre Johnson
. Casey is a matchup issue for everyone the Texans will face. Treat him like a fullback and opponents may suffer for it when he motions out and runs routes like a receiver.
3. Jurrell Casey, Tennessee Titans defensive tackle
: He can rush the passer better, but the rookie is a big piece of a defense that currently holds the No. 1 ranking in the NFL. He was one of the guys who stopped
Willis McGahee
in a fourth-quarter goal-line stand against Denver. As a run-stopper, he's an influential guy who has potential to get even better as he gets more comfortable and confident.
January, 12, 2010
1/12/10
1:00
PM ET
»
NFC
:
Cardinals
|
Saints
|
Vikings
|
Cowboys
»
AFC
:
Jets
|
Chargers
|
Ravens
|
Colts
A look at a player who could be a difference-maker this weekend.
INDIANAPOLIS -- There is always room for dispute regarding tackles when a big disparity pops up between the number awarded by press box statisticians and a team's coaches after film review.
[+] Enlarge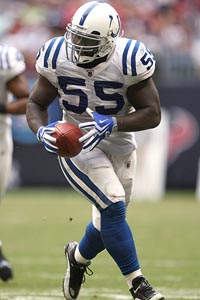 Stephen Dunn/Getty ImagesClint Session was credited with 103 tackles for the Colts this season.
Neither rate as official and, unless they have reputations for being inflationary, coaches are generally viewed as more accurate. Jim Caldwell's staff has no such reputation, as far as I know.
And when the coaches looked at
Clint Session
's body of work in Week 11's 17-15 win at Baltimore, they had him in on 14 tackles, double what game-day officials at M&T Bank Stadium had. It was his most productive game.
And if Indianapolis sufficiently slows
Ray Rice
,
Willis McGahee
and the Ravens' run game Saturday night at Lucas Oil Stadium, odds are Session will have a lot to do with it. If it's a tight game, the Colts will have to tackle well, and Session needs to lead the charge with two better known commodities -- safety
Antoine Bethea
and middle linebacker
Gary Brackett
.
Before the Colts pulled the plug on the regular season, the weakside linebacker was playing the
best ball
of his career. The next step is to do it in the postseason, when fans who don't follow the team full-time and presume undersized linebackers are products of the Colts' system will have three hours to discover he's a lot more than that.
January, 9, 2010
1/09/10
11:18
AM ET
A week from Saturday, the Colts will host the Ravens, Jets or Bengals in an AFC divisional round playoff game. (They get the lowest remaining seed, so the Patriots are not a possibility.)
Indy will be a heavy favorite in any of those three games.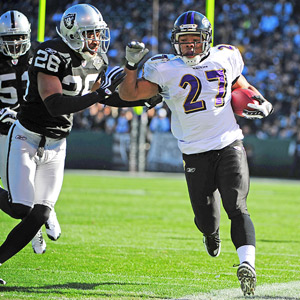 Kyle Terada-US PRESSWIREBaltimore Ravens running back Ray Rice could give the Colts trouble.
But this week while we await the wild-card games, I thought we'd look at how those three matchups look.
You can vote on who you think the best matchup is in a poll we will track,
here
.
I spoke with an AFC personnel man, who shared his thoughts in exchange for going nameless, and e-mailed with Matt Williamson of Scouts Inc.
We looked at
the Bengals
and
the Jets
earlier this week.
Now onto the Ravens.
Indy won at Baltimore 17-15 on Nov. 22.
Williamson rates the Ravens as the most desirable opponent for the Colts; the personnel man rates Baltimore as the least desirable opponent.
"I think Indy crushes the Ravens," Williamson said. "Really for one reason -- Baltimore's secondary would be completely overmatched against
Peyton Manning
and his weapons. It will be in a dome and Indy might not even try to run the ball in that matchup. Come out in 11 personnel (1 RB/1 TE-who is Clark, which is just like a WR) and make Baltimore go deep into their secondary depth while pulling quality front seven players off the field. I would pick that game to be a blowout."
The personnel man thinks the Colts could have a hard time against the Ravens' run game.
"The Ravens run the ball well, they've got two real good backs with
Ray Rice
and
Willis McGahee
," he said. "The Ravens played a really tight ball game against the Colts in Baltimore earlier this season. The Ravens had a chance to win the ball game if
Joe Flacco
didn't throw that pick down in the red zone.
"It would be a tight, physical ball game. I hate the term finesse, but Indy is a very speed/timing/athletic team. When those teams match up against physically bigger teams, that can give them problems. They can out-speed them and out-time them and be clicking on all cylinders and it will be hard for anybody to beat the Colts. But the Ravens run, they're smashmouth and they are physical on both side of the ball."
Here are the key numbers for the Ravens this season in the categories we watch weekly for the AFC South:
Total offense -- 13th
Rushing offense -- fifth
Passing offense -- 18th
Third down offense -- 11th (tied)
Points per game -- ninth
Total defense -- third
Rush defense -- fifth
Pass defense -- eighth (tied)
Third down -- 11th
Points per game -- third
February, 19, 2009
2/19/09
8:45
AM ET
Posted by ESPN.com's Paul Kuharsky
INDIANAPOLIS -- The NFL's competition committee has obtained surveys from all the teams and is underway with its annual offseason procedures; reviewing the forms, determining the issues to be focused on and addressed.
The committee started meetings Tuesday and will conclude this preliminary stage of their work Thursday or Friday. These initial talks then funnel into further meetings in Naples, Fla., that build up to the NFL Annual Meeting from March 22-25 in Dana Point, Calif.
Co-chair Jeff Fisher and committee member Bill Polian both said earlier this week that they expect player safety to be among the primary topics.
"If we look back this year, look back the last couple years, if there is a pattern, if there is some way to avoid some of the high-impact collisions that result in some injuries, then we'll look at it," Fisher said.
Said Polian: "I think safety is going to be an obvious point of discussion. That's something that the commissioner has talked about quite a bit. There are lots of areas there that you can look at and I don't know which ones the league would have in mind but I am certain that we'll discuss it. Hits on defenseless players is always a subject of discussion."
Central to that conversation could be Ryan Clark's thundering hit on Willis McGahee during the AFC Championship Game.
Polian said he expected other topics would include overtime rules, that the tuck rule is always covered and that he expected "given what happened in the Arizona-Philadelphia playoff game that we'll talk about reviewable plays under replay."
January, 10, 2009
1/10/09
12:00
PM ET
Posted by ESPN.com's Paul Kuharsky
NASHVILLE, Tenn. -- If you boil Saturday's Ravens-Titans game down to how these teams fared against playoff-caliber teams in the regular season, the arrow will point to the Titans.
The Titans were 4-1 against teams that made the playoffs -- wins over Minnesota, Baltimore, Indianapolis and Pittsburgh and a loss to Indianapolis -- with a cumulative score of 105-85. Take out the finale when the Titans weren't pressing to win in Indianapolis because they already held the No. 1 seed and Tennessee was 4-0 and the point differential was 105-62.
The Ravens were 2-5 against teams that made the playoffs -- two losses to Pittsburgh and losses to Tennessee, Indianapolis, the Giants and wins over Philadelphia and Miami -- with a cumulative score of 115-130. [NOTE: These are corrected numbers, apologies for earlier error.]
Some other final numbers from my friends at ESPN Stats & Information to ponder before kickoff of the divisional round of the playoffs this afternoon:
• Chris Johnson has carried the ball more in the first half than the second, which is the opposite of what the team has done with LenDale White's carries. The more-threatening Johnson has often helped the Titans build a lead and has been used far more when the Titans have been behind or tied, while White has helped them protect leads and milk the clock and has been used more when the team is ahead.
Titans RBs: Carries By Quarter
Quarter
Johnson
White
1st
66
37
2nd
69
44
3rd
59
51
4th
52
66
Titans RBs: Carries By Game Score
Score
Johnson
White
Tied
59
14
Behind
58
41
Ahead
134
145
Both the Titans and the Ravens like to get ahead and run the ball late, and Saturday's game features three of the NFL's best fourth-quarter running backs.
Average Yards Per Carry Among Playoff Backs*
Player
Qtrs 1-3 ypc
4th Qtr ypc
Difference
Willis McGahee, BAL
3.64
5.18
+1.54
Edgerrin James, ARI
3.60
4.80
+1.20
Derrick Ward, NYG
5.33
6.69
+1.36
Le'Ron McClain, BAL
3.44
4.73
+1.29
LenDale White, TEN
3.53
4.55
+1.02
* Minimum 100 carries during regular season.
• Since the NFL expanded to a 12-team playoff structure in 1990, No. 6 seeds are 2-10 against No. 1 seeds. However, the six seeds have won the last two matchups -- Steelers over Colts in the '05 AFC divisional playoffs and Steelers over Seahawks in Super Bowl XL.
• Last week at Miami, Joe Flacco became the third rookie quarterback to win his playoff debut and the first to do it on the road. The previous two rookie signal-callers to win their playoff debuts went on to lose their next game.

• When I saw side-by-side pictures of Kerry Collins and Flacco earlier this week, I wondered: Have two quarterbacks who wore No. 5 ever squared off in a playoff game before? ESPN's Mark Simon quickly found Collins vs. Donovan McNabb on Jan. 7, 2001, when the Giants beat the Eagles to advance to the NFC Championship Game. We came up empty beyond that. If you've got any answers, please share in the comments section or hit the mailbag. (Or both!)