January, 13, 2014
1/13/14
10:01
PM ET
NASHILLE, Tenn. -- During his final two years as head coach of the
Arizona Cardinals
, Ken Whisenhunt's wanted a Pittsburgh style, 2-gapping, 3-4 defense.
He could adjust given his second head-coaching job, with the
Tennessee Titans
. But if we're forecasting scheme, that might be the most likely defense we'll see.
What's that mean regarding potential coordinators on the other side of the ball for Whisenhunt, who played as an NFL tight end and is an offensive coach?
If defensive coordinator Ray Horton is fired by the
Cleveland Browns
, who are still searching for a head coach, he'd likely be a prime candidate to re-join Whisenhunt, for whom he worked with the Cardinals. It was Horton who went from Pittsburgh to Arizona to run that scheme for the Cardinals.
[+] Enlarge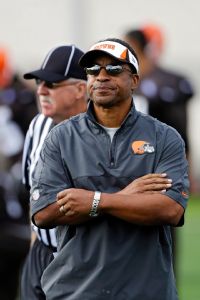 AP Photo/Mark DuncanIf Ray Horton is not retained when the Browns hire a new coach, he could be a prime candidate to join Ken Whisenhunt's staff.
A couple others I think could be defensive coordinator possibilities: Green Bay's inside linebackers coach Winston Moss and Baltimore's secondary coach Teryl Austin, who coached Arizona's secondary for Whisenhunt from 2007-09.
The Packers or Ravens would have to be willing to let them go in order for Whisenhunt to get them.
Steelers linebacker coach Keith Butler is someone Whisenhunt coveted for the role in his first go-round as a head coach. But Pittsburgh wouldn't let Butler go then and it's unlikely it will let him go now.
Gregg Williams was a 4-3 guy coming up with the Oilers/Titans, as head coach in Buffalo, as coordinator in Washington and Jacksonville. He did run some 3-4 in New Orleans, where he coaches a Super Bowl-wining defense.
Williams did well as a senior assistant/defense for Mike Munchak in 2013. His contract recently expired. He seems like an unlikely guy for Whisenhunt to want, but who knows what options the new coach will wind up with?
His two earlier defensive coordinators in Arizona -- Clancy Pendergast in 2007-08 and Billy Davis in 2009-10 -- ran hybrid fronts. But ultimately Whisenhunt landed on Horton and that 3-4.
If Whisenhunt puts the Titans on a course for a 3-4 defense, he'll likely need some time to get them there. In the traditional version of the scheme, linemen generally take on the man across from them and are expected to clog the gap on either side of the blocker depending on how a play develops. The linebackers fill in and make the bulk of the plays.
The Titans' best defensive player,
Jurrell Casey
, is a 4-3 tackle who would surely become a 3-4 end. Big nose tackles who demand a double team are hard to find, though perhaps 328-pound
Sammie Hill
could make the conversion.
The Titans linebackers were very unproductive in 2013 after a good start. None scream out to me that they'd be better standing up and adding some coverage duties, though
Akeem Ayers
was projected by many in that role when he came out of UCLA. I didn't think the Titans had one sufficient middle linebacker, better yet two who could be tackling machines sharing the inside.
Indianapolis coach Chuck Pagano got good results running a hybrid in his first season converting a 4-3 to a 3-4 in 2012, and in his second season the team was better stocked for his preferred front. But he had
Robert Mathis
, a pass-rushing demon at end who's taken well to playing as an outside linebacker.
When he's formally introduced Tuesday, we'll hear from Whisenhunt about his plans for Tennessee's defense.
June, 21, 2011
6/21/11
1:05
PM ET
Power Rankings turn to an important, relatively unknown bunch this week: assistant coaches.
But we're not ranking the top 10 assistant coaches, we're ranking the top 10 up-and-coming assistant coaches. Who are guys who have not been head coaches before (interim stints didn't disqualify anyone) who we expect will ultimately be patrolling the sideline in the primary headset?
It's an interesting list that has a lot of debatable votes. For example, I didn't vote for Giants defensive coordinator Perry Fewell, who wound up No. 1.
I explain why in
Kevin Seifert's piece
unveiling the overall rankings (and here's
the column
relating to it all). I also make the case for Jacksonville offensive coordinator Dirk Koetter, who got my third-place vote and finished fifth overall.
Considering that I am on record selecting Koetter as my head coach if I assembled a staff from the AFC South pool of coaches, including the four head coaches, my vote should be no surprise. Indications were he was great in his interview with Denver, and only John Fox's prior experience got him the job ahead of Koetter.
He was the No. 1 selection for agent Bob Lattinville, who represents a lot of coaches and put together
a top 10 list for me
.
Here's my ballot, which I remind you counted just one-eighth of the overall result:
Rob Ryan
Winston Moss
Dirk Koetter
Greg Olson
Bill O'Brien
Darren Perry
Brian Schottenheimer
Rich Bisaccia
Mike Zimmer
Mike Waufle
January, 31, 2011
1/31/11
5:43
PM ET
When Ray Sherman left the
Tennessee Titans
staff, he was viewed as a coach with a bit of wanderlust: He always thought the next job he got would be better, and might position him for the big step to a head coaching job.
Sherman was on Jeff Fisher's staff in 2005 and 2006, hardly a monumental time for receivers with the team. He was on the Oilers' staff in 1988 and 1989 as well. So Bud Adams knows him from two stints.
Now he's a candidate for the Titans' head coaching vacancy (somehow Adam Schefter tweeted that Chris Mortensen is reporting it).
Sherman interviewed with the Cowboys, fulfilling their requirement under the Rooney Rule to discuss a head coaching vacancy with at least one minority. Skeptics will say he's a token interview in Nashville, particularly if Mike Munchak is hired quickly as Fisher's replacement. Munchak interviewed Monday.
John Wooten is chairman of the Fritz Pollard Alliance, an organization that works with the NFL promoting diversity among front office executives, coaches and scouts.
He said he spoke with Titans general manager Mike Reinfeldt Monday to let him know of the group's "ready list." Sherman is one of seven remaining minorities the group promotes as ready to be head coaches. Three others from the earlier version of the list – Leslie Frazier, Ron Rivera and Hue Jackson – have attained head coaching jobs.
Wooten said he'd love to see Giants defensive coordinator Perry Fewell and Packers assistant head coach/inside linebackers coach Winston Moss get a look from the Titans. Moss cannot interview until after the Packers play in Super Bowl XLV Sunday.
I know Jim Wyatt's conversation with Bud Adams that
I cited in this morning's RTC entry
indicated the owner sees things happening quickly. Maybe they will.
But general manager Mike Reinfeldt and senior executive vice president and general counsel Steve Underwood are sorting out the pool and doing the interviewing.
They are deliberate guys who emphasized Friday that they would take as long as they need to. That makes me think we learn the new coach later rather than sooner.
Of course, this franchise has not been in this position for some time, its lead by an eccentric owner and anything can happen.
As for minority presence: of the four assistants that are gone from Fisher's 2010 staff, running backs coach Craig Johnson and receivers coach Fred Graves, are African American.
Now only two of the 14 assistants who are under contract to the team are minorities -- secondary coach Marcus Robertson and defensive assistant/quality control coach Rayna Stewart.
Whoever the new head coach is, he will have to consider diversity as he pieces together his staff.