September, 21, 2014
Sep 21
11:49
PM ET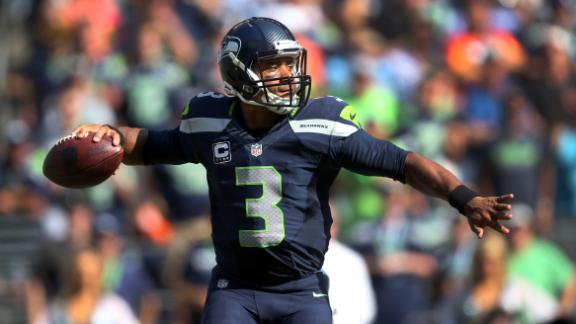 SEATTLE -- The
Denver Broncos
spent lavishly in free agency to buy a defense with enough of an edge to give them a chance in a rematch of the NFL's title game and enough on-field toughness to push them back into a Super Bowl.
That defense opened the season with fourth-down, game-saving plays in each of the Broncos' first two victories before Sunday's trip to the grown-up table that is a game at CenturyLink Field. But in the reap-what-you-sow department, the Broncos' offense couldn't find its rhythm for most of Sunday, leaving the defense with too many short fields and in too many bad spots. In the end, when the Broncos really needed one more dig-in series from the defense, the tank was empty.
And with that the Seahawks escaped with a
26-20 overtime win
.
"We didn't play our best today," wide receiver
Wes Welker
said of the offense. "And ultimately we came up short because of it."
Bottom line is the Broncos needed to force one more punt in overtime, get one more third-down stop from its revamped defense that had done so much in the first four quarters, and they didn't get it. The Seahawks won the coin flip for overtime, kept the ball 13 plays, went 80 yards and ended the game when running back
Marshawn Lynch
plowed into the end zone from the 6-yard line for the win.
On the drive, Seahawks quarterback
Russell Wilson
rushed for 21 yards, including 5 yards to convert a third-and-3 and 5 yards to convert a third-and-4.
"We forced a fifth quarter, our offense got it going, we just have to find a way to get off the field in overtime," defensive tackle
Terrance Knighton
said. "They just executed in overtime and we didn't. We needed one more play in overtime. ... Ultimately it's about win or lose, it's either win or a loss. We've got nothing to be happy about."
But to beat this Seahawks team -- in this stadium, with the vaunted 12th man screaming at your every move -- every team walks a fine line. The Broncos' inability to crank things up on offense until it was almost too late may be what ultimately did in the Denver defense. The miles are on the odometer, after all, whether they come in the first 15 minutes or in the game's last 5 minutes, 46 seconds.
The Broncos rushed for 15 yards on 14 carries in the first half. On running back
Montee Ball
's longest run of the opening half -- 9 yards on the team's first offensive play -- he fumbled. That put the Seahawks on the Broncos' 23-yard line and the Denver defense held Seattle to a field goal.
After the Broncos answered the Seahawks' field goal with one of their own on the possession following Ball's fumble, their offense went punt, punt, punt, kneel down to end first half, punt, punt, punt, punt and punt.
The Broncos didn't put a touchdown drive together in the second half until Broncos cornerback
Chris Harris Jr.
returned an interception to the Seahawks' 19-yard line with just more than 11 minutes remaining in regulation.
"Offensively, we have some things we have to fix just from an execution standpoint," quarterback
Peyton Manning
said. "And I have to play better as well."
The Broncos made a fight of it Sunday, the offense did go 80 yards in 41 seconds, with no timeouts, to tie the score with a touchdown and two-point conversion. And as you would expect for a team with designs on big things, everybody took the blame when it wasn't enough.
But three games into this young season and the Broncos, like some kind of struggling pitching staff, are still looking for their first complete game.
"There really isn't a second-place prize, a honorable mention or anything like that," linebacker
Von Miller
said. "We got better [Sunday] … but unfortunately we didn't get the win."