December, 20, 2014
Dec 20
11:40
AM ET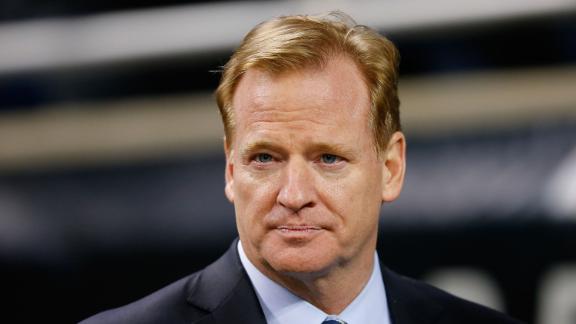 ESPN NFL Insider Adam Schefter reports
that NFL commissioner Roger Goodell put an end to speculation that a team would relocate to Los Angeles in 2015 when he told the
San Diego Chargers
,
Oakland Raiders
and
St. Louis Rams
-- each of whom can file a relocation application for the 2015 season starting January 1 -- that there will not be a team that moves to Los Angeles for next season, per league sources, and any team that is considering it should look to 2016 instead.
Schefter's report explains why
the Chargers announced on Tuesday
that they are staying in San Diego, stating that the team will not exercise its right to terminate the lease at Qualcomm Stadium, and committing to play in the city for the 2015 season.
According to Schefter, Goodell's message does not stop a team like the Raiders or the Rams from filing relocation papers. However, without the league's support, it would be hard for an application to get the required 24 votes for approval. So the expectation is Los Angeles will have to wait for a team until at least 2016.
Mark Fabiani, special counsel to Chargers president Dean Spanos and the team's point person on the stadium issue, explained the reasoning behind this week's announcement in
a recent interview with The Mighty 1090 AM radio.
"We thought it was the right time, because it's basically the same time period we've used in past years," Fabiani said. "But we also came to the conclusion based on all of the intelligence-gathering that we've done that it's not likely that any other team is going to relocate to Los Angeles this next season, which means that 30 percent or so of our business that comes from the L.A. and Orange County markets will be safe for us for at least another year."
While the team's announcement provides a one-year reprieve for San Diego to put together a stadium approval that satisfies all of the stakeholders involved in the project, Fabiani said the team will continue to keep a watchful eye on the Los Angeles market.
"It's such a huge market," Fabiani said, when asked about the reason teams want to move to Los Angeles. "It's 19 million people, if you count L.A., Orange County and the Inland Empire. And if you have owners that want to go to that market, if you have a market that's big enough that you can basically privately finance your stadium, somebody's going to do it, and sooner rather than later.
"I think the fact that it hasn't happened over the last 13 years is because these teams were not eligible to leave their existing stadiums -- they had leases. But that's different now. Both of those teams (Rams and Raiders) are at least legally free to go. And at some point, one of them is going to do it, and maybe two of them are."
Fabiani went on to say that two teams moving to Los Angeles is a possibility, because they could share the costs of privately financing the stadium. However, two teams in the L.A. market would hurt the Chargers financially.
"If we have two teams in that market, we dry up our 30 percent of the revenue that now comes from that market," he said. "We have no options here in San Diego. We're playing in an aging stadium. Our lease is expiring in 2020. You just can't allow the team to be in that position. And I don't think that Dean Spanos has any intention of allowing the team to be in that position."
AFC WEST SCOREBOARD
Saturday, 12/20
Sunday, 12/21
Monday, 12/22