December, 18, 2014
Dec 18
8:00
AM ET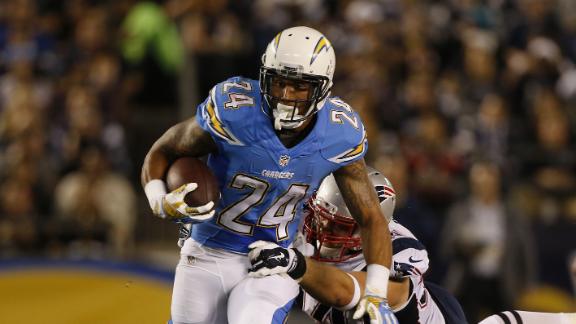 When:
8:25 p.m. Saturday.
Where:
Levi's Stadium, Santa Clara, Calif.
TV:
CBS, NFL Network.
The
San Francisco 49ers
were eliminated from the playoffs last weekend. The
San Diego Chargers
are living on a prayer and have more than pride to play for when they face their Northern California neighbors on Saturday. NFL Nation reporters Paul Gutierrez, who covers the 49ers, and Eric Williams, who covers the Chargers, break down the matchup.
Gutierrez:
The Chargers came out of nowhere last year to claim one of the AFC's wild-card spots as a feel-good story. Now, the Bolts find themselves on the outside looking in with two games remaining. Was this year's bar simply set too high by their playoff appearance last year or do they have the rest of the AFC right where they want them with two games to go?
Williams:
It's hard to argue that last year's surprise playoff appearance was somewhat of a mirage. The Chargers still lack depth at cornerback, defensive line, interior offensive line and running back. And they've struggled to score points against the top two teams in the AFC in back-to-back games (the
New England Patriots
and
Denver Broncos
). That said,
Philip Rivers
still is one of the top quarterbacks in the NFL when protected and healthy. When Rivers is on, the Chargers can play with anyone in the NFL. And they need Mr. Bolo tie to get on a roll and have a chance to make the postseason for a second straight year.
With the 49ers sitting at 7-7, they will be on the outside looking in come the playoffs for the first time in four seasons. San Francisco has a lot of proud, veteran players such as
Frank Gore
,
Justin Smith
and
Vernon Davis
. How are they handling playing out the string? And do you believe they will show up motivated to play on a short week this Saturday?
Gutierrez:
Yeah, that is the question
du jour
this week in Santa Clara, along with if the Niners should rest their veterans and let their younger guys get the lion's share of the snaps against the Chargers. Injuries, though, might make it a moot point because said younger guys will be forced to play anyway. But you make a valid point, especially since merely playing out the string is a foreign concept for the Niners in the Jim Harbaugh Era. And the team, from general manager Trent Baalke to coach Harbaugh to the vets themselves, insists it will play hard and try to finish 9-7. Because while pride, as Marcellus Wallace said in "Pulp Fiction," can be a dangerous thing, it is also a motivating factor. I expect the vets to show up and show out. Still not sure if it will be enough, though.
The Chargers' fortunes have risen and fallen with the play of Rivers. Earlier this season, he was playing like a NFL MVP candidate. Lately? Not so much. What's eating the league's favorite bolo tie-wearing signal-caller, and why has San Diego's steadiest competitor become so inconsistent of late?
Williams:
Injuries have slowed him down a bit. He's too much of a tough guy to acknowledge it, but chest and back injuries have limited Rivers' mobility in the pocket and taken some velocity off his fastball. The Chargers have played four different guys at center. Rookie
Chris Watt
is learning on the run, which means Rivers has been hit more times than when veteran
Nick Hardwick
was making the line calls. And the Chargers have not run the football well, so they do not have balance on offense. San Diego averages just 3 yards a carry on first down, worst in the NFL.
There has been a lot of talk nationally about
Colin Kaepernick
's struggles. You've watched him up close this season. Do you believe the 49ers are getting the most out of his unique skill set? And what could they do differently?
Gutierrez:
It's obvious the Niners changed the offense this season, and it's apparent they tried to flip Kaepernick and turn him more into a pure pocket passer. Yet the closest anyone on the staff will admit to a change is when offensive coordinator Greg Roman acknowledged
simplifying
the offense, particularly the running game. Whatever the Niners did, they made Kaepernick uncomfortable under center, almost as if you can see him overthinking in the pocket. There's a reason his numbers are so much better when teams blitz him. He doesn't have time to think, so he just reacts and makes plays, rather than suffering from paralysis by analysis. So, to answer your question, no, I do not think the Niners are getting the most out of Kaepernick's skill set. That's not to completely absolve the QB of his regression. Or, to quote Cris Carter, who addressed the Kaepernick dilemma on ESPN's "Sunday NFL Countdown:" "Ultimately, I think we are making too many excuses for him. I think the ceiling for Colin Kaepernick is not as high as you guys anticipate. I think you're going to have to be real creative because he won't be a conventional quarterback. I think you set yourself up to be let down because his inability to throw the ball at different speeds. ... He does have arm talent, but I'm wondering: Does his brain connect to his arm to make him more diversified as far as what he can do? So, for me, I don't have as high of expectations for Colin Kaepernick." Harsh? Perhaps, but this much is true: Whoever is coaching the Niners next year would be wise to adapt his offensive philosophy to Kaepernick's skill set, rather than trying to make Kaepernick fit into his offense. Especially after CEO Jed York and GM Trent Baalke went all in with that contract extension for the QB, even if it is team friendly.
I asked this of our reporters who cover both the Raiders and the Rams, and I'm sure you know where this is going, Eric. But do the Chargers, who actually began their AFL existence in the Los Angeles Memorial Coliseum in 1960, truly expect to be in L.A. before either the Rams, who called SoCal home from 1946 through 1994, or the Raiders, who were in LaLa Land from 1982-94? Hey, if it's the Rams and Chargers and they share a stadium, at least they could go all in with blue and gold paint, no?
Williams:
Would they go with powder blue or royal blue? Joking aside, ideally the Chargers would like to remain in San Diego and get a new stadium built. However, team president Dean Spanos has to take a realistic approach to the stadium issue and financial possibilities that exist in a lucrative L.A. market. The Chargers are keeping a watchful eye on what happens in Los Angeles, with 30 percent of the team's local revenue -- which includes advertising, sponsorships, club seats and suites -- originating in the Los Angeles market. All of the options have not been exhausted in the respective markets of the Rams, Chargers and Raiders, so I don't see the NFL letting any of those franchises relocate in 2015. For now, the Chargers will continue to work with mayor Kevin Faulconer in an attempt to build consensus for a downtown football stadium that keep them here. The Chargers announced this week the team's intentions to renew their lease at Qualcomm Stadium to play there for the 2015 season.
Rookie
Chris Borland
has benefited from the absence of injured inside linebackers
Patrick Willis
and
NaVorro Bowman
. He currently leads San Francisco in tackles. What makes him so effective, and how will his role change when those two players return next season?
Gutierrez:
Yeah, the relatively diminutive Borland, all 5-foot-11 of him in cleats, has become a folk for the faithful. His underdog swagger garnered attention but his nose for the ball and sideline-to-sideline speed and tackling acumen won him fans, especially among the coaching staff. But, and this was the big question, how would his small stature hold up in the NFL with his reckless abandon style of play? Well, he hurt his left ankle on Sunday in Seattle and defensive coordinator Vic Fangio said this week it would be "a stretch" for Borland, who replaced Willis, to play again this season due to the injury. If Willis and Bowman are both back from their toe and knee injuries next season, Borland is the perfect high-energy backup in the middle of the 49ers' 3-4 base defense, and he would not have to take as many snaps, keeping him relatively out of harm's way. At least, that's one way of looking at it, because Borland plays at only one speed.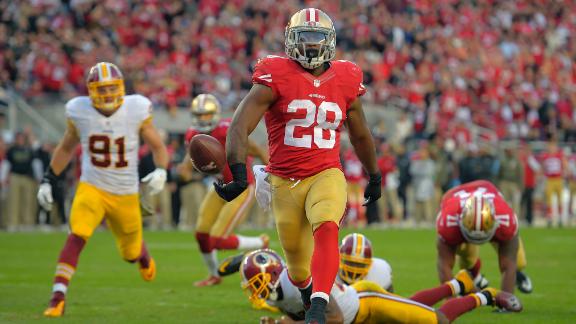 AFC WEST SCOREBOARD
Saturday, 12/20
Sunday, 12/21
Monday, 12/22