AFC West:

2012 NFL Free Agency
February, 12, 2013
2/12/13
11:00
AM ET

One of the top storylines in the AFC West this offseason will be how the
Kansas City Chiefs
address the quarterback position.
Kansas City will find its 2013 starting quarterback either by using their No. 1 overall draft pick or by acquiring a veteran through free agency or trade.
There are no sure things in either avenue this year. The top veterans options may be San Francisco's
Alex Smith
and Seattle's
Matt Flynn
. The best draft prospect is likely West Virginia's
Geno Smith
.
Which route do you think the Chiefs should take? Please take our poll and express your thoughts in the comment section below. We will review the poll results Wednesday.
April, 5, 2012
4/05/12
7:40
PM ET
In their attempt to shore up the defensive tackle spot, the Broncos visited with
Justin Bannan
on Thursday,
the Denver Post reports
. He started 16 games for Denver in 2010 and 14 games for St. Louis last season. He is a versatile veteran who would likely be part of the rotation in Denver.
The Broncos are expected to draft a defensive tackle early, perhaps at No. 25 in the first round.
In other AFC West news:
As of Thursday evening, the Raiders are still very much in the mix for
Dave Tollefson
and have a solid offer out to him. He is listening to other offers. The free-agent defensive end, who's spent all five seasons of his NFL career with the New York Giants, would be a key backup in Oakland.
The Oakland Tribune
offers a Q & A with new Oakland coach Dennis Allen. It focused on the first week of the offseason conditioning program.
April, 4, 2012
4/04/12
9:14
PM ET
The Chargers announced they have signed receiver/returner
Micheal Spurlock
. He had previous success under current San Diego special-teams coach Rich Bisaccia in Tampa Bay. With the earlier signings of
Eddie Royal
and
Roscoe Parrish
, the Chargers are loaded with receivers who can return. Of the three, only Royal is certain to make the team, but I'd expect Parrish, signed Tuesday, and Spurlock to compete for a spot.
It is not a slam-dunk that defensive end
Dave Tollefson
will sign with the Raiders. However, as of Wednesday evening, Oakland is still considered the favorite to land him. He is set to visit with the Titans on Thursday; other teams are interested. The Raiders might be willing to give Tollefson the most money. He will be a key backup if he signs in Oakland.
Defensive end
Luis Castillo
-- who re-signed with the Chargers on Wednesday after being cut in a salary-cap move --
is prepared to regain his starting job
. He suffered a leg injury in Week 1 last season and was out for the year. The Chargers are high on young ends
Corey Liuget
and
Vaughn Martin
. At the very least, Castillo will be part of San Diego's rotation.
March, 30, 2012
3/30/12
12:00
PM ET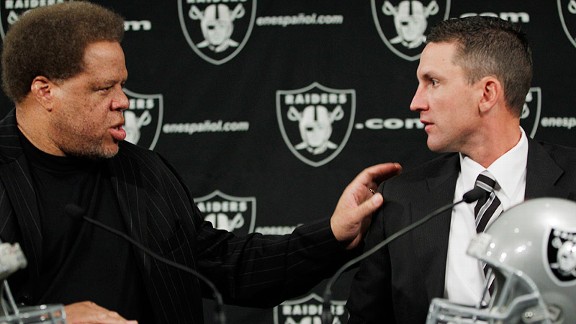 AP Photo/Paul SakumaOakland's salary-cap woes have Reggie McKenzie, left, and Dennis Allen in a tough spot.
The
Oakland Raiders
are one of the most intriguing franchises in the NFL these days. How will the post-Al Davis Raiders evolve?
After Davis' death in October, the much-less-involved Mark Davis turned his father's beloved franchise over to Reggie McKenzie, a respected personnel man from Green Bay, who is embarking on his first journey as a general manager. McKenzie has entrusted former Denver defensive coordinator Dennis Allen, who at 39 is the youngest coach in the league, to be the next coach of a team that finished 8-8 last season and barely missed the playoffs.
The first focus for McKenzie has been clearing the Raiders' roster of bloated contracts given to players as the Raiders desperately, and unsuccessfully, chased championships in Davis' final years.
It has been a necessary exercise as Oakland begins the process of getting out of salary-cap jail. But Oakland has lost more talent than it has brought in the past month.
The question begs to be asked: Has Oakland fallen behind the rest of the AFC West for the 2012 season? It depends on whom you ask, of course. Asked this week if his team will be stronger or weaker in 2012, McKenzie, without explanation, said this: "Honestly, I envision it being stronger."
However, many folks around the league wonder how.
"I think they have fallen behind," Gary Horton of Scouts Inc. said. "They are in a tough salary-cap position and they are paying for it now. I just don't see the improvement."
Added Matt Williamson of Scouts Inc.: "I do think they have slipped." Williamson,
in an Insider piece
, gave the Raiders one of the worst free-agent grades in the AFC.
It's difficult to look at the list of players Oakland has added and lost and not come to the same conclusion. Even given the need for salary-cap repair, a loss of talent mustn't be brushed aside.
Here are some of the key players who were either cut or departed Oakland as free agents: linebacker
Kamerion Wimbley
, running back
Michael Bush
, quarterback
Jason Campbell
, cornerback
Stanford Routt
, tight end
Kevin Boss
, defensive tackle
John Henderson
, running back
Rock Cartwright
, receiver
Chaz Schilens
, defensive end
Trevor Scott
and cornerback
Chris Johnson
.
The projected starters who have been brought in: guard
Mike Brisiel
and cornerbacks
Ron Bartell
and
Shawntae Spencer
.
"You look who has come and who has gone, and it's scary," Horton said. "I like Mike Brisiel. He will help. But the two cornerbacks are just guys. They are not starters for a good team. The defense needs improvement and I don't see it. All I see is the loss of talent. Where is the coverage coming from? Where is the pass-rush coming from?"
In addition to not having much cap room, the Raiders have a small draft class. They have five picks and their first pick is No. 95, at the end of the third round. McKenzie has said the Raiders need a starting outside linebacker. He might not know who that player is for some time.
Compounding the concern in Oakland is the fact that the rest of the AFC West has been aggressive this offseason.
[+] Enlarge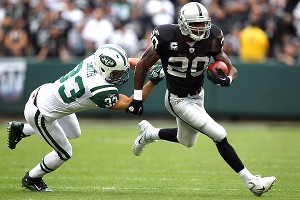 Jed Jacobsohn/Getty ImagesDarren McFadden is an elite running back when healthy -- but the Raiders are an injury or two away, at many positions, from serious trouble.
Denver added the big prize of the NFL offseason -- quarterback
Peyton Manning
. Kansas City added several players, including Routt and Boss after they were jettisoned by Oakland. The Chargers lost star receiver
Vincent Jackson
and key backup running back
Mike Tolbert
, but added several pieces and have been lauded by scouts around the league for using their resources properly and adding to their overall talent level. Speaking this week solely about his own team, Kansas City general manager Scott Pioli said he felt the need to improve his roster because of the improvement around him in the division.
Meanwhile, McKenzie and Allen are seemingly beginning their tenure in Oakland by taking a step back. Asked about the loss of talent while at the NFL owners meetings this week, Allen took a realistic approach.
"You know what, we knew what the situation was when we were going into it," Allen said. "We knew it was going to be a tough situation. I think Reggie's done a great job of managing everything as we've gone through this. You go through it every year. Every year, you have good players that you lose. And you've got to find a way to regroup and replace those guys, and that's what we're trying to get done."
The problem is that Oakland has more holes than it did at the end of last season. In the past couple of seasons, the Raiders were intriguing because they were young and didn't have many glaring needs. All they needed was their young talent to continue to improve. Now, though, Oakland has holes at tight end and linebacker and depth issues at all layers of the defense, at running back, along the offensive line and at quarterback.
"What if this team gets hurt a lot?" Horton asked. "There is no depth in this team."
Still, not all is lost in Oakland. Running back
Darren McFadden
is an elite runner when healthy, the defensive line is an upper-echelon unit, the interior offensive line is strong, the special teams are top-notch, the receiver crew is potentially dynamic and the team believes quarterback
Carson Palmer
will benefit from a full offseason in the program.
The Raiders are hopeful that their talent can withstand this necessary offseason of cap repair. In a couple of years, if McKenzie continues to be financially prudent, the Raiders should be out of cap jail.
"This team wasn't far away when I got here," Allen said at the owners meetings. "We're excited about trying to build on that and develop this team into a playoff-caliber team. Obviously, we took a couple hits because of the cap situation, but we're looking forward to trying to develop the team and the players."
The only question: Has the rest of the AFC West left the Raiders behind in the immediate future?
March, 29, 2012
3/29/12
9:07
PM ET
Oakland Raiders
receiver
Darrius Heyward-Bey
tweeted a picture
Tuesday of three teammates (including quarterback
Carson Palmer
) and a fifth man, in what appeared to be in a workout setting.
The man?
Terrell Owens
.
Yep, the 38-year-old receiver who has fallen off the radar of NFL teams. Does the group photo mean Owens is on the way to signing with the Raiders?
Let's not get too far ahead of ourselves here. Owens and Palmer played together in the past and are friends. It might have been just a matter of Owens being in Los Angeles and getting together with the group.
Plus, players don't make personnel decisions in the world of Raiders general manager Reggie McKenzie. He has other things to worry about other than signing Owens. And the Raiders have a crowded receiving group. If Owens signs with the Raiders, I would think it would be down the road.
My guess is that Heyward-Bey is sitting back and smiling, knowing his tweet caused a slight ruckus.
In other AFC West news:
Raider Nation is recruiting
Indianapolis linebacker
Philip Wheeler
. Wheeler started 11 games last season and has started 24 of 61 NFL games. He has not been highly sought-after in free agency.
Peyton Manning
's mentor said the quarterback has played simulated games and
he is ready to go
for the Broncos.
March, 27, 2012
3/27/12
8:19
PM ET
Gary Kubiak has backed up and coached John Elway. He has been a long-time competitor of
Peyton Manning
.
Kubiak is worried about Elway and Manning combining forces in Denver, where the veteran quarterback signed last week. Here is what Kubiak, head coach of the
Houston Texans
, thinks of the pairing:
"That's a hell of a combination there," Kubiak said the NFL owners meetings. "That's powerful. It's great for their organization. It's a big move by John and the organization on this guy, probably the greatest quarterback ever to play the game. He seems healthy, ready to go, so it's a big move by them. They've got a good football team already. They're sitting in the playoffs last year. Their defense played well over the course of the season.
"I think everybody had better worry about it. It's a very powerful combination."
Other AFC West news:
ESPN's John Clayton reports that the Chargers are continuing to talk to their free-agent defensive tackle
Antonio Garay
.
Chiefs coach Romeo Crennel told the
Kansas City Star
that his team has no glaring holes and will wait until after the draft to see where it stands at nose tackle.
San Diego coach Norv Turner likes being
under the radar in the AFC West chase
.
Unless there is a dramatic change, it appears Cincinnati defensive end/linebacker
Manny Lawson
will not be signing with the Raiders. Oakland is looking for a starting strongside linebacker, and may wait for the draft to get one. Another player in whom Oakland has reportedly shown interest, Giants defensive end
Dave Tollefson
, reportedly will visit the Packers.
Adam Caplan reports
that Cincinnati backup linebacker and special-teams player
Dan Skuta
visited the Chiefs. He is a restricted free agent, but Kansas City would not owe the Bengals any compensation if the Chiefs signed him to one because he was an undrafted free agent.
The Raiders
will reportedly have a pre-draft visit
with Alabama defensive tackle
Josh Chapman
, a good run-stuffer from a great defense. All teams typically conduct several pre-draft meetings, so a visit with a college player might not necessarily mean much.
March, 24, 2012
3/24/12
7:27
PM ET
Jay Cutler
's former backup is going to Cutler's former team.
ESPNChicago.com is reporting
that the
Denver Broncos
have signed former Chicago quarterback
Caleb Hanie
— who played collegiately at Colorado State — to a two-year deal.
Hanie
Hanie, 26, played well in relief of Cutler in the NFC title game in the 2010 season. However, he was dreadful as Cutler's injury replacement in 2011, going 0-4 as a starter. The Broncos like the mobile, athletic Hanie because they think he is a better fit for their offense than he was for Mike Martz's in Chicago.
I thought the Broncos would try to sign a more experienced veteran like recent San Diego cut
Billy Volek
. The Broncos talked to Volek, but were more interested in Hanie.
Hanie will be the man in Denver if
Peyton Manning
– who missed the entire 2011 season with a neck injury – can't play. The Broncos are convinced Manning will be fine.
Let's face it: The Broncos will be dire straits if Manning, 36, misses a huge chunk of time, regardless of who is the backup. In Hanie, Denver gets a player it thinks can adjust to its system. Watch for Denver to perhaps add a quarterback in some point in the draft.
March, 22, 2012
3/22/12
10:00
PM ET
The Denver Broncos' decision to bring in former New Orleans cornerback
Tracy Porter
in for one year for $4 million means a few things:
Andre' Goodman
is probably out of the picture. The Broncos were looking for an upgrade at right cornerback. Porter, 25, is considered a decent No. 2 cornerback and should be a good complement to
Champ Bailey
.
It likely means the Broncos will not continue to pursue Pittsburgh cornerback
William Gay
. It was probably an either/or situation and Porter is considered the better player.
Even though Porter is signed for just one year and Bailey will turn 34 in June, the Broncos will probably draft a defensive tackle or a cornerback in the first round. Why? It's more of an immediate need. I could still see cornerback being addressed early in the draft and maybe Denver will look for some more depth in free agency.
Oakland wanted Porter, but he was a bit too pricey. Porter played for new Raiders coach Dennis Allen in New Orleans.
I caught up with Matt Williamson of Scouts Inc. to get this view on the Porter signing. Williamson thinks Porter is the best of three starting cornerbacks who have joined the AFC West in free agency. Oakland has brought in Ronald Bartell and Shawntae Spencer.
Here are Williamson's thoughts on the Porter signing: "He's a real good addition. He's a strong No. 2 cornerback opposite Champ. Porter isn't overly strong or physical, but he can play man coverage and he is a playmaker on the ball. I am shocked he lasted so long. I would put him ahead of a fully healthy Bartell and certainly over Spencer."
March, 22, 2012
3/22/12
9:08
PM ET
The man who ruined
Peyton Manning
's most recent Super Bowl appearance will join him in a quest for another championship.
Porter
According to an NFL source, Denver has signed New Orleans cornerback
Tracy Porter
to a one-year, $4 million deal.
Porter is best known for intercepting a Manning pass and returning for a touchdown to seal the Saints' victory over the Colts in Super Bowl XLIV in 2010. Manning signed with Denver on Tuesday.
Porter will start opposite
Champ Bailey
in Denver. I'll be back with more thoughts on this story later.
March, 21, 2012
3/21/12
8:40
PM ET
Cincinnati receiver
Andre Caldwell
tweeted that he has signed
with the Broncos.
Caldwell
Caldwell, 26, has been a backup, possession-type and would be a back-of-the-rotation player for Denver. He had 37 catches for the Bengals last season; in 2009, he had 51 catches for 432 yards.
The Broncos are reportedly interested in reuniting new quarterback
Peyton Manning
with former teammate
Brandon Stokley
. If signed, he too would be a rotational receiver.
In other AFC West news:
The Raiders are reportedly are
among the teams interested
in Giants defensive lineman
Dave Tollefson
. The Bay Area native was on the Raiders practice squad in 2007. There is no movement on the
Manny Lawson
front. The Raiders are among several teams interested in him.
March, 19, 2012
3/19/12
2:15
PM ET
Peyton Manning
answered one question, choosing to
play quarterback for the Broncos
next season, multiple sources told ESPN.
But here's another one: Whom are you going to throw the ball to, Peyton? Some might answer Pittsburgh's
Mike Wallace
.
As I speculated earlier this morning, the
one team I would watch
going after Wallace is the Broncos. They have the cap room ($40 million before the Manning signing), the late first-round pick (25th overall) and the need for a dependable wide receiver.
The Broncos have a promising playmaker in
Demaryius Thomas
if he stays healthy, and they can always bring along a Manning favorite in tight end
Dallas Clark
. But look at the other options --
Eric Decker
and
Matt Willis
-- and you can see why the Broncos might be tempted to go after Wallace. And, if you look at the wide receivers left --
Braylon Edwards
,
Ted Ginn
and
Early Doucet
-- no one will make more of an impact than Wallace.
Of course, the Steelers have the chance to match any offer given to Wallace, a restricted free agent. The deadline to extend offer sheets is April 20.