August, 27, 2014
Aug 27
8:00
AM ET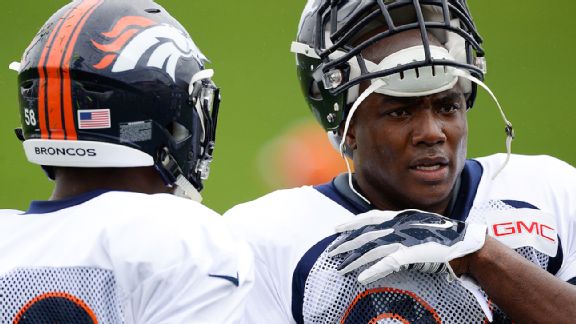 John Leyba/The Denver Post/Getty ImagesDeMarcus Ware returns to Dallas on Thursday as a member of the Broncos.
IRVING, Texas --
DeMarcus Ware
never really got the chance to say goodbye when the
Dallas Cowboys
released their all-time leader in sacks last March.
On Thursday Ware will get the chance to once again say hello when the
Denver Broncos
visit AT&T Stadium for the preseason finale, and the Cowboys' fans and organization will get a chance to say thank you.
"Being able to come back and have the opportunity to absorb some of the things I have done and seen down there," Ware said, "it's going to be great. I'm looking forward to it."
Ware will not be playing and neither will his long-time Cowboys teammates
Tony Romo
and
Jason Witten
as both teams will rest their starters for the regular season, but his daughter and son will be on hand to see him in Broncos' colors.
"I thought I was always going to be a Dallas Cowboy," Ware said. "That was really, really big for me. I played well for nine years. So I never thought they would get rid of me."
From a business perspective, the Cowboys decision to release Ware was not difficult. He was set to count $16 million against the salary cap and was coming off a career-low six sacks after missing the first three games of his career with a quadriceps injury.
Ware, who turned 32 in July, had elbow surgery in the offseason and had been slowed by numerous injuries the last two seasons.
From a personal perspective, the Cowboys' decision was difficult. Coach Jason Garrett and executive vice president Stephen Jones spoke about their admiration for Ware, the No. 11 pick of the 2005 draft, who made the Pro Bowl from 2006-12 and was one of the NFL's most dominant pass-rushers.
[+] Enlarge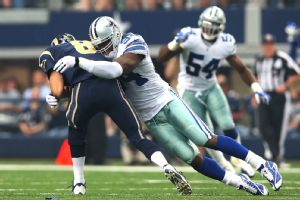 Matthew Emmons/USA TODAY SportsIn nine seasons with the Cowboys, DeMarcus Ware accumulated 117 sacks.
"Very strange and difficult to boot because of what we think about him," Jones said of Ware's visit. "I mean he's like family. He obviously, in our mind, he's a shoe in to the Hall of Fame and he spilled his bucket here for us, and it's difficult, but that's part of the business. At the same time we're happy for him because of what he was able to do in terms of his business with the Broncos and it sure is a good situation for him. I've said it from Day 1 he's one of my all-time favorites and I wish him nothing but the best."
The Broncos signed Ware to a three-year, $30 million deal that guaranteed him $20 million the day after he was cut by Dallas. After losing in the Super Bowl last season, the Broncos view Ware as one of the final pieces to win a Super Bowl this season.
The Cowboys are not in that position and had to make some salary-cap decisions. They never made a firm offer to possibly keep Ware, in part because they did not want to spoil what had been a great relationship with a low-ball deal.
The Cowboys, however, do not have a replacement for Ware on their current roster. They selected
DeMarcus Lawrence
in the second round, but he suffered a broken foot in training camp and could miss the first 3-6 regular season games.
"It'll be difficult but at the same time I hope it all goes well for him," Jones said. "I hope he gets to the Super Bowl."
To get there the Broncos will need the Ware that racked up double-digit sacks every year from 2006-12. Ware had 20 sacks in 2008 and 19.5 sacks in 2011. His 117 career sacks are a team record.
Injuries, however, sapped Ware of a lot of his strength. He was unable to practice as much as he or the team would have liked.
"When I look at him the last couple of years, I look at him with admiration and say, 'Wow! This is a tough guy,'" Garrett said. "He's a mentally tough guy. He's a physically tough guy. He's doing everything that he can to put it on the line for our team and for his teammates. My association with him has been nothing but positive. He's one of the best guys I've ever been around and one of the best players. Statistically he wasn't what he was throughout his career last year (because of the injuries). I anticipate a lot of great football ahead for him."
Playing with
Peyton Manning
, Ware should see a lot of double-digit leads, which means teams have to pass more, which means he will have more opportunities to rush the passer. Playing next to
Von Miller
will provide him with more one-on-one blocks than he had with the Cowboys even when Greg Ellis and
Anthony Spencer
enjoyed Pro Bowl seasons. Ware is also 10 pounds lighter (255) and has not missed a day of practice this summer.
"At the end of the day my goal is to always be very effective and get to the quarterback as much as I can and to get back to my old self," Ware said. "Pass-rushers want to get those double digit sacks. They want to make those big plays. How effective can I be this year? I think I can get back to my old self. I know I can."
But whatever happens with the Broncos, he will forever remain a Cowboy. He has a deal in place with Jerry Jones to retire as a member of the Cowboys and almost assuredly will one day will join the club's hallowed Ring of Honor.
"I played for a great organization with the Dallas Cowboys," Ware said, "and that will always be home for me."
August, 14, 2014
Aug 14
6:05
PM ET
OXNARD, Calif. -- Sure, there were brawls, five of them, in fact, big enough to stop the action of the two joint practices here. And there was the fan who swung a replica helmet at
Dallas Cowboys
cornerback
B.W. Webb
, plus the numerous scuffles throughout.
But you'd have a hard time finding anyone from either Oakland or Dallas who did not consider the joint effort a rousing success. So successful, in fact,
Oakland Raiders
coach Dennis Allen hopes the Cowboys come to Napa, California, next summer for the, ahem, rematch.
[+] Enlarge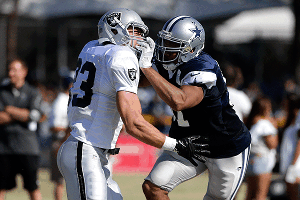 AP Photo/Jae C. HongScuffles didn't take away from the productivity of joint practices with the Cowboys, Raiders coach Dennis Allen said.
"I don't know if that's 100 percent determined," Allen said after Wednesday's practice. "I think there have been some preliminary discussions and we'd like to be able to do it. But again, it's probably too early to say for sure."
But what gave this week's workout an added oomph might not be possible on the grounds of Napa's Redwood Middle School -- an overflow of fans. The Cowboys announced a crowd of 8,326 for Tuesday's opening practice, with Raiders fans sequestered to one side and Cowboys fans on the other, funneled into their areas through fences that resembled cages and/or European soccer-style fan seating.
The Raiders played host to fans for 12 of their 13 practices in Napa and there was no separation, save for a painted yellow line on the grass and waist-high tape between posts, between the fans and the field. Capacity was about 1,000.
In Oxnard, Cowboys coach Jason Garrett called the opening practice "as electric an atmosphere as I've ever been around on a practice field, really in my life."
A visibly pumped-up Allen said, "What a hell of an atmosphere to practice football in. That's what Raider Nation is really all about, man. That was awesome to see those [fans] come out and support us like that. It almost felt like, at times, that I had to quiet the crowd down just so we could get some plays off. It was a great atmosphere."
And while it's hard to imagine a joint practice being held in front of fans at the Raiders' current training camp facility in Wine Country, Allen sees bigger benefits from a pure football standpoint.
"Absolutely," Allen said, "I like doing this. I think it does nothing but help your football team.
"Again, any time you get in these competitive environments, I think it increases the sense of urgency of your football team. I thought we got better over these last couple of days."
Injury update
: cornerback
Chimdi Chekwa
(knee) was not the only Raiders player unable to finish Wednesday's practice as receiver
Juron Criner
was also sidelined. "I think Criner had a groin injury or a hip, so he wasn't able to go," Allen said.
"He tried to go out here through individual [drills] and wasn't able to go."
The Raiders' home exhibition opener against the
Detroit Lions
Friday night at 7 p.m. PT will be broadcast live locally on KTVU 2.
May, 8, 2014
May 8
4:45
PM ET
Totally spit-balling here, like just about every other draft prognosticater out there, but if the
Dallas Cowboys
are as hot and heavy for
Johnny Manziel
as Twitter would have you believe, the
Oakland Raiders
might be sitting in prime position.
So long as two scenarios play out.
Manziel
The first, obviously, is that Manziel is still on the board when it comes time for the Raiders' choice at No. 5 overall.
The second, is that both
Khalil Mack
and
Sammy Watkins
are already gone, because if either of those guys are still available, that has to be Oakland's pick, at least, in this corner.
In that combined development, though, the Raiders could reach out to Jerry Jones and offer up that No. 5 selection for a boatload of picks. Using the Trade Value Chart, the No. 5 pick is worth 1,700 points. The No. 16 pick, which is where the Cowboys currently sit, is worth 1,000 points.
So, for the swap to work, the Cowboys would have to come up with 700 more points in draft picks, or a player. Dallas' second-rounder this year (No. 47 overall) is worth 430 points and its third-rounder (No. 78) is worth 200 points, while its fourth-rounder (No. 119) is worth 56 points. That gives the Raiders two seconds, two thirds and two fourths, but still nothing in the fifth or sixth rounds to go with three seventh-rounders. It also still leaves the Cowboys needing 14 points to make up the difference.
Of course, the Trade Value Chart is more of a guideline for teams than a hard fast rule, and the Cowboys would have to stomach gutting the middle of their draft, though they could conceivably involve future picks in such a deal.
Plus, from the Raiders' perspective, going from No. 5 to No. 16 is a pretty big drop (last year, they went from No. 3 to No. 12). Because as has been mentioned in this corner, Oakland needs an impact player with its first pick, rather than a developmental one like in general manager Reggie McKenzie's first two seasons in
Tony Bergstrom
and
D.J. Hayden
.
So who could
potentially
be there at No. 16? Think UCLA outside linebacker
Anthony Barr
, or Oklahoma State cornerback
Justin Gilbert
, or Notre Dame nose tackle
Louis Nix III
, or USC receiver
Marqise Lee
, or even Fresno State quarterback
Derek Carr
.
Or should the Raiders simply stay put at No. 5 and take the best player available?
January, 8, 2014
Jan 8
3:10
PM ET
ENGLEWOOD, Colo. -- They don't have T-shirts yet, but if the
Denver Broncos
get three more wins over the next four weeks, the team's touchdown-makers will really be the stuff dreams are made of.
Broncos wide receivers coach Tyke Tolbert calls them "the 5-10 club.'' It's exclusive to be sure, and beyond having a future Hall of Famer at quarterback, it makes the Broncos' offense tough to decode. It has also created a battle on the Broncos' practice field just to get involved in some way, and that has helped everyone.
"The hardest thing to do here is get on the field,'' Tolbert said of the Broncos' game-day choices.
[+] Enlarge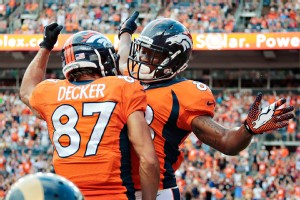 AP Photo/Joe MahoneyEric Decker and Demaryius Thomas' touchdown celebrations were a familiar sight in Denver in 2013.
That's because the Broncos have -- count 'em -- five players who finished the regular season with at least 10 touchdowns. Five. No other team in league history has had more than three.
Wide receiver
Demaryius Thomas
had 14, running back
Knowshon Moreno
had 13 (10 of those rushing), tight end
Julius Thomas
had 12, wide receiver
Eric Decker
had 11 and wide receiver
Wes Welker
had 10, despite missing the last three games of the season. All with quarterback
Peyton Manning
dealing for a league-record 55 touchdown passes in Adam Gase's high-speed attack that set a league record with 606 points.
And just to frame things properly, there were 23 players leaguewide this season who finished with at least 10 touchdowns. The Broncos had 21.7 percent of the total and were the only team on the list with more than two players.
"It can be anybody at any time,'' Thomas said. "It can be anywhere on the field to any of our guys. … That's why everybody's always ready, so when the ball comes your way you can make a play, or if the ball doesn't come your way you can help somebody else make a play.''
Case in point is
Andre Caldwell
, who had five catches in the Broncos' first 13 games. Then, in the first of three games Welker missed because of a concussion down the stretch, Manning had six completions to Caldwell, including two touchdowns.
"With Peyton Manning at quarterback, anybody can score at any given time,'' Tolbert said. "Our guys know that. … All of a sudden Welker goes down, the next game 'Bubba' comes in and he has two touchdowns.''
Defending Manning has always been about choices for opposing coaches. When Manning led the
Indianapolis Colts
, they had to deal with likes of Marvin Harrison,
Reggie Wayne
,
Dallas Clark
, Edgerrin James and Joseph Addai through the years. And in 2004 the Colts featured an offense with three 1,000-yard receivers in Harrison, Wayne and Brandon Stokley to go with a 1,548-yard rusher in James.
Broncos cornerback
Champ Bailey
was on the field for Denver when that Colts team defeated the Broncos, 49-24, in an AFC wild-card game as Manning finished 27-of-33 for 458 yards and four touchdowns. Wayne, often in man coverage on then-rookie Roc Alexander, finished with 221 yards receiving and Clark finished with 112 yards.
"That team could come at you a lot of different ways,'' Bailey said. "This one, and time will tell, can spread it out even a little more, especially down in the red zone where offenses are always looking for those matchups to win. Defense is about tendencies sometimes, percentages and what teams have done in the past in similar situations, and this offense is tough that way. And Peyton has 10 more years' experience in the league, 10 more years of doing what he does, and that's a lot of time.''
[+] Enlarge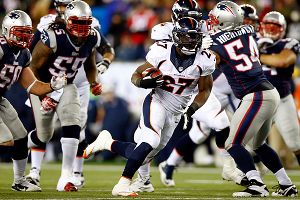 Jared Wickerham/Getty ImagesWith Knowshon Moreno producing, the Broncos were more than just a pass-happy offense.
The Broncos had two 1,000-yard receivers this season in Thomas (1,430) and Decker (1,288) to go with 1,000-yard rusher Moreno (1,038). But what many defensive coaches say has made the Broncos' offense so difficult to decipher is Manning's willingness to move the ball to the best matchup, rather than having "go-to" players in given situations.
Also, many defensive coaches say they can find a way to offer at least some double coverage on three players in the pass pattern, but that things get dicey with the fourth. And if the offense's running back can contribute as a receiver as the fifth, then there are almost always choices for a quarterback savvy enough who has enough time to find them.
That has taken some potential predictability out of the equation as defenses prepare. The Broncos had five different players with at least 60 receptions. Gase has also used the running game more than most might think.
The Broncos finished the regular season with 461 rushing attempts -– 11th in the league -- and the team's 16 rushing touchdowns were tied for seventh in the league. Of the remaining teams in the playoffs, the Broncos, the
New England Patriots
(second, with 19) and the
San Francisco 49ers
(fourth, 18) finished among the league's top seven in rushing scores.
"I think our guys just feel like anything can happen at any time with the guy we have at quarterback … so they prepare like it, every rep is a championship rep in practice, and those opportunities come,'' Tolbert said. "I don't think we have the kind of players who worry about the numbers. They just prepare and go play.''
The Broncos also enter the playoffs at full strength. The last time the Broncos faced the Chargers – a 27-20 San Diego win on Dec. 12 – Welker did not play and Caldwell had his two-touchdown game. The Chargers were effective at getting to Manning at times with a variety of coverage looks that included safety
Eric Weddle
lining up all over the formation.
And while the Chargers did surrender the scores to Caldwell, they held Julius Thomas, Thomas and Decker to just three receptions combined in the second half, forcing Manning to throw to running backs Moreno and
Montee Ball
. The Broncos did not have a pass play longer than 22 yards in the game.
Welker's presence will likely change how the Chargers go about allocating their defensive resources.
"We all know he's a dynamic player and he's a guy that has been a big part of our offense this year. To have him back, San Diego is going to have to key on him,'' Decker said. "They're going to have to make sure they have a plan for him. It just opens everybody else up and it gives us more options, more opportunities.''
"I think everybody -- Wes and everybody that has come back from injury -- is going to be a big factor in this game,''Demaryius Thomas said. "They didn't account for Wes last game because he didn't play, but they will this game. It's good for us because you don't know what they're going to throw at us, but it's another weapon on the field to help us out.''
November, 28, 2013
11/28/13
2:30
PM ET
By
ESPN.com staff
| ESPN.com
Join our ESPN.com NFL experts as they break down the Oakland Raiders' visit to the Dallas Cowboys. Contribute your thoughts and questions beginning at 4:30 p.m. ET. See you there.
November, 27, 2013
11/27/13
7:00
PM ET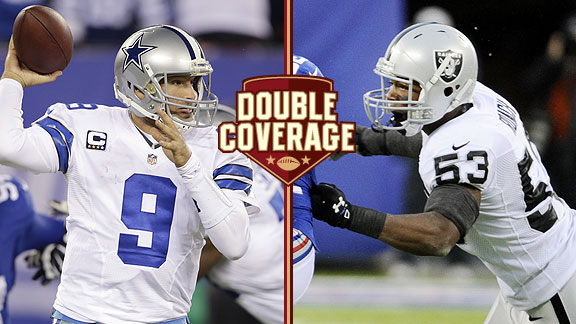 AP PhotoTony Romo's Cowboys host Nick Roach and the Raiders in a Thanksgiving Day duel.
IRVING, Texas -- For the second time in five years, the
Dallas Cowboys
and
Oakland Raiders
meet on Thanksgiving at AT&T Stadium.
The Cowboys won the 2009 matchup 24-7 with
Tony Romo
throwing for 309 yards and two touchdowns and
Miles Austin
catching seven passes for 145 yards. Since that game Austin has had more yards in a game just twice.
ESPN.com's Raiders reporter Paul Gutierrez and Cowboys reporter Todd Archer bring you this week's holiday version of Double Coverage.
Todd Archer:
The Cowboys are bad in most areas defensively, but they have given up 200 yards rushing in three games this season. The Raiders' strength, from afar, seems to be their running game. What makes it so good and how has it differed with
Terrelle Pryor
out?
Paul Gutierrez:
Hey, Todd, it's not just Pryor being out, but also
Darren McFadden
, who has missed three straight games and four overall with a strained right hamstring. He said Monday night he hopes to play after practicing (limited) for the first time since Nov. 1. The run game, though, has not missed a beat with underrated
Rashad Jennings
picking up the slack. In the past four games, he has run for 413 yards while averaging 5.7 yards per carry. In fact, the running game has been so surprisingly solid without McFadden and Pryor that the play-action pass game has picked up with undrafted rookie
Matt McGloin
under center.
Speaking of passing games ... no doubt Tony Romo can rack up stats, but has he decided to assume more of a leadership role yet as the QB of America's Team, or is that just not in his makeup?
Archer:
He has developed over the years as a leader, but there's no question that this has been "his" team the past three seasons. He is the veteran. He is the guy the Cowboys look to. The guys on this team now don't know of the Romo who burst on the scene in 2006 or had to deal with the
Terrell Owens
stuff. He's the guy who led the lockout practices and has been the big voice in the room. This year he has been given the added responsibility of being more involved in the game plan. The Cowboys' past two wins have come on last-minute drives led by Romo to beat Minnesota and the
New York Giants
. I don't think there's anybody questioning his leadership anymore. And if they did, well, the $106 million extension Jerry Jones gave him in the offseason should be more than enough proof to those guys that this is Romo's team.
Let's stick with the quarterback theme. Before the Cowboys lucked into Romo, they ran through a ton of guys after
Troy Aikman
's departure. Is there any reason to believe McGloin or Pryor can be a solution or do the Raiders need to go after one of these guys in next April's draft?
Gutierrez:
Well, the way I put it earlier in the season, before Pryor hit his purported ceiling and sprained his right knee, robbing him of his greatest strength (running) while accentuating his biggest weakness (passing), if Pryor was not the Raiders' Mr. Right, he was their Mr. Right Now. McGloin is a pure quarterback, a pocket passer whom Dennis Allen prefers for what he wants to accomplish offensively. It's hard to give Allen and GM Reggie McKenzie much credit for their evaluation of QBs, though, what with their misses on
Matt Flynn
and
Tyler Wilson
, not caring much for Pryor early on and then, similar to the Cowboys with Romo, stumbling upon McGloin. But it's hard to see them going all in with the undrafted rookie from Penn State, too. At least hard at the moment. Unless McGloin continues to improve and wins a few games, it would behoove the Raiders to draft another QB if they see one as a can't-miss prospect. I know, I know, they really wanted USC's
Matt Barkley
but Philadelphia traded in front of them so they traded back and selected Wilson. Oops. There is no doubt, though, that this Raiders regime prefers McGloin as a prototypical QB over the more electric Pryor.
No matter who is under center for Oakland, though, the Raiders' QB is going to have to keep an eye on
DeMarcus Ware
. Is he rounding back into shape as a dominant pass-rusher, or is he more decoy as he rehabs from his quad strain?
Archer:
I think he's still feeling his way through it. The fact that he made it through the Giants game healthy was a plus. He has been dinged up in just about every game with stinger and back strains earlier in the season before the quadriceps injury. We'll see how he fares on a short week, but the defense is a lot better with even the threat of Ware on the field.
Jason Hatcher
had two sacks against the Giants at least in part because of the attention Ware received. Ware has talked about wanting to make up for lost time. He has five sacks so far, his fewest this late in a season since his rookie year in 2005. Thursday would be a good time to look like the DeMarcus Ware of old.
This game is a homecoming of sorts for guys like
Mike Jenkins
,
Andre Gurode
,
Kevin Burnett
and Tony Sparano, but it's a real homecoming for Dennis Allen. How is he perceived in Oakland and will McKenzie be more patient with him than, say, Al Davis would have been?
Gutierrez:
The jury, so to speak, is still out on Allen in the streets of Silver and Blackdom. Of course, when the Raiders win a game, he's the man. When he loses, the fans turn on him and start pining for Jon Gruden ... again. But isn't that the nature of the beast? Even Allen himself said this was a results-oriented business. Of course, he was referring to the quarterback position at the time, but it still applies. Make no mistake about it, Allen is McKenzie's "guy" and he's going to roll with him and have patience with him. The plan coming in was to give Allen at least three years to right this ship and really, the only thing that could damage Allen's chances of lasting another year would be if the team quit on him, like it did last November before playing hard again at the end. Then again, it might not be McKenzie's choice. Owner Mark Davis is a more patient owner than his father and wants McKenzie to handle all football-related decisions. But a year after stating he was fine with just about anything but regression, Davis wants progress. Stagnancy won't cut it, either. So, stay tuned.
Sticking with the coaching theme, is Jason Garrett in Jerry World for the long haul, or was Jerry Jones' support merely the dreaded vote of confidence?
Archer:
Jerry has publicly backed Garrett, but he's also been a guy who's said, "Just because I say something, doesn't mean it's true." I do know this: He wants Garrett to be the guy. He desperately wants it to work. I really believe that. He believes in Garrett's approach and how he builds a team. Garrett will provide some blow-back to Jerry but not as much as, say, a Bill Parcells. Garrett knows what makes Jerry work and knows how to work around it to a degree or push Jerry in a certain direction. Honestly, Cowboys fans should want the Garrett deal to work out because it might be the best combination to mitigate the bad parts of Jerry and keep the good parts of Jerry.
October, 6, 2013
10/06/13
2:00
PM ET
By
ESPN.com staff
| ESPN.com
Join our ESPN.com NFL experts as they break down the Denver Broncos' visit to the Dallas Cowboys. Contribute your thoughts and questions beginning at 4 p.m. ET. And, be sure to visit our
NFL Nation Blitz page
for commentary from every game, as well as fan photos and the latest buzz from Twitter. See you there.
October, 4, 2013
10/04/13
12:00
PM ET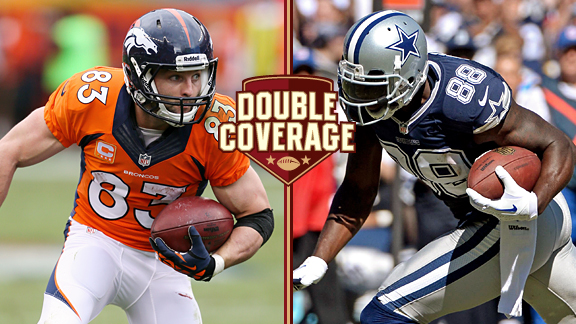 Icon SMI, USA TODAY SportsWes Welker, left, and Dez Bryant have combined for 49 catches and 10 touchdowns this season.
Peyton Manning
makes his first appearance at AT&T Stadium when the undefeated
Denver Broncos
come to town to take on the
Dallas Cowboys
.
Manning has done just about everything right this season, but he's lost his past two games to the Cowboys and has been intercepted six times.
That seems a lifetime ago now, but Broncos team reporter Jeff Legwold and Cowboys team reporter Todd Archer bring you this week's Double Coverage:
Archer:
This Peyton Manning guy seems pretty good. What does he do that is so different from just about every other quarterback in the NFL?
Legwold:
Todd, all of the work he put in physically to return from his missed season in 2011 is now combined with his other-worldly preparation and game-day recall for the start he's put together. When John Elway signed him, Elway said he wanted a player who "raised all the boats'' in the organization, a guy to set the bar in terms of getting ready to play. And despite Manning's résumé, he practices harder, prepares more and pours more of himself into each week than almost any other player. It sets the tone even with the coaches, who have to try to stay a step ahead of him as they all get ready. And behind center he is rarely fooled because of it. He is on a historic pace in an offense Elway has built from his own experiences at quarterback, and defenses have rarely put a hand on him, especially in the past two games. Monte Kiffin has certainly seen Manning plenty over the years: How do you think he'll go about defending him and the Broncos?
Archer:
Coming off the meltdown last week against San Diego's
Philip Rivers
(401 yards, three touchdowns), I think Kiffin will petition the NFL to ask for a 12th defender. And I'm not sure that will work. Manning knows everything about this defense, so it's not about tricking him. The Cowboys must get pressure on him and that starts with
DeMarcus Ware
, who strained a muscle in his back last week. Kiffin knows if he blitzes, then Manning will beat him. Kiffin is also dealing with a cornerback in
Morris Claiborne
who lacks confidence and technique, which is never a good combination. The last time
Orlando Scandrick
saw
Wes Welker
, he did a good job limiting him in New England, so maybe the Cowboys feel OK about that matchup. But there are so many weapons for Manning to choose from that it's hard to slow the Broncos down. The key will be early pressure and red zone defense. Somehow Dallas has to force the Broncos to kick field goals.
Manning gets all of the attention -- and for good reason -- but what has not received as much attention in Denver's 4-0 start?
Legwold:
Manning's ridiculous numbers have overwhelmed almost every discussion about the team, but the ability for the offensive line to perform, consistently, at a fairly high level given the fact All-Pro left tackle
Ryan Clady
is on injured reserve and
Manny Ramirez
had never started a regular-season game at center until the opener, has been key. The Broncos haven't always been all that proficient in the run game -- 39 carries this season of two or fewer yards (32.5 percent of their runs) -- but they have protected Manning well and that's certainly Job 1. The Eagles sacked Manning just once this past Sunday and may not have touched him on any other play in the game. The Broncos also have high-end team speed up and down the roster -- an Elway initiative since he took the job. And while the defense has benefited from the big leads, it has performed well overall considering
Champ Bailey
and
Von Miller
haven't played this season.
Quarterback Tony Romo's numbers look good on paper. What is the level of patience right now with Romo, both inside and outside of the organization?
Archer:
To me there is no player more scrutinized than Romo. There is no gray area when people discuss him. He's either terrible or great. From the fans, they expect Super Bowls because that's what Roger Staubach and
Troy Aikman
delivered and they hear about the great talent on this roster. There is talent, but it's not as abundant as the national talking heads believe. From inside the organization, Romo is the guy. They just guaranteed him $55 million this offseason and have given him more control of the offense than he has ever had. Jerry Jones came up with the famous "Peyton Manning time" quote about how much he wants the quarterback involved. He's playing well, completing 72 percent of his throws and avoiding mistakes. His one interception was on a receiver running the wrong route. Fans might want him gone, but they tend to forget the long wait this franchise had in finding Romo after Aikman retired.
You mentioned Miller. He's a local kid. What kind of fall has he taken and does he have the full support of the organization?
Legwold:
Miller is four games into his six-game suspension for violating the league's substance-abuse policy. And he had a bumpy ride through training camp with news of the suspension, to go with an arrest for failing to appear for a court appearance when he was going through a mandatory background check at a gun shop near the Broncos' facility, to go with some traffic violations and the revelation he tried to beat the drug test with a side deal with the sample collector, who has since been fired. His reputation and image have taken a big hit, and privately some in the organization and even some of his teammates shake their heads at what they say is immaturity and the fact he hasn't publicly taken much responsibility for it all. He, at one point, said the media has harmed his reputation, but he hasn't shown much accountability in the public arena and that has bothered some. But that said, he is one of the Broncos' best players, a physically gifted athlete, and the organization has tried to get him help and on the right track. They will have an enormous decision to make in regard to a contract extension at some point given Miller is now in Stage 3 of the drug program and, at least according to the policy, will remain there for the remainder of his career.
In terms of the Cowboys' pass rush, are the injuries starting to catch up to DeMarcus Ware a bit, and how key is he still to what Kiffin wants to do on defense?
Archer:
Maybe a little bit, but he is still an elite pass-rusher. Last year he played most of the second half of the season with a shoulder that needed reconstructive surgery, and a hyperextended elbow. This year he is battling stingers and now a muscle strain in his back. For far too long the Cowboys' pass rush has been Ware and nobody else. As well as
George Selvie
(three sacks) has played, he's not
Anthony Spencer
, who is out for the year with a knee injury.
Jason Hatcher
has taken to this scheme, but the Cowboys have yet to see
Jay Ratliff
, who is on the physically unable to perform list, practice since last season. Ware is the key. The Cowboys are moving him around to try to take advantage of matchups and he has four sacks. He just needs some help and has for some time. Who it comes from, however, is another story.
Do we see Champ Bailey this week and how have the Broncos compensated?
Legwold:
On Friday last week, it looked like Bailey would at least get some situational work in the defense against the Eagles, but the Broncos held out the 12-time Pro Bowl selection for the fourth consecutive game. Bailey has characterized it, including after Sunday's win over the Eagles, as "close, very close,'' and if he continues to go through practice this week -- it is his third week back in practice -- he would seem to be on track to play. The Broncos have gotten everything they hoped from
Dominique Rodgers-Cromartie
. When they signed him they essentially told him he had the talent to play like a No. 1 cornerback, but would have to lift his game and be ready to be coached hard. Rodgers-Cromartie was on board with that and has played like a No. 1 on the outside. The Broncos have matched him on receivers already this season and will give plenty of thought to matching him on
Dez Bryant
. Also,
Chris Harris
, who made this team as an undrafted rookie in 2011, has played like a starter almost since his first training-camp practice. Harris is tough, competitive and versatile -- he can play inside or outside -- and Denver has gotten enough from
Tony Carter
and rookie cornerback
Kayvon Webster
to make it work.
On offense for the Cowboys, how has Bill Callahan, whose son is a Broncos quality control assistant, fared as the playcaller so far?
Archer:
He's been OK. It's hard to get a feel for his style. The Cowboys have run it better the past two weeks, but they were spotty the first two weeks. They have not taken many shots down the field. Romo has only three completions of 25 yards or more this year and he has averaged 33 a season. I don't know if that is Callahan's West Coast background or Romo not trusting his line yet to hold off the rush. The issue I had (and have) with Callahan as the playcaller has nothing to do with his résumé, but the fact that this is not his system. This is Jason Garrett's passing game still. So, to me, they're putting him in a situation that doesn't work best for him. Again, he's been OK and he seems to be working fine with Romo, but I think there is still a feeling-out process going on.
A little offbeat here, but I want to ask about Elway. As you know, the Jerry Jones/general manager story is something that doesn't die. I wonder if Troy Aikman ever looks at Elway as a possible example if he ever wanted to jump into the personnel game. How good has Elway been? How involved in everything is he?
Legwold:
Todd, it is unprecedented that a Hall of Fame quarterback has jumped into the day-to-day grind of personnel since most make a handsome living on TV, card shows or the celebrity golf circuit, but Elway has dived in and shown himself to be a nuts-and-bolts talent evaluator. He knows what he likes in players and in three drafts has consistently stuck to those evaluations, and the Broncos have worked their draft board with consistency. He believes a draft-built team is the key, but will spend Pat Bowlen's money when he has a chance at somebody like Manning or Wes Welker. His challenge now will be to avoid what so many teams do with the alpha quarterback behind center -- sign too many older players to high-end deals they can't play up to -- and keep the roster young and homegrown. But overall he works it, looks at the video and has created an environment where the scouts and personnel guys believe what they're doing is important to what the team is trying to do.
On that, do you think Jerry Jones will ever really give the draft the importance it deserves in team building?
Archer:
Why would he start now? Sorry, I kid. Here's where I think Jerry goes wrong with the draft: He listens to too many people. Honestly, he does. He has too many people in his ear and it affects his decision-making. The coaches have too much say. His friends outside the building have too much say. He needs to trust his scouts, which he often talks about but rarely does. The Cowboys could have picked
Sharrif Floyd
in the first round. They had him as a top-10 player on their board, but when it came time to pick, they passed because Rod Marinelli didn't believe Floyd had enough pass rush skill. If that's the case, then Floyd shouldn't have been that high on the Dallas board. The Cowboys traded down and took
Travis Frederick
, who many saw as a second- or third-round pick. Now, Frederick has the makings of a long-term starter, so I won't quibble with the pick, but the process in which Dallas got there was highly flawed. To me, that's the Cowboys' biggest issue when it comes to the draft.
.
September, 29, 2013
9/29/13
12:55
PM ET
SAN DIEGO -- The note from Rod Marinelli with the cigar taped onto it still hangs in
DeMarcus Ware
's Valley Ranch locker.
"Close but no cigar," Marinelli wrote after Ware's sackless performance in Week 1. Ware has been smoking since then, racking up back-to-back two-sack games.
Ware
"Hopefully you fill the box up, close it up and you're able to have some wine with it later," said Ware, who broke Harvey Martin's franchise record with his 115th career sack last week.
The Dallas Cowboys' meeting with the
San Diego Chargers
should be a prime opportunity for Ware to add to his sacks total. He'll likely be matched up against a backup left tackle.
San Diego starting left tackle
King Dunlap
, who didn't practice all week due to a concussion, is officially listed as questionable but reportedly isn't expected to play. That would mean
Michael Harris
, an undrafted second-year player, gets the task of trying to keep Ware off of
Philip Rivers
.
Harris ranked third in the NFL in sacks allowed last season with 10 despite starting only nine games.
Ware vs. Harris won't be the only major mismatch featuring a Dallas defensive lineman. Both of the Chargers' starting guards are listed as doubtful, so backups
Johnnie Troutman
and
Rich Ohrnberger
will probably be matched up against defensive tackle
Jason Hatcher
, who had a sack in each of the Cowboys' first three games.
Sacks won't be enough to satisfy Marinelli, though. He put notes in each of the defensive linemen's lockers this week, along with a small stuffed ball, demanding that they force fumbles when they get to the quarterback.
"He always has something to say," Ware said, smiling. "He's always one of those guys that wants more."
More should be expected of Ware and Hatcher with matchups this favorable.
September, 27, 2013
9/27/13
11:00
AM ET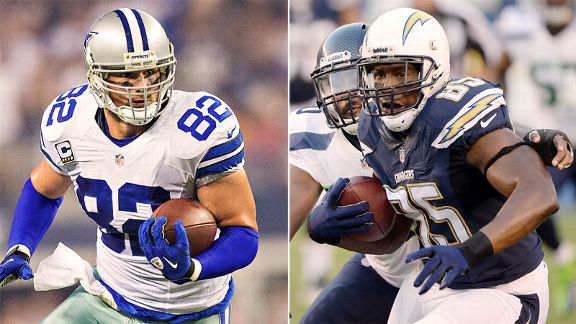 Getty ImagesJason Witten and Antonio Gates -- ranked No. 2 and 3 in all-time tight end catches -- meet Sunday.
SAN DIEGO -- They don't make them like they used to.
That's the sentiment of
San Diego Chargers
tight end
Antonio Gates
, and his counterpart, the Dallas Cowboys'
Jason Witten
.
Both arrived in the NFL in 2003, and a decade later, the duo sits No. 2 and No. 3 in receptions among active leaders for tight ends behind future Hall of Famer
Tony Gonzalez
of the
Atlanta Falcons
.
Gates' and Witten's teams will face each other for perhaps the final time in their impressive careers when Dallas travels to Qualcomm Stadium on Sunday.
"They're very talented," San Diego coach Mike McCoy said. "They're different in their own ways. I think they're the quarterback's best friend. They have a lot of confidence in how they play the game and what they do, and the way they run routes and everything, but they're very good football players.
"It's great to have guys like that, weapons you know. Regardless of what the situation is, whether it's in the red area, whether it's third down, when the game's on the line, it's a guy that you know you can count on."
Gonzalez is the active leader in receptions with 1,253 catches in 17 seasons. Witten is No. 5 on the list with 822 catches, and Gates is No. 12 with 657 catches.
Gates said what makes he and a handful of other tight ends different than other guys coming into the league are they are complete players. They can and dominate as a blocker in the run game or beat a defender down the seam of the defense in the passing game.
"It's a mutual relationship where the respect is there," Gates said about Witten. "Granted, he's always been an NFC guy, and I was always an AFC guy. He's more a traditional, true tight end that can catch the ball.
"Some of these guys are receivers who they've converted to tight ends. But when I think of Jason, I think of a true tight end -- a guy who fits the position."
Between them, Gates and Witten have earned invitations to 16 Pro Bowls -- eight apiece. Witten said those weekends in Hawaii provided opportunities for the two to swap stories and trade secrets. Specifically, Gates played for six seasons under former Chargers coach Nor Turner, who served as a mentor for Dallas coach Jason Garrett.
"Over the years it's been interesting, because Norv and Jason's are very similar systems and we can pick each other's brains about that, so you're kind of talking the same language," Witten said. "You're always competing against him, but it's somebody you definitely have a lot of respect for. I don't know about the box score, but you take a peek at the film every once in a while and see what kinds of plays they're running."
At 6-foot-4 and 255 pounds, the 33-year-old Gates was a standout basketball player at Kent State, but chose to purse football in the pros, signing with the Chargers as an undrafted rookie free agent in 2003.
Gates' size, agility and athleticism help him create mismatches against opposing defenses in the red zone. His 84 touchdowns rank second-most among tight ends in NFL history behind Gonzalez (104).
"Obviously he was a basketball player and has great feel and athletic ability," Witten said. "At the end of the day it's all about body and leverage. I think he understands, just like I do, that those are the matchups you want to create -- whether it's on a linebacker or a safety, how do you use that leverage and your quarterbacks have confidence in you. I think Philip (Rivers) has a lot of confidence in him, quite like Tony (Romo) and I."
At 6-6 and 261 pounds, Witten was a third-round selection in 2003 by the Cowboys out of Tennessee. The 31-year-old Witten is the Cowboys all-time receptions leader, and has developed a reputation for reliable hands, polished route running and a knack for making the big play.
"Football is very important to him," Garrett said about Witten. "His attention to detail is as good as anybody I've been around in my career. Nothing is too small to make sure he gets right. He goes about it that way in meetings and in walk-throughs on the practice field. There's no secret behind his success. He works very hard at it. He's a talented guy, and you put those two things together, you can be a consistently good player, as he is."
While Gates believes the number of players who can do everything required of a tight end is dwindling, giving way to more athletic pass catchers built like big receivers, he understands that fans will see two of the best to ever do it in San Diego on Sunday.
"We're different in a sense of what he's able to do help his team, as opposed to what I'm able to contribute," Gates said. "But I have so much respect for him because he's still able to make it happen, and contribute to help his team win football games."
ESPN Dallas Cowboys reporter Todd Archer contributed to this story.