March, 4, 2015
Mar 4
9:15
PM ET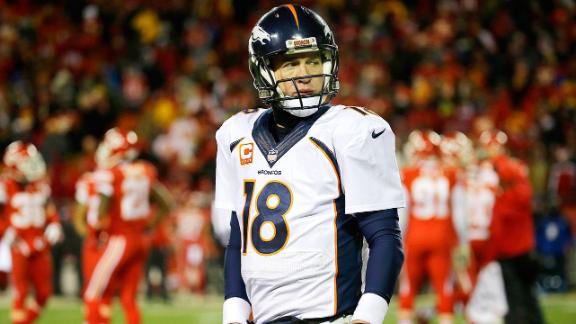 ENGLEWOOD, Colo. -- After all of the back and forth, all of the work done between the
Denver Broncos
and quarterback
Peyton Manning
, to go with all of the hand-wringing across the Front Range about his return, the Broncos and Manning are all-in once again to chase a Super Bowl trip.
It's touchy business, this negotiating with a future Hall of Famer about
taking less salary than you agreed to give him a few years before
. But this is what the Broncos did at a meeting last month.
Manning arrived at the Broncos' suburban Denver complex to tell team officials, including executive vice president of football operations/general manager John Elway, he was ready physically and mentally to come back for the 2015 season. That he was ready to work with the team's new coaching staff, that he believed he could still contribute at the level he needs to in the chase for his second Super Bowl ring and the Broncos' third.
And the Broncos told him they certainly want him back. But the Broncos, with a long list of free agents and plenty of cash commitments -- in terms of bonuses due and guaranteed salaries that had to be accounted for in escrow in the first week of free agency -- were also hoping for some relief.
[+] Enlarge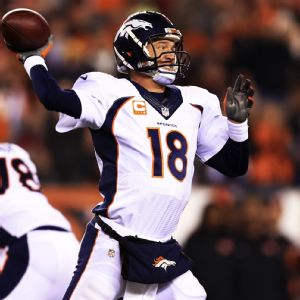 Andrew Weber/USA TODAY SportsPeyton Manning took a pay cut that he can earn back by winning another Super Bowl.
Often in the latin of NFL contract negotiations, "relief" usually means payus cutus, and when you're talking about one of the best to wear an NFL uniform, that can bring the potential for hard feelings and stepped-on toes on all sides.
Manning had his base salary trimmed from $19 million to $15 million and will have the chance to make that $4 million back with incentives if the Broncos go on to win the Super Bowl -- a $2 million incentive for a win in the AFC Championship Game to go with a $2 million incentive for a win in the Super Bowl.
In these matters it's always important to remember not so much the monetary total -- it's a lot of money either way -- but the player's perspective. And most players have heard teams talk of the importance and pledge of a signed contract when a player wants to renegotiate.
Players see other players throughout the league sent on their way with years left on a deal, no matter their stature in the game. Manning was, after all, released by the
Indianapolis Colts
before the Broncos could sign him in 2012.
So, any adjustment -- i.e., cut -- takes discussion, it takes negotiation, it takes some patience and some deliberate work on both sides. That work was done, deliberately and with a meeting somewhere in the middle.
Was it all sunshine and rainbows along the way? Probably not, but it's done because the Broncos believe Manning is still the guy to get them to the trophy the team desperately wants to present to owner Pat Bowlen, who is battling Alzheimer's disease.
Elway said as much at the scouting combine when he offered, "I think with Peyton, obviously, there is not much he can add to his legacy. I do think that the one thing he can add is another Super Bowl championship. … Where he can really add to his legacy is to win a Super Bowl. I think that's our goal, as it is for 31 other teams, but we feel like we've got a real good football team and Peyton Manning is the best player for us."
And Manning shows he believes, believes in the kind of team the Broncos have, the kind of coach Gary Kubiak is, the kind of offense the Broncos will run and believes the depth chart around him is good right now and will be better when the Broncos are finished with the draft and free agency.
He believes it all enough to invest $4 million.
On Kubiak, Manning has said, "Great respect for him as a football coach and a human being and looking forward to getting to know him a little better."
So pending a physical that all involved believe is only ornamental to go with Manning's signature on the contract -- both will come Thursday on a brief visit for Manning to the Denver area -- it is done.
The Broncos asked for help, Manning gave his blessing and a compromise was found. Now, they will all get down to the business of making sure everybody closes the deal next February the way they want to.