September, 12, 2014
Sep 12
8:00
AM ET
ALAMEDA, Calif. -- The loser of this Week 2 matchup will face some tough early-season consequences.
If the
Oakland Raiders
lose their home opener, they'll fall to 0-2, which will be difficult for their fan base to accept. The Raiders made a lot of changes this offseason. If Oakland drops another game, it will be difficult for a franchise that hasn't had a winning record since 2002 to get to 9-7 or better this year.
If the
Houston Texans
lose to the Raiders and rookie quarterback
Derek Carr
, the Texans will have to deal with the reality that they passed on Carr in the second round before the Raiders took him at No. 36. Derek Carr is the younger brother of David Carr, the No. 1 overall pick by Houston in 2002. Derek Carr and his family moved to Houston to be with David, who flamed out with the Texans. Perhaps the Texans were afraid to sell the choice of another Carr to their fan base. If they lose this game, though, the Texans might face more questions.
Texans reporter Tania Ganguli and Raiders reporter Bill Williamson discuss the matchup:
Williamson:
Tania, will the Texans regret not taking Carr?
Ganguli:
They did a lot of work on Carr in the pre-draft process and liked him. Coach Bill O'Brien spoke very highly of Carr this week, too, saying he will be a good pro and the Raiders did a good job drafting him. He was then quick to say he also thinks
Tom Savage
, who the Texans drafted in the fourth round, was a good pick there. This is something I'll definitely watch as the season goes on. The Raiders took Carr, who is obviously now their starting quarterback, three picks after the Texans selected guard
Xavier Su'a-Filo
with the first pick of the second round. The players are in different situations, so it's not fair to directly compare them. Carr was there for the whole offseason, in a place where the starter was struggling tremendously. Su'a-Filo's arrival was delayed by the quarter-system rule; the NFL prohibits players from working out with their new teams until the player's academic calendar is complete. In the meantime,
Ben Jones
won the left guard job. Bill, why aren't the Texans facing their former quarterback,
Matt Schaub
, who is now the Raiders' backup? How did he handle the Raiders' decision to start Carr?
Williamson:
The Raiders figured Schaub would be a short-term answer, but he didn't necessarily have what it takes to be a difference-maker who could win games. So Oakland decided to serve youth now with Carr. As far as how Schaub handled losing the starting job, he was terrific. This guy is a pro. Schaub admitted he wasn't pleased with the move, but he handled it well. Carr has praised Schaub for offering to help in any way possible. Schaub's actions have made the transition easier for everyone. Tania, Texans punter
Shane Lechler
, who was Oakland's punter for many years, is a Black Hole favorite. Is this a big game for him?
Ganguli:
The Raiders' organization means a lot to Lechler. He appreciates Al Davis spending a fifth-round pick on him in 2000. He loved his 13 seasons there -- especially the Super Bowl season. But, like many players in this situation, he doesn't want to draw too much attention to that. It helps that he faced the Raiders last season. It also helps that he barely knows anyone on the team anymore. Lechler said this week that he hopes to punt for the Texans as long as he punted for the Raiders. That would be quite a feat. Bill, speaking of favorites, DE
Antonio Smith
was a favorite in Houston. What has his role been Oakland?
Williamson:
Smith is one of the many veterans the Raiders paid for this offseason. He is a starter and one of the leaders of Oakland's defense. Week 1 wasn't great for Smith and his defensive teammates, but the Raiders think he can help this season. Smith is a big fan of former teammate
J.J. Watt
. Who isn't, right?
Ganguli:
Watt's play in the Texans' season opener was truly spectacular. He had a fumble recovery, a batted pass, a blocked extra-point attempt, two tackles for loss and a sack. Watt will be a problem for Oakland, no matter how they try to combat him. And what was really helpful for the Texans in their season opener was that Watt had help. That will be the challenge for Oakland. The Raiders can double Watt, as most teams do, but that creates opportunities for a guy like
Brooks Reed
, who had another outstanding game. Finally, Bill, how good is the Raiders' run defense?
Williamson:
The Raiders think they are going to have a stout run defense this season. They are big and strong up front. That didn't help against the Jets, who had 212 yards rushing and averaged 6.2 yards per run. The difference in the game was a 71-yard touchdown run by New York's
Chris Ivory
in the fourth quarter. The weather was warm and the defense was on the field a lot for Oakland. And they did wear down. That is an area this team must improve quickly.
March, 24, 2014
Mar 24
8:00
AM ET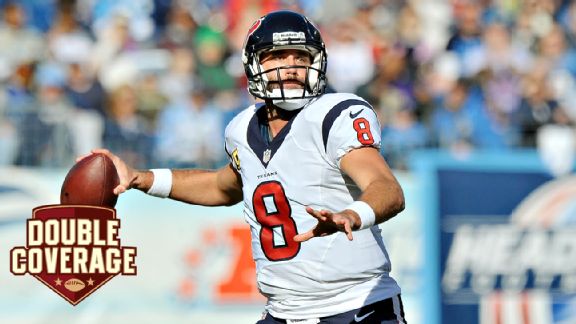 Jim Brown/USA TODAY SportsThe Oakland Raiders believe quarterback Matt Schaub can rebound this season.
The
Oakland Raiders
acquired two-time Pro Bowl quarterback
Matt Schaub
from the
Houston Texans
on Friday and Raiders coach Dennis Allen immediately anointed the 10-year veteran his starter, even as he already had
Trent Edwards
,
Matt McGloin
and
Terrelle Pryor
on his roster.
Schaub, though, is coming off a career-worst year in which he was often booed at home, threw a flurry of interceptions returned for touchdowns, lost his starting job and had a career-low total quarterback rating of 43.65. In fact, Raiders offensive coordinator Greg Olson saw his new quarterback's fall from grace as a blessing in disguise, saying, "Had he not had the season he had last year in Houston, he wouldn't be sitting here today."
ESPN.com Raiders reporter Paul Gutierrez and Texans reporter Tania Ganguli broke down Schaub and his leaving Houston for Oakland.
Paul Gutierrez:
It was obvious that Schaub bottomed out last year. The question is why -- was it more mental or physical?
Tania Ganguli:
There was certainly a physical aspect to it. His arm strength wasn't what it had been. But a bigger part of it was mental. You can't pin everything that went wrong with the Texans' offense on Schaub. But the pick-six is such a catastrophic play that the streak of four games with one thrown was mentally very taxing on both the team and the quarterback. I've heard a lot of people around him say that his pick-six to
Richard Sherman
(his third of last season) was the one that ultimately crushed his confidence.
Do you think Oakland is a place where he can regain his confidence?
Gutierrez:
So long as the offensive line holds up and gives him time. The Raiders have made a concerted effort to overhaul the offensive line since free agency began, picking up left tackle
Donald Penn
, right tackle
Austin Howard
and guard/center
Kevin Boothe
. The Raiders also got a veteran receiver in former Packers wideout
James Jones
, so general manager Reggie McKenzie has been building around the quarterback position, so to speak, to get a veteran signal-caller to serve as a bridge, of sorts. Schaub fits that description, no? Thing is, McKenzie and his scouts have failed thus far at identifying and settling on a franchise quarterback. They inherited
Carson Palmer
, but traded him away in favor of
Matt Flynn
, who bombed. Then they zeroed in on USC's
Matt Barkley
last spring in the draft before the
Philadelphia Eagles
swooped in and took him. They used a fourth-round draft pick on Arkansas'
Tyler Wilson
, who was cut a couple of times and ultimately picked off their practice squad by the
Tennessee Titans
. Finally, they seemed to botch the handling of Terrelle Pryor and undrafted rookie Matt McGloin. With the money owed Schaub, unless he restructures his contract, the Raiders believe he will regain his confidence.
And yet, after last season's debacle, is Schaub the kind of guy who would benefit from a mere change of scenery?
Ganguli:
ESPN Stats & Info passed along some stats that support your skepticism, but I think a change of scenery will be great for Schaub nonetheless. First their points: Schaub has declined over the past three seasons in stats like first down percentage, total QBR, yards per attempt and interception percentage. The dramatic drop in QBR (from 67 in 2011 to 64 in 2012 to 37 in 2013) and dramatic increase in interception percentage (2.1 to 2.2 to 3.9) indicate a statistical anomaly. Given what the Raiders are going to be spending on him, it's clear that's what they believe, too. What made 2013 so bizarre is Schaub had not been a turnover machine historically. If he's in a situation where things around him go well, he can recover. But things have to go well around him. The struggles the Texans had with their running game were a very underrated part of why their offense wasn't working. Schaub had done really well out of play-action in the past, but didn't last year. Is he going to a place where the running game will support his endeavors?
Gutierrez:
Which brings us to the $100,000 question (the amount of money guaranteed to running back
Darren McFadden
). It always comes back to the health of the perpetually injured McFadden. If McFadden is healthy -- he's never played more than 13 games in a season and has missed 19 of the Raiders' past 41 games, including six last season -- and used properly to his skill set, he's a quarterback's best friend. Look at how good and effective he made
Jason Campbell
look in 2011, before both were lost for the season with injuries. As noted above, the overhaul of the offensive line would suggest the Raiders are going to go all-in with a power running game and after McFadden, Oakland has the CFL's Grey Cup MVP in
Kory Sheets
, a virtual rookie in
Latavius Murray
, who missed all of last season with injury, and
Jeremy Stewart
. Obviously, there are more questions than answers when it comes to the Raiders' running game. No doubt, McKenzie & Co. are hoping Schaub brings some answers with him, without weighing him down with unrealistic expectations.
Schaub, you'll recall, is already in the Raiders' annals for his part in the "Divine Interception" play in 2011, when he was picked off in the end zone to seal an Oakland victory in Houston the day after Al Davis died and with the Raiders having only 10 players on the field. How cognizant is Schaub of NFL history in general, the Raiders and that play in particular, or is he simply a football player?
Ganguli:
Wow, I forgot all about that. And it figures, doesn't it? Run off on the heels of an uncharacteristically interception-laden season, Schaub gets traded to a team against which he threw an interception that led to an eerily perfect moment in the franchise's history.
He might be a student of the game's history, but will rarely let the public into any aspect of his being that isn't related to the game immediately in front of him. I challenge you, Paul, to extract the personality we all knew was beneath Schaub's stone exterior. By all accounts, he is interesting, funny and has a great personality. We just never saw it publicly. Schaub went to great lengths to make us believe he was dull, but he isn't.
It won't be long before Schaub faces his old team again. The Texans have a trip to Oakland on their schedule, which is less interesting than if the Raiders were to return to Houston with Schaub at the helm, but it'll be interesting nonetheless. What's your prediction?
Gutierrez:
I accept your challenge, Tania, and look forward to seeing what's underneath said "stone exterior." Many see it as more milquetoast and that was a reason so many fans clamored for the likes of
Michael Vick
because, really, ain't nothing boring about the artist formerly known as Ron Mexico. And actually, for what the Raiders are doing, Schaub is their man. He was their No. 1 target all along, followed by
Mark Sanchez
,
Josh Freeman
and then Vick. Fans may not agree with what McKenzie and Allen are doing but as far as the Raiders are concerned, it's exactly what
they
want to do. As far as a prediction, I'll wait until the roster is completely overhauled and the schedule is out and we see when, exactly, Schaub faces the Texans in Oakland. The cynic will predict a back-breaking and game-changing pick-six for Schaub against his former team. The optimist sees a 400-yard passing day and victory for Schaub and the Raiders against the Texans. Look forward to chatting again then.
December, 22, 2013
12/22/13
10:00
AM ET
By
ESPN.com staff
| ESPN.com
Join our ESPN.com NFL experts as they break down the Denver Broncos' visit to the Houston Texans. Contribute your thoughts and questions beginning at 1 p.m. ET. And, be sure to visit our
NFL Nation Blitz page
for commentary from every game, as well as fan photos and the latest buzz from Twitter. See you there.
December, 19, 2013
12/19/13
10:00
AM ET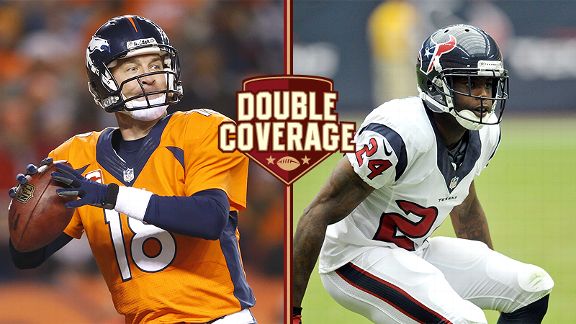 USA Today Sports, Icon SMIComing off an unexpected loss, will Peyton Manning's Broncos overlook Johnathan Joseph's Texans?
Quarterbacks tend to pull for each other. They know what it's like to shoulder so much of a team's fate, they understand the pressure better than outsiders could.
"I do think it's a unique fraternity,"
Denver Broncos
quarterback
Peyton Manning
said. "Matt's an excellent quarterback. I think he'll be fine."
This weekend Manning and his Broncos will visit the
Houston Texans
for a rematch of a game played last year under very different circumstances.
Fittingly, after a season of quarterback turmoil, the Texans are returning to the man they started with at the position. Because of an injury to
Case Keenum
,
Matt Schaub
will start Sunday at Reliant Stadium. The last time Schaub started, he entered the game to boos so hearty that the Texans had to go to a silent count on some of their plays.
On the opposite sideline will be one of the best to ever play the position. Manning has played against the Texans 19 times and lost only three times. ESPN.com Broncos reporter Jeff Legwold and Texans reporter Tania Ganguli discuss.
Ganguli:
Manning is very familiar with the Texans. Has his (soon-to-be) record-setting season been as impressive to watch up close as the stats suggest?
Legwold:
No question the numbers have been staggering, even by Manning's standards. But the intersection of Manning as a 37-year-old quarterback who was willing to sort of remake himself with a team ready to offer him the place to do that has lifted his play even more. The Broncos have constructed a playbook that is a mix of what they had on hand and what Manning has always done. They've added a warp-speed no-huddle portion and given him targets all over the formation, and Manning has played with the discipline of a veteran quarterback who understands what needs to be done. His coaches have said he forced just one pass in the team's first eight games and his accuracy has been elite for much of the season. He isn't a power thrower now, and a windy day in the postseason could derail some of what the Broncos like to do, but he is an accomplished pitcher who knows his opponents and can hit all the spots.
Gary Kubiak is still well-liked around the Broncos' complex, with many people who worked with him still in the building. What has been the reaction of players to his dismissal?
Ganguli:
Kubiak was well-liked in the Texans' building, too, especially with, but not limited to, the players. After his dismissal, you heard a lot about how well he treated people, regardless of their role on the team. He's always been known as a players' coach, and that's part of what has made Houston an attractive destination for free agents. Several players exchanged text messages with him after it happened. Some took public responsibility for it. They didn't like seeing him lose his job, but the firing wasn't a tremendous surprise given how the season had gone. The players' reaction to Kubiak's health scare after suffering a "mini-stroke" on Nov. 3 said a lot about what he meant to them.
You covered another head coach's health scare this season. How did the Broncos weather John Fox's absence?
Legwold:
There have been seasons over the past decade or so when neither the locker room nor the coaching staff would have been as equipped as this year's group was to deal with something like Fox's four-week absence following open-heart surgery. Defensive coordinator Jack Del Rio stepped in as interim coach, and players often spoke of his composure and leadership during that time. Manning,
Wesley Woodyard
,
Champ Bailey
and others helped keep everyone in the locker room pointed in the right direction, while Adam Gase and rest of the offensive staff kept things humming on that side of the ball. The team went 3-1 in that stretch, with two wins over Kansas City and one against San Diego. The loss was an overtime defeat at New England, when the Broncos let a 24-point halftime lead get away. Through it all, the Broncos showed themselves to be a stable organization, able to overcome the most serious of issues.
An awful lot of folks believed when the season began that the Texans would be in the hunt for the Super Bowl title. What are some of the major issues that have prevented that from happening?
Ganguli:
How much time do you have? It starts with the quarterback. The Texans don't have the luxury the Broncos have of one of the greatest quarterbacks ever. Their situation at the position has been tenuous all season. Schaub's costly turnovers early on put the Texans in a precarious position. He didn't play as poorly as some indicate until Week 5 against San Francisco. He just looked uncomfortable and out of sorts from start to finish, throwing three interceptions, including a pick-six on the first pass of the game. Schaub's foot and ankle injuries the following week opened the door for Kubiak to make a switch to Keenum, who spent last season on the Texans' practice squad. Keenum did well before opponents deciphered him, and since then he has struggled. I'm not ready to say he'll never be a passable quarterback in the NFL, but his play over the past eight games has been a big factor in the losses. To be clear, quarterback is not the only factor in the Texans' 12-game losing streak, but it's been a big one. Further, the handling of the quarterback situation played a part in Kubiak's firing. He benched Keenum for Schaub against Oakland and Jacksonville. That kind of uncertainty didn't help matters.
That's one question I get asked a lot. Another is this: Who will the Texans' next head coach be? I covered Del Rio for his final season and a half as the Jaguars' coach. From what you've seen in Denver, do you think he gets another shot at being a head coach?
Legwold:
I spoke with executives from around the league in recent weeks, and it seems Del Rio helped his cause with the way he conducted himself and led the Broncos during Fox's absence. If the Broncos can snap out of their current defensive funk and go deep in the playoffs, it would help his cause even more. (He interviewed with USC during the bye week, the day before Fox suffered the dizziness and light-headedness on a golf course that led to his open-heart surgery.) Del Rio would need an owner/team president to look past the offense-first mentality everyone seems to be looking for these days, and he would have to present a clear, concise picture of what he would do on offense. But if the Broncos make the Super Bowl, or even win it, and the defense makes some plays along the way, Del Rio should be on some short lists.
How has Wade Phillips handled the interim job? He's seen Manning plenty over the years, how do you think he'll have the Texans go at the Broncos' offense?
Ganguli:
It wasn't a particularly good situation to come into, as tends to happen with interim jobs. The results have been similar to Kubiak's tenure, though Phillips has been more proactive in trying to curb the Texans' penalties. He's had Big 12 officials at practice several times, and puts players in timeouts if they commit a penalty. Not a lot has changed for the better, and the injury situation has gotten worse. The Texans now have their first- and second-string running backs on injured reserve, as well as their starting tight end, starting middle linebacker and starting strong safety. Phillips' defenses have always been very aggressive -- they blitz a lot. The play calling is being done by defensive-backs coach
Vance Joseph
now, but that doesn't change a lot. Manning's statistics against the Texans are better against a four-man rush than against blitzes.
November, 17, 2013
11/17/13
10:00
AM ET
By
ESPN.com staff
| ESPN.com
Join our ESPN.com NFL experts as they break down the Oakland Raiders' visit to the Houston Texans. Contribute your thoughts and questions beginning at 1 p.m. ET. And, be sure to visit our
NFL Nation Blitz page
for commentary from every game, as well as fan photos and the latest buzz from Twitter. See you there.
November, 15, 2013
11/15/13
12:00
PM ET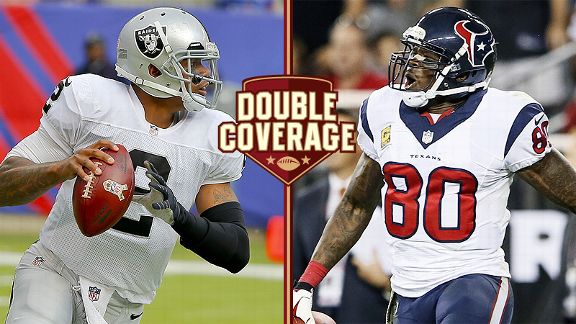 USA TODAY SportsHealth permitting, Terrelle Pryor will try to break the Raiders' eight-game road losing streak against Andre Johnson's Texans.
The 2-7
Houston Texans
will host the 3-6
Oakland Raiders
on Sunday.
The records might make this seem as if these teams are in similar positions, but in reality they aren't. Oakland wasn't expected to excel. The Raiders were ranked 29th in ESPN.com's preseason NFL Power Rankings. Some rankings had them as low as 32nd.
The Texans, on the other hand, started the season expected to be Super Bowl contenders and slowly fell apart. Houston is on a seven-game losing streak, the longest single-season streak in franchise history.
The Raiders are on a losing streak of their own. They have lost eight consecutive road games, dating to last season, but that isn't a franchise record.
Raiders reporter Paul Gutierrez and Texans reporter Tania Ganguli take a look at this matchup.
Ganguli:
So Paul, how is
Shane Lechler
's departure viewed in Oakland? It has been suggested by some, including Lechler, that his leaving affected
Sebastian Janikowski
's kicking. Do you think it has?
Gutierrez:
When Janikowski missed four of his first 11 field goal attempts through six games, after missing three all of last season, the whispers that the man known as SeaBass was swimming upstream by missing his longtime running mate grew to shouts. But while the new holder/punter,
Marquette King
, shouldered the blame, even special-teams coach Bobby April intimated it was a mental hurdle for Janikowski, who had Lechler as his holder for 13 years.
This much is true: Every miss this season has come from the left hashmark for the left-footed kicker. And his misses against Indianapolis and Washington have been especially costly momentum shifts. Janikowski, though, has converted four straight field goals, so the comfort level seems to be growing between Janikowski and King. In fact, the youthfully exuberant King brought celebratory foil balloons into the Raiders' locker room to congratulate Janikowski after his 50-yard field goal against San Diego on Oct. 6. But yes, I believe trust issues and familiarity were at the root earlier ... even if it was not a Ray Finkle Laces Out situation (gratuitous "Ace Ventura" reference).
Speaking of Lechler, how has he adapted to being back "home" in Texas, beyond his stats?
Ganguli:
Lechler has done great. He is the brightest spot on a special-teams unit that has struggled. He really has enjoyed being so close to home. He has visited his hometown. He definitely wishes his career hadn't ended with the Raiders, but I think this was a good second option. Of course, he probably also thought he was coming to a Super Bowl contender, as the Texans' other free agents did, and that hasn't worked out either.
Switching to offense, what has
Terrelle Pryor
had to learn about playing quarterback in the NFL before being able to contribute as he has been this year?
Gutierrez:
Honestly, and this is by his own admission, he had to learn how to throw a ball properly. Pryor admitted this summer that he never really learned how to throw a ball up to NFL standards while at Ohio State. He also talks glowingly about working the previous two years with former Raiders quarterback
Carson Palmer
in how to read defenses. You can't question Pryor's work ethic. And up until about a month ago, Pryor was on the fast track to Most Improved Player status. But he has, many say, regressed the past four games. In that stretch, he has thrown eight interceptions and only one touchdown while completing 61 of 120 passes (50.8 percent) for 714 yards. Plus, he has been sacked eight times for 110 yards in losses. The offensive line is still banged up, and no doubt his receivers can be inconsistent. And keep in mind, Pryor suffered what he termed a sprained MCL in his right knee, so his mobility is limited.
Keeping on the "regression" theme, what has happened to the Texans? They were a Super Bowl contender coming into the season, and now they're in a seven-game tailspin. They'll be without
Arian Foster
, who has averaged more than 100 yards rushing and has caught eight passes for 172 yards in two career games against the Raiders, and
Ed Reed
, the mistake signing the Texans acknowledged this week, via your story. But they should be getting coach Gary Kubiak back. So how will they respond this weekend?
Ganguli:
I don't know that the emotions will carry them. Not a lot changed without Kubiak there despite players wanting to win for him. His offensive philosophy is similar to that of offensive coordinator Rick Dennison, who ran the offense in Kubiak's absence. These players have pride, and the losing streak they're on was unthinkable at the beginning of the season. There was no reason to expect the struggles quarterback
Matt Schaub
had early this season. He didn't play consistently poorly, but he made some costly mistakes. The Texans were gaining a lot of yards on offense and weren't allowing many yards on defense. But their turnover margin was among the worst in the NFL, and their red zone offense and defense weren't good. After the poor start, things kind of started piling up. They lost inside linebacker
Brian Cushing
again, Foster dealt with injuries before being put on injured reserve, and while their right guard position has solidified finally after the loss of current Raiders guard
Mike Brisiel
, the Texans are still looking for improvement at right tackle.
They still have talent on the roster, starting with reigning defensive player of the year
J.J. Watt
. His numbers aren't what they were last year, but he is still playing well. He's disruptive. Last weekend, he forced and recovered two fumbles. Which Raider or Raiders will be responsible for minimizing his damage?
Gutierrez:
If Watt is on the quarterback's blind side, that responsibility will fall on the shoulders of veteran left tackle
Khalif Barnes
, who had a rough go of it against the
New York Giants
' front seven in general and
Jason Pierre-Paul
in particular. Barnes was flagged three times for holding and another time for a false start. If Watt wants to try his hand on the other side, he'll find rookie
Menelik Watson
awaiting him. Watson also had a tough game against the Giants'
Justin Tuck
and showed his relative lack of in-game experience. I would expect the Raiders' running back, either
Rashad Jennings
or
Darren McFadden
, if he's healthy, to pick up some chipping assignments. If Pryor plays -- he missed practice Wednesday resting his sprained right knee -- he might welcome an overaggressive Watt, though he should be warned to be careful what he wished for in Watt, yes? If Pryor cannot go, expect a baptism by fire for undrafted rookie Matt McGloin.
Since we're on the topic of guys who have to step up, who will try to fill Foster's nimble-yet-powerful shoes? And can he make a dent against the Raiders' on-again, off-again defense?
Ganguli:
The Texans have a very capable player to replace Foster --
Ben Tate
. The issue for Tate will be that he's still healing from a painful rib injury he suffered Oct. 20 in Kansas City. Tate broke four ribs but hasn't missed a game. He's tough. Tate has led the league in yards after contact per rush for nearly the whole season. Coaches have tried to protect Tate to keep him fresh, but he wants to go more. Behind Tate are two younger players -- undrafted rookie
Dennis Johnson
and young veteran
Deji Karim
.
October, 18, 2013
10/18/13
3:20
PM ET
KANSAS CITY, Mo. --
Kansas City Chiefs
wide receiver
Donnie Avery
, as a senior at the University of Houston in 2007, caught 91 passes, most of them from
Case Keenum
.
Keenum
Predictably, Avery had little but praise Friday for the quarterback who helped him get drafted in 2008 in the second round by the
St. Louis Rams
.
"He's really good under pressure so we've just got to stay after him," said Avery, who last winter worked out in Houston with a group of players that included Keenum. "He'll take off and run if nothing is there for him downfield. People don't know that about him but he's very agile.
"He'll be well-prepared for us on Sunday, I'm sure.''
Keenum will start at quarterback for the
Houston Texans
against the Chiefs on Sunday at Arrowhead Stadium in place of the injured
Matt Schaub
. It will not only be the first start of Keenum's NFL career but he'll also be taking his first regular-season snap.
"He knows that offense really well. He can make all the throws,'' said Chiefs safety
Quintin Demps
, a teammate of Keenum's last year with the Texans. "He's everything you want in a starter.''
Chiefs coach Andy Reid also showed the proper amount of public respect for Keenum, the NCAA's all-time leader in passing yards, touchdowns and completions.
"We know he had a good preseason,'' Reid said. "We also know he was a heck of a player in college. He's an active player and has a live arm.
"I kind of liked him [coming out of college last year]. I thought he was a good player. I know [Chiefs general manager John Dorsey] liked him. It doesn't surprise me at all that he's having a chance to play."
October, 17, 2013
10/17/13
12:00
PM ET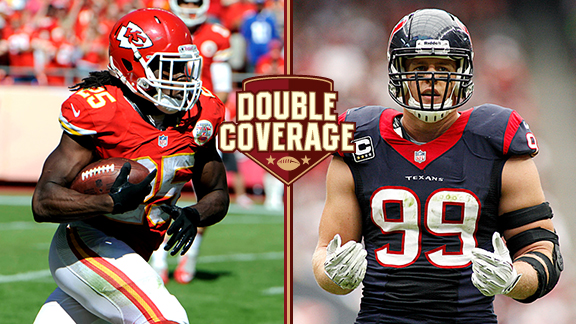 USA TODAY Sports, Icon SMIContaining Jamaal Charles will be key for J.J. Watt and the Houston defense.
Some role reversal will be in play Sunday when the
Kansas City Chiefs
and
Houston Texans
meet at Arrowhead Stadium. The Chiefs were 2-14 last season but now are 6-0 and one of the NFL's two remaining unbeaten teams. The Texans were 5-0 last season and on their way to an 11-1 start but are 2-4 after losing their last four games.
ESPN Chiefs reporter Adam Teicher and Texans reporter Tania Ganguli discuss Sunday's game.
Teicher:
After the collapse against Seattle, blowouts the past two weeks, explain Gary Kubiak's thinking in starting
Case Keenum
over
T.J. Yates
, give a little description of his strengths and weaknesses and how ready to do you think he is to play against one of the NFL's better defensive teams in a difficult stadium for visiting teams?
Ganguli:
He wants a spark. It's as simple as that.
Coming out of Kevin Sumlin's offense at the University of Houston, Case Keenum had a lot to learn on the NFL level. He didn't do too much talking in his college offense and had fewer responsibilities in running the plays. He also had to transition to playing under center like so many shotgun spread quarterbacks do. Yates beat out Keenum for the backup job at the beginning of the season, but they were close. Keenum has a very nice deep ball, which isn't something we've seen out of the Texans very much this year. You ask a great question about his readiness to face Kansas City's defense on the road. That's not easy for veterans to face. And it won't be an easy beginning for Keenum.
What do you think have been the most important factors in the Chiefs' fast start this season?
Teicher:
If their success can be boiled down to one factor, it's field position. The Chiefs have started 17 possessions on their opponent's end of the field while the opponents have started three possessions on Kansas City's side of the field. The best starting field position for the opponent this season has been the Chiefs' 42. So the Chiefs aren't just consistently winning the turnover battle -- at plus-12, they're best in the league -- they're using it to their benefit. They haven't put their defense in a bad position all season. Their offense doesn't generate many big plays, so favorable starting field position is a necessity. The Chiefs have also scored a touchdown on an interception three times. They are consistently getting pressure on the quarterback even when they don't get the sack. They're putting teams in a lot of third-and-long situations and getting off the field.
Turnovers aside, why aren't the Texans scoring more points? With
Arian Foster
and
Ben Tate
running the ball and
Andre Johnson
and
DeAndre Hopkins
catching it, shouldn't they be producing more on offense?
Ganguli:
Turnovers have been a huge factor in why the Texans aren't scoring, probably the biggest. But we can talk only so much about it. The Texans' red zone efficiency has been a problem. On Sunday against the Rams, for example, Houston scored once on six trips to the red zone. Its goal-to-go efficiency was only 33 percent. Those kind of numbers hurt. It's a departure from earlier this season when the Texans' red zone offense was fantastic. Against the
San Diego Chargers
in Week 1 and the
Tennessee Titans
in Week 2, Houston entered the red zone seven times and scored a touchdown every time. Some consider the Texans' red zone play calling to be conservative. I had ESPN Stats & Information look into it, and the Texans have run 53 red zone plays -- 28 passes and 25 runs. Of those, 10 have been passes into the end zone. That ranks in the lower half of the league as a percentage of total plays and pass plays.
Speaking of numbers, the Chiefs have put up some incredible pass-rushing numbers and have more than twice as many sacks as the Texans have. Are they as good as their numbers indicate? How can an opponent neutralize the pass rush?
Teicher:
They've been pretty good with the pass rush. Consistent. They're disrupting the quarterback even when they don't bring him down. And they can come at him from many places and angles. That's maybe the most impressive thing about it. Seven players had at least a half-sack Sunday against the Raiders.
Justin Houston
(9.5 sacks) and
Tamba Hali
(7.5) are their top pass-rushers, but even taking those guys out of the picture, the Chiefs have 14 sacks from eight players. Nose tackle
Dontari Poe
has been the key, providing a strong, consistent inside pass rush. Inside linebacker
Derrick Johnson
and strong safety
Eric Berry
are two of the other players to watch when the Chiefs send more than four to the quarterback. The best way to neutralize their rush is to have an effective running game. Runs by mobile quarterbacks have hurt the Chiefs this season, but otherwise only one running back, Philadelphia's
LeSean McCoy
, has had a big game against the Chiefs.
When the Texans are on defense, there might be a lot of favorable matchups for them. Other than the obvious ones like
J.J. Watt
and
Brian Cushing
, who are some of Houston's defenders who are playing well?
Ganguli:
Outside linebacker
Whitney Mercilus
has played well with an expanded role this season. He was one of the most productive rookies in the league last year on a per-snap basis and leads the team with 4.5 sacks this season. Nose tackle
Earl Mitchell
has been solid but isn't on the field much. Safety
Danieal Manning
had been playing well and was about to become a bigger part of the Texans' return game. But Manning suffered a knee injury Sunday that will land him on injured reserve. As a whole, the Texans' defense has played well, but it could help the Texans more if it created more turnovers and committed fewer penalties.
The Chiefs' offense has done enough given how strong the defense has played. Is that going to bite them?
Teicher:
Eventually it will, perhaps as soon as Sunday. The passing game has been particularly unproductive.
Alex Smith
is completing just 56.5 percent of his passes, an alarmingly low number in Andy Reid's version of the West Coast offense that features a large number of high-percentage passes. Some of that is his fault, but protection has been leaky and Smith has been forced to run for his life on too many plays. Right tackle
Eric Fisher
, the first overall pick in this year's draft, has been lousy. Most everything the Chiefs get offensively comes from
Jamaal Charles
. He leads the team by a sizable margin in rushing, receptions, receiving yardage and touchdowns. I'd be surprised if he can keep this up over 16 games and maybe more, so the Chiefs need to develop other threats.
September, 9, 2013
9/09/13
8:15
PM ET
By
ESPN.com staff
| ESPN.com
Join our ESPN.com NFL experts for the second half of "Monday Night Football" as the Houston Texans visit the San Diego Chargers.
Contribute your thoughts and questions beginning at 10:15 p.m. ET. See you there.
September, 6, 2013
9/06/13
12:01
PM ET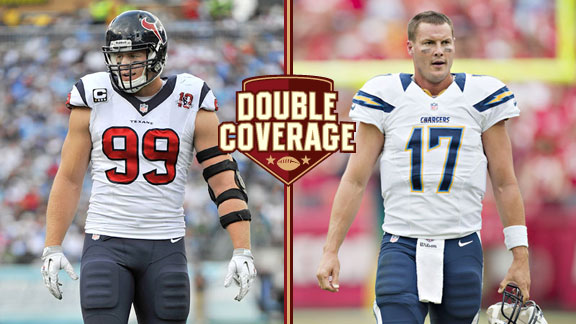 Getty ImagesJ.J. Watt and the Texans could make it hard on Philip Rivers if San Diego's offensive line does not hold up.
In the second half of the opening Monday night doubleheader, Houston is traveling to San Diego to put an end to NFL Week 1. The Chargers are in rebuild mode, while the Texans are looking to take the next step this season and become true Super Bowl contenders. While the Chargers' fan base should be revved up for this prime-time contest, getting
J.J. Watt
blocked could be a very futile effort for San Diego's offensive line. ESPN.com's Matt Williamson and Houston Texans reporter Tania Ganguli bring you their Double Coverage preview.
Tania Ganguli
: How has the atmosphere in the organization changed with GM Tom Telesco and coach Mike McCoy taking over?
Matt Williamson
: A change in San Diego was certainly needed. The environment had become stale and the once wide-open window under former coach Norv Turner and a roster stocked with great players has closed. A rebuild is needed, and a new general manager and head coach are what is needed to potentially get this team back where it once was -- or maybe beyond. Has the right side of the Texans' once-great offensive line been fixed?
Ganguli
: It's certainly on its way. The Texans are rightfully very high on right guard
Brandon Brooks
, and right tackle
Derek Newton
is healthy. They didn't mind rotation in those spots last year, but stability will definitely help.
Can McCoy turn
Philip Rivers
(back?) into an elite quarterback?
Williamson
: I feel as though we have seen the best of Rivers' impressive career, unfortunately. That being said, the scheme change, which stresses getting the ball out of Rivers' hands quicker, could be an advantageous move to boost Rivers. He does have a quick release and makes quick reads, making him a good fit for what McCoy is looking to accomplish.
What is the status of
Arian Foster
, and might
Ben Tate
have an expanded role for the season and to open the year?
Ganguli
: Tate will have an expanded role, especially early in the year. The Texans won't ride Arian Foster too much given he missed all of the preseason, training camp and most of organized team activities (OTAs). He was working, but they're intent on being smart with his return to make sure they have him at full strength late in the season.
What are the biggest problems with the Chargers' offensive line?
Williamson
: Once again, the scheme switch to a short passing game should help the protection of this line -- a line that is better-equipped to run block than protect. Still, the true problem with this line is they simply lack good players up front. They added a few free agents, but no one that is even a league-average starter, and they used their first-round pick on
D.J. Fluker
to play right tackle. However, I have my doubts that Fluker is quick or light enough on his feet for edge protection. Instead, I think Fluker could be a Pro Bowler at guard.
What impact does first-round pick
DeAndre Hopkins
have on the Texans' offense?
Ganguli
: It's difficult for rookie receivers to put up big numbers, but Hopkins will have a major impact on the Texans' offense. He'll take pressure off
Andre Johnson
, on whom the Texans were overdependent last season in their passing game. He is very skilled on contested catches and will help Houston's red zone efficiency.
What impact does
Dwight Freeney
have in San Diego?
Williamson
: Can he still be productive at 33? Of course it would be ideal to have
Melvin Ingram
in the fold as well as Freeney, who could be the perfect mentor, but Freeney has looked quite spry through the preseason and should have plenty left in the tank. The concern for me is that San Diego will be forced to play the 33-year-old too many snaps, which could lead to less effective play late in games and especially late in the season.
How big a boost to this team -- tacitly and emotionally -- is it to get
Brian Cushing
back on the field?
Ganguli
: Cushing makes a difference in both ways. He creates mismatches in the pass rush that free up the outside linebackers. His presence in the middle makes things easier on the Texans' defensive backs, too. Emotionally, Cushing provides an edge for the Texans' defense. His maniacal intensity is contagious and the Texans feed off it.
How will
Danny Woodhead
and
Ryan Mathews
impact each other?
Williamson
: While Mathews is a decent pass-catcher, Woodhead is an exceptional all-around contributor in the passing game. Their roles should be very distinctive, with Mathews -- who has looked excellent this preseason -- as the early-down workhorse (if he can hold up) and Woodhead being the specialty movement player that is equal parts running back and slot receiver.
Watt is a rare interior pass-rusher, but does Houston have enough pressure coming from their 3-4 outside linebackers?
Ganguli
: That remains to be seen. It's definitely been a focus for the Texans' outside linebacker group.
Whitney Mercilus
, now in his second year, has taken over as a starter opposite
Brooks Reed
after the departure of
Connor Barwin
. Mercilus set a franchise record for rookies with six sacks last season, but he missed most of training camp and the preseason. Reed is healthier than he was at the end of last season when he returned from a groin injury. He had an offseason surgery to repair it fully.