Turner, Pagano discuss promotion
January, 5, 2012
1/05/12
9:40
PM ET
San Diego coach Norv Turner and new defensive coordinator John Pagano discussed Pagano's promotion Thursday. Pagano replaced Greg Manusky, who was fired earlier Thursday. Here is some of what Turner and Pagano had to say, courtesy of the Chargers' public-relations department:
Norv Turner
On the necessity for a change like this:
"When the season ends, you go and evaluate the things that you feel are critical. Moving forward, I just thought this was the best opportunity for our team to go do the things we're capable of doing."
[+] Enlarge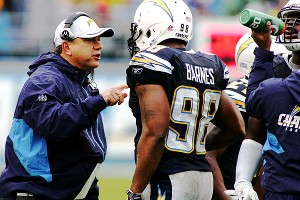 Jake Roth/US PresswireJohn Pagano, left, takes over as defensive coordinator after coaching Chargers linebackers this season.
On the quick decision and looking elsewhere outside the building beside coach Pagano:
"I just think right now, for where our team is he's the right fit. We spent a lot of time with John last year when we were in this process. John's continued to grow as a coach. He has a great understanding of what we need to do. Particularly on the defensive front, but also on our overall defense, it was a great fit for us."
On what does the defense need to improve on:
"A year ago we were one of the elite teams on third-down defense. It was a big part of the success we had. This year we were 32nd out of 32 on third-down defense. Certainly it's getting back to our standards on third down, playing better in the red zone and then we just have to continue to try to create more turnovers."
On whether the UCLA rumors influenced the decision:
"I think anytime you're in a process of making a decision, a lot of things go into it. Certainly we considered everything that was involved."
On the relationship between Pagano and the players:
"As I said, I think John has certainly a track record with our guys and obviously I think it's going to be a real good fit. That's why we put him in that position."
On whether the defense needs to improve personnel-wise:
"Someone asked me about where we rank in our division. Obviously our teams were 8-8 in our division and 7-9. The biggest key for all the teams in our division is who is going to improve the most. There's a number of ways you can improve. Certainly the first way you get better is add elite players. You have an opportunity to do that through free agency, you have a chance to do that through the draft like all the other teams in our division. Obviously the next way you improve is you continue to get better in terms of the things you're doing; coaching and all three phases."
On where Turner is in the evaluation stage of the rest of the coaching staff:
"Again, it is a process. We're in the middle of it. I don't think we'll have major changes. Again, part of it is my conversation with coaches and where they're at. So it's an ongoing process."
On Manusky being a scapegoat:
"That's always the question that's asked when you make a change. That's always what's insinuated. I don't believe in that. I think, as I said, I'm not looking back. I'm looking forward and looking for the things we need to do to get better in the future."
John Pagano
On what immediate changes need to be made:
"First and foremost, we've just got to go out as a staff and coach better and we've just got to go to play better. We've had many opportunities to get off the field. With our type of offense and the things that we can do offensively, we have to give them the opportunity to go score. The easiest way for us to do that is try and get as many three-and-outs as we can to put the ball back in our offense. For the most part, we as a coaching and defensive staff have to coach better and we have to go out and play better."
On whether the team has the right player personnel:
"I believe so. Looking at all our personnel and seeing it over the years — I've been here through the good times and the bad times — and seeing the type of defensive players. Can we improve in everything? Sure we can. With the right mixture of guys we have on this team right now I believe we can do some good things here."
On being a candidate for this job last year and what's different now:
"I don't know. That's a real good question. You sit here, you wonder and you're always waiting for your opportunity. But I didn't really ever look into things about that. Just so excited for the opportunity that they are giving me. The good thing was I learned. Every year I've been here I've learned. I've learned from some great defensive minds here. That's something that I really took a hold of. Last year was a great learning experience because I thought we did, at times, some great things there defensively. Just the interaction and being a part of having the type of players and this coaching staff."
On the rumors of the players wanting him to get this position:
"It's an honor to have them say that. I don't know, no one has texted me or called me. This phone's been buzzing but it's nice to know that. Our job here, and I've been saying this for a long time, is put them in position to make plays. That's our job and that's what we have to do. When they go out there and they're successful, good things happen for us so that's what we want to do."
On appeasing fans' desires for a high-powered defense:
"I'm not big on styles. We're going to go out and be fundamentally sound. We're going to play smart football. I believe that's the most important thing. We got to be able to create turnovers like everybody says. We have to pressure the quarterback because over the years that I've been here, we've seen those things and I've been a part of those things. So, we need to just keep building, keep doing what we're doing, have the games that we've played well in, take from those learn experiences on the things we didn't do well and move on from there."
On what happened with the UCLA discussions:
"It was a nice honor to have coach (Jim) Mora be able to want me for that job. It wasn't a factor of taking this job or that job. I don't know how my name got out there. I don't know if it was a recruiting ploy or not. But like I said my family loves it here in San Diego. I love it here, I love this organization, I've been a part of this organization for a long time and I'm really excited about the opportunity I have ahead of me. "
On whether he was frustrated he didn't get this job in the past:
"Everybody's going to be disappointed if there's things you want out there in life that you're not going to get. But the one thing, it made me better. It made me grow into the position I'm in now. I thank the Lord every day that those things happened to me so I could grow, learn, watch and listen and be in a part with a guy like Coach Turner. But also learning for Ted Cottrell, Ron Rivera, Wade Phillips being the mentor and Coach Manusky. All those guys and just being around them. Guys like Steve Wilks and Don Johnson. We have a great staff. We have a great defensive staff. We just got to go out there and get these guys playing better. That's our job."
On the likelihood of bringing most the coaches back:
"That's up to Coach Turner. I hope so. This thing is about us. Those guys have their thumbprint on this defense just as much as I have. I've been here just a few years more."
On communicating with specific player(s) regarding the promotion:
"You always want to reach out to the veterans, but this thing kind of moved so fast that I haven't really had a chance. I had an opportunity to talk to my dad. It's humbling. He's just so happy. Now he's got another son he can worry about the most with my brother (Ravens defensive coordinator Chuck) being in Baltimore. It's just family. I'm always proud of my dad bringing us up in these roots. I'm proud of my brother for what he's accomplished. I'm really excited and happy about the opportunity that's come up on me."