Clady's injury hurts, but playbook remains
September, 18, 2013
9/18/13
5:00
PM ET
ENGLEWOOD, Colo. -- Just to keep you from working the search engines, the answer is
Matt Lepsis
in the 2007 regular-season finale.
The question? Who was the previous player to start at left tackle in a game that counted for the Broncos before
Ryan Clady
? But now Clady's streak of 82 consecutive regular-season starts -- 85 consecutive starts if the playoffs are included -- is over. The three-time Pro Bowl selection was formally moved to injured reserve Wednesday after the team's medical staff decided Clady will need surgery to repair his injured left foot.
[+] Enlarge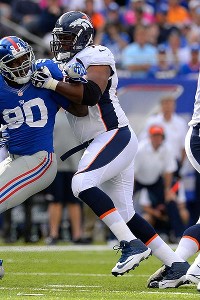 Rich Kane/Icon SMIRyan Clady was a key cog in Peyton Manning's protection, but don't expect the Broncos to change their offense without him.
And certainly it is an injury that stings for a team that already has had more than its share of drama since training camp started. This isn't a role player hidden on the depth chart. No, executive vice president of football operations John Elway has routinely said he believes quarterback, left tackle and edge rusher are foundation positions in roster-building.
The Broncos also signed Clady to a five-year, $57.5 million contract this past July, so this is indeed one of their cornerstone players. Clady's ability to consistently handle the best pass-rushers a defense has to offer with little or no help was a key part of the offense's game plans because the coaches could simply worry about something else.
Clady surrendered one sack last season in more than 1,100 snaps worth of work, and he was flagged for holding just four times in 16 regular-season games, even though the Broncos used a three-wide-receiver set 64 percent of the time in 2012. That's a lot of time working in a lot of open space against some of the most effective athletes the league has to offer.
And the Broncos love the three-wide look.
Peyton Manning
likes running plays in it, and the Broncos signed
Wes Welker
to a $12 million contract to have him lined up in it. Having Clady protect Manning's blind side was a big part of the plan.
But unless the Broncos have a staggering change of heart, they won't change much in their offensive approach even with Clady out of the lineup. They're too invested in the three-wide set. They have worked on it, refined it and love to work it at warp speed when they feel like they have a defense a little wobbly.
In short, in the world of NFL matchups, the Broncos believe it makes them the most difficult to match up against. And they've run it more this season than they did last.
In the opener against the Baltimore Ravens, the Broncos went 20 snaps on offense in the three-wide look before they tried something else. This past Sunday against the Giants, the Broncos ran 40 snaps in the three-wide set before opening the second half with two tight ends in the game. In all, the Broncos have run a three-wide receiver set on 72.3 percent of their offensive snaps in two games. Offensive coordinator Adam Gase is aggressive and likes the pieces the Broncos have. He won't like that Clady's out of the lineup, but from purely a technical standpoint, it won't change too much of the offensive plan.
They may shorten Manning's drops when he is under center or throw him in the pistol a little more when he's not. Manning, already working the 8- to 15-yard areas of the field the most against defenses sagging off to prevent the big play, will throw the ball away more quickly when he feels threatened.
The Broncos didn't sign Welker to be some situational bit player. They want him working the slot, and his 65 percent of the offensive snaps played against the Giants is about as low as they'd like. He could play on the outside a little more if they have to use a bulkier look -- two backs or two tight ends -- against some defenses. But the Broncos wanted to be a three-wide offense when they signed him and they still want to be one with Clady on injured reserve.
And that's what they'll do right up until the point a defense forces them to do something else.