AFC West:

2010 Midseason Report
November, 10, 2010
11/10/10
2:00
PM ET
Power Rankings:
Preseason: No. 27.
This week: No. 14
.
2010 schedule/results
[+] Enlarge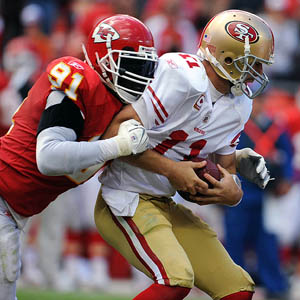 John Rieger/US PresswireTamba Hail has led a strong Kansas City defense through the first half of the season with eight sacks.
Where they stand:
The Chiefs have been one of the surprise teams in the NFL this season. After winning a total of 10 games the past three seasons combined, Kansas City is 5-3 and has been in first place since Week 1. Life isn't as good for Kansas City as it could be heading into Week 10. The Chiefs blew a 10-0 lead at halftime and ended up losing 23-20 in overtime at Oakland in Week 9. Had the Chiefs won the game they'd have a commanding 2.5-game lead in the AFC West. Now, they head into Sunday's game at Denver with a half-game lead over the surging Raiders. Still, the Chiefs control their own destiny at the halfway point. They have to be thrilled.
Falling:
Clean play. The Chiefs are too young and not quite good enough to overcome self-inflicted problems. The Chiefs could have closed the door on Oakland several times. But every time they could've put Oakland away, it seemed the Chiefs made a mistake. The Chiefs had 10 points taken off the scoreboard because of penalties. That simply lost them the game. The Chiefs are playing good football, but they can't have 12 penalties for 100 yards like they did in Oakland, and expect to win.
Rising:
Run offense. The Chiefs' run offense slipped some in Week 9 by netting only 104 yards rushing against the Raiders. But this unit has been carrying the load for the Chiefs. It sets up the pass and it keeps the improved defense rested. Kansas City is leading the NFL in rushing. It is averaging 179.6 yards a game on the ground. The Chiefs have a two-man running attack.
Jamaal Charles
has 719 yards rushing and is averaging 6.4 yards a carry.
Thomas Jones
has 570 yards. This duo is a big reason why Kansas City is much improved.
Midseason MVP:
Linebacker
Tamba Hali
. You could go with Charles and feel good about it, but Hali is the leader of a very good defense. He is tied for third in the NFL with eight sacks and is constantly bringing the heat.
Outlook:
The
Kansas City Chiefs
have a real shot at the playoffs. They do not have an overly tough schedule remaining. Kansas City has just two games (against Tennessee and Oakland in the final two weeks of the season) against teams that are currently over .500. Both of those games are at home, where the Chiefs are 4-0. If the Chiefs continue to improve and don't blow many more games late like the losses at Houston and Oakland, they could be playing in the postseason.
November, 10, 2010
11/10/10
2:00
PM ET
Power Rankings:
Preseason: No. 24.
This week: No. 12
.
[+] Enlarge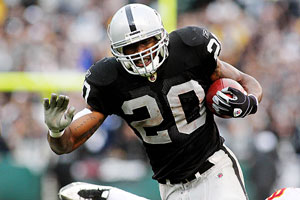 Cary Edmondson/US PresswireDarren McFadden has four 100-yard games so far this season.
2010 schedule/results
Where they stand:
The
Oakland Raiders
are legitimate playoff contenders. Thus, they stand taller than they have at any point since 2002. Oakland is 5-4. It hasn't won more than five games in each of the past seven seasons, which is an NFL record for futility. Oakland won a huge AFC West game in Week 9 against Kansas City. The Raiders came back in the second half and won 23-20 in overtime. The Raiders, who have won three straight games, now trail Kansas City by a half game in the division.
Falling:
Too many penalties: Oakland beat Kansas City despite being called for 15 penalties for 140 yards. Oakland has committed 36 penalties in the past three games. Sure, some of those penalties were questionable, but the bottom line is Oakland is committing too many penalties. The Raiders have to correct those issues if they expect to be a difference-maker in January.
Rising:
Jason Campbell
and
Jacoby Ford
: These J's are flying. Campbell has quarterbacked Oakland to three straight wins and Oakland coach Tom Cable said this week that Campbell will probably be the Raiders' starter when they return from a bye Nov. 21 at Pittsburgh. Campbell was replaced by
Bruce Gradkowski
in Week 2. But Gradkowski has missed the past four games with a shoulder injury. Campbell has been far from perfect, but he has made some big plays when needed. In the win over Kansas City, Ford, a fourth-round draft pick, had a kickoff return for a touchdown and six catches for 148 yards. We should see much more of this speedster down the stretch.
Midseason MVP:
Running back
Darren McFadden
. McFadden has had a monster breakout season. He is fourth in the NFL in rushing with 757 yards, despite missing two games with a hamstring injury.
Outlook:
The Raiders should be in the division race for the rest of the season. Oakland has improved greatly in the past three weeks. It has won in both blowouts and in overtime. This is a resilient, timely bunch that has come up with the big play on both sides of the ball when needed the most. This is far from a flawless team. But it is one that is still growing. It wouldn't be a shock at all if this team's season ends in the postseason.
November, 10, 2010
11/10/10
2:00
PM ET
Power Rankings:
Preseason: No. 22.
This week: No. 29
.
2010 schedule/results
[+] Enlarge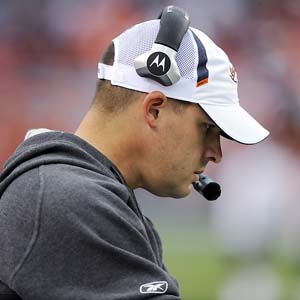 AP Photo/ Jack DempseyThe low point of the first half for Josh McDaniels and the Broncos was a 45-point home loss to Oakland.
Where they stand:
Things are not good in Denver. The three other teams in the division all have hope for the rest of the season. The Broncos look like they are headed for a last-place finish. They haven't finished last in the AFC West since 1999, when they were 6-10. Denver is 2-6 and does not have the look of a team on the rise. The Broncos are last in the NFL in rushing and they are 31st in stopping the run. The team has dealt with a lot of injuries. It looks like a team that is wearing down. Denver was competitive for the first six weeks of the season despite having a 2-4 record. But the Broncos were embarrassed in a 59-14 home loss to Oakland in Week 7 and that has become the lasting memory of this team in 2010 thus far.
Falling:
Josh McDaniels, head coach: First, it doesn't matter that McDaniels' stock is falling. He is still fully expected to return to Denver for his third season. Denver ownership is not going to pay McDaniels, former coach Mike Shanahan and a new coach in 2011. Still, McDaniels is on the hot seat in the minds of Denver fans. There have been constant calls for McDaniels' head since the 45-point loss to Oakland. After McDaniels started 6-0 last season, the Broncos are 4-14 and don't appear to be headed in the right direction. McDaniels has also caught heat for several personnel decisions. It is not helping his cause that young castoffs
Peyton Hillis
,
Ryan Torain
and
Alphonso Smith
are excelling elsewhere.
Rising:
Denver's passing game: McDaniels deserves credit for the success of the passing game. The Broncos stayed in games early in the season through the air. Denver quarterback
Kyle Orton
is having a terrific season. Orton has made great strides in his two seasons in Denver under McDaniels. Orton truly has been a top-tier quarterback this season. Denver's receiving group has been excellent as well. Journeyman
Brandon Lloyd
is having an All-Pro season. He's having the best season of his NFL career at the age of 29.
Midseason MVP:
Orton. Name 10 quarterbacks who are better than Orton right now. It's tough to do.
Outlook:
This has all the feel of being a lost season in Denver. After last season's collapse, the Broncos didn't have the type of offseason that made league observers think this team could quickly climb back into contention. Then, injuries battered the Broncos in training camp and the preseason. It just doesn't seem like Denver can come back and be a factor this season. In the end, 2010 may be go down as one of the most forgettable years in Broncos' history.
November, 10, 2010
11/10/10
2:00
PM ET
Power Rankings:
Preseason: No. 8.
This week: No. 16
.
[+] Enlarge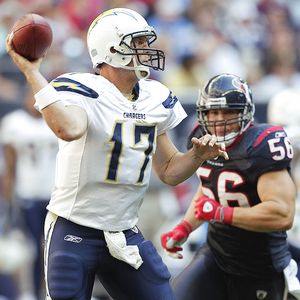 Bob Levey/Getty ImagesA depleted receiving corps hasn't hurt Philip Rivers' production this season.
2010 schedule/results
Where they stand:
The
San Diego Chargers
are 4-5 and that is a disappointment. But the Chargers can't feel badly about where they are as they head into their bye week. It is, at least, familiar. San Diego has won two straight games after starting 2-5 overall and 0-4 on the road. The Chargers have become famous for starting slow and finishing red hot under coach Norv Turner. In 2007, San Diego won its final six games. In 2008, it won its final four games, and last season, it won its final 11 games. Each season ended with San Diego winning the AFC West title. So the Chargers should be optimistic, even though they trail 5-3 Kansas City and 5-4 Oakland. The Chargers have lost to both the Chiefs and Raiders.
Falling:
Special teams. I hate to be redundant, but I'm sure the San Diego special-teams unit hates it even more. This is quite likely the worst special-teams performance of all time. San Diego finds new ways to bungle on special teams every week. It has betrayed the Chargers in many different ways. The punting game is the center of San Diego's special-teams woes as it has had four punts blocked. There's been a fifth, but since it traveled 1 yard it doesn't officially count as a block. There have been five other blocked punts in the NFL this season.
Rising:
Passing game. You have to wonder how dangerous the San Diego passing game is going to be in a few weeks when
Vincent Jackson
is eligible to play and the two starters who replaced him --
Malcom Floyd
and
Legedu Naanee
-- return from hamstring injuries that have kept them out in recent weeks. Quarterback
Philip Rivers
has been operating without his top four receivers (including
Buster Davis
, who is on injured reserve) for the past two games. In Week 9 at Houston, Rivers was also playing without top target
Antonio Gates
. Still, Rivers threw for 295 yards and four touchdowns. Rivers is playing at an incredibly high level. He has thrown for 2,944 yards and is on pace to set the all-time single-season passing yardage record.
Midseason MVP:
Rivers. If the Chargers would have a slightly better record, he'd be the runaway leader in the MVP chase.
Outlook:
The Chargers have to leapfrog two teams, but they are not in terrible shape. If the Chargers continue their late-season trend and get rolling, they could be the team to beat. This team is very talented. The key is to stop killing itself on special teams. If that is finally addressed after the bye, San Diego will be a factor. The Chargers have home games against Oakland and Kansas City and two games against cellar-dwelling Denver. San Diego shouldn't be counted out yet.