AFC West:

2010 Season Wrap AFC West
January, 5, 2011
1/05/11
1:00
PM ET
»
NFC Wrap-ups
:
East
|
West
|
North
|
South
»
AFC
:
East
|
West
|
North
|
South
Arrow indicates direction team is trending.

Final Power Ranking:
29
Preseason Power Ranking:
22
[+] Enlarge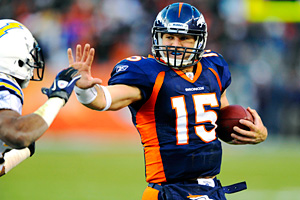 Ron Chenoy/US PresswireTim Tebow threw five TD passes and rushed for six more during his rookie season.
Biggest surprise:
That this season got to the point where rookie quarterback
Tim Tebow
had to play to give the team some hope. When Tebow was drafted in the first round in April, the idea was for the team to use him in special packages as a rookie and perhaps give him a chance to start next season. Then, in the summer when
Kyle Orton
was given a contract extension through next season, it appeared that Tebow wouldn't get a chance to start until 2012. However, in this lost season, Tebow started the final three games. He played well enough and showed enough glimpses of ability with his arm and legs that Tebow has a chance to remain the starter next season.
Biggest disappointment:
The end of the Josh McDaniels era. Denver fired McDaniels with four games remaining when Denver was 3-9 in 2010 and 11-17 overall under McDaniels. He lasted just 23 months. McDaniels was fired partly because of poor personnel decisions that could affect Denver for the next few years. McDaniels showed signs that he is a good coach, but he wasn't ready to be a head coach and the organization has to dig out of a big hole as a result.
Biggest need:
The Broncos have to get better on defense. Denver gave up a league-high 471 points. According to ESPN Stats & Information, Denver allowed 9.1 points per game more in 2010 than in 2009. The Broncos have needs in all facets of defense, but particularly on the defensive line. The Broncos need a big, stout game-changer. One possibility is Clemson's Da'Quan Bowers if he comes out early or perhaps Auburn defensive lineman Nick Fairley. Denver has the No. 2 pick and should be able to get Bowers unless it decides to trade down and get several players. The needs are great enough on defense where that wouldn't be a bad option.
Team MVP:
Receiver
Brandon Lloyd
. This was an unexpected positive development in a lost season. Lloyd, a career journeyman, led the NFL with 1,448 receiving yards. At 29, Lloyd developed into one of the most exciting receivers in the NFL.
This franchise is for John:
The Broncos are going to entrust their future in the hands of legendary quarterback John Elway. He is expected to be officially announced as the leader of the team's football operations, and is expected to make a run at Stanford coach Jim Harbaugh. Elway is going to be part of key personnel decisions. This is a critical time for Denver. It can't afford to fail in its second attempt to move away from the Mike Shanahan era that ended in 2008 after 14 seasons. Just because Elway was a great quarterback in Denver, it doesn't mean he will be a great front-office leader. The Broncos have no choice -- Elway has to be good or they will continue to languish at the bottom of the league.
January, 5, 2011
1/05/11
1:00
PM ET
»
NFC Wrap-ups
:
East
|
West
|
North
|
South
»
AFC
:
East
|
West
|
North
|
South
Arrow indicates direction team is trending.

Final Power Ranking
: 11
Preseason Power Ranking:
27
[+] Enlarge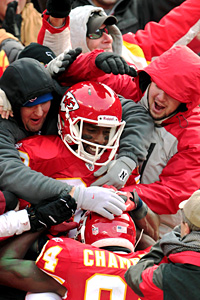 Jamie Squire/Getty ImagesFifteen of Dwayne Bowe's 72 receptions this season resulted in a touchdown.
Biggest surprise
: The season itself. Few expected this from Kansas City, including its leadership. When I visited the Chiefs' training camp in mid-August, there was no talk of making a legitimate run at the AFC West title, not even off the record. The Chiefs thought they were making progress and they were hopeful for a productive season. But they weren't concentrating on winning the division. Now the Chiefs are AFC West champions. Kansas City improved in every facet of the game and saw the development of several young players as it finished 10-6. It was Kansas City's first division crown in seven years.
Biggest disappointment:
The past week. The Chiefs really haven't had very many bad things happen to them this season. But things have hit a bit of a rough patch since they clinched the division title in Week 16. First, they lost offensive coordinator Charlie Weis to the University of Florida, where he will have the same role. Weis will stay with the Chiefs through their playoff run. Then the Chiefs suffered their first home loss of the season in a
31-10 thrashing
at the hands of Oakland. This is not how a team wants to go into the playoffs. The bump in the road doesn't mean Kansas City is doomed in the playoffs, but it shows the Chiefs they have to buckle down in the postseason.
Biggest need:
Kansas City could use a big, classic nose tackle and another stout pass-rusher to help star pass-rushing linebacker
Tamba Hali
, who had 14.5 sacks this season. Adding a stud on the front seven would really help this team in 2011. There are a lot of good pieces on this defense, but another legitimate front-seven player could help take Kansas City's defense to the next level.
Team MVP:
Quarterback
Matt Cassel
. Cassel made great strides this season and he carried the team late in the year. Cassel was very efficient and was a consistent playmaker.
Running wild:
The Chiefs led the NFL in rushing with the two-man committee of
Jamaal Charles
and
Thomas Jones
. They combined for 2,363 yards this season. It is the fourth-highest combined rushing yards by teammates in NFL history with each player having at least 500 yards. Charles was second in the NFL with 1,467 yards, and his 6.38 per-carry average is second only to Jim Brown's 6.4 per-carry average in 1963.
January, 5, 2011
1/05/11
1:00
PM ET
»
NFC Wrap-ups
:
East
|
West
|
North
|
South
»
AFC
:
East
|
West
|
North
|
South
Arrow indicates direction team is trending.

Final Power Ranking
: 15
Preseason Power Ranking
: 24
[+] Enlarge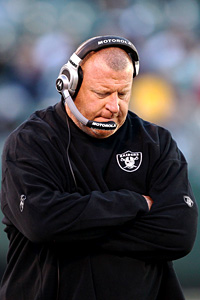 Ezra Shaw/Getty ImagesWith Tom Cable out, who will be the coach in Oakland?
Biggest surprise:
The entire rookie class was solid and Tom Cable -- who was fired as Oakland's coach Tuesday -- gave the group an A+ grade Monday. However, no rookie stood out more than fourth-round pick
Jacoby Ford
. When Oakland drafted Ford out of Clemson it looked like a typical Oakland flier on a flyer. Ford was the fastest player at the combine and the Raiders have always loved speed. But Ford is more than a track star in cleats. He made an impact as a returner and receiver. Ford was making key plays on a weekly basis down the stretch. Oakland has some question marks at receiver, but Ford gives them serious hope there in addition to his explosive return skills.
Biggest disappointment:
Play outside of the division. The Raiders were the only team in the NFL in 2010 and the 30th team since 1970 to go undefeated in division play. Yet, it was the first team in that time span to not make the playoffs. Oakland wasted its 6-0 division record. While the feat is impressive, Oakland has to kick itself for not taking advantage of this accomplishment. Oakland was 2-8 outside the AFC West, including 0-6 against the rest of the AFC. The Raiders had a chance to go to the playoffs because of their AFC West dominance, but they couldn't take advantage.
Biggest need:
The interesting thing about the Raiders is they don't have a ton of glaring needs. Sure, they need to get better in plenty of areas, but they have players at the positions that they think, and hope, can develop. It starts at quarterback.
Jason Campbell
probably will be back next season. But he has to get better. Campbell was inconsistent in his first season in Oakland. Yet, there are no immediate better options than Campbell. Oakland needs better overall play at receiver, the offensive line and at all three layers of defense. But there is a good nucleus here. If Oakland goes shopping for anything, it could be for linebackers, offensive line or secondary help.
Team MVP:
Running back
Darren McFadden
. He had a breakout season and was a big reason why Oakland's offense was so much better this season than the previous season. The 2008 No. 4 overall pick is one of the NFL's most complete running backs. He runs well inside and outside and he has good hands as a receiver.
More change:
Despite the Raiders' progress, Cable was fired. Oakland's instability at head coach continues. The team will hire its sixth coach in the past nine years. Offensive coordinator Hue Jackson is the favorite to land the job as he did a nice job this season giving life to a once-anemic offense.
January, 5, 2011
1/05/11
1:00
PM ET
»
NFC Wrap-ups
:
East
|
West
|
North
|
South
»
AFC
:
East
|
West
|
North
|
South
Arrow indicates direction team is trending.

Final Power Ranking:
14
Preseason Power Ranking:
8
[+] Enlarge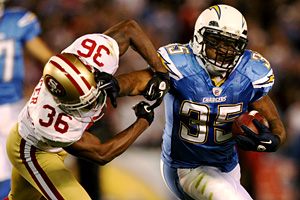 hoto by Donald Miralle/Getty ImagesMike Tolbert finished his breakout season with 735 yards and 11 touchdowns.
Biggest surprise:
Running back
Mike Tolbert
and defensive tackle
Antonio Garay
. Both entered the season as role players. Both ended the season as players the Chargers want to lock up with long-term deals. Tolbert proved to be a terrific running back; he ran over opponents and was a great counter-punch to rookie running back
Ryan Mathews
. Tolbert is also good as a short-yardage back. Garay, a Chicago castoff, filled the role left by
Jamal Williams
wonderfully. Many NFL scouts thought he was one of the better nose tackles in the league this season. It looks like San Diego scored big with these little-known talents on each side of the ball.
Biggest disappointment:
The season as a whole. There's no way the Chargers expected this season to unfold the way it did. They finished 9-7 and saw their four-season reign as AFC West champions end. The Chargers finished the season ranked No. 1 in total offense and total defense. Yet, special teams problems and injuries took a toll. The unit seriously hurt the Chargers for the first three quarters of the season, so it's no surprise
that the Football Outsiders ranked San Diego's special teams last in the NFL.
The team fired special teams coach Steve Crosby after the end of the season. The Chargers also were battered, especially at receiver and linebacker. They used 73 players, one off the NFL record. Quarterback
Philip Rivers
completed passes to 17 players. In the end, the Chargers' record was a lot worse than what this offense and defense showed they were capable of doing.
Biggest need:
The Chargers' No. 1 ranking on both sides of the ball shows that this is a very talented roster. Assume the Chargers will be healthier next season and this should still be a good team. But it could always use some depth. Expect the Chargers to look for help at safety, linebacker and defensive end. If this team could find a pure pass-rusher in the draft, it would help immensely. The Chargers could also use offensive line depth and perhaps another receiver, especially if they don't put the franchise tag on free agent
Vincent Jackson
. San Diego should be well equipped to get what it wants in the draft with extra second- and third-round picks coming. The Chargers will have five picks in the first three rounds, which will give it trading power and the ability to stockpile picks.
Team MVP:
Rivers. At 29 years old, the quarterback just gets better. Expect him to get some NFL MVP votes. He is the third player to have a passer rating of 100.0 or more for three straight years, joining
Steve Young
and
Peyton Manning
.
The numbers lie:
The 2010 Chargers showed that statistics aren't everything. Since 1970, five previous teams led the NFL in total offense and defense. All five made the playoffs. The Chargers had a plus-119 point differential in 2010, fifth best in the NFL. It was the highest plus-point differential for a non-playoff team since the 1991
San Francisco 49ers
, according to the Elias Sports Bureau.