AFC West:

2011 Flash Points results
May, 24, 2011
5/24/11
12:00
PM ET
Examining the most crucial event in the history of every team in the division.
There is no one in professional sports quite like Al Davis.
Say what you like about the mercurial, jump-suit clad czar of the
Oakland Raiders
, but the man is one of a kind.
He is the Oakland Raiders. AFC West history lessons must start with Davis.
[+] Enlarge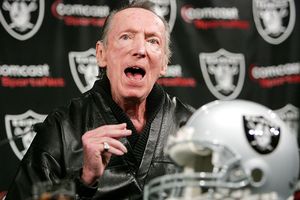 Justin Sullivan/Getty ImagesThe Raiders have been all Al Davis since 1963, winning three Super Bowls and one AFL championship.
Just set the tone, baby.
Although the Raiders are one of the NFL's most tradition-rich franchises, there was really no other choice as Oakland's representative for the pivotal moment in team history. It all started in 1963 when a young, brash offensive mind from Brooklyn left his post as an assistant coach with the rival
San Diego Chargers
to become the head coach/general manager of the Raiders.
Readers agreed as Davis was a runaway winner, beating the Raiders' first Super Bowl win in Super Bowl XI, the Raiders' return to Oakland in 1995 and the trade of coach Jon Gruden to Tampa Bay in 2002.
It has to be Davis. After all, if it weren't for Davis' arrival in Oakland, none of the other finalists might have occurred. Nothing has happened involving the Raiders since 1963 that hasn't had Davis' fingerprints all over it. Nothing.
Readers noticed.
Rob31340 said:
While it does not excuse recent failures, Al Davis is probably one of the three most important figures in NFL History. Even though he has been passed by in matters of business and football in general, no current owner or executive can lay claim to accomplishing more for the league and Oakland Raiders than Al Davis.
Added MicRaider:
"Al Davis changed the whole perspective of the organization, and the AFL. This man is responsible for changing football for generations to come in many different aspects of the game, not just on the field, but the business, too .. (nothing else) come close to defining us as the Raider Nation than BIG AL."
It's been 48 years and it's been good and bad, but there's no denying that Al Davis -- less than two months shy of his 82nd birthday -- has and does define the AFC West.
Broncos: This one's for John
While Davis has been the face of the Raiders for 48 years as an off-field leader, there hasn't been a player in AFC West history who had more of an impact than
John Elway
.
One of the greatest quarterbacks ever to play in the NFL, Elway
was
the
Denver Broncos
from 1983 to 1998. He led Denver to five Super Bowls and won the final two in his final two NFL seasons.
Elway's legacy has lasted beyond his retirement. There are still likely to be more orange No. 7 jerseys in the Mile High stands than any other.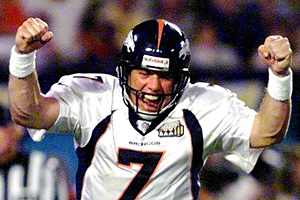 JEFF HAYNES/AFP/Getty ImagesJohn Elway led the Broncos to five Super Bowls, winning two.
This January, as he watched his once-proud franchise slip into irrelevancy, Denver owner Pat Bowlen gave Elway the ball again at the age of 50, asking for another patented Elway comeback, making him the vice president of football operations in Denver.
It all started in 1983 when Denver traded a package to the Baltimore Colts to get Elway after he refused to play for the Colts. This one was a no-doubter. The voting was even more lopsided than Davis' win in Oakland. The other choices in Denver were Mike Shanahan's arrival in 1995 as head coach, the drafting of running back
Terrell Davis
in 1995 and the team's first Super Bowl win in Super Bowl XXXII.
The readers made it clear what was the flash point in Denver. It was the arrival of the Duke.
Said
Arhoades28:
"It has to be Elway … Elway and his 5 SBs define this franchise, for me at least."
Added Jefffree57:
"It all started with Elway. He might not have won it until Shanny and TD came. But he sure did keep that team competitive for a long while and a great leader for those SB wins."
Chiefs: We are champions
When we first started this project, I was leaning toward making the arrival of the great
Derrick Thomas
in the 1989 draft as the team's Flash Point.
[+] Enlarge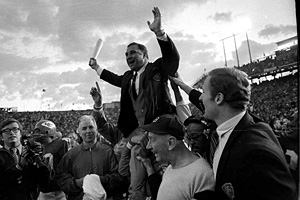 AP PhotoKansas City coach Hank Stram and the Chiefs celebrated the franchise's first and only Super Bowl victory in 1970.
He was one of the most ferocious defensive players in the NFL in recent memory and was a major reason why the Chiefs were a consistent contender for much of the 1990s. No player hassled Elway more than Thomas ever did.
He was the face of Kansas City until his tragic death in 2000 from complications following an auto accident.
However, the more I considered it, the more I thought the Chiefs' lone Super Bowl title in Super Bowl IV is the Flash Point in team history. It was a solid winner over Thomas' arrival, the arrival of general manager Scott Pioli in 2009 and the team's move from Dallas in 1963.
I get it. Nothing changes a franchise's landscape like a championship. I am a lifelong fan of the San Francisco Giants, who won their first World Series last fall. From now on, whatever happens, that first championship will always be the defining moment of the franchise in my mind.
The same thing happened in Kansas City in January, 1970. The Chiefs were a big deal back in the day and this was the team that will forever be remembered of all Lamar Hunt's great teams.
Here's some of what Chiefs' fans have to say about that team:
Said Jayrodtremonki:
"This one is the hardest one for me to call. Winning the Super Bowl and drafting DT are both huge moments for the franchise. Growing up with Thomas as my favorite player it's obviously a little closer to my heart, but it's still hard to put him over the crowning achievement of guys like Dawson, Lanier, Bell, Taylor, E Thomas and Hank Stram."
Added Freyasfav:
"Hank Stram's teams were fantastic, show the old NFL what they were missing – pizzazz."
Chargers: The Decade of LT
The San Diego Chargers are the only team in the AFC West never to have won a Super Bowl.
[+] Enlarge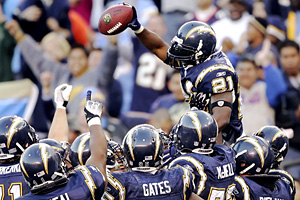 Lisa Blumenfeld/Getty ImagesTeammates raised up LaDainian Tomlinson after he broke the NFL single-season TD record in 2006.
However, they are rich in history. There have been some great players in this organization.
Perhaps no one has defined the team more than running back
LaDainian Tomlinson
. It's funny, because this is a quarterback's league and the Chargers have been blessed with great quarterback play. Dan Fouts was a Hall of Famer and
Philip Rivers
has become an elite quarterback.
Still, LT owned the Chargers.
That's why the Chargers' taking him with the No. 5 pick of the 2001 NFL draft was the winning Flash Point in San Diego history.
It beat out Fouts' arrival in 1973, the 2004 draft-day trade with the
New York Giants
involving Rivers and
Eli Manning
and the Chargers' lone Super Bowl appearance, a lopsided loss to San Francisco in Super Bowl XXIX.
With a special running style and an off-field personality to match, Tomlinson became a superstar in San Diego. He turned the Chargers from a bottom feeder to a perennial division champion until his controversial departure in 2010, which left him in tears.
There are no hard feeling. Tomlinson's legacy lives in San Diego.
Jordang702
put it simply: "LT was huge for them!!!!!!"