AFC West:

2011 Hall of Fame vote
February, 4, 2011
2/04/11
10:00
AM ET
Three players who have played in the AFC West are among the finalists for election into the Pro Football Hall of Fame. The voting and announcement is Saturday. Let's take a look at the candidates:

Tim Brown: Los Angeles and Oakland Raiders, wide receiver, 1988 to 2003

Career Highlights: Brown was a nine-time Pro Bowl player. He is fourth in all-time career receptions (1,094) and receiving yards (14,934). He had 100 career receiving touchdowns.

AFC West body of work: Of his 1,094 career catches, 1,070 came as a Raider. Brown, who played his final NFL season in Tampa Bay, caught at least 80 passes nine times and had nine 1,000-plus yard receiving seasons.

Quote from a voter: "He could get in, but it will be tight this year."

What I think will happen: I think Brown belongs in the Hall of Fame and I think he will be enshrined at some point, but I don't know if it will be this year. The receiving group is log jammed. Cris Carter has been waiting for four years and I think Carter may get in before Brown. It may not be right, but I wouldn't be shocked if Brown doesn't get in Saturday.

Willie Roaf: Kansas City 2002 to 2005:

Career Highlights: He made the Pro Bowl 11 times. He made the NFL's All-Decade team for the 1990s and 2000s.

AFC West body of work: He made the Pro Bowl during all four of the seasons he spent with Kansas City after being traded from New Orleans. He played with the Saints for the first nine years of his career.

Quote from a voter: "I'd be surprised if he got in on his first year of eligibility."

What I think will happen: I think Roaf will get in soon. It seems that it has been difficult for players to get in their first year of eligibility lately unless they were legends. Roaf could be a finalist, but I'm not totally expecting him to be elected Saturday.

Shannon Sharpe: Denver, tight end, 1990 to 1999 and 2002 to 2003

Career Highlights: He made the Pro Bowl eight times. He was named first-team All-Pro four times. He has the second most career receiving yards for a tight end (10,060).

AFC West body of work: Sharpe made 671 of his 815 catches in the AFC West. He had three 1,000-yard receiving seasons and two seasons in which he had 10 touchdowns.

Quote from a voter: "A lot of voters look at him as a receiver, and he doesn't stack up against the best candidates. It may be tough for him this year."

What I think will happen: I was surprised when Sharpe didn't get elected two years ago and I was surprised when he didn't make it last year. I respect the voting process, but it's my opinion that it's shortsighted to look as Sharpe as a receiver. He was a tight end. Sure, he didn't block well, but he changed the tight end position and he shouldn't be judged against receivers. But that has been the case, so I may be surprised again Saturday.
February, 3, 2011
2/03/11
12:00
PM ET
John Elway thought he'd be joined in the Pro Football Hall of Fame by one of his most unique teammates two years ago.
[+] Enlarge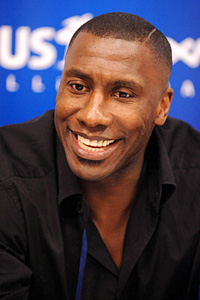 Kirby Lee/Image of Sport-US PresswireShannon Sharpe finished his career with 815 receptions for 10,060 yards and 62 TDs.
The fact that Elway is still waiting for Shannon Sharpe to join him in the Canton, Ohio, museum stuns him.
"I didn't expect this," Elway said. "I really thought Shannon would get in his first try. To me, he's the greatest tight end ever to play the game. Hopefully, this is the year. It should be."
Sharpe is a finalist -- former Raiders receiver Tim Brown and former Chiefs tackle Willie Roaf are also among the 17 finalists -- for election into the Hall of Fame. The voting and announcement of the 2011 class will be made Saturday. This is Sharpe's third year as a finalist.
Sharpe played in Denver 1990-99 and 2002-03. He had 671 of his career receptions in Denver and was a key member of Denver's two Super Bowl teams in 1997 and 1998.
Sharpe is credited by many league observers with changing the tight end position.
"Shannon helped make us a unique offense," Elway said this week. "He was a matchup problem for defenses. He really opened up our offense and helped make us very difficult to play against."
Elway, who was enshrined in the Hall of Fame in 2004, his first year of eligibility, didn't know anything about Sharpe when Sharpe joined the Broncos as a seventh-round pick from tiny Savannah State. However, Elway was intrigued as soon as he saw Sharpe, who was drafted as a receiver. Elway saw the framework of a receiving option he never had before. Sharpe was 6-foot-2, 228 pounds. Elway wasn't used to throwing to big targets.
"I was used to the Three Amigos," Elway said. "Seeing how big Shannon was really lit my eyes up. He was so raw, but he worked so hard and then when we moved him to tight end, he really blossomed into something special."
Because he was considered a receiver, Sharpe's Hall of Fame candidacy has been slowed because there is a logjam of receiving candidates. Elway thinks Sharpe hasn't been given enough credit for being a complete tight end.
"I really think Shannon has been underestimated in the running game," said Elway, who became the Broncos' Executive Vice President of Football Operations last month. "He was as strong as a 250-pounder. He really fit our zone-blocking scheme well. We were a finesse team. He was a perfect fit in every way. ... I hope the voters put him in this year, because he belongs in."
February, 2, 2011
2/02/11
2:00
PM ET
It was clearly disappointing for Tim Brown not to make the Pro Football hall of Fame last year in his first year of eligibility.
However, it would be a thrill of a lifetime for Brown to be elected into the hall of fame Saturday in his hometown of Dallas. The former Raiders receiver is one of 17 finalists for election. The vote and announcement will be made Saturday.
ESPN Dallas has an outstanding look at Brown's candidacy.
Brown resides in Dallas. He was a star at the city's Woodrow Wilson High School.
"I think it would mean a lot more to me happening here, even over being a first-ballot Hall of Famer," Brown told ESPN Dallas. "Being around my family and immediately sharing this with the people who are the reasons why I ended up where I ended up would just be an incredible deal."
The Heisman Trophy winner at Notre Dame was a dominant NFL player. Brown caught 1,094 passes for 14,934 yards and 100 touchdowns. The receptions and yardage are fourth most in NFL history. The touchdown catches are tied for sixth best.
"If I needed a completion," Brown's Oakland quarterback Rich Gannon told ESPN Dallas, "I knew where to look."
Brown told ESPN Dallas that he is going to try to relax and not get too caught up into the process like he did last year. He is taking a more relaxed approach this year.
"You just don't want to go through all that and then be disappointed," Brown said. "But certainly I'm sure the thank you will flow to all the people who were an integral part of me being the player I was."
I will have more on Brown's candidacy Friday along with the hopes of fellow AFC West finalists Shannon Sharpe and Willie Roaf.