AFC West:

2012 AFC Divisional Round
January, 15, 2012
1/15/12
2:13
AM ET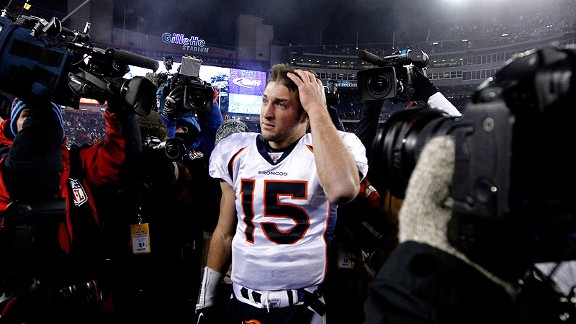 David Butler II/US PresswireTim Tebow's memorable run in the 2011 season ended with a 9-for-26 passing performance.
FOXBOROUGH, Mass. -- The
Denver Broncos
lost two games by a score of
45-10
this season. They were two lopsided bookends in an unpredictable journey that ended Saturday night.
In between not looking anything like a playoff team during an Oct. 30 home loss to Detroit and a season-ending thumping at the hands of the much better
New England Patriots
, the Broncos reinvented themselves and became a team with hope for the future.
"It may be hard to see it now after an embarrassing loss," Denver tight end
Daniel Fells
said in a quiet Denver locker room Saturday night, "but there is something there. ... We did something this year that was unexpected, and there is something good to look forward to in the future."
That future very likely will include
Tim Tebow
.
In a season in which Tebow became a household name in non-sports-centric households and in which he became a sport's lightning rod like we've rarely seen before, the Broncos' season ended with Tebow not being the story.
While Tebow, who was just 9-of-26 passing for 136 yards, didn't do much to help his team, Saturday night's game was not a Tebow type of game. The Denver Broncos became an unlikely playoff team this season because they played smart, hard football in all three phases of the game in their victories. It became evident early Saturday that the allure of Tebow would be quickly overshadowed by the sheer brilliance of Patriots QB
Tom Brady
and the stunning dominance of second-year New England tight end
Rob Gronkowski
.
Tebowing became a national craze and a phrase used daily. On Saturday, though, the Broncos were sent packing because they were Bradyed and Gronked.
Brady tied an NFL postseason record with six touchdown passes, and his 363 passing yards were a team playoff record. Gronkowski had 10 catches for 145 yards and three touchdowns. TebowMania might be cute, and it might be legitimate in the fourth quarter (and overtime) of close games. But it wasn't that type of party Saturday night.
Brady and company were bent on letting the rest of the NFL playoff field know they are tired of being considered a postseason antique. They're hunting for their first Super Bowl victory in seven years, TebowMania be damned.
While Denver's season ended in a fashion that usually would sting an organization, there wasn't a sense of despair in the locker room. It seemed the players knew this was a season of progress and it was a success, everything considered.
When Denver introduced John Fox as its coach a year ago Friday, there was no way anyone could have imagined the Broncos would advance to the final eight and beat the defending AFC champion
Pittsburgh Steelers
in the playoffs. This was a team that had the No. 2 overall pick in the 2011 draft. The rebuilding project seemed like it would take years.
That assessment didn't change when Denver started the season 1-4 before inserting Tebow at quarterback.
"People wanted to close the book on the Broncos," receiver
Matthew Willis
said. "But we kept fighting."
[+] Enlarge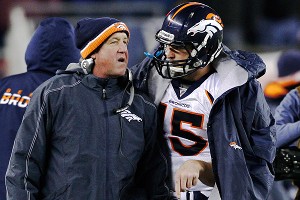 AP Photo/Stephan SavoiaIn his first season as Broncos coach, John Fox, left, adjusted his approach to Tim Tebow's talents.
It all changed after the home loss to Detroit when Fox adjusted his offense to Tebow's skill set and used the option offense. The Broncos' offense transformed through the season and adjusted on the fly.
Now, the ride is over and the Broncos must look toward the future.
Tebow said Saturday night that he must become more accurate and consistent, and he plans to soon start working on what will be his first full offseason as an NFL player. Legendary Denver quarterback
John Elway
, who is now the Broncos' football leader, has said he plans to personally work with Tebow in the offseason, focusing on improving the youngster's footwork.
Elway was in Denver's locker room after the game and appeared satisfied with the season. He wasn't ready to chat about the future and has yet to confirm the Broncos will ride with Tebow as their quarterback in 2012. Don't be surprised, however, if the Broncos commit to Tebow soon.
That's the direction the players want the team to take. Several Denver players said Saturday night that they believe Tebow will continue to make strides and he is the answer at quarterback.
"He's our guy," Denver rookie safety
Rahim Moore
said. "Our team jells around him. He is only going to get better."
That could be said of the entire Denver roster. This is a work in progress. Brady and New England's offense showed there is still much work to be done in Denver defensively. The Patriots compiled 509 yards of offense and took their foot off the gas in the second half after leading 35-7 at halftime.
Denver needs help on both sides of the ball. But there is no denying this is a well-coached team that tasted unexpected success in a season that might just be scratching the surface of TebowMania, if that's even possible.
January, 14, 2012
1/14/12
11:27
PM ET
FOXBOROUGH, Mass. -- A look at a classic playoff
mismatch
:


What it means:
The Broncos' season ended at 9-9. The Broncos were never in this game as New England was clearly out to show the rest of the playoff field that it means business. The upstart Broncos were nothing more than practice fodder for New England on Saturday night.
Huge gap:
The Patriots led 35-7 at the half, and the Broncos could barely do anything on either side of the ball.
Denver still needs help:
The Broncos made great strides on defense this season. They were 32nd in the NFL in most statistical categories in 2010. Yet, Denver became a solid unit this season under first-year head coach John Fox and first-year defensive coordinator Dennis Allen. But on Saturday night, the Patriots showed Denver it still has work to do on that side of the ball.
Miller gets jumped:
After he fought with two New England offensive linemen late in the game, Denver rookie linebacker
Von Miller
was hammered by several New England players. Expect Miller to get fined for his actions.
Bradyed and Gronked:
We saw New England quarterback
Tom Brady
and tight end
Rob Gronkowski
at their finest. Brady tied an NFL postseason record with six touchdown passes. Gronkowski had 10 catches for 145 yards and three touchdowns. They connected at will. Denver had no answer.
Tebow can't help:
Denver quarterback
Tim Tebow
wasn't the reason why Denver lost. He started the game well, but as the game got out of hand he got more desperate and couldn't do much. In a season in which Tebow was memorable, he really didn't stand out in the finale.
What's next:
The Broncos stagger into the offseason, but they have to feel great about their progress this season. No one would ever had thought the Broncos' 2011 season would have ended in the divisional round of the playoffs when this team picked No. 2 in the draft.
January, 14, 2012
1/14/12
9:52
PM ET
FOXBOROUGH, Mass. – Random
halftime
thoughts:
The Broncos are being Brady'd and Gronk'd.


New England quarterback
Tom Brady
– perhaps a tad upset about being the second-most-talked-about quarterback in this game – is beating down the Denver defense. Brady has thrown five touchdown passes. The Patriots went up 28-7 with a 61-yard touchdown pass to
Deion Branch
— then scored again on a Brady-to-
Rob Gronkowski
strike.
As they did in Denver four weeks ago, the New England tight ends are slicing up the Broncos defense. Gronkowski has eight catches for 97 yards and two touchdowns.
Aaron Hernandez
has two catches for 29 yards but he has three runs for 58 yards.
Denver's defense is just not giving the Broncos a chance to stay in this game in a game the Patriots are dominating in the field-position battle.
Denver quarterback
Tim Tebow
is having a decent game. He lost one fumble, but he hasn't been a major disappointment. Still, Denver just can't keep drives going.
The Broncos are running the ball well, at least — 100 yards on 21 carries.
January, 14, 2012
1/14/12
6:24
PM ET
FOXBOROUGH, Mass. --
Tim Tebow
is about to play the in the coldest weather of his life.
He doesn't seem bothered.
With more than two hours until game time -- in the Broncos' AFC divisional playoff game at New England -- Denver quarterback Tim Tebow is on the Gillette Stadium field warming up. He is wearing a sleeveless shirt. The temperature is expected to drop in the low teens for the game. Kickoff is set for 8 p.m. ET.
The Florida product has played in a couple of games in the 30s this season. He was wearing a similar shirt while warming up at Buffalo on Dec. 24. But it wasn't nearly as cold as it Saturday night in Foxborough.