AFC West:

2012 Camp Confidential AFC
August, 18, 2012
8/18/12
12:00
PM ET
ST. JOSEPH, Mo. -- This isn't a training camp for the leisurely.

Armed with the best roster the franchise has seen in years, the
Kansas City Chiefs
are moving quickly under new coach Romeo Crennel. For those who visited the Chiefs camp last year, this pace is foreign.
"There are no wasted moments," said quarterback
Matt Cassel
.
The final training camp under former coach Todd Haley will live in infamy in the Heartland. Last season's camp was essentially a three-week walk-through exercise. Haley chose to go that route because he wanted to ease the players back into the program after a lost offseason due the lockout. The plan didn't work, because the Chiefs were physically and mentally behind the rest of the league. They suffered several major injuries early in the season, were drubbed in early games, and it set the tone for a disappointing season.
However, speed is back in vogue as Crennel tries for success in his second go-round as a head coach. The tempo change has paid off so far. The Chiefs have looked crisp in practices and they were dominant on both sides of the ball against Arizona in the preseason opener last week.
The idea is to keep the forward tempo moving into the season as Kansas City tries to win the AFC West for the second time in three seasons.
"It's exciting to see what is happening here," Cassel said. "We have a lot of work to do, but we are all on the same page and all want to have success together."
THREE HOT ISSUES
1. The ACL Club:
In addition to bringing in several free agents, the Chiefs are getting back three standouts. Safety
Eric Berry
, running back
Jamaal Charles
and tight end
Tony Moeaki
all suffered torn ACLs last September, but all are on pace to be major contributors this season.
"All of those guys look great," Cassel said. "They're going to help us a lot."
2. Dwayne Bowe's absence:
It is over now. Bowe signed his franchise tender Friday, a day after camp ended. The Pro Bowl receiver did not participate in the offseason workouts, either. Bowe likely reported in time to learn the system of new offensive coordinator Brian Daboll and get into football shape. With him being out, the Chiefs' offense clicked and it gained a lot of confidence. Having Bowe back heading out of camp should only make this unit stronger
[+] Enlarge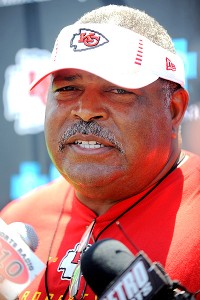 Denny Medley/US PRESSWIREChiefs coach Romeo Crennel has the respect of his players.
3. Good vibrations:
This team is in a good place. The players love playing for Crennel. One of the reasons Crennel was promoted from interim coach was the players' respect for him. It has continued now that he is the permanent coach. He is the polar opposite of Haley, who was known as somewhat of a loose cannon. Crennel offers a calm, steady hand. Players love that he's organized and up front. There is a lot of trust.
"They've worked hard and they know the possibilities this team has," Crennel said. "Every team feels good about itself this time of year, but this team's attitude is in the right place."
REASON FOR OPTIMISM
This is the best overall roster in the AFC West. It is one of the deepest rosters in the AFC. There is proven talent throughout the roster and the team has the right mix of veteran and young players. Still, the Chiefs are the youngest team in the NFL. They are the only team in the league not to have a player over the age of 30.
"When I was on my visit, I just looked up and down this roster and saw so much talent," free-agent pickup, tight end
Kevin Boss
said. "It is just loaded with talent."
When you look at this roster, there isn't much not to like.
REASON FOR PESSIMISM
The Chiefs will be dismissed as playoff contenders until Cassel proves otherwise. Many don't believe in them because they don't believe in Cassel, even though he has already delivered a division title in Kansas City. Many scouts don't think he can be a difference-maker, and that because he is the least talented of the four quarterbacks in the AFC West, he will not be able to overcome the other teams in the division. I believe there is enough talent on the roster to help Cassel lead the Chiefs deep into the playoffs, but he must prove his mettle.
OBSERVATION DECK
The rap on No. 11 overall pick Dontari Poe is that the defensive tackle wasn't productive at Memphis. The Chiefs didn't feel that way. They reviewed every college snap he ever played and were impressed that he played 60 percent of the snaps at 346 pounds. For what it's worth, Poe's college statistics and combine measurables compare favorably to Green Bay's B.J. Raji, who has become a star after being the No. 9 overall pick in 2009. Poe is two inches taller and nine pounds heavier than Raji, yet he ran a 4.9 40-yard dash at the combine compared to Raji's 5.23. Poe had nine more tackles and four more quarterback hurries than Raji in college despite the fact Raji played 16 more college games. This is not to suggest Poe is going to be a better NFL player than Raji, but it does take some steam out of the argument that Poe wasn't a productive college player.

[+] Enlarge

John Rieger/US PRESSWIREThe Chiefs like what they've seen from first-round pick Dontari Poe so far.

When Bowe held out, Jon Baldwin thrived under the professional guidance of veteran receivers Steve Breaston and Terrance Copper. Some folks in camp think Baldwin is making strides because he is taking cues from Copper and Breaston.

Defensive ends Tyson Jackson and Glenn Dorsey are plus players for the Chiefs. Neither is spectacular and they will always get grief for not living up to their draft billing. Dorsey was the No. 5 overall pick in 2008 and Jackson went No. 3 a year later. But both players are excellent run-stuffers and are among the best in the league in that area.

While the focus is on Poe at nose tackle, Anthony Toribio and 2011 draft choice Jerrell Powe are also in the mix.

Inside linebacker Brandon Siler looks good after missing all of last season with an Achilles injury. He could push Jovan Belcher for playing time.

While Haley was known for his ranting and raving on the field, Daboll is also fiery. He scoots around the field, barking instruction.

His new teammates love running back Peyton Hillis. His toughness and competitiveness have created buzz during camp.

Left tackle Branden Albert is quietly becoming the player the former Kansas City regime thought it was getting when it took him No. 15 overall in 2008. I expect the Chiefs to try to extend the pending free agent at some point. He's been stellar.

I wouldn't be surprised if the Brady Quinn-Ricky Stanzi battle to be Cassel's backup continues all season, but with Quinn winning the job initially. The Chiefs like where they stand with both players.

The Chiefs are excited about the potential of tight ends Moeaki and Boss. Expect both to have high-profile roles in the offense.

Second-year pass-rusher Justin Houston has been terrific, and the Chiefs are bubbling over at what kind of pass-rush combination Tamba Hali and Houston can become.

The team appreciates the flexibility of third-year player Dexter McCluster, who has bounced from receiver to running back to receiver again. McCluster may never have a classically defined role, but he will have a role in this offense.

Undrafted rookie receiver Josh Bellamy still has a chance to make the 53-man roster, but in a numbers game, he could wind up on the practice squad.

So far, so good for new center Rodney Hudson. The second-year player looks comfortable playing with Cassel and vice versa.

Camp observers believe kicker Ryan Succop has gotten bigger and stronger, which will help with his field goal range.

The team's fourth-round pick, receiver/returner Devon Wylie, is explosive. He will be given a chance to contribute.

Keep an eye on defensive end Ropati Pitoitua. He has outplayed 2011 third-round pick Allen Bailey and he may be a keeper.

Brandon Flowers' foot injury has allowed second-year cornerback Jalil Brown to blossom. I expect Brown to be on the field often in the regular season.

Fourth-string quarterback Alex Tanney is a curiosity because of his YouTube trick throwing video. But Tanney isn't making much real football tread in this camp. The best he could hope for in 2012 is the practice squad.
August, 8, 2012
8/08/12
12:00
PM ET
SAN DIEGO -- With the outside perception of the
San Diego Chargers
taking a major tumble, the team, which for so long was built from the inside, changed philosophy in 2012 in a last attempt to keep that proverbial Super Bowl window from slamming shut and causing major upheaval in the organization.

After two playoff-less seasons and a reprieve from ownership, San Diego general manager A.J. Smith made an uncharacteristically heavy play in free agency. Taking advantage of one of the deepest classes in history, the Chargers nabbed more than a dozen free agents to infuse new life into a roster that was still talented but no longer arguably the stoutest in the NFL.
"I love what they have done around here," said safety
Eric Weddle
, one of the Chargers' homegrown mainstays. "We hit the lowest of the lows the past two years by not making the playoffs. Getting new blood in here has helped."
Among the veterans San Diego brought in were running backs
Le'Ron McClain
and
Ronnie Brown
, receivers
Robert Meachem
and
Eddie Royal
, linebacker
Jarret Johnson
and defensive tackle
Aubrayo Franklin
.
"The thing about the new guys is they all love football," San Diego quarterback
Philip Rivers
said. "They love it. We need guys like that here. … It gives us a new start. Those guys won't worry about the past. They weren't here for the slow starts or the six-game losing streak last year. It's all a new start."
If this cleansing of the roster doesn't work, the next restructuring will likely occur up top with the firing of coach Norv Turner and possibly Smith. Yet, in a season of new beginnings, spirits are high.
"I think we can be special," Weddle said. "There's still a lot of talent here, with a bunch of new talent. … People may not be expecting much from us this year because we haven't done anything, so that's fair. But it's kind of nice to be under the radar for once."
THREE HOT ISSUES
[+] Enlarge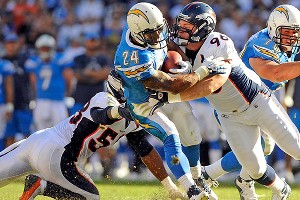 Christopher Hanewinckel/US PresswireThe Chargers aim to lean even more heavily on running back Ryan Mathews this season.
1. Ryan Mathews' workload:
Outside of Rivers, there is likely not a more important player in this camp than Mathews. The Chargers all know if Mathews flourishes in his third NFL season, the team will have a strong chance to be successful. Mathews, the No. 12 overall pick in 2010, had a solid second season as he ran for 1,091 yards and averaged a terrific 4.9 yards per carry. This year, the Chargers want to see Mathews become consistent and stay healthy. He will likely be given the chance to to carry the ball 25 times a game, catch several balls out of the backfield and be a factor on third down and in short yardage. This camp is designed to get him prepared for a heavy workload. From what I saw and heard, it seems like Mathews might be up to the task.
"He's working hard," Rivers said. "Ryan knows what is expected of him."
2. Sparking the defense:
While the offense in San Diego needs some tweaks, the bigger fixes are necessary on defense, where former linebackers coach John Pagano is in charge of fixing a unit that fell apart last season. He replaces Greg Manusky, who was fired after one season on the job. The biggest issue -- it is a major point of emphasis in camp -- is getting off the field on third down. San Diego was last in the NFL in third-down defense in 2011. It gave up a first down on 49.2 percent of all third downs -- according to ESPN Stats & Information, the worst percentage in the NFL since the 1995
Cleveland Browns
. The Chargers have added several pieces to the defense and it has a chance to be much more active -- particularly on passing downs, when No. 1 pick
Melvin Ingram
will be given a chance to make an instant impact as a pass-rusher.
3. Protect the quarterback:
The San Diego offensive line was in shambles for much of last season, and it was a big reason why Rivers struggled for the first 10 games. Mainly due to poor health, San Diego used 13 offensive linemen last season -- literally taking players off the street at one point in November. With
Jared Gaither
, claimed off waivers from Kansas City, solidifying the left tackle spot, the unit improved dramatically late in the season. Gaither was re-signed and is being counted on to protect Rivers' blind side. The steady
Tyronne Green
takes over for the departed
Kris Dielman
. Green has fared well when he's had to play. If this unit remains in good health, it should protect Rivers well. If not, trouble could persist. So far, the unit looks good in camp.
REASON FOR OPTIMISM
The passing game looks to be top-notch. After a sloppy start to last season, Rivers finished 2011 strong. He has looked good in camp, and has an interesting group of receivers. Yes, standout
Vincent Jackson
is gone, but the Chargers have an ensemble group that includes
Malcom Floyd
, free-agent signees Meachem (New Orleans) and Royal (Denver) and second-year player
Vincent Brown
. Together, this group should offer Rivers plenty of help.
"We like what we have there," Turner said. "We like all the pieces. We think we can get some things done in the passing game."
If the Rivers-led passing attack is back at an elite level, the Chargers will be a threat to win every game. When Rivers is on, San Diego has a chance to score every time the offense hits the field.
REASON FOR PESSIMISM
The Chargers must prove they are totally past their doldrums. The team feels good about itself, but it does every summer. We will not know if San Diego is out of its funk until it's out.
Yes, the depth looks good, but will it be enough if injuries pile up for a fourth consecutive year? Yes, cutting down on turnovers is a point of emphasis in camp, but once the season starts, will the hard work pay off or will the killer interceptions and fumbles continue?
It has gotten to the point where we can't trust this team until it shows it is has indeed rebounded.
OBSERVATION DECK
[+] Enlarge

AP Photo/Lenny IgnelziReceiver Eddie Royal, an offseason pickup, appears to have clicked with Chargers QB Philip Rivers.

Tight end Antonio Gates is turning heads on a daily basis. After dealing with foot-related injuries for four years, Gates is finally completely healthy. He's slimmed down and he is making a lot of plays. If his health remains, the 32-year-old should make a huge impact.
Denver might have lost interest in Royal, but there is a place for him San Diego. Expect Royal to get a lot of work. He has impressed the coaching staff this summer and I expect him to be as favorite a target for Rivers during the season as he has been this summer.
The Chargers love what they see in Johnson. He is tough, smart and excellent against the run. They think he can bump the defense up a notch.
Linebacker Donald Butler looks good after a strong 2011 season, which was essentially his rookie season because he was injured in 2010. He is just another fascinating young defensive piece on this team.
Undrafted rookie quarterback Jarrett Lee looks like a keeper. He got extra work because of a knee injury to Charlie Whitehurst. I could see Lee making this roster. The Chargers were burned last year when they tried to sneak undrafted rookie quarterback Scott Tolzien onto the practice squad; he was claimed by San Francisco. If Lee continues to impress, I think the Chargers will find room for him on the 53-man roster. They need to develop a young quarterback at some point and Lee might be it.


The Nate Kaeding-Nick Novak battle at kicker will go down to the wire. If Kaeding stays healthy and kicks well in the preseason, he should win the job.
The Chargers love the skill level of Meachem. Perhaps he was lost in the shuffle of the dynamic offensive weaponry in New Orleans. He'll get his shot in San Diego.
The Chargers are pumped about McClain, a free-agent pickup from Kansas City. He will play a lot and should be in the mix for some carries. They like the veteran stability he brings to the offense.
Center David Molk, a seventh-round pick, is getting some second-team reps. He may have a future.
The Chargers are very happy with pre-camp signings Franklin and running back/special-teamer Jackie Battle. Though they both signed late, I see them both being contributors.
Keep an eye on ex-Chief Demorrio Williams. The linebacker has been a camp stud, boasting terrific speed. The Chargers like him in coverage.
The Chargers will keep their eyes open for help at certain positions, including cornerback and offensive line, as the summer progresses.
Third-round pick Brandon Taylor, a safety, might not make an instant impact, but Taylor has impressed and will get some valuable time behind veteran pickup Atari Bigby, who himself has been outstanding this summer.


Brown has been getting looks as the third-down back and will be an occasional Wildcat threat.
Running back Curtis Brinkley flashed talent at times last season, but because of the logjam at running back, he is a long shot to make the team.


Rookie tight end Ladarius Green has nice receiving skills. I can see him making an impact behind Gates and Dante Rosario (a very nice backup). Green, a fourth-round pick, needs to learn to block at an NFL level, but he has terrific hands and natural size.
Undrafted rookie tackle Mike Harris has taken advantage of an early camp injury to Gaither, getting some reps with the first team. The UCLA product has a chance to make the team. Rivers has joked that Harris has gotten more first-team reps than any undrafted rookie tackle in the history of the NFL.
August, 3, 2012
8/03/12
12:00
PM ET
NAPA, Calif. -- One of the biggest curiosities in the NFL this summer is what is occurring in Wine Country. Graced with the prettiest training camp setting in the league, the
Oakland Raiders
are changing in front of our very eyes.
On the same practice field where the late Al Davis used to famously stalk practice from a nearby golf cart, the Raiders are a drastically different franchise as they enter their first full season since Davis died last October at the age of 82.

The team is now run by first-time general manager Reggie McKenzie, a respected former Green Bay executive and former Raiders linebacker. He was handpicked by several of Davis' closest confidantes. McKenzie chose Dennis Allen, who at 39 is the NFL's youngest coach, to take over the team.
For a franchise that was closely ruled by Davis until his death, the Raiders are hoping a dose of NFL modern structure will pay dividends. Even though it has been 8-8 in the past two seasons, Oakland hasn't had a winning record in 10 years and it is tied for the second-longest playoff drought in the league.
Perhaps McKenzie and Allen are the winning combination for Oakland.
"I think everybody is interested to see what happens," said Oakland safety
Michael Huff
, who has been with the Raiders since 2006. "I've only known one way. To have this new structure is new to me."
THREE HOT ISSUES
1. Keep McFadden healthy:
The Raiders' best player is running back
Darren McFadden
. He has to stay healthy, but that hasn't been easy for the fifth-year player. He has missed at last three games in each of his four NFL seasons. He missed the final nine games of last season with a serious foot injury. If McFadden can stay healthy, the Oakland offense will be dangerous and it will help quarterback
Carson Palmer
make a difference in his first full season in Oakland. If McFadden can't stay healthy, the Raiders could be in trouble. They are not deep behind him and lose a major dimension with McFadden sidelined. McFadden has looked good so far, but the key is that he looks healthy.
2. Improve on defense:
Allen is the first defensive-minded head coach of the Raiders since John Madden, who was hired in 1969. There is a reason McKenzie went with a defensive coach: the Raiders need the most help on that side of the ball. Oakland has been sloppy and has allowed too many big plays on defense. Allen helped change the defensive culture in Denver last year during his one season as the defensive coordinator there. His quest to improve Oakland's defense begins now.
[+] Enlarge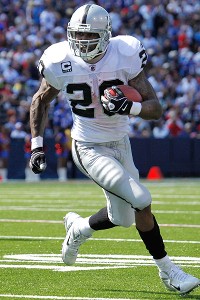 AP Photo/Derek GeeA healthy Darren McFadden is crucial for Oakland's success.
3. Cut down on penalties:
The Raiders set NFL records for penalties and penalty yardage last season. It has long been a problem in Oakland. Now, it is up to Allen to get it figured out. Playing disciplined, correct ball is a focus of every camp. It has to be drilled into this team on a daily basis. To his credit, former coach Hue Jackson tried to fix penalties on a weekly basis last year and it didn't work. It's now one of Allen's greatest challenges. Allen stresses the importance of discipline every day and he will need to change this self-destructive trend.
REASON FOR OPTIMISM
This roster has a lot of talent on it. The Raiders were on the edge of the playoffs last year, and there are lot players who think they are capable of taking the next step. Palmer has talked playoffs, and McKenzie says he thinks his team is headed in that direction.
The offense has the capability to score a lot of points, and the defense is loaded up front. It's not like this team is going to be horribly overmatched on a weekly basis. You can watch training camp and you see good players on the field.
REASON FOR PESSIMISM
This team is pretty thin at a lot of places because of the loss of several players through free agency, salary dumps and small draft classes the past two years. Again, there is talent assembled in this camp, but there are holes on this team. Positions such as running back, tight end, offensive line, linebacker and the secondary cannot afford too many injuries.
This camp is about keeping the top players healthy and hoping it all comes together. If injuries occur, Oakland will have to get creative to stay competitive.
OBSERVATION DECK
The offense looks crisp. The pace of practice has been fast as the team adjusts to playing in the West Coast offense under coordinator Greg Knapp. The unit does not look behind.

Harry How/Getty ImagesCarson Palmer threw for 2,753 yards in 10 games with the Raiders last season.

Palmer throws a pretty deep ball. With the Raiders' speed at receiver, they should parlay that combination into a lot of fast scores this season.

There is a lot of talent at receiver. I can see this team using five receivers in a game. There will be a lot of options.

Defensive lineman Tommy Kelly looks to be in good shape. He is one of the more underrated defensive linemen in the league.

Defensive linemen Matt Shaughnessy is looking good after missing much of last season with a shoulder injury. He is known as a stronger pass-rusher, but he can also stop the run. He is aiming for a big year.

I don't anticipate a big adjustment period for second-year player Stefen Wisniewski as he moves from guard to center. He has played center before and he originally projected as an NFL center. He is a smart player who seems comfortable at the position.

Don't expect too much from quarterback Terrelle Pryor right away. He is a work in progress and he will be up and down in camp. I think Matt Leinart has a pretty strong hold on the No. 2 job as of now.

Second-year cornerback DeMarcus Van Dyke has a chance to make a push for a starting job. He opened camp as a starter with Ronald Bartell out with a hamstring injury. I could see Van Dyke pushing Bartell or Shawntae Spencer at some point.

The team is impressed with rookie linebackers Miles Burris and Nathan Stupar. Both players are instinctive and professional. I wouldn't be surprised if Burris earns major playing time.

The team is high on third-round guard Tony Bergstrom. The game doesn't look too big for him, and he is a mature player.

New defensive coordinator Jason Tarver has a lot of energy. Watching him operate with his lively personality and blond hair invokes memories of a young Jon Gruden wearing the Silver and Black. Like Gruden, the intelligent Tarver is a young coach to watch.

I think we will see tight ends Brandon Myers, David Ausberry and Richard Gordon all get ample playing time in the preseason. I think that can continue into the regular season if each player carves their own niche.

Safety Mike Mitchell is the early leader in the clubhouse to replace Rock Cartwright, now in San Francisco, as the punt protector.

Receivers Denarius Moore and Jacoby Ford will get most of the camp looks at punt returner for now.

Undrafted rookie receiver Rod Streater has taken off where he left off in the OTAs. He has been an early camp star.

I could see a scenario in which the Raiders keep fullback Owen Schmitt in addition to Marcel Reece. The tough Schmitt and the versatile Reece offer different things to the offense.
July, 29, 2012
7/29/12
12:00
PM ET
ENGLEWOOD, Colo. -- A veteran Denver Bronco was relaxing after the first training camp practice of a monumental season for the franchise.
He shook his head.
"When was the last time we had something like
this
here?" he asked. "This is something."

This
is No. 18.
This
is
Peyton Manning
.
Everything has changed for the Broncos.
With one phone call from Manning to Denver leader John Elway in March, the landscape of the organization changed. The Broncos are no longer a league curiosity caused by
Tim Tebow
-mania. They are now relevant because Manning, who missed last season with a neck injury, is
the
story in the NFL.
The Broncos, though, aren't consumed by being a popular story. They are focused on the impact Manning, at age 36, will have on the team. In public and in private, the Broncos are not worried about Manning's health. They are simply in awe that he is on their side.
The organization feels it's time to make a major push because of Manning.
"It's very similar to the Super Bowl year we had in New Orleans," said new Denver cornerback
Tracy Porter
, a former Saint. "We have extremely high expectations on this team, starting with Peyton, all the way down to the last guy on the roster. Our expectations are not just to hopefully get to the playoffs. Our expectations are to get back to New Orleans to play for the Super Bowl and win the Super Bowl."
THREE HOT ISSUES:
1. Manning's health:
The Broncos operate as if Manning will be ready for the Sept. 9 opener against visiting Pittsburgh, but they won't know if he will be fully healthy until he takes a few hits. Again, all indications are that Manning should be fine. He is throwing well, he hasn't suffered a setback and he is practicing at a strong tempo. He is on pace to be ready for the season.
[+] Enlarge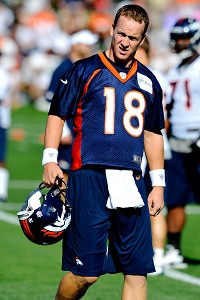 Ron Chenoy/US PRESSWIREThe Broncos won't know exactly what they have with Peyton Manning until he starts taking some hits.
2. Defensive readiness:
The Broncos' defense is still a work in progress. It went from No. 32 to No. 20 in the NFL last season under the guidance of head coach John Fox and defensive coordinator Dennis Allen. Allen parlayed the success into the Raiders' head-coaching job. Former Jacksonville head coach Jack Del Rio, Fox's defensive coordinator in Carolina in 2002, stepped in to replace Allen. The Fox-Del Rio pairing is strong, but this unit must continue to improve. It will have to play the first six games of the season without weakside linebacker
D.J. Williams
because of an NFL suspension, and pass-rusher
Elvis Dumervil
could face a short suspension for a recent gun arrest. So, the team will have to get a lot of players ready during camp as the Broncos try to continue the upward defensive swing.
3. Young receivers:
Third-year receivers
Demaryius Thomas
and
Eric Decker
will be in the spotlight throughout camp. Both are talented players who have a lot of promise. Playing with Manning should hasten their learning curve. But there is not a quarterback in the NFL who is as particular about his receivers as Manning, and both must adjust to Manning's game. The early word is that both players are earning Manning's trust.
REASON FOR OPTIMISM
The Broncos have a terrific head coach in Fox, whose presence and impact should not be discounted. He is an upper-echelon coach who has a firm grip on this program. His players love him and the overall spirit of the franchise is probably as high as it has been since the back-to-back Super Bowl-winning years in the late 1990s. Fox did a wonderful job last season turning a 4-12 weakling into an 8-8 team that won a playoff game. In Fox's second season in Carolina, he led the team to the Super Bowl. Will it happen again in Denver? We'll see, but his players fully believe in him, and that's a huge head start.
REASON FOR PESSIMISM
We do not yet know if the Broncos are loaded enough with talent to make a long playoff run. There are a lot of questions.
Will the team be able to run the ball enough to help Manning now that the Broncos aren't using the Tebow-led option? Are the youngsters on the offensive line ready to protect Manning? Will they be good enough at defensive tackle and safety?
This team is far from a finished product and it faces a brutal schedule. Still, expectations are high because of Manning. But the truth is, Denver must build itself around Manning very quickly -- the chief challenge of training camp.
OBSERVATION DECK:
Players rave about Del Rio. They love his toughness and the fact he is a former NFL player. Many players said Del Rio understands what they are going through and they feel they are on the same page with him already. The word around Denver's camp is that the Fox-Del Rio relationship has taken up where it left off in Carolina.

[+] Enlarge

AP Photo/Eric BakkeNew Broncos defensive coordinator Jack Del Rio held the same position for John Fox in Carolina.

Watch for rookie running back Ronnie Hillman, a third-round pick, to get plenty of chances to prove himself. Denver sees him as an explosive threat as a runner and as a receiver out of the backfield.

Former Chicago quarterback Caleb Hanie has the inside track to be Manning's backup. Still, Adam Weber or rookie Brock Osweiler could pull off the surprise and beat him out.

The Broncos are high on undrafted rookie linebacker Steven Johnson. The Kansas product could get some looks at middle linebacker in the preseason.

The Broncos will look at a lot of punt return options. Having Decker do it may be risky. I think it is an area Denver will look to upgrade on the waiver wire.

While guard Chris Kuper is slowly coming back from a severe ankle injury suffered in Week 17 in 2011, the Broncos expect him to continue to make progress.

Running back Knowshon Moreno, the No. 12 overall pick in 2009, is back after suffering a torn ACL last season. Still, he has an uphill battle to impress this staff.

Keep an eye on fourth-round pick Omar Bolden, a cornerback. He was highly rated out of Arizona State, but he missed all of last season with a knee injury. He looks like a keeper.

The Broncos rave about linebacker Von Miller, the 2011 NFL Rookie of the Year. The pass-rusher is working diligently to improve his overall game. Coaches and teammates laud Miller for his desire to improve.

The Broncos would like to see middle linebacker Joe Mays shore up his tackling in camp. He is a solid player, but he whiffed too many times last season.

The Broncos love what they see in Porter. Because of his talent, experience and confidence, Porter should be able to handle the pressure of playing opposite Champ Bailey, according to the Broncos. Second-year safety Rahim Moore opened with the first-team defense. He will compete with fellow second-year safety Quinton Carter.

Veteran defensive tackle Ty Warren was working with the first-team defense. Before Warren re-committed to the team in June, Sealver Siliga worked with the first team. Mitch Unrein got some work with the first-team defensive line early in camp as Denver looked for the right rotation.

Defensive lineman Ben Garland is making an impression. He is athletic and has great feet and could make the team.