AFC West:

2012 Hall of Fame
August, 4, 2012
8/04/12
7:50
PM ET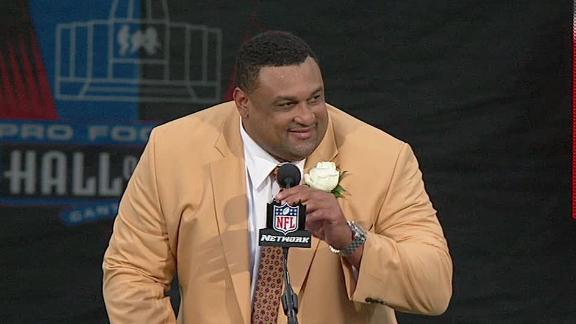 CANTON, Ohio -- Willie Roaf's father, Clifton, has just presented the former New Orleans and Kansas City tackle for enshrinement into the Pro Football Hall of Fame.
The video presentation for Willie Roaf was packed with emotion, especially when Clifton Roaf, his jaw quivering with emotion, called his son his hero.
A quick aside: Clifton Roaf, speaking over lunch Friday, recalled the time his son shut out Hugh Douglas, one of the better defensive ends in the NFL at the time. According to the elder Roaf, Douglas finished with no tackles. When the game ended, Douglas paid tribute to Roaf by crawling off the field. Now that is domination.
August, 1, 2012
8/01/12
8:00
AM ET
It was as sure as a Willie Roaf pancake block.

At halftime of every high school game in Pine Bluff, Ark., as Roaf's team would head to the locker room, there would stand Clifton Roaf, giving words of encouragement to his son.

"His dad was a driving force in Willie's football career," Roaf's high school teammate John Flowers said."Every game, he would there at the field house door at halftime, shaking everyone's hand. When we came out for the second half, he was there clapping and screaming. I think he was the biggest presence in Willie's football career."

Clifton Roaf's dedication to his son's career will be highlighted Saturday when Willie Roaf, 42, is enshrined into the Pro Football Hall of Fame. As soon as he was elected into the Hall in February, the left tackle, who spent his final four NFL seasons dominating for the Kansas City Chiefs, decided to make his father his presenter into the Canton, Ohio, museum.

Really, Roaf, who flourished at Louisiana Tech after being lightly recruited in high school, knew his father would present him his entire life.

"He was the one who really motivated me for my career," Roaf said. "He was always telling me what I needed to do to get to the next level. Even in college, he saw the potential I had before I did."

Clifton Roaf, 71, was a successful dentist in Arkansas and had quite a busy work schedule. Yet, the former Michigan State football standout never missed any of his son's high school games and traveled to virtually every one of Roaf's home games in college and in the NFL. Often traveled to road games, too. He made it to all 11 of Roaf's Pro Bowl games in Hawaii.

"I wouldn't be going into the Hall of Fame without my dad," Roaf said. "So, having him present me into it is the only way to do it."
February, 4, 2012
2/04/12
7:25
PM ET
Kansas City Chiefs owner Clark Hunt released a statement congratulating tackle Willie Roaf for being elected to the Pro Football Hall of Fame on Saturday.

Roaf played his final four seasons with the Chiefs from 2002-05.

Here is Hunt's statement:

"On behalf of my family and the entire Chiefs organization, we are thrilled to congratulate Willie Roaf on his well-deserved selection to the Pro Football Hall of Fame Class of 2012. Willie is one of the finest offensive lineman to suit up in a Chiefs uniform and is worthy of this extremely prestigious honor. In his four seasons with the Chiefs, Willie anchored one of the best offensive lines in the National Football League. Today's announcement solidifies his place as one of the greatest offensive lineman in the history of pro football."

Kansas City guard Will Shields and Oakland receiver Tim Brown were also among the 17 finalists, but they did not get elected.
February, 4, 2012
2/04/12
6:55
PM ET
Willie Roaf is going to Canton, Ohio.

However, two other players with AFC West ties will have to continue waiting to be enshrined. Tim Brown and Will Shields did not make the cut from the initial list of 17 finalists to the final 10.

Unlike Roaf, who played the final four seasons of his career in Kansas City, both Brown and Shields are most known for their work in the AFC West.

I expected Shields to get in, but he may have been blocked by Roaf. Shields may take the same route that Roaf did. He was a finalist in his first year of eligibility, but didn't make it. He made it in his second year of eligibility.

I can see Shields making it next year. He went to 12 Pro Bowls and he made 223 straight starts, which was the second-longest active streak in the NFL at the time of his retirement.

I was not shocked Brown didn't make it for the third straight year. He certainly deserves to be in the Hall of Fame and he will have a bronze bust someday. But it may take a while.

The voters didn't do him any favors Saturday. None of the six men elected were receivers. Cris Carter and Andre Reed will need to get in some day as well and Brown may have to wait for them to get in first.

As for Roaf, he is a strong representative for the AFC West.

Roaf, who started his career with New Orleans, made the Pro Bowl 11 teams and he made the All-Pro team seven times. He made it three times with the Chiefs. Roaf and Shields were the anchors of one of the most dominated offensive line in the NFL early last decade.

Perhaps next year Shields will join Roaf, his former teammate, in Canton.
February, 1, 2012
2/01/12
10:00
AM ET
Will Shields has done a pretty good job of trying to keep his mind off of this Saturday's events in Indianapolis.
[+] Enlarge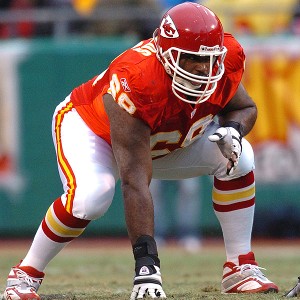 John Rieger/US PresswireGuard Will Shields was a Pro Bowler 12 times during his career.
Yet, he admits the idea of being voted into the Pro Football Hall of Fame can be an overwhelming thought.
"It's nothing to be nonchalant about; it's huge," said the former Kansas City Chiefs guard. "It would be a great ending to a great career. It is really a big deal, but you don't want to dwell on it and over think about it."
There is a good chance Shields will need to start thinking about his Hall of Fame acceptance speech. Shields is one of 17 finalists for election into the Canton, Ohio, museum. It is Shields' first year on the ballot. He is considered to have a strong chance to be inducted. Former Raiders receiver Tim Brown and tackle Willie Roaf -- who played with Shields for four years in Kansas City -- are also former AFC West players who are finalists. All three have a chance to make it, but Shields may have the best chance of the three AFC West finalists to be inducted.
Shields, 40, played for the Chiefs from 1993-2006. The Fort Riley, Kan., native was a third-round draft pick out of Nebraska. He started every game of his career but the first game of his rookie season. His streak of 223 straight starts was the second-longest active streak in the NFL at the time of his retirement. Shields made 12 Pro Bowls, which is one of the highest totals of all time regardless of position.
As strong as his résumé was on the field, it was as extraordinary off the field. Shields was known as one of the most charitable players in the NFL in his era and he was won the prestigious NFL Man of the Year award in 2003.
"Looking back, I think I'm most proud of everything as a combination," Shields said of his proudest NFL moment. "The Pro Bowls, the streak, the Man of the Year. All of it was special to me."
Shields has continued his chartable work in the Kansas City area and he runs a gym and performance center where he said his company trains "kindergartners to an 89-year-old" in the area.
Shields said he is seriously considering getting involved in coaching. He has spent the past two summers interning with the New York Jets and he has coached at some college all-star games in addition to training some NFL prospects in recent years.
"I think I might be getting into coaching sooner than later," Shields said. "I always want to be around the game."
Saturday, Shields may reach football royalty.