AFC West:

2013 Camp Confidential
August, 15, 2013
8/15/13
12:00
PM ET
ST. JOSEPH, Mo. -- The
Kansas City Chiefs
and Andy Reid needed each other.

A year ago, as the Chiefs were toiling through their summer preparations, this pairing seemed more than unlikely. It appeared implausible.
The Chiefs were embarking on the Romeo Crennel era. The franchise was focused on salvaging the Scott Pioli leadership by having one of his former New England colleagues take over the coach's headset on a full-time basis after he had guided the team following Todd Haley's dismissal in December 2011. There were no thoughts of Crennel being a temporary caretaker for one of the biggest coaching names in the game. Reid was entering his 14th season in Philadelphia.
But 2012 ended up being an awful year for the Chiefs and for Reid. Change was necessary for both.
When Reid was let go by the Eagles, Kansas City owner Clark Hunt acted swiftly, turning from Pioli and Crennel to Reid. It was a bold move from the Heartland, where the Chiefs usually stay out of the national spotlight.
Hiring Reid was bold. And while technically neither Reid nor his new team has accomplished anything just yet, the fit seems right. Reid is resplendent in red. The Chiefs' players are energized by the top-notch coaching and energy Reid has brought.
"I don't look to the past and we can't look to the future yet; all we got is right now," Reid said. "And the 'right now' is pretty good. … I really like where we are and what these guys are doing."
While it is just August, the Chiefs look nothing like the 2-14 team they were in 2012. Most teams that earn the No. 1 overall draft pick look like it the following training camp. Instead, the Chiefs look like a complete team with few holes, one that is ready to make a big move.
"We don't even talk about 2-14 anymore," said safety
Eric Berry
, one of six Pro Bowl players from what was, despite the record, a talented 2012 outfit. "We are all focused on getting better and getting coached by Coach Reid and his staff. … We can't wait to get out here every day to see how we can get better. Everybody feels that way. We're all so happy right now."
THREE HOT TOPICS
[+] Enlarge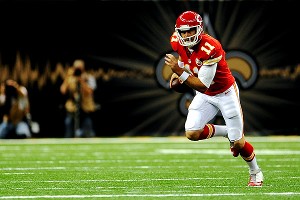 Stacy Revere/Getty ImagesAlex Smith's smooth transition at quarterback is just one reason behind the Chiefs' bright outlook.
1. The quarterback:
Thus far, the transition to
Alex Smith
has been a success in Kansas City. Of course, we won't find out anything tangible until we see if he can make a difference in the regular season. But so far, Smith has taken to Reid's coaching and shown he is the leader of this team. He has been good in training camp, and he was excellent in the first preseason game. If Smith can be the smart, mistake-free player he was in his best San Francisco days, the Chiefs can be a real contender. This team has been screaming for solid quarterback play, and it may be about to get it.
"He's a smart guy," Reid said of his quarterback. "He gets it. He makes it easy. He doesn't run out of gigabytes."
2. Finding a No. 2 receiver:
There aren't a lot of issues with this roster, but finding a solid No. 2 receiver behind star
Dwayne Bowe
is a focal point of this camp. Free-agent pickup
Donnie Avery
will likely be the guy, and he has shown he can be a capable NFL player. He can get open. The team would like to see 2011 first-round pick
Jon Baldwin
finally develop. He has big ability but has failed to show the consistency to be a top-of-the rotation player. The Chiefs have a varied offense, so this will not be a huge problem, but it would be beneficial if Bowe had some legitimate help opposite of him.
3. Dontari Poe:
If training camp is any indication, Poe has a chance to be among the breakout players in the NFL this season. The No. 11 overall pick of the 2012 draft has been terrific. He has taken to the new coaching. The light has come on. The super-athletic Poe is getting the playbook and has been dominant at times. Nose tackle sets the tone for the defense, and it seems Poe is up to the task. To his credit, Poe made strides late in his rookie season and seems to have carried it over to his second training camp.
REASON FOR OPTIMISM
The Chiefs' roster is loaded. There are not a lot of holes. Sure, the Chiefs could use a deeper group of receivers, a deeper defensive line and a few odds and ends here and there. But in today's NFL, that is not a deep list of concerns. Add a top coach like Reid, a capable quarterback like Smith and several fine free-agent additions to a roster that featured six Pro Bowl players, and there is a lot to like about this team. This is not your average club trying to rebound from 2-14.
REASON FOR PESSIMISM
There isn't much not to like here. The worst thing Kansas City has going for it is simply rebuilding from a 2-14 season. Just how many wins can a 2-14 team expect in the first year of a new regime? The Chiefs will be much better. But what does that mean? A 7-9 season in Kansas City would signify great progress. But if the Chiefs want to make a run at the playoffs, they likely will have to go 9-7 or better. A seven-win improvement is never an easy task in the NFL.
OBSERVATION DECK
[+] Enlarge

AP Photo/Gerald HerbertJamaal Charles' role in the offense does not figure to be diminished considering he touched the ball eight times and scored a TD on the Chiefs' first drive of the preseason.

The Chiefs like their offensive line. They think they have a lot of depth. Jeff Allen, Geoff Schwartz and Donald Stephenson give the team a lot of options.

The Chiefs have no remorse over using the No. 1 overall pick in this year's draft on right tackle Eric Fisher. He is a natural talent who works hard and fits in with his teammates. He is a hard-hat player who just happened to be the top pick in the draft.

The coaching staff is pleased with the way star running back Jamaal Charles has adapted to the offense. He has embraced the chance to catch more balls out of the backfield. For anyone who thought Charles' role would be diminished because of Reid's arrival, just look at the New Orleans game last week. Charles touched the ball on eight of the 14 plays the Chiefs' first-team offense was on the field.

Players love the scheme of new defensive coordinator Bob Sutton. It is aggressive and player-friendly.

One of the strengths of this team going into camp was the defensive backfield. It continues to be. This is a deep, talented unit.

One young player to keep an eye is undrafted rookie receiver Rico Richardson. He is catching everything that comes his way. He's a long shot, but there could be room for him.

Reid is pleased with the addition of spread game analyst Brad Childress and consultant Chris Ault. They are focusing on the pistol offense and working with both the offense and defense in installing it.

The Chiefs' special teams look good. The return game was fantastic against New Orleans.

Berry came on strong at the end of last season after missing virtually all of the 2011 season with a torn ACL, and he looks to be in top form this camp. Expect a brilliant season from this young star.

The team likes the work of fullback Anthony Sherman, who was acquired in a deal with Arizona for cornerback Javier Arenas. Sherman will be a part of the offense.

Fourth-round pick Nico Johnson continues to push Akeem Jordan at inside linebacker. The instinctive, bright Johnson has been a camp standout.
August, 13, 2013
8/13/13
12:00
PM ET
ENGLEWOOD, Colo. -- Live on Colorado's front range long enough, and you live with an unshakable, that's-the-way-it-is truth. That most days, as in 300 or so a year, the sun shines brightly and the skies are blue.
But when the storm clouds come rolling down the mountains, it's an ambush -- they come fast and with menacing intent. And that, really, is the story of the Broncos' offseason.

"Hey, you have to deal with all kinds of things along the way," said Broncos cornerback
Champ Bailey
, now entering his 10th season with the team. "And we've had plenty of things to deal with around here over the years; sometimes we've done a good job with it, sometimes we haven't. I tell the young guys all the time, we'll see how we handle things. We can be good, but we have to get to work, because thinking you're good and being good are always two different things."
The Broncos entered free agency as Super Bowl favorites, then they signed
Wes Welker
to a
Peyton Manning
-led offense that had already been good enough to be No. 2 in scoring in 2012. They drafted well, and filled some other needs with veteran signees
Dominique Rodgers-Cromartie
,
Stewart Bradley
and
Shaun Phillips
.
Yep, football sunshine and blue skies.
Then there was Faxgate and
Elvis Dumervil
's rather messy exit from the team that drafted him in 2006.
Then two high-ranking front-office executives -- director of pro personnel Tom Heckert and director of player personnel Matt Russell -- were arrested on drunken driving charges a month apart. Heckert was eventually suspended a month without pay -- he's due to return to the team Thursday -- and Russell was suspended indefinitely.
Then defensive playmaker
Von Miller
was slapped with a four-game suspension for violating the league's substance abuse policy, a revelation that came with the rather troubling fact that Miller had previously violated the policy to get to the suspension phase.
Miller's appeal will be heard Thursday by league officials, and a decision is expected before the regular-season opener against the Ravens.
Toss in a pile of injuries, especially to the offensive line, and it's clear coach John Fox's task will be to keep a talented team on track as it wrestles with the expectations around it, as well as the pothole-filled road it has already traveled.
"It's been my experience if you don't expect a lot, you don't get a lot," Fox said. "Keep the bar low, and that's where people go. We're going to keep the bar high -- I don't mind expectations -- and I think the guys have had good focus. They know the work that has to be done, and I know they'll do it."
THREE HOT ISSUES
1. Deal with it.
Former Broncos defensive end
Alfred Williams
might have said it best. Williams said the Broncos are the only team in the league "with 20 preseason games."
So true. After a 13-3 finish that included an 11-game winning streak dissolved into a crushing playoff loss to the Ravens, the team's fan base essentially sees the coming regular season as little more than an inconvenience before another postseason chance.
That can be a lot to handle for a team, especially if players and coaches get too focused on the potential lack of appreciation from the outside world for anything that happens along the way. More than one person inside the team's Dove Valley complex has expressed frustration in the past six months over the fact that few folks bring up the 13-3 record, the win streak or the division title, and that it is all Ravens, all the time in any discussion about the 2012 season.
Frustrating indeed, but the Broncos have to find some peace of mind somewhere as they move through the next four months.
[+] Enlarge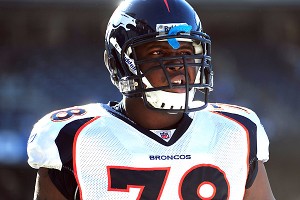 Harry How/Getty ImagesWhile the Broncos wait for star left tackle Ryan Clady to return from shoulder surgery, the team has many questions on the offensive line.
2. Front-line issues.
Left tackle
Ryan Clady
, a newly minted five-year, $52.5 million contract in hand, is still working back from offseason shoulder surgery and is not yet 100 percent.
Center
J.D. Walton
had ankle surgery just before minicamp and isn't expected back in the lineup until late October or early November at the earliest. He was just seen at the Broncos' complex this past week without a walking boot on for the first time since the operation.
Walton's backup,
Dan Koppen
, tore his ACL in the first week of training camp and is done for the year.
It leaves
Manny Ramirez
, who just started his first career game at center in the Broncos' preseason opener in San Francisco, and 31-year-old
Ryan Lilja
, who was signed out of retirement after two surgeries (knee, toe) earlier in the offseason, as the options in the middle.
Given that defensive coordinators routinely believe the best way to pressure Manning is through the middle of the formation, the Broncos will need an answer to protect him.
3. Defense will tell the tale.
We get it, it's a quarterback league. The rulebook essentially begs/demands that people put the ball in the air almost nonstop in any situation. Offense puts people in the seats.
Whatever. Remind me, but wasn't the Super Bowl -- a Super Bowl played by the two teams that ran the ball the most during the playoffs -- won on a goal-line stand when an offense couldn't/wouldn't punch it in from the doorstep?
The Broncos put up 35 points this past January and were sent home to the collective couch. And when you get right down to it, in back-to-back playoff losses, the Broncos have surrendered 694 passing yards and nine passing touchdowns with just one interception and one sack combined against
Tom Brady
to close out the 2011 season and
Joe Flacco
to close out 2012.
So, Manning to Welker,
Demaryius Thomas
and
Eric Decker
looks nice on a magazine cover, but how the guys on the other side of the ball do will have plenty to say about how far this team goes.
REASON FOR OPTIMISM
It's a talented roster with one of the greatest quarterbacks of all time behind center and a remember-when defensive talent bursting with potential in Miller. Denver is a balanced team that finished in the top five in both offense and defense last season with one of the great home-field advantages in the league. Oh, and the guy running the team is a Hall of Fame quarterback who knows a thing or two about what a title-winning locker room should look like.
REASON FOR PESSIMISM
There are some in the league who looked at the Broncos' drama-filled offseason and said they had the tumultuous profile of a team that had won the Super Bowl instead of losing two rounds before the title game. The Broncos have had the infamous fax issues, the off-the-field troubles, a reality show, a looming suspension of a superstar and more than their share of injuries. Maybe when the games count, none of that will matter, but history is littered with teams that put the championship cart before the horse, content to enjoy the fruits of potential rather than the actual title.
OBSERVATION DECK
[+] Enlarge

Marc Piscotty/Icon SMIThere will be plenty of opportunities for Wes Welker in Denver's offense.

Welker's signing is going to work out -- barring injuries, of course -- exactly the way everybody wanted it to, including Welker. He fits the offense. Broncos offensive coordinator Adam Gase will even expand Welker's reach in Denver's playbook compared with what Welker did in New England, and Welker has worked hard to fit in. There has been some hand-wringing both near and far about where the "catches" were going to come from for a guy with five 100-reception seasons. The answer is that the catches are already in the offense. Working mostly out of the slot last season, tight end Jacob Tamme and wide receiver Brandon Stokley combined for 97 receptions, 1,099 yards and seven touchdowns. Those numbers from Welker would fit quite nicely.

The offensive line is an issue to keep an eye on until the Broncos prove it's not. Getting Clady back in the lineup -- he's still on track to start the opener -- will help greatly, but they've struggled to protect the quarterbacks in practice against their own high-end defense, as well as in the preseason opener. If things don't improve, the Broncos will spend an awful lot of time tossing dump-offs to the hot receiver or shallow crosses because they can't protect long enough to go down the field.

Miller's potential and ability are almost limitless. Former longtime Broncos defensive coordinator Joe Collier, the guy who called the shots for the Orange Crush defense, has said Miller has the potential to be the franchise's best-ever defensive player. But Miller, the results of his appeal of his four-game suspension notwithstanding, has to hold up his end of the bargain, both on and off the field, to make that happen. And the Broncos will have to decide over the next season or so -- his contract is up after 2014 -- just how high they'll want to go on an extension and whether the investment will be worth it over the long term.

Folks can wish it were different, especially as they wrestle with their fantasy lineups each week, but every indication on the practice field -- as in EVERY indication -- is that Ronnie Hillman and Montee Ball are going to share the workload in a variety of down-and-distance situations. And Knowshon Moreno and Jacob Hester figure to at least be in the third-down mix as well at times.

Hillman, however, should benefit from Gase's concerted effort to create more impact in the run game outside the hashmarks. The Broncos weren't all that good, or committed, to the outside runs last season. And if Hillman runs with decisiveness and the Broncos can get it done up front -- they brought longtime assistant Alex Gibbs back to help with the zone-run game -- there are some big plays waiting.

The games will ultimately be the gauge, but safety Rahim Moore has had a quality camp in an offseason in which many wondered how he would bounce back from the ill-fated leap in the playoff loss to the Ravens. But the bottom line is Moore played more snaps (1,044) than any other player on the defense last season with substantial improvement over his rookie year in 2011, and if everyone else had played their assignments on the Jacoby Jones touchdown, Joe Flacco wouldn't have even thrown the ball that way in the first place. So, those guys should buy Moore a nice dinner for taking the heat and watch him in the starting lineup again.

Thomas sported a heady 15.3 yards-per-catch average on the way to 1,434 yards receiving last season. But that per-catch average should go up given the choices defenses are going to have to make with Welker in the formation. If defenses double in the short and intermediate area to deal with Welker, the Broncos' tight ends and Thomas can overpower most defensive backs down the field.

Defensive end Robert Ayers has consistently said, since the team made him the 18th pick of the 2009 draft, that he has far more to offer when the opportunity comes. And the opportunity has arrived with Dumervil's departure. Ayers has just 6.5 career sacks in his four seasons and has played for four defensive coordinators along the way, each of whom wanted something a little different from him. But Jack Del Rio is back for a second consecutive year, and Ayers is the starter at rush end. Now's the time.

Reports of Bailey's demise are exaggerated, but he is certainly a 35-year-old entering his 15th season. Or as he put it: "I had some plays in the playoff game I should have made, pure and simple. I didn't, but I can let it drag me down or just get back to it. I still think I can play and I think I have shown I can still play at a high level." The Broncos will pick their spots more when they single him up, but he has been top-shelf throughout training camp while running stride for stride with the Broncos' best receivers.

The Broncos have an awful lot riding on how Gibbs and offensive line coach Dave Magazu get things worked out on the offensive line. If the Broncos can add some pop out of the play-action run game and consistently protect Manning out of a three-wide receiver set, the points should follow.

Some say Welker's presence in the offense means the Broncos will throw more in '13. However, Manning's 400 completions last season amounted to the second-highest total of his career, and his 583 attempts were the third-highest. In a perfect world, the Broncos would like those totals to be slightly lower this time around -- Manning himself has said "we'd like to run it more" -- because it would mean they simply ran the ball to close out games in which they already had the lead.
August, 8, 2013
8/08/13
12:00
PM ET
SAN DIEGO -- Gone is the omnipresent GM lurking from the large deck that hovers over the practice field.
Gone is the comfortable head coach who went at his own pace.

It's a new day for the
San Diego Chargers
. There is new energy in America's Finest City.
Change was badly needed. The Chargers arguably had the best roster in the NFL five years ago, but it never paid off. The lack of success finally cost general manager A.J. Smith and coach Norv Turner their jobs after another lackluster season in 2012.
The Chargers' fans demanded new leadership for the stagnant franchise. They got their wish. The Chargers now have some of the youngest, freshest leaders in football as the team moves past the stale days of the Smith-Turner era.
Smith was famous for watching practice from the deck of his office. New general manager Tom Telesco, 40, watches practice from the sideline. There are no messages of pecking order being sent from the general manager's office. Telesco, in a camp-issued T-shirt and shorts, could easily be mistaken for an equipment manager.
The head-coaching switch from Turner to Mike McCoy, 41, is almost as distinctive as the change at GM. McCoy's practices have appeared to be crisper and more detailed-oriented than in the past. There isn't much downtime in San Diego's practices. Everyone's moving at all times. That wasn't always the case under Turner.
"I think we're getting a lot done," quarterback
Philip Rivers
said. "Coach McCoy clearly has a plan. It's been impressive. ... The big thing is everyone has bought in to him. The reality is we are .500 over the past three years. It was pretty easy to buy in what's now going on here."
THREE HOT ISSUES
[+] Enlarge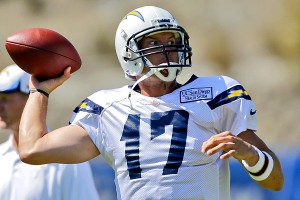 AP Photo/Lenny IgnelziPhilip Rivers threw 15 picks last season to just 26 touchdown passes.
1. The quarterback:
Rivers is a major focal point of this training camp. Telesco hired McCoy, Denver's former offensive coordinator, with an eye toward fixing Rivers. The quarterback has struggled the past couple of years, particularly with turnovers. McCoy and new offensive coordinator Ken Whisenhunt, the former head coach of Arizona, form a strong quarterback-coaching tandem and quarterback coach Frank Reich is also highly regarded. All three men believe in Rivers, and it seems to be paying off. Rivers has looked fantastic in training camp. His confidence is high, and his passes are accurate. It is vital for both Rivers and the Chargers that he has a good season and the team continues build around him. If not, it could be a crossroads season for both the franchise and Rivers' career.
2. The offensive line:
Because of injuries, this unit has been terrible the past couple of years. No matter how much Rivers improves, he won't have much of a chance if he doesn't have protection. The Chargers' line has four new starters. It is not a great unit, and there will be some growing pains. But the group is getting rave reviews for being athletic and tough. Rivers is impressed and trusts the group. He thinks it's deeper with players such as rookie
D.J. Fluker
at right tackle and veterans
King Dunlap
and
Max Starks
competing at left tackle. Dunlap is leading the race. But if there are injuries, this group appears better equipped to weather them than last year's squad.
3. The rookie linebacker:
The Chargers are thrilled with inside linebacker
Manti Te'o
. He will start in the team's 3-4 schemes. He has looked good in training camp and has fit in with the locker room. The hoax he was involved in at Notre Dame is not a factor. The Chargers love the way he works and practices. He is instinctive, and he plays faster on the field than his combine times suggested. The Chargers think Te'o is ready to make a big impact.
REASON FOR OPTIMISM
[+] Enlarge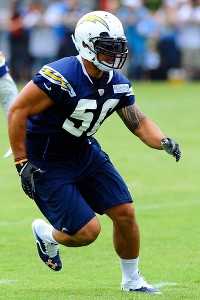 Christopher Hanewinckel/USA TODAY SportsThe Chargers are happy with the progress of second-rounder Manti Te'o, who's slated to start at inside linebacker.
The Chargers are loaded with young talent on defense. Any defense that has
Eric Weddle
at safety, Te'o and
Donald Butler
at inside linebacker and
Corey Liuget
and
Kendall Reyes
at defensive end is an impressive group.
I think these players will be the core to one of the better defenses in the coming years. The Chargers are doing backflips over the combination of Liuget and Reyes. Liuget is entering his third NFL season, and Reyes is entering his second. Liuget was terrific all of last season, and Reyes showed serious pass-rush potential toward the end of the season.
While this defense has some holes, there are some exciting pieces here.
REASON FOR PESSIMISM
The Chargers are pretty thin in a lot of places. I think this team is on the rise, but it may not be a quick fix. There are too many positions where depth is an issue.
San Diego has dealt with the injury bug already. Pass-rusher
Melvin Ingram
, the No. 18 overall pick in 2012, suffered a torn ACL in May. Starting receiver
Danario Alexander
and backup linebacker
Jonas Mouton
suffered the same injury during camp.
Alexander's and Ingram's injuries are particularly worrisome. This team can't afford to lose high-end talent before the season starts. Other positions vulnerable to injuries include the offensive line (even though the depth is better than in the past), defensive tackle, edge rushers and the secondary. There isn't much wiggle room on this roster.
OBSERVATION DECK
The Chargers appear to be well-coached. The influx of offensive coaches and the return of several defensive coaches, led by coordinator John Pagano, makes for a nice mix. Most of the new blood was needed on the offensive side of the ball.

The team feels great about Dwight Freeney, who was signed to replace Ingram. The Chargers are convinced Freeney still has something left in the tank and will be a difference-maker.

The Chargers like the progress of nose tackle Cam Thomas, who they think is ready for a breakout year. Coaches and teammates are talking him up big.

San Diego is looking to add depth on the defensive line. Free agent Justin Bannan on is still on the team's radar. I think we will see the Chargers be active on the waiver wire at a few positions.

Free-agent guard Chad Rinehart is showing solid leadership skills.

The team loves free-agent running back Danny Woodhead. He has been a camp star and should take pressure off starter Ryan Mathews. Expect to see Woodhead used in several different ways. He could be a poor man's Darren Sproles, perhaps.

Yes, tight end Antonio Gates hasn't had a superstar season in years because of injuries, but the team likes what they see from him. He may have another year or two left in the tank.

Ladarius Green, Gates' potential successor, is still growing. But he has shown flashes. He has natural pass-catching ability.

While there are questions at cornerback, the Chargers feel like Derek Cox and Shareece Wright will be an upgrade over last year's starting duo of Quentin Jammer and Antoine Cason.

Rookie quarterback Brad Sorensen has been up and down. He has a good enough arm to keep him on the 53-man roster.

Cornerback Johnny Patrick has looked good. He could see a lot of action in nickel situations.

Fifth-round pick Tourek Williams is getting looks at both defensive end and outside linebacker. The team would like for him to contribute at linebacker.

Robert Meachem, a big-money, free-agent bust last season, has been given new life after Alexander's injury. Still, I have my doubts that Meachem will make much of a difference. He hasn't been a standout in camp.
August, 7, 2013
8/07/13
12:00
PM ET
NAPA, Calif. -- The
Oakland Raiders
are basically starting over.

In the second year of the Reggie McKenzie-Dennis Allen era, the team has hit the reset button. The Raiders kept several high-dollar players at start of the post-Al Davis era in 2012 and saw their decade-long malaise continue. Oakland, which has not been to the playoffs since 2002, lost eight of its final nine games last season and finished 4-12.
McKenzie flushed several players in an attempt to get control -- finally -- of a salary cap that got away from the previous regime. The result is that Oakland, which will be in fine salary-cap shape next year, has questions throughout the roster heading into this season.
Yet, Oakland isn't ready to give up on another season, waiting for better fiscal times. Oakland is beginning the rebuilding process with several players handpicked by McKenzie and Allen.
The theme of these newcomers is the same: "They love football," Allen said.
Almost every time I've heard Allen talk in 2013, he has mentioned the will and desire of his team. Allen doesn't dwell on the past, but it is clear he didn't believe some of the players on his first Oakland roster would totally sell out for the game.
McKenzie said it was crucial to get high-character players in the building.
"This is the only way we are going to get this thing going," McKenzie said. "We need to get guys who want it. I think this team, as a whole, wants it. You need talent but you need high-desire players. Sometimes, that is more important than talent. Now, we have talent, but the key is to find guys who have both. We think we have the kind of guys who can be here when we turn this thing around."
It is doubtful Oakland will be a factor in the AFC West this season, but it's all about the building process. Having players whom McKenzie and Allen believe in is a start.
"We have to build a swagger," Allen said. "This team has to have a vision and a belief that this is going to be a good football team."
THREE HOT ISSUES
1. The quarterbacks:
Like most positions in Oakland, there is flux at the most important position on the field. The Raiders became a mystery at quarterback when
Carson Palmer
declined a pay cut. With a sudden hole, McKenzie turned to
Matt Flynn
in a trade with Seattle. Flynn was with McKenzie in Green Bay. He has two NFL starts under his belt, and he is 28. He has been the most consistent of the Oakland quarterbacks this summer, but he is far from dynamic.
[+] Enlarge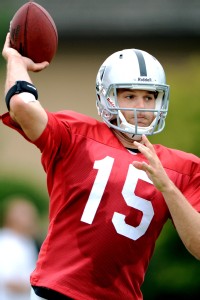 Kirby Lee/USA TODAY SportsMatt Flynn, who has started two games in a five-year career, has been the most consistent quarterback for the Raiders this summer.
The Raiders hope he can be a solid game manager and a short-term answer. He must show that in camp. The Raiders also have
Terrelle Pryor
and rookies
Matt McGloin
and
Tyler Wilson
. I get the sense that the Raiders have higher, long-term hopes for Wilson, although he has struggled some in camp. If Pryor can find some consistency and Flynn falters, he or McGloin could get a chance. But the same goes for Wilson, a rookie, if there are no better options later in the season. For the immediate future, the Raiders hope Flynn can show he can be an effective starter.
2. Will McFadden have an impact?
Running back
Darren McFadden
has long been Oakland's best player. The Raiders need him to regain form to ensure this offense can be competitive. If McFadden and the running game don't take off, there will be immense pressure on Flynn.
McFadden is looking for a bounce-back season. Oakland scrapped the zone-blocking scheme and will employ a power-blocking attack under new offensive coordinator Greg Olson. McFadden has had success in the latter scheme but must remain healthy regardless of scheme. He has missed at least three games in all five of his NFL seasons. If McFadden, who is in his contract year, can play at a high level again, Oakland's offense will have a fighting chance. This training camp is about getting him prepared to do so.
3. Where's the pass rush?
Defensively, camp is about trying to find a pass rush. Oakland had little pass rush last season, and the team did little to improve in that area in the offseason. The team's best pass-rushers are veteran
Andre Carter
and
Lamarr Houston
. But they are far from elite. Oakland has to find some pass-rushers to emerge in camp, and it also needs improved play in the secondary to help with the pass rush.
REASON FOR OPTIMISM:
The back seven on defense appears to be improved. Oakland may have as many as nine new starters on defense and six in the back seven. Oakland feels better about its overall depth at linebacker and in the secondary.
In fact, I get the sense that the team's brass is most excited about the linebackers and defensive backs.
The exact linebacker rotation is not clear, but the team is really high on middle linebacker
Nick Roach
and rookie outside linebacker
Sio Moore
. Roach has been a leader and has shown high intelligence. Oakland thinks Roach will set the tone for an improved defense. Moore, a third-round pick from Connecticut, has the look of a player who can make an instant impact.
Last season, Oakland's secondary was one of the worst in the NFL. That doesn't appear to be the case now.
The cornerbacks are much improved with veterans
Mike Jenkins
and
Tracy Porter
and rookie
D.J. Hayden
. The addition of safety
Charles Woodson
gives Oakland hope on the field and in the locker room.
REASON FOR PESSISISM:
The roster is not deep, and there are holes and questions all over.
There are some talented players, and some of these young players will emerge. But getting them ready in this camp is daunting.
The key in the NFL is depth. Injuries can occur at an alarming rate. The teams that survive are the teams with the deepest rosters. Oakland doesn't seem to have a deep roster. McKenzie acknowledges this.
[+] Enlarge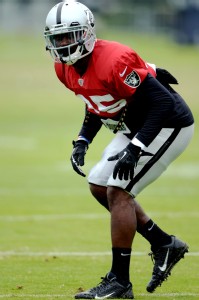 Kirby Lee/USA TODAY SportsFirst-round pick D.J. Hayden has the want-to attitude his coaches are looking for.
"I can't afford to get too many injuries," McKenzie said. "We have to stay healthy. If we do, I think we can be OK. Guys will emerge as camp goes on."
OBSERVATION DECK
The Raiders love Hayden's attitude. The No. 12 overall pick has the type of want-to attitude the team is looking for.

Cornerback Taiwan Jones, who switched positions from running back in the offseason, is a long shot. But because he plays so well on special teams, he has a chance to make the 53-man roster.

It is no sure thing that wide receivers Rod Streater and Denarius Moore will be strong starters this year, but both have big potential. Streater, an undrafted fee agent last year, looks particularly comfortable.

I love how center Stefen Wisniewski and left tackle Jared Veldheer are looking. These are two of the better young offensive lineman in the game.

I get the sense Allen is very pleased with this staff. This group seems like it is working well together.

The punting job probably will go down to the wire as Oakland looks to replace Shane Lechler, now in Houston. As expected, veteran Chris Kluwe has shown consistency, but Marquette King has a stronger leg. King has a chance if he can find consistency in the next several weeks.

Seventh-round pick and pass-rusher David Bass has shown some nice burst. He has a chance to develop.

The tight end position continues to be in flux. The team's four tight ends are David Ausberry, Richard Gordon and sixth-round picks Nick Kasa and Mychal Rivera. I'd say Ausberry is the favorite to win the job. Still, it is a work in progress.

The team likes what it sees in returner Josh Cribbs. He has a great attitude and is a good influence in the locker room.

Journeyman offensive lineman Alex Barron has looked good. Once considered a longshot to make the team, Barron has a chance to play a lot.
AFC WEST SCOREBOARD
Saturday, 12/20
Sunday, 12/21
Monday, 12/22