AFC West:

2013 NFL Week 10 Double Coverage
November, 8, 2013
11/08/13
10:00
AM ET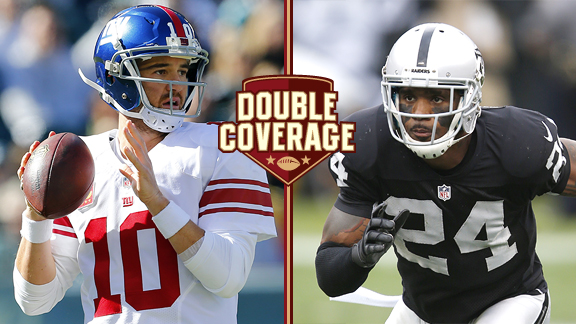 Getty ImagesEli Manning's Giants aim to maintain their momentum when Charles Woodson and the Raiders visit.
It will be a battle of teams looking to climb out of the cellar of their respective divisions as the 2-6
New York Giants
host the 3-5
Oakland Raiders
at 1 p.m. ET Sunday at MetLife Stadium in East Rutherford, N.J. The Giants have won two games in a row after an 0-6 start and are coming off their bye week. The Raiders just suffered their most embarrassing loss of the season, 49-20 at home to the
Philadelphia Eagles
.
Which last-place team will get the win Sunday at the site of Super Bowl XLVIII? ESPN.com Raiders reporter Paul Gutierrez and Giants reporter Dan Graziano break it down for you.
Dan Graziano:
Paul, I was a little surprised by how poorly the Raiders played Sunday. I knew they were a sub-.500 team, but I didn't think they were a terrible one. What was up with that defensive effort against
Nick Foles
and the Eagles?
Paul Gutierrez:
Dan, you're not the only one who was surprised by what the Raiders in general, and the defense in particular, put on the field against the Eagles. Everyone from coach Dennis Allen to veteran safety
Charles Woodson
wondered out loud if the defense got caught reading its clips from the week before. After all, the Raiders' D was playing lights out and was the team's strength, entering the game with the No. 10-ranked defense, despite 10 new starters.
Like boxing, styles make fights, and the Eagles' high-octane offense worked to near-perfection and dropped Oakland early and often. The Raiders were a step behind all game long, especially top draft pick
D.J. Hayden
, who was given the Elvis "Toast" Patterson treatment (I'm sure that name will elicit varied responses from Giants fans) by
Riley Cooper
and
DeSean Jackson
and gave up three completions to the two for a combined 139 yards and two touchdowns. In short, it was a complete meltdown by the entire defense, which had been feeling itself a little too much.
The Giants, though, seem to be heading in the opposite direction after that ghastly start. Do you get the sense they have righted the ship, or is it fool's gold after beating the hapless Vikings and then-hopeless Eagles?
Graziano:
It's unquestionably fool's gold. They beat the Vikings when Minnesota foolishly and inexplicably started an unprepared
Josh Freeman
at quarterback and beat the Eagles when they started a clearly injured
Michael Vick
and had to replace him with unprepared
Matt Barkley
. And it's not as though they looked especially good in either win.
Eli Manning
hit clumsy Minnesota defenders in the hands three times in that Monday night game and somehow still didn't get intercepted, and the Giants didn't score a touchdown in that 15-7 victory over the Eagles. They are a bad team with major problems at almost every position, and the fact that they've won two in a row after starting 0-6 doesn't make that go away.
That said, it's possible they'll get a gimpy
Terrelle Pryor
this week, right? (And maybe an
Aaron Rodgers
backup next week.) Pryor left against the Eagles with a knee injury. Do you expect that he'll play, and assuming he does, what kind of special problems does he present for a Giants defense that has been getting fat on the likes of Freeman and Barkley?
Gutierrez:
Pryor said after the game that his knee was fine, that treatment and ice and the like were all "precautionary," that his knee was not "wobbly" or anything like that. The Raiders were going to take him out of the game for those last two series of a blowout anyway. While Pryor did not speak at the facility Monday, he was walking around the locker room and was not wearing a brace. He should be ready to go.
Then again, if there is even the slightest hitch in his giddyup, that could spell trouble since his running game is his strength. The problems he presents defenses are not unique for a team like the Giants, who already face the read-option from Washington's
Robert Griffin III
(when healthy). But Pryor's combination of size and speed is what makes him unique, or did you miss his 93-yard touchdown run against the Pittsburgh Steelers in which he looked like he was coasting but actually was pulling away from defenders? Earlier in the year, the Raiders' coaches wanted him to run more to take advantage of his strength. Now, Allen said Pryor has to trust the process more, from the protection to his reads. This should be interesting to see how Pryor soaks it all in.
Then again, it will be interesting to see how the Giants' defense responds to Pryor. The Steelers and Eagles had some success in keeping him under wraps by putting a spy on him, challenging him to beat them with his arm. Would the Giants employ such a tactic and who would that spy be, or would they rather play him straight up?
Graziano:
It's a good question, though they don't seem interested in giving away the answer just yet. In the past year, they have played guys like Vick and RG III without a spy and have paid the price. Vick ran for 79 yards against them in the first half in Week 5 before pulling his hamstring.
If they do change it up and decide to spy Pryor, the most likely candidate would be linebacker
Jacquian Williams
, who has good sideline-to-sideline speed. They tend to like to use him to cover tough tight ends, but it's possible that the Raiders' receiving options will allow them to get everyone covered with their nickel-safety or nickel-corner package with Week 8 NFC Defensive Player of the Week
Terrell Thomas
covering the slot. That might free up Williams to spy Pryor, which I think would be a good idea. But the Giants can get stubborn at times, and it's possible they'll decide to play him straight up. I would like his chances of picking up yards on the ground on the outside if they did.
Manning hasn't thrown an interception in his past two games, but he still leads the league with those 15 he threw in the first six weeks. The Giants have been vulnerable to A-gap pressure due to the fact that they're using backups at center and right guard, and as a result, Manning has been uncomfortable in the pocket all season. The lack of a run game has hurt his play-action passing game too. Are the Raiders going to be able to pressure him better than they did Foles? Or will Eli have an easy day?
Gutierrez:
Using the past-is-prologue approach and sprinkling in the notion that hindsight is always 20/20, the Raiders simply have to put pressure on Manning. Allen acknowledged the Raiders did not bring enough pressure to disrupt Foles, and when they did, he simply rolled out and found a target downfield. The Raiders seemed to have learned their lesson, but we'll see. Against the Eagles, they went away from being their normal, blitz-happy selves by rushing just three at times and sitting back in coverage. Foles ate them up. And Foles is no Manning. (You can't spell "elite" without "Eli," right?)
I would expect defensive coordinator Jason Tarver to dial up the blitzes again and send anyone at any time -- unless the Giants start running a no-huddle, hurry-up offense to rattle the Raiders. Keep an eye on right defensive end
Lamarr Houston
, who leads the Raiders with four sacks but was slowed by a right hamstring issue against the Eagles. In fact, 11.5 of Oakland's 23 sacks have come from their front four.
The Raiders -- Hayden in particular -- had problems in coverage against the Eagles. Whom would the Giants deploy to take advantage of Hayden, who usually plays on the outside in nickel packages? Might the Giants put the physically imposing
Hakeem Nicks
out there?
Graziano:
Yeah, Nicks plays on the outside with
Victor Cruz
in the slot and
Rueben Randle
on the other side when they go three-wide. But Nicks hasn't been himself. He's still capable of outfighting defenders for the ball and could be a tough matchup for Hayden, but he doesn't seem able to separate anymore and has had uncharacteristic issues with drops. He won't admit it, but he's playing like a guy in his walk year whose long-term future is on his mind. It's been one of many problems the Giants didn't anticipate, and if he has a big game against the Raiders, it'll be his first. He still doesn't have a touchdown this season.
Anyway, nice chatting with you, Paul. Travel safely, and I look forward to seeing you at the game Sunday.
November, 8, 2013
11/08/13
10:00
AM ET
Since
Peyton Manning
's arrival, the
Denver Broncos
own the AFC West, posting a 7-0 record against division foes.
Coming off a bye week, the 7-1 Broncos should be well-rested when they travel to San Diego to take on the Chargers at Qualcomm Stadium on Sunday. At 4-4, the Chargers look to stay in the AFC playoff hunt with a win, one of five AFC West contests left on their schedule.
Chargers defensive coordinator John Pagano faces the daunting task of trying to slow down a Denver offense that is No. 1 in the league in scoring (42.9 PPG), third-down efficiency (50.5 percent) and red zone efficiency (78.4 percent).
ESPN.com Chargers reporter Eric D. Williams and Broncos reporter Jeff Legwold break down the matchup:
Williams:
With coach John Fox out indefinitely after having heart surgery over the weekend, the Broncos have named Jack Del Rio as interim head coach. Jeff, how have players reacted to the situation? And how will this change the team's game-day management, including who calls the plays defensively and decisions like whether or not to go for it on fourth down?
Legwold:
The defensive players like Del Rio's no-nonsense, show-me approach, and that's the message they've given the rest of the locker room. Del Rio has a clear set of expectations for the defensive guys and hasn't wavered from it, and if guys do what they're supposed to do, they play regardless of their contract or draft standing. Players like that and respond to it. Denver is his second stop with Fox, so he will stick to the plan and not much will change in the players' day-to-day lives in terms of football. On game day, Del Rio will still make the calls on defense, but since he can't simply turn away and go talk to the defensive players when the offense is on the field as he had been doing, he will lean on linebackers coach Richard Smith to do a little more on the sideline as well as the other position coaches. But Del Rio, with nine seasons as the Jacksonville Jaguars coach on his résumé, will run the show on game day when it comes to timeouts, replay challenges and other in-game decisions.
Looking at the coaches, how much of what Mike McCoy has implemented in his first season with the Chargers came from his time with Fox, including McCoy's three seasons with Fox and Josh McDaniels?
Williams:
I would say McCoy gleaned some of his core coaching philosophies from Fox. McCoy worked with Fox in Denver and Carolina for nine seasons. McCoy is a straight shooter who focuses on accountability, bringing the best out of his players and attention to detail. But he's also tried to create a family-type atmosphere and empower the players to emerge into leadership roles. Certainly, McCoy also picked up a few things while working with a creative offensive thinker like McDaniels, bringing some of those concepts and schemes with him to San Diego. Through the midpoint of his first season, players seem to have bought into McCoy's philosophy.
Manning is once again putting up eye-popping numbers in his second season in Denver. It's hard to believe Manning could get better, but how much more comfortable is he with the offense with another year under his belt?
Legwold:
Manning is all about planning and preparation. When people ask him if he's got better timing with his receivers, he'll usually answer that it takes years to build real chemistry. But there is no question his improved comfort level with his surroundings in Denver can be seen in his play. After eight games, his 29 passing touchdowns are more than any other team has scored to that point. They've had some injuries up front and he's taken a little more punishment than they would like over the past three games, but they can challenge all parts of the field in the passing game. And when they move as fast as they can in the no-huddle, Manning has been at his best. He's difficult to fool, and defenses have struggled all season to find the right balance of coverage or pressure against him.
McCoy has always been good at adapting what he wants to do on offense to the quarterback he has behind center. He did that in catering offenses for
Tim Tebow
and Manning in back-to-back seasons. How much has he helped
Philip Rivers
?
Williams:
Rivers is a new man. He finished with double-digit interceptions for three years in a row heading into the 2013 season. But he's displayed better decision-making this season in McCoy's and offensive coordinator Ken Whisenhunt's new scheme. Even though Rivers has seven interceptions through eight games, he leads the league in completion percentage (72.2), showing a willingness to take the checkdown. The Chargers implemented more of a rhythm passing game, focusing on Rivers getting the ball out quick and letting his receivers do the work. And he's also been given more freedom to call plays at the line of scrimmage. As you mention, McCoy at his best is tailoring an offense to perfectly match the skill set of his quarterback, and that certainly is the case with Rivers this season.
Defensively, Denver is giving up 299 passing yards and allowing 27.3 points a contest. But the Broncos have a respectable 37.5 third-down defense percentage. Is this defense good enough for Denver to make a deep playoff run?
Legwold:
That is the question the Broncos have to answer if they are really to be in the Super Bowl hunt. They have a historic offense that can score from anywhere, any time. They have quality special teams, front to back, from the kicking game to coverage units, and have blocked two punts already this season. Defensively,
Von Miller
missed six games with a suspension and hasn't played at his 2012 level since his return, and
Champ Bailey
has played in just two games because of a foot injury. That's a lot of impact on the sideline. In their absence, the Broncos didn't always consistently pressure opposing passers and teams have thrown it plenty trying to play catch-up with the Broncos' offense. But if they are really going to be in the Super Bowl mix, their defense will have to be more than it has been over much of the season's first half. It showed some teeth in a win over the Redskins just before the bye, holding Washington to 266 total yards.
Shaun Phillips
, with 6.5 sacks over the season's first half, helped the Broncos cover for Miller's absence early on. Did the Chargers believe he could reach that level when they didn't re-sign him?
Williams:
That's a fair question because San Diego certainly could use that production from Phillips. The Chargers had younger players like
Melvin Ingram
and
Larry English
ready to emerge, along with signing savvy veteran
Jarret Johnson
to a four-year deal in free agency leading up to the 2012 season. So Phillips likely would have had a limited role in San Diego. However, Ingram suffered an ACL tear in his left knee in May. The Chargers promptly signed
Dwight Freeney
to replace him, but the team's best pass-rusher suffered a torn quad against Dallas on Sept. 29, leaving San Diego's cupboard pretty bare at edge rusher. Johnson and defensive end
Corey Liuget
lead the team in sacks with just three each.
Miller has just one sack and seven tackles in two games since returning from a suspension. Is he still shaking the rust off? How important is Miller playing at an elite level to the improvement of Denver's defense?
Legwold:
Opinions vary a bit around the league about how Miller has played in his two games back. Many personnel executives, citing what Miller has called an intentional 10- to 15-pound weight gain during his suspension, see a lack of the explosiveness and flexibility that made him special in his first two seasons. Their thought is he should lose the weight and play lighter. A few others are willing to wait and see, offering it might just be rust. But even some of Miller's current, and former, teammates have said the same thing, that he's had moments when he's looked himself but overall has not been nearly as explosive as he was down in and down out in 2012. The Broncos have even taken him off the field for a selection of snaps over the past two games, including in the base defense and a few pass-rush situations. It hasn't been many snaps, but it is an indication he's not yet at the level they want him to be, or they wouldn't be using other players in a smattering of down-and-distance situations.
With the Chargers' injuries along the offensive line, how have they tried to protect Rivers, and has Rivers adjusted his game because of those issues up front?
Williams:
Veteran center
Nick Hardwick
really has been the key to the stability up front. Hardwick is the only offensive lineman who has started every game this season. He helps Rivers with the pass protections and blitz pickups. San Diego has played five starting offensive line combinations in eight games this season, including five players at left tackle. But offensive line coach Joe D'Alessandris has done a nice job of creating some versatility within his group by having players learn multiple positions. Even with the injuries, San Diego's offensive line continues to play at a high level, allowing just 12 sacks through eight games. Rivers taking shorter drops and getting the ball out quickly also has helped keep the sacks down.
The development of Denver tight end
Julius Thomas
, a former basketball player at Portland State, and the emergence of former first-round draft pick
Knowshon Moreno
has been fun to watch from afar. Thomas is second on the team in touchdown receptions with eight, while Moreno has 743 yards from scrimmage and nine total touchdowns. How have these two earned the trust of Manning?
Legwold:
Former Broncos wide receiver Brandon Stokley, a close friend of Manning's and a longtime teammate, said it best. Stokley always said the easiest way to earn Manning's trust is "to be in right spot, where he expects you to be, every single time. If you do that, you'll get the ball. If you don't, you won't be in there." Thomas, who is often overwhelmed when asked to block, is a difficult matchup for defenders and has worked plenty with Manning in terms of route running and understanding what Manning sees against certain looks on defense. Thomas has good hands and will fight for the ball in traffic, so Manning will throw to him even if Thomas doesn't have a lot of room to make a play. Moreno is a testament to hard work and getting up off the deck. He was a game-day inactive for eight games last season after an early-season fumble, and his roster spot was shaky when training camp opened this summer. But he never complained or blamed anybody else. He just worked. He is the most reliable of the team's backs in pass protection, is a quality receiver and has run hard when he's had the opportunity. He will likely see the ball more in the second half of the season.
In terms of the running game, do the Chargers still see
Ryan Mathews
as a lead back, or is the fact they didn't give Mathews the ball in a first-and-goal situation last weekend an indication they don't?
Williams:
McCoy praised Mathews' effort and ability to gain tough yards. He's the leading rusher on the team with 480 yards (4.1 yards per carry) and had back-to-back 100-yard rushing games for the first time since 2011. Mathews has played in every game and fumbled only once this season.
But the fact that Mathews does not have a goal-line carry this season, including last Sunday when the Chargers failed to score three times from a yard out at Washington, cannot be overlooked. McCoy has trust issues when it comes to giving the ball to Mathews near the goal line. According to ESPN Stats & Information, the Chargers are 2-of-11 (18 percent) on plays from a yard out this season, the worst in the league. Giving the ball to Mathews in those situations could help rectify that issue.