AFC West:

2013 NFL Week 13 Double Coverage
November, 29, 2013
11/29/13
12:00
PM ET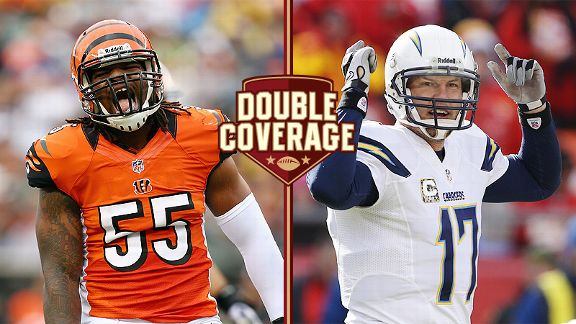 AP PhotoVontaze Burfict and the Benglas travel to face Philip Rivers' Chargers in a game with AFC playoff implications.
The
Cincinnati Bengals
travel to San Diego on the team's longest road trip this season to face a Chargers team that's re-energized after a big win on the road against AFC West rival Kansas City.
The Bengals lead the AFC North at 7-4, but will have to hold off hard-charging division rivals Baltimore and Pittsburgh down the stretch for the division title.
Cincinnati should be well-rested coming out of a bye week. But the Bengals have struggled under coach Marvin Lewis in those situations, posting a 3-6-1 record during his tenure after bye weeks.
At 5-6, San Diego needs a win to stay in the hunt for the final AFC wild-card berth. The Chargers finish with four of their final five games at Qualcomm Stadium.
ESPN.com Chargers reporter Eric D. Williams and Bengals reporter Coley Harvey break down the matchup:
Williams:
Coley, what's going on with
Andy Dalton
? In the past three games, he's thrown eight picks versus just five touchdowns. He's been sacked 10 times during that stretch, posting a nose-pinching passer rating of 55.7. The Bengals are 1-2 in their past three games. Can Cincinnati make a deep playoff run with this guy?
Harvey:
Very good question, Eric. If you pose that question to fans, you'll get a resounding ... well, maybe you don't want to hear their answers. While Dalton has his supporters, the naysayers have all the clout right now and with good reason. His November numbers, particularly when compared to his red-hot October that saw the Bengals win four games before Halloween, have folks here somewhat discouraged when they think about Dalton being behind center when the postseason begins. Dalton has run into a tough combination of awful late-season weather and a slew of blitz-happy teams. Five weeks ago, in arguably his best game of the season, Dalton aired it out for 323 yards and five touchdowns. Receiver and Southern California native
Marvin Jones
was his favorite target. He faced a Jets defense that primarily rushed with its stout defensive line. Since then, the Dolphins, Ravens and Browns have brought pressure from multiple angles. Combined with windy conditions in the latter two games, Dalton just hasn't played like he did a few weeks earlier.
Bengals fans definitely were watching the conclusion of Sunday's Chargers-Chiefs game, and many came away with one question following
Philip Rivers
' impressive comeback drive: Who is this guy? It seems that after a comparatively down season last year, Rivers is enjoying a true renaissance. What explains his play this year? I see his sacks are down. Does improved offensive line play have anything to do with it?
Williams:
It's really been a combination of things. First, coach Mike McCoy and offensive coordinator Ken Whisenhunt tailored the offense to accentuate the strengths of Rivers' skill set -- accuracy on short-to-medium throws and decision-making. Rivers makes more calls at the line of scrimmage this season, and he's getting the ball out quickly. The result has been a career-high 70.8 completion percentage. As you mentioned, the offensive line has done a much better job of protecting Rivers, allowing just 20 sacks this season (No. 4 in the NFL). Tight end
Antonio Gates
is healthy and back to playing at a Pro Bowl level. And running back
Danny Woodhead
, along with receivers
Keenan Allen
and
Eddie Royal
, is good at creating explosive plays with his legs after the catch.
The progress of middle linebacker
Vontaze Burfict
has been interesting to watch from afar. Teams passed on the Arizona State product because of perceived attitude and work ethic issues. But Marvin Lewis took a chance on him as an undrafted rookie free agent in 2011. And Burfict appears to have thrived under Lewis' mentorship. What type of impact has Burfict had on the performance of Cincinnati's defense?
Harvey:
My instinct is to say that Burfict is the Cincinnati defense. With a league-leading 118 tackles and on pace for more than 170, Burfict has been the pacesetter in the heart of one of the NFL's best units. He's the true definition of an enforcer and has become a modified
James Harrison
. He's just as intimidating as Harrison, the Cincinnati strongside linebacker who was signed in the offseason. He's becoming just as feared, too. Asked earlier this week about the league's most feared players, some Bengals wanted to add Burfict to that list. Still, I can't in good conscience say he is the defense because the Bengals have been forced into making a slew of key adjustments throughout the course of the season. Without Pro Bowl tackle
Geno Atkins
, veterans
Leon Hall
and
Robert Geathers
, and the versatile
Taylor Mays
, the Bengals have still maintained their ranking among the league's top 10 defenses.
San Diego has some impressive wins this season. Obviously one of them came last week against the Chiefs, and another against the Colts last month. The Chargers have had some head-scratching losses, too. Dropping games to the Texans and Redskins probably isn't helping their playoff chances. What do you think explains the inconsistency?
Williams:
McCoy is in the process of creating an identity for this team, which has led to some questionable decision-making at times in close games. The most obvious example is San Diego's failure to make what would have been a winning score from a yard out against Washington. After failing to get in on three chances, the Chargers settled for a field goal and lost in overtime. McCoy didn't hand the ball to every-down back
Ryan Mathews
once during that play sequence. The Chargers have struggled to close out games in McCoy's first year. In four of the team's six losses, San Diego has had the ball on the final drive with a chance to tie or win the game in regulation. The Chargers are playing a lot of young guys on both sides of the ball, which leads to inconsistent play.
How have the Bengals made up for the absence of the team's best defensive player in Atkins, who suffered a season-ending ACL knee injury?
Harvey:
In order to absorb the loss of Atkins, the Bengals have moved backup tackle
Brandon Thompson
into the All-Pro's spot. A second-year lineman out of Clemson, Thompson had already been playing well before he was called upon to fill in for Atkins, but he's been even better since moving into the starting lineup, plugging holes and springing linebackers like Burfict and
Vincent Rey
for big tackles and sacks. Along with moving Thompson into a bigger role, the Bengals have plugged in some defensive ends such as
Wallace Gilberry
and rookie
Margus Hunt
into Atkins' position.
This week, though, the Bengals appear to have a little good news on the injury front. Defensive tackle
Devon Still
is expected to return from a dislocated elbow that he suffered against Detroit.
The Bengals can get production from a host of playmakers in their multiple-threat offense. The Chargers seem to have a similar combination of receivers and running backs and, of course, Gates. What does San Diego's offensive identity appear to be? Is it safe to consider it a team set on spreading the ball and points around?
Williams:
I think that's fair. The Chargers run an up-tempo offense predicated on quick throws and getting the ball into the hands of playmakers like Allen, Royal and Woodhead. Like any NFL offense, San Diego wants to find matchups it can win each week, so the player who ends up with the most catches changes from week to week. While San Diego is a pass-first offense, McCoy also wants to create balance, which means using a power running game to complement what the Chargers do in the pass game. This season, San Diego has done that well with Mathews rushing for 731 yards in 11 games, averaging 4.4 yards a carry. Mathews' effectiveness has helped San Diego keep opposing defenses honest.
November, 29, 2013
11/29/13
10:21
AM ET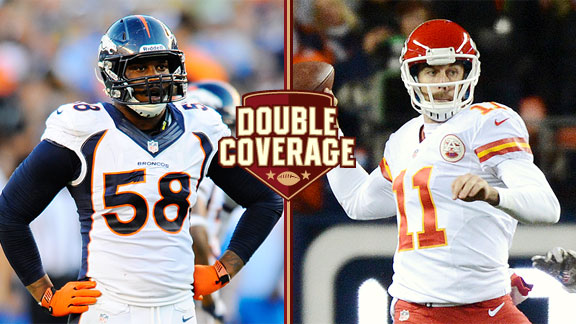 USA Today SportsFirst place in the AFC West is on the line when Von Miller's Broncos meet Alex Smith' Chiefs Sunday.
Much has changed since the
Kansas City Chiefs
and
Denver Broncos
first squared off two weeks ago. The Chiefs, 27-17 losers to the Broncos on Nov. 17, have dropped another game since and have seen their defense collapse. Their two best pass-rushers, outside linebackers
Justin Houston
and
Tamba Hali
, are injured. Houston is unlikely to play and Hali's status also remains up in the air.
The Broncos, meanwhile, also collapsed last week, blowing a 24-point halftime lead and losing in overtime to the Patriots in New England. Both teams are 9-2, so first place in the AFC West is on the line.
Here, ESPN.com Chiefs reporter Adam Teicher and Broncos reporter Jeff Legwold discuss Sunday's game.
Teicher
: Jeff, given how some things have changed since the teams played a couple of weeks ago, would you expect
Peyton Manning
and the Broncos to change how they attack the Chiefs this time around?
Legwold
: Adam, I wouldn't. They have stayed in their three-wide set through concerns about Manning's health, their pass protection and blitzing defenses. And they ran all but 10 plays out of the three-wide set against the Chiefs two weeks ago. They did try to run more against Kansas City than they had in previous games, particularly with Manning in the shotgun; they had 22 rushing attempts the last time they faced K.C. with Manning in the shotgun. They'll likely do the same, but will test the edges of the Chiefs' formation to see if the injuries have affected things there. They rushed for 280 yards against the Patriots this past Sunday, a total that was hidden in the loss, but if they can move the ball in the run game, the offense is that much more difficult to deal with.
With those injury concerns on defense for the Chiefs, would they have to take more chances to come after Manning?
Teicher
: I would think so. They certainly came after
Philip Rivers
with a lot of different things in last Sunday's game. They just weren't effective. Rivers was very candid about things after the game, saying the Chargers emphasized having their backs help in pass protection against Houston and Hali before the injuries but they got away from that after Houston and Hali left the game. I would expect the Chiefs to change things up quite a bit against Manning this time: blitz some, play some coverage, maybe even mix in some zone. They haven't played much zone coverage all season but they may have no choice on Sunday. Their cornerbacks were horrible in coverage and the safeties often took bad angles to the receivers. The Chiefs allowed 228 yards after the catch.
Big game for
Von Miller
in New England the other night. I'm guessing it was his most productive of the season. He certainly didn't get much done against the Chiefs the last time. Was it a case of him taking advantage of favorable matchups against the Patriots or is it just a matter of getting that readjustment period out of the way?
Legwold
: Likely a little of both. He was a terror in the first half as he forced a fumble to go with two sacks and a 60-yard fumble return for a score. He was the best player on the field in those opening minutes when the Broncos opened up a 17-0 lead that grew to 24-0 at halftime. He beat Patriots left tackle
Nate Solder
with both power and speed in those opening segments. But the Patriots picked up the pace on offense a bit in the second half, spreading things out more with some empty sets and forcing the Broncos to rush with fewer people at times. Miller had some quality rushes in the second half as he forced Brady to deliver the ball early on a smattering of occasions, but he did not sack Brady after the initial flourish and the Broncos didn't have a sack in the second half of regulation or overtime. Miller looked better -- consistently quicker, more explosive -- but he has yet to put together a full game like the Broncos want to see. In fact until the New England game Jack Del Rio had graded Miller's play as "OK." The Broncos need something consistently more than OK coming down the stretch.
After so many good things that happened during the 9-0 start, how have the Chiefs dealt with back-to-back losses?
Teicher
: We're about to find out. I think the Chiefs are still stunned after losing their two top pass-rushers and a double-digit lead against the Chargers. They were certainly stunned after the game over how poorly their defense played. If there was something positive to come out of the Chargers game, it was that their offense was able to keep up. They scored five offensive touchdowns, topping their previous season high of three, and drove down the field for the go-ahead TD with about a minute and a half left. So they should have some confidence if Sunday's score climbs beyond a certain point. But between the injuries to Houston and Hali, an already sluggish pass rush, horrendous play in the secondary and the quality of the upcoming opponent, the Chiefs suddenly have a lot to sort through on defense.
Likewise, how confident will the Broncos be after coughing up a 24-point halftime lead in New England?
Legwold
: Del Rio came right out of the gate Monday, just hours after the team had landed at 5 a.m. or so Denver time, in full keep-your-composure mode, essentially saying his message to the players was to avoid the "we're the greatest" chatter they've heard after wins as well as avoiding the "we're the worst" feeling after a loss like Sunday's. They took some solace in Manning putting together a big-time drive late in the fourth quarter to tie the game at 31-31. After that they slugged it out in overtime until a special-teams gaffe gave the Patriots the field position they needed for the win. There may have been more of a hangover if they had an opponent other than the Chiefs on the schedule this week. The potential to position themselves for the division title against the Chiefs got their attention quickly. They need a big game from Manning, however. He sets the tone for this group and Sunday night was a struggle for the passing games at times in the bitter cold.
The Chiefs challenged the Broncos' wide receivers plenty in man coverage two weeks ago. Given how the past two games have gone, would you expect them to do that again?
Teicher
: That's how the Chiefs have defended all season and how they are built, so it's difficult to picture them going in a drastically different direction on Sunday. Just two weeks ago, the Chiefs thought they had the perfect big, physical cornerbacks in
Sean Smith
and
Marcus Cooper
to match up with
Demaryius Thomas
and
Eric Decker
and the right slot cover guy in
Brandon Flowers
to match up with
Wes Welker
. Maybe what they saw two weeks ago in Denver or last week against the Chargers was enough to change their minds about how to best handle Manning and his receivers. But I doubt it. They might mix some things a little more than last time but I seriously doubt we'll see a wholesale change.
November, 27, 2013
11/27/13
7:00
PM ET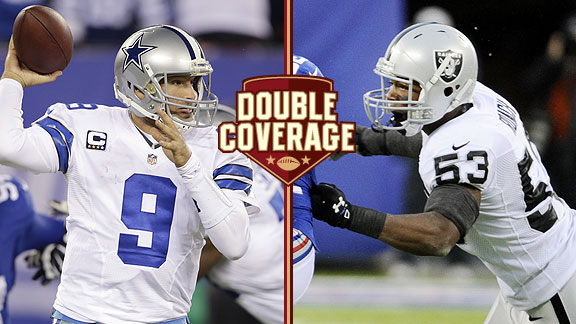 AP PhotoTony Romo's Cowboys host Nick Roach and the Raiders in a Thanksgiving Day duel.
IRVING, Texas -- For the second time in five years, the
Dallas Cowboys
and
Oakland Raiders
meet on Thanksgiving at AT&T Stadium.
The Cowboys won the 2009 matchup 24-7 with
Tony Romo
throwing for 309 yards and two touchdowns and
Miles Austin
catching seven passes for 145 yards. Since that game Austin has had more yards in a game just twice.
ESPN.com's Raiders reporter Paul Gutierrez and Cowboys reporter Todd Archer bring you this week's holiday version of Double Coverage.
Todd Archer:
The Cowboys are bad in most areas defensively, but they have given up 200 yards rushing in three games this season. The Raiders' strength, from afar, seems to be their running game. What makes it so good and how has it differed with
Terrelle Pryor
out?
Paul Gutierrez:
Hey, Todd, it's not just Pryor being out, but also
Darren McFadden
, who has missed three straight games and four overall with a strained right hamstring. He said Monday night he hopes to play after practicing (limited) for the first time since Nov. 1. The run game, though, has not missed a beat with underrated
Rashad Jennings
picking up the slack. In the past four games, he has run for 413 yards while averaging 5.7 yards per carry. In fact, the running game has been so surprisingly solid without McFadden and Pryor that the play-action pass game has picked up with undrafted rookie
Matt McGloin
under center.
Speaking of passing games ... no doubt Tony Romo can rack up stats, but has he decided to assume more of a leadership role yet as the QB of America's Team, or is that just not in his makeup?
Archer:
He has developed over the years as a leader, but there's no question that this has been "his" team the past three seasons. He is the veteran. He is the guy the Cowboys look to. The guys on this team now don't know of the Romo who burst on the scene in 2006 or had to deal with the
Terrell Owens
stuff. He's the guy who led the lockout practices and has been the big voice in the room. This year he has been given the added responsibility of being more involved in the game plan. The Cowboys' past two wins have come on last-minute drives led by Romo to beat Minnesota and the
New York Giants
. I don't think there's anybody questioning his leadership anymore. And if they did, well, the $106 million extension Jerry Jones gave him in the offseason should be more than enough proof to those guys that this is Romo's team.
Let's stick with the quarterback theme. Before the Cowboys lucked into Romo, they ran through a ton of guys after
Troy Aikman
's departure. Is there any reason to believe McGloin or Pryor can be a solution or do the Raiders need to go after one of these guys in next April's draft?
Gutierrez:
Well, the way I put it earlier in the season, before Pryor hit his purported ceiling and sprained his right knee, robbing him of his greatest strength (running) while accentuating his biggest weakness (passing), if Pryor was not the Raiders' Mr. Right, he was their Mr. Right Now. McGloin is a pure quarterback, a pocket passer whom Dennis Allen prefers for what he wants to accomplish offensively. It's hard to give Allen and GM Reggie McKenzie much credit for their evaluation of QBs, though, what with their misses on
Matt Flynn
and
Tyler Wilson
, not caring much for Pryor early on and then, similar to the Cowboys with Romo, stumbling upon McGloin. But it's hard to see them going all in with the undrafted rookie from Penn State, too. At least hard at the moment. Unless McGloin continues to improve and wins a few games, it would behoove the Raiders to draft another QB if they see one as a can't-miss prospect. I know, I know, they really wanted USC's
Matt Barkley
but Philadelphia traded in front of them so they traded back and selected Wilson. Oops. There is no doubt, though, that this Raiders regime prefers McGloin as a prototypical QB over the more electric Pryor.
No matter who is under center for Oakland, though, the Raiders' QB is going to have to keep an eye on
DeMarcus Ware
. Is he rounding back into shape as a dominant pass-rusher, or is he more decoy as he rehabs from his quad strain?
Archer:
I think he's still feeling his way through it. The fact that he made it through the Giants game healthy was a plus. He has been dinged up in just about every game with stinger and back strains earlier in the season before the quadriceps injury. We'll see how he fares on a short week, but the defense is a lot better with even the threat of Ware on the field.
Jason Hatcher
had two sacks against the Giants at least in part because of the attention Ware received. Ware has talked about wanting to make up for lost time. He has five sacks so far, his fewest this late in a season since his rookie year in 2005. Thursday would be a good time to look like the DeMarcus Ware of old.
This game is a homecoming of sorts for guys like
Mike Jenkins
,
Andre Gurode
,
Kevin Burnett
and Tony Sparano, but it's a real homecoming for Dennis Allen. How is he perceived in Oakland and will McKenzie be more patient with him than, say, Al Davis would have been?
Gutierrez:
The jury, so to speak, is still out on Allen in the streets of Silver and Blackdom. Of course, when the Raiders win a game, he's the man. When he loses, the fans turn on him and start pining for Jon Gruden ... again. But isn't that the nature of the beast? Even Allen himself said this was a results-oriented business. Of course, he was referring to the quarterback position at the time, but it still applies. Make no mistake about it, Allen is McKenzie's "guy" and he's going to roll with him and have patience with him. The plan coming in was to give Allen at least three years to right this ship and really, the only thing that could damage Allen's chances of lasting another year would be if the team quit on him, like it did last November before playing hard again at the end. Then again, it might not be McKenzie's choice. Owner Mark Davis is a more patient owner than his father and wants McKenzie to handle all football-related decisions. But a year after stating he was fine with just about anything but regression, Davis wants progress. Stagnancy won't cut it, either. So, stay tuned.
Sticking with the coaching theme, is Jason Garrett in Jerry World for the long haul, or was Jerry Jones' support merely the dreaded vote of confidence?
Archer:
Jerry has publicly backed Garrett, but he's also been a guy who's said, "Just because I say something, doesn't mean it's true." I do know this: He wants Garrett to be the guy. He desperately wants it to work. I really believe that. He believes in Garrett's approach and how he builds a team. Garrett will provide some blow-back to Jerry but not as much as, say, a Bill Parcells. Garrett knows what makes Jerry work and knows how to work around it to a degree or push Jerry in a certain direction. Honestly, Cowboys fans should want the Garrett deal to work out because it might be the best combination to mitigate the bad parts of Jerry and keep the good parts of Jerry.
AFC WEST SCOREBOARD
Saturday, 12/20
Sunday, 12/21
Monday, 12/22