AFC West:

2013 NFL Week 3 Double Coverage
September, 20, 2013
9/20/13
12:00
PM ET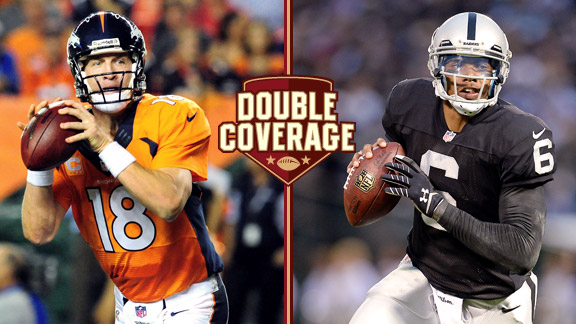 Getty Images, AP PhotoPeyton Manning and the Broncos look to improve to 3-0 as they face Terrelle Pryor and the division-rival Raiders.
The
Denver Broncos
and
Oakland Raiders
open up AFC West play with a Monday night affair at Sports Authority Field at Mile High -- an 8:40 p.m. ET kickoff with the ESPN crew on hand.
The Raiders have played hard for coach Dennis Allen and sit at 1-1 after a win over the low-octane
Jacksonville Jaguars
last weekend. The Broncos intercepted
Eli Manning
four times on the way to a win over the
New York Giants
that moved them to 2-0.
Raiders team reporter Paul Gutierrez and Broncos team reporter Jeff Legwold break down this week's edition of a long-simmering rivalry between the longtime division foes.
Legwold:
After seeing
Peyton Manning
twice last season, Dennis Allen certainly knows the kind of problems the Broncos create for defenses. He also knows Denver's first-year offensive coordinator, Adam Gase, very well. What does Allen think of the Broncos running their high-speed attack at altitude and the challenge it will be for a defense that got a big makeover in the offseason?
Gutierrez:
There is no doubt that this will be a huge test for the rebuilding Raiders in general and Dennis Allen and defensive coordinator Jason Tarver in particular. This is especially true with strong safety
Tyvon Branch
out for an indefinite amount of time with a broken leg. Not only is Branch the highest-paid Raider this season at $9.5 million, but he also started 63 of the Raiders' past 66 games and was one of just two returning starters on defense.
While Oakland is tied for the league lead with nine sacks, five of them have come from defensive backs, and we all know how adept Manning is at picking up blitzes. So the Raiders, who will be mostly in nickel packages, will have to pick their spots wisely against Manning and that pass-happy offense while trying to get their first turnover of the season. They will need to continue to build an identity of a defense that flies to the ball, mile-high air be damned. Manning looks to be better than ever, yet there's still the question of how his body is going to react to a brutal blind-side hit. Have the Broncos taken any extra measures to ensure that does not happen, or is that not even a concern for him anymore?
Legwold:
They are concerned any time Manning takes a hit. During the preseason loss in Seattle, rookie running back
Montee Ball
missed a blitz pick-up and Manning took what was one of the biggest hits of his tenure in Denver. When the Broncos go to its three-wide set, the team places on emphasis on pass-protectors in the backfield. That's a big reason why running back
Knowshon Moreno
has played most of the snaps when they have been in their three-wide look. But overall Manning is stronger this season. The receivers say his arm is stronger as well. Throw in his increased comfort level with the city, the team, the offense and his receivers, and you see why he has thrown for nine touchdowns in two games. Sticking with the quarterbacks, why do you think Allen went with
Terrelle Pryor
as the starter and what can folks in Denver expect from him?
Gutierrez:
The decision to start Pryor was made for Allen. And no, I'm not talking about owner Mark Davis meddling in football affairs, although it is known throughout Silver-and-Blackdom that the Son of Al does like Pryor's potential. A brutal preseason showing by quarterback
Matt Flynn
forced the decision for the Raiders. I might argue that Flynn is actually a better, more polished NFL quarterback at this moment than Pryor. But with the injuries on the offensive line at the end of camp, no time for Flynn to set up in the pocket and the lack of a true No. 1 receiver, Pryor and his ability to extend plays give the Raiders the best chance at success.
He almost pulled off the upset in the opener at Indianapolis, passing for 217 yards and running for a franchise quarterback record 112 yards. Still, two red-zone interceptions were too much to overcome. He was not as electric in the Raiders' home opener against Jacksonville but he did not have to be. Not with
Darren McFadden
breaking out for 129 yards on the ground. Pryor wants to be a prototypical pocket passer, and maybe that should be commended. But even his position coach, John DiFilippo, told me the Raiders want him to run. I think we'll see more of that Monday night in Denver, especially if the Broncos bite hard on the zone read-option in trying to stuff McFadden at the line. Having said that, how adept are the Broncos at dealing with the zone read? Obviously they practiced against it a few years back with
Tim Tebow
there.
Legwold:
You could argue it was the Broncos who really got the zone read-option rolling in 2011. It was a decision made in desperation, however, after watching Detroit devour Tebow in the pocket. So, against the Raiders, no less, they dropped the read option on the NFL world and rode it into the playoffs that year. The coaches have vast experience with it and have taken it apart on many levels when they were trying to predict how defenses would align themselves against it in 2011. Nobody else was using it, so they had to sort of predict how people would defend them because there was no real video to go on at that time.
They often played devil's advocate when looking at the scheme and it has enabled them to be a little ahead of the curve when preparing for someone else's version. The intriguing part will be if the Raiders keep the Broncos in base defense. Both the 49ers and Seahawks moved the ball well against the Broncos' base defense during cameo appearances by the starters in August. But the Broncos' defense also benefits from Manning's ability to put the points on the board, because offenses often end up in catch-up mode. In terms of the Raiders' offense overall, they lead the NFL in rushing, so how have they kick-started McFadden after a frustrating 2012 season for him?
Gutierrez:
McFadden, when right, is one of the most dangerous running backs in the NFL. The Broncos would be the first to attest to that fact. In nine career games against Denver, he has rushed for 723 yards, five touchdowns, and has also caught 15 passes for 120 yards and two more scores. His 5.8 yards-per-carry average against Denver is his best against any opponent in his six-year career. So what got him on track last week? Well, for one, he's healthy (remember, he' has never played in more than 13 games in a season). Two, and this would be my biggest criticism of Allen's rookie season, McFadden is no longer running behind a zone-blocking scheme. He averaged a career-low 3.3 yards behind the scheme last year. The Raiders returned to a base power-blocking scheme this year.
Still, the game plan is similar in that it calls for McFadden to run into the line for negligible gains time and again in hopes of popping a big gainer. It worked to perfection against Jacksonville, when McFadden had runs of 30, 28, 26 and 24 yards. Still he had just 21 total yards on 15 other carries. McFadden has to be patient in this system. Speaking of patience, it does not look like Manning has had to have much time in developing a chemistry with
Wes Welker
. How well is Welker fitting into the Broncos' scheme in his first year with Manning after six years with
Tom Brady
in New England?
Legwold:
They have meshed quickly, as you would expect from two guys who have done so much already in their careers. The issue for the Broncos, really, is they have to be able to consistently stay in a three-wide set to use Welker to his fullest potential. When they have had some choppiness on offense to open both games, it's because they have not consistently protected Manning while making room for the running game out of the three-wide formation. Against the Ravens and Giants, they have moved to a two-tight end look to get things going and it worked well both times. But when they move out of three-wide that takes Welker off the field. But when he's in the game there is no situation when Manning doesn't look for him. Welker did have three drops against the Giants. The Broncos, overall, will use him deeper down the field than the Patriots did at times. Looking at the passing game, with
Ryan Clady
out for the remainder of the season with a foot injury it's a good time to ask how the Raiders' defense finds itself tied for the league lead in sacks after two games?
Gutierrez:
It's a ridiculously small sample size, but the Raiders are most definitely feeling pretty good about themselves not only being tied for the league lead with nine sacks, but being on pace for 72 for the season. Their team record since it became an official NFL stat in 1982 is the 65 they had in 1985. Remember, this unit had only 25 sacks in 16 games a year ago. So why the uptick? It's not necessarily due to a better rush up front -- five of their nine sacks have come from defensive backs. So that means Tarver is dialing up a variety of blitzes, which the former Raiders owner despised. You might say Tarver and Allen have a class of player closer to the prototype they want in order to instill their brand of pass rush. Alas, the Raiders lost Branch on just that -- a blitz, when he was taken down by Jacksonville left guard
Will Rackley
while rushing
Chad Henne
. In fact, it looked as if the injury happened just after Branch crossed the lip of the baseball dirt infield into the grass. But I digress.
Pass rush is about technique, right defensive end
Lamarr Houston
told me, and it seems as though their technique is much improved … after two games. Keeping with the small sample size theme, Allen was in Denver only one year. While much was was made about Tebow, many observers say it was Allen's defense that won the division for the Broncos in 2011. Raider Nation did not take kindly to Allen's wide grin while shaking John Fox's hand after the Broncos beat down the Raiders, 37-6, last year in Denver. How respected is Allen still in the Mile High City, and does he still cast a shadow?
Legwold:
Anyone who was associated in the turnaround season that was 2011 carries a little more cache with fans. Things were so dismal in 2010, when they finished 4-12, had Spygate and fired John McDaniels. When John Fox arrived with his new staff, including Dennis, people treated it like the fresh start it turned out to be. Pitch in
Von Miller
winning defensive rookie of the year that season, Tebow's popularity and the six-game win streak that year on the way to a division title at 8-8, no less, and folks generally think 2011 started what's going on now.
In terms of Allen, people appreciated the improvement the team made, but given he was here just one season I don't think fans, or even some folks in the media believe they got to know him very well. From a football standpoint, what the defense did that year often gets lost in all of the chatter about Tebow, when in fact the team continued to win games despite the offense being in the lower third in the league in scoring after going to the read-option. There were an awful lot of games when Tebow would have never had a chance to chase some late-game glory had the defense not hung in there for the first three quarters. How have people taken to Dennis there, and do people see the 1-1 start as progress?
Gutierrez:
Allen has had a lukewarm reception. If the Raiders win, he's cool, so to speak. If they lose? Then it's all his fault for hiring Greg Knapp last year to destroy the offense. It's like any fan base, I suppose, but as I mentioned earlier, they were really upset with Allen after that picture caught him with a big smile after last year's game in Denver. I asked him about it at the time and Allen said he was simply caught off guard by a joke Fox told him during the postgame handshake. Fans were not having it. This year, though, there's more of a wait-and-see approach. Even if some fans believe Allen did not want to give Pryor a fair shot at winning the quarterback gig. That's all water under the bridge now, though, and many of the more level-headed denizens of Raider Nation believe Allen deserves at least three years to get his program up and running -- similar to a college hoops program. Unless, of course, the players quit on him this season, like they seemed to do last November before rallying late.
Legwold:
Paul, great stuff. That about covers it. It should be great divisional match-up for a Monday night audience.
September, 19, 2013
9/19/13
12:00
PM ET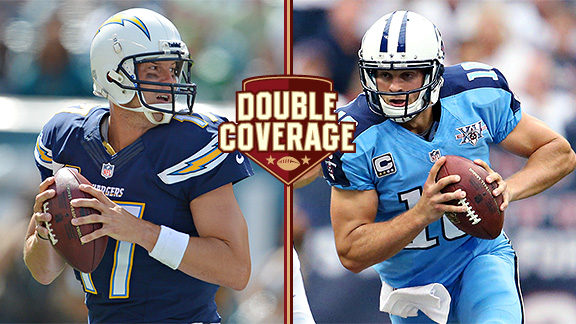 USA TODAY SportsJake Locker, right, will try to keep up with Philip Rivers and the Chargers, who have scored 61 points through two games.
The
San Diego Chargers
are the Tennessee Titans' white whale.
The teams don't play that frequently -- just nine times since 1993, including a wild-card playoff matchup in January 2008. The franchises have undergone all sorts of changes during that span, but one thing has remained consistent when they meet: The Chargers always win.
Bill Williamson, why do you think that is, and what are the odds it continues?
Bill Williamson:
I don't see the Chargers' history with the Titans being a factor. I know in Nashville the word "Chargers" makes fans cringe because of the history. Both teams are rebuilding and trending upward. These are two similar teams, and they will both be in the AFC conversation in the coming years.
The Titans made a lot of changes. This isn't the team the Chargers beat 38-10 last September. What's the biggest difference?
Paul Kuharsky:
The central part of the offseason revamp was the offensive line. The Titans have three new starters on the interior with left guard
Andy Levitre
, center
Rob Turner
and right guard
Chance Warmack
. Turner has been shaky, however, and Warmack is a rookie who is going to take some lumps when he's across from someone like
J.J. Watt
. The group hasn't jelled yet, but the run-blocking has been pretty good.
We've seen the good
Philip Rivers
and the bad Philip Rivers over the years. With the new regime in place, what is your feeling on who he will be now?
Williamson:
I might be the wrong person to ask, Paul. I've always been high on Rivers. Yes, his play sank the past two seasons and he committed 47 turnovers during that span. But it wasn't all on him. The previous regime in San Diego let go of a lot of skill-position talent, and the offensive line was decimated by injuries. Rivers didn't have much help. He was pressing as a result. So far under head coach Mike McCoy, offensive coordinator Ken Whisenhunt and quarterback coach Frank Reich, Rivers has looked re-energized. He has looked relaxed and confident over the first two weeks. He has shown that he is still a high-level player. Stopping him is the main challenge for the Titans.
How's
Jake Locker
coming along?
Kuharsky:
He made a bad throw on a crucial third-and-1 late in regulation in the loss to the Texans. The Titans have hardly turned him loose so far. But since the start of camp, he's shown steady progress. I'm not a complete believer by any means, but I think he has a chance and I didn't always feel that way. We still haven't seen some aspects of the offense that should be featured for him. Maybe this week he'll run around more and we'll see more boots and rollouts.
I'm curious about one of the guys who will be chasing Locker. The Titans have seen a great deal of
Dwight Freeney
over the years. How has he fit in the defensive scheme there?
Williamson:
An old foe, indeed. Freeney is in a tough spot. He was signed (and paid well) to be the Chargers' primary edge pass-rusher after 2012 first-round pick
Melvin Ingram
blew out his knee in May. But at 33, Freeney is best suited as a rotational player. He has half a sack this season. He has been active and will give his best effort, but he needs help. It would be a stretch to think he can still be a premier player. But he knows the Titans, and I'm sure he will be motivated to perform well Sunday.
What can Rivers and the Chargers' offensive line expect from the Titans' pass rush?
Kuharsky:
The best guys so far haven't been the ends.
Derrick Morgan
,
Akeem Ayers
and
Kamerion Wimbley
should key the rush. Ayers moves from stongside linebacker to end on rush downs but has been limited by a bad ankle. Tackle
Jurrell Casey
and weakside linebacker
Zach Brown
have been the best rushers so far. The fronts are less predictable and the blitzes more frequent. That's the influence of defensive assistant Gregg Williams. This defense is far better than I expected.
September, 19, 2013
9/19/13
12:00
PM ET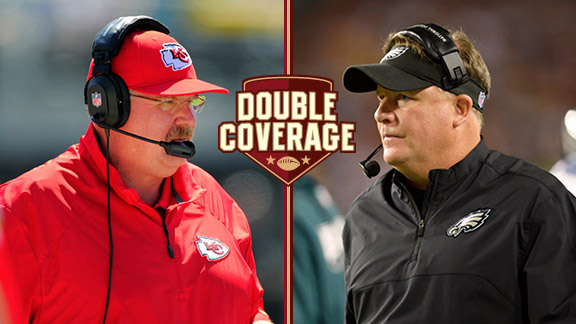 AP Photo Can Andy Reid slow Chip Kelly's up-tempo offense and nab a win in his much-anticipated return to Philadelphia?
You may have heard about a certain head coach returning to the city where he spent 14 seasons, revived a franchise, helped build a stadium and went to a Super Bowl.
Yes, Chiefs coach Andy Reid would love to beat his former team Thursday night at Lincoln Financial Field. And yes, Eagles coach Chip Kelly would like to make a statement by defeating his predecessor using the offensive stars Reid assembled in the first place.
Ultimately, though, the coaches will be sidebars on the sidelines once the ball is in the air. The players will determine whether the
Kansas City Chiefs
get off to a 3-0 start or the
Philadelphia Eagles
can get back into the plus column at 2-1.
Chiefs reporter Adam Teicher and Eagles reporter Phil Sheridan discuss this week's matchup:
Adam Teicher:
Once
Michael Vick
either passes the ball or hands it off, is there anybody for the Chiefs to fear besides
DeSean Jackson
and
LeSean McCoy
?
Phil Sheridan:
Those are clearly the most dangerous men on the Eagles offense, and among the most dangerous in the NFL. Washington played a lot of nickel coverage in Week 1, and McCoy went for 184 rushing yards. San Diego stacked the box and Jackson caught nine balls for 193 yards. But Kelly has some other options: rookie tight end
Zach Ertz
, as well as veteran
Brent Celek
, could be the next to break out with a big game. Meanwhile, when McCoy is winded, backup
Bryce Brown
is a very real threat to break a big play.
He may not open up about it until afterward, but how emotional do you think Reid is about coming back to Philadelphia -- especially with a chance to go 3-0?
Teicher:
You're right in that he didn't open up even the smallest of cracks about this publicly, but absolutely this is a big deal for him. He can't be human and not feel something after 14 seasons in Philadelphia. The other part is that with the Chiefs at 2-0, he's going back if not yet as a conquering hero than as much of a success as someone can be at this point of the season. He's good at compartmentalizing things. The death of his son last year is evidence of that. So I'd be surprised if this issue interrupted his preparation for the game Thursday night. I'll bet it hits him after the game and hits him with a ton of force. In that case, it's probably good the Chiefs don't play again after the Philadelphia game for almost a week and a half. But it is amazing how he can talk about the Eagles this week like how he talked about the Cowboys last week or the Jaguars the week before that. It's just as though they're another team.
Chiefs tackle
Eric Fisher
, the first overall pick in this year's draft, is off to a rough start. How is
Lane Johnson
, the tackle picked three spots behind him, doing for Philadelphia?
Sheridan:
The highs have been pretty high, the lows fairly low. Johnson had a tough time with
Dwight Freeney
on Sunday, which doesn't make him unique. And he was called for two illegal formation penalties -- he was off the line too far because he was concerned about Freeney -- and one of them negated a touchdown. But everything is relative. The Eagles have had plenty of first-round offensive linemen, from
Danny Watkins
back to Antone Davis, who have been disasters from day one. The Eagles liked Fisher a lot, but they are happy with Johnson's upside. He adjusts well, he's still adding strength and the coaches think he could eventually play left tackle, too.
Reid was infamous in Philadelphia for underutilizing his running backs (at least in the running game). How is he using
Jamaal Charles
this year?
Teicher:
Charles has touched the ball a total of 43 times this season (32 carries, 11 receptions) and on average that's probably close to what he can handle on a weekly basis. He's only about 200 pounds, so the Chiefs have to be careful about his workload. He also has had some injury problems this summer (foot, quad), though he looks fine physically. The problem is that the Chiefs don't appear comfortable with either of their backup running backs in all situations.
Cyrus Gray
comes in on a lot of passing downs. He's a better pass-blocker and the equal to Charles as a pass-receiver, but he's certainly not as good as a runner or as much of a big-play threat. Charles might have been given the ball more than he was last week against the Cowboys but he had only 8 yards on his first eight carries and Reid at that point decided to try to move the ball a different way.
The Eagles' defense is rated 30th overall and 31st against the pass. Is this a true measure of where Philadelphia is defensively or more a function of the fast-paced games the Eagles have played?
Sheridan:
Oh, it's a true measure. The Eagles were brutally bad last year against the pass (33 TDs allowed, just five interceptions). They made huge changes in their secondary, but are also switching from a 4-3 to a 3-4 base. The combination of new scheme, new players and suspect talent would create problems anywhere. Throw in Kelly's fast-paced offense and you get enough extra exposure to strain the defense even more. If you watch even the highlights from Sunday's 33-30 loss, you can see
Philip Rivers
had wide-open receivers on nearly every play. I'm surprised
Alex Smith
didn't fly to Philadelphia first thing Monday.
The Chiefs seemed to shut down the Cowboys offense. How are they equipped to handle Kelly's pace and unusual approach?
Teicher:
The Chiefs did a nice job against the Cowboys, with the exception of
Dez Bryant
. They were dominant the week before, albeit against the anemic Jaguars. Overall, they are third in the league in total defense and second against the run, so they look like they're for real. They have a lot of guys playing extremely well on defense. But the Eagles present a different kind of challenge, one that is compounded by having a short practice week. When the Eagles are in their hurry-up mode, the Chiefs may have to go to some default defenses based on personnel and formation. New defensive coordinator Bob Sutton has done a nice job of playing to the strengths of his players, so it will be interesting to see what he has cooked up for Philadelphia.