AFC West:

2013 NFL Week 4 Double Coverage
September, 27, 2013
9/27/13
12:00
PM ET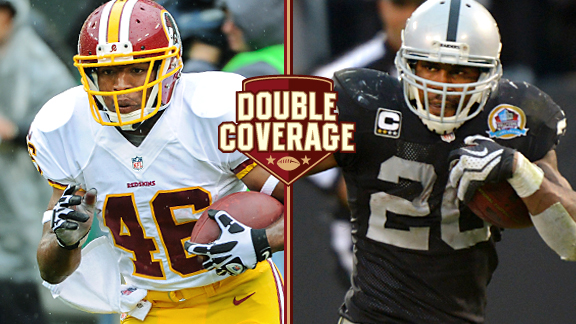 USA TODAY SportsAlfred Morris and Darren McFadden combined to account for three touchdowns in Week 3.
The
Washington Redskins
, with their still-healing franchise quarterback seemingly rounding back into shape, are 0-3 for the first time since 2001.
The
Oakland Raiders
, with their young quarterback in question after a concussion, are coming off a spanking on national television.
Something has to give Sunday at 4:25 p.m. ET in Oakland, right?
Washington team reporter John Keim and Raiders team reporter Paul Gutierrez break down this week's rematch of Super Bowl XVIII.
Paul Gutierrez
: John, there's a lot of uncertainty in the heart of Silver and Blackdom, what with
Terrelle Pryor
's first-ever concussion putting his availability to play Sunday in serious doubt. Many critics of running quarterbacks say this is the risk they take -- more hits. From afar, it seems the shine is off
Robert Griffin III
a bit, and not just because his team is winless and the catcalls have the young QB being called RG0-3. Is he already at a career crossroads, or are we simply seeing a young signal-caller dealing with adversity after a devastating injury?
John Keim:
I think it's a combination of both, Paul. Griffin does not want to rely on his legs as a quarterback, using them only as an occasional weapon. Eventually I think he'll get there, but he's not a refined passer just yet. So he still needs to evolve and that's where the injury comes in: He still needs his legs to be a dynamic player and because of the injury he's still not quite himself. When he was at Baylor they used a rather elementary passing game. I think he'll eventually blossom as a passer because he throws the ball well, is smart and works hard. But he's not at that point yet. Paul, along those lines, the Raiders' defense does not have good stats against the pass. Is that just because they've faced
Andrew Luck
and
Peyton Manning
in two of the first three weeks? Or are there real issues here?
Gutierrez
: True, the Raiders have faced Luck and Manning in two of their first three games and lost both. Yet stats-wise, Oakland is a middle-of-the-pack defense when it comes to defending the pass, ranking 16th in passing yards allowed per game. And really, at this stage, the Raiders will take it, especially after beginning the season with nine new starters on defense and then losing strong safety
Tyvon Branch
in Week 2 against Jacksonville on a blitz. What's really sticking in their craw is the lack of interceptions by the Raiders. As in zero. No picks. None. As
Charles Woodson
put it after the clinic Manning put on against them on "Monday Night Football," it's something the secondary especially has to make a concerted effort on this week. So I'd expect the Raiders to take a page out of Denver's defensive playbook by stacking the box and daring RG III to beat them through the air, rather than on the ground. If that is Oakland's strategy, might that backfire on the Raiders? Or does the threat of RG III turning the corner on a zone read actually open up the play-action pass?
Keim
: That's definitely the strategy I would take right now. Detroit did it last week, daring Griffin to beat them with his arm and not his legs. Actually, they weren't afraid of his legs. On one of the zone read runs he made Sunday, Detroit sent both the end and the linebacker at
Alfred Morris
. They were more worried about him running. It will be this way until Griffin shows that he not only can run, but can hurt a team while doing so. I will say that Griffin was really close to having a good game against Detroit. They were using more play-action -- and a 57-yarder off this play-action was dropped in the end zone. If not for that play and Griffin's late fumble off a 21-yard scramble, his game would look different. But even if the Raiders use eight in the box the Redskins will try to run. Everything works better when that's their focus and it sets up what was a lethal play-action game a year ago. What does your gut tell you about who will play quarterback this week for the Raiders? And could you break down where Pryor's game is, as well as Matt Flynn's? Obviously their offense would look much different with Pryor than with Flynn.
Gutierrez
: The gut, especially with Pryor having yet to be cleared to practice as of Wednesday, tells me that
Matt Flynn
will get the call. And the locals will not be happy. Pryor has become a huge fan favorite and his skills are as raw as he is electrifying. His pocket presence has improved as has his downfield passing. He simply does not look like the same scattershot guy who was a dark-horse favorite to be the Raiders' No. 3 quarterback after the draft. He has a presence about him that did not exist a few months ago and he is improving every week in this small sample size. Flynn, meanwhile, is the prototypical West Coast offense quarterback. He's accurate and mobile enough but needs time to let plays develop. He didn't get that in the exhibition season. He had a sore elbow and was under constant assault by the defense and had no time to pass. So the $6.5 million man was beaten out for the second summer in a row after signing a big-money deal. He admitted he was down but said it did not affect his preparation. And with Washington's defense giving up record-level points thus far, maybe the stars are lining up for the chosen quarterback, or the guy who was supposed to be the franchise quarterback. Then again, sometimes things don't go according to plan. Like Mike Shanahan and the Raiders. Hard to believe it's been a quarter of a century since he was hired by Al Davis in Los Angeles. Not so hard to think he still harbors resentment toward the Raiders. Has that come up at all during Raiders week? After all, he says Al Davis still owed him money.
Keim
: Mike talked about that today and says he had a lot of respect for Al, even though they had their differences. Knowing Mike, he'd still like to stick it to that franchise. He's a competitive guy who loves beating people or teams that he has a grudge with. He used to save articles when he was with Denver and then bring them out after the Super Bowl to remind the writers that they were wrong. And we all know the story about the time he was on the field before the game and one of his players threw a ball at Al (
Steve Young
, I believe). This is also the first time Shanahan has played an AFC West team since he left Denver. I'm sure those old feelings are still there; after all, he spent a brief time there and then spent a number of years wanting to beat them twice a year. Those feelings don't just fade away, especially in a guy like Shanahan. But right now, he has bigger things to worry about than any money Al Davis might have owed him. It seems like the Raiders have been without hope for a while. Where is the hope now -- and what should the Redskins be concerned with?
Gutierrez
: The hope, from the fans' perspective, resides in Pryor's arm and legs. Realistically, it's in the Raiders having some semblance of continuity. Consider: Since Jon Gruden was traded to Tampa Bay following the 2001 season, the Raiders have had seven coaches in 11-plus seasons in Bill Callahan, Norv Turner, Art Shell, Lane Kiffin, Tom Cable, Hue Jackson and now Dennis Allen. The message from general manager Reggie McKenzie is that he's getting closer to putting a product on the field that resembles his vision. The Raiders will have a lot of money to spend in free agency next year but McKenzie said he will not be shopping at Macy's. Hope and change -- you being in the District should be familiar with such talk, no? -- come with gradual improvement, and continuity being allowed to foster, so to speak.
.
September, 27, 2013
9/27/13
12:00
PM ET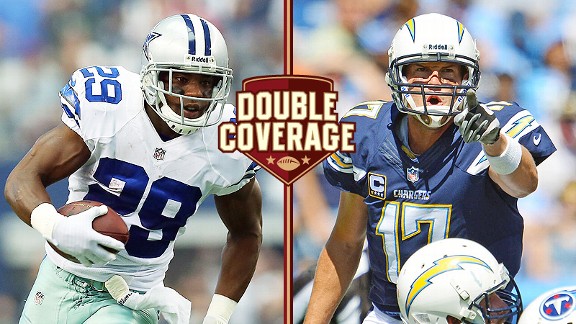 USA TODAY Sports, Getty ImagesSunday's game between DeMarco Murray's Cowboys and Philip Rivers' Chargers could show which team is a real contender.
The
Dallas Cowboys
travel to Qualcomm Stadium to take on the
San Diego Chargers
for the first time since 2005, when
Drew Bledsoe
served as the team's starting quarterback. The Cowboys hold a 6-3 edge in the series, but haven't defeated the Chargers in San Diego since 1995.
Cowboys running back
DeMarco Murray
is fourth in the NFL with 286 rushing yards through three games. Is this the year he finally stays healthy and provides some balance to that
Tony Romo
-led offense?
Todd Archer:
Like everything in the NFL, it's week to week. When Murray sees the Rams, he's very good. He has 253 and 175 yards against St. Louis in two games. He's kind of pedestrian against everybody else. The biggest difference last week was the commitment to the run. The Cowboys started the game well running the ball and stood by it. Will they stand by it when it doesn't start out as well? When Murray rushes for more than 100 yards in a game the Cowboys are 10-0. Clearly that helps Romo, who had to throw it only 24 times versus St. Louis and had three touchdown passes. What the Cowboys do best is throw the ball with
Dez Bryant
,
Jason Witten
and
Miles Austin
, but if the running game can do anything, then they become much more dangerous.
Are we seeing a rejuvenated
Philip Rivers
after he became a turnover machine the past few seasons?
Eric D. Williams:
It certainly appears that way. Head coach
Mike McCoy
and offensive coordinator Ken Whisenhunt's installation of an up-tempo offense emphasizing getting the ball out quickly has helped keep Rivers upright. San Diego's offensive line also has done a nice job of protecting Rivers. He has been sacked only five times through three games. Rivers was sacked 49 times last season, second only to
Aaron Rodgers
(51). Through three games, Rives has completed 70 of 100 passes (70 percent) for 798 yards, eight touchdowns and just one interception. His QBR of 116.2 is second only to
Peyton Manning
(134.7), and Rivers has spread the wealth, completing passes to 10 different receivers. Right now, Rivers is part of the solution in San Diego, and not the problem.
The Cowboys are holding teams to just more than 66 rushing yards a contest, and giving up only 18.3 points a game. How has new defensive coordinator Monte Kiffin helped stabilize that side of the ball?
Archer:
What Kiffin has done best is keep things simple. Under Rob Ryan, the Cowboys tried a lot of looks and wanted to disguise things. Oftentimes they were just confused and it showed. The 4-3 scheme isn't about tricking people. It's pretty straight forward. The guy who deserves a lot of credit is defensive line coach Rod Marinelli. He has
DeMarcus Ware
and
Jason Hatcher
playing well, and guys like
George Selvie
and
Nick Hayden
believing they are great players.
Speaking of coaching, how are things different for the Chargers with Mike McCoy after so many years under Norv Turner?
Williams:
Accountability and attention to detail are key buzz words at Chargers Park. Under the direction of new general manager Tom Telesco and McCoy, the Chargers are in the process of revamping the roster, with 21 new players on this year's team. Veteran holdovers such as Rivers, tight end
Antonio Gates
and safety
Eric Weddle
help provide some consistency, giving San Diego a chance to win each week. But in order to build a roster that can be a championship contender long-term, Telesco and McCoy understand that a talent upgrade is needed on both sides of the ball.
At 2-1, the Cowboys sit atop the NFC East. Is this the year the Cowboys finally put it all together and make a deep playoff run?
Archer:
I've been covering this team since 2003, and the one thing I've learned is just when you think they have it figured out they falter. So I can't say they have it all figured out. To me that's why this game is pivotal. The early part of the schedule is the easiest, so coming out with a 3-1 mark at the quarter mark is important. I will say this, though: The NFC East looks brutal, so the Cowboys should be in the race the whole year even if they don't win games early. But we know how this team has done in December over the years. If the Cowboys can, they want to have the business taken care of before they get to Week 17.
From the outside, the pass defense looks brutal in San Diego. What's the deal?
Williams:
Youth and inexperience are the key culprits here. Besides Weddle and cornerback Derex Cox, the Chargers are young in the back end defensively. On the Titans' go-ahead score last week, recent addition
Crezdon Butler
was forced into action because
Shareece Wright
and
Johnny Patrick
were out with hamstring injuries. Butler gave up a 34-yard touchdown to
Justin Hunter
at the end of the game. The Chargers have zero interceptions on the year. But the defensive backfield also needs to get more help from the front seven. San Diego has just six sacks in three games.
.
September, 26, 2013
9/26/13
12:00
PM ET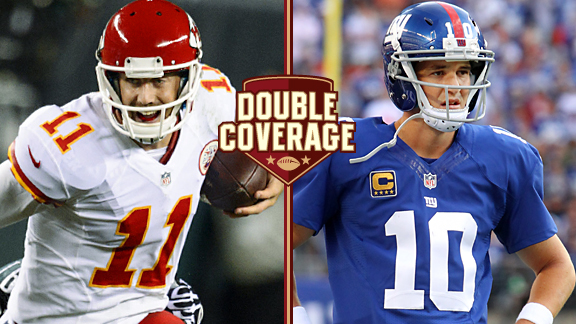 USA TODAY SportsThis matchup may hinge on which team gets more pressure on the quarterback.
The
Kansas City Chiefs
and
New York Giants
seem like two teams going in opposite directions. Kansas City is off to a 3-0 start for the eighth time in franchise history, while the Giants are 0-3 and coming off a lopsided loss to the Carolina Panthers.
ESPN.com Chiefs reporter Adam Teicher and Giants reporter Dan Graziano break down Sunday's matchup.
Adam Teicher:
Last week's blowout loss against the Carolina Panthers caught me by surprise. Is this another of Tom Coughlin's slow-starting teams, or are the problems really that deep that the Giants could be serious contenders for next year's No. 1 draft pick?
Dan Graziano:
Caught me by surprise, too, Adam. And I'm pretty sure it caught Coughlin by surprise. But the alarming thing on this end is that Coughlin's teams are not traditionally slow starters. He was 5-2 or better in his first seven games in each of his first nine seasons as Giants coach -- a streak that obviously ends this year. The only other time a Coughlin team has started 0-3 was 1995, when the expansion Jaguars lost the first four games in franchise history. So this is uncharted territory for Coughlin and many of his players. If there's a coach in the league who can hold things together through a time like this, even if turning things around is impossible, it's Coughlin. And starting in mid-October, the schedule eases considerably. But the issue is getting to that point. The Giants' next three games take place in a span of 12 days, and two of them are on the road against unbeaten teams, including this one Sunday. The Giants' offensive line was completely shredded Sunday by a very tough Carolina defensive front.
Having watched the Chiefs last Thursday, I'm expecting something similar this week. Do you agree?
Teicher:
The front seven for the Chiefs is playing very well. That group has controlled things for large portions of games this season. One thing that's helped is the Chiefs have played mostly with a lead. It would help the Giants if they can get off to a quick start and force the Chiefs to honor their entire playbook. The Eagles rushed for 264 yards against Kansas City last week, so the Chiefs could make some improvements in that area. Tackling at times was more sloppy than it has been all season. Another thing the Chiefs have done is pick on the rookie tackles. They mostly had their way with Jacksonville's
Luke Joeckel
and Philadelphia's
Lane Johnson
, so that is an issue for the Giants because they start a rookie,
Justin Pugh
, at right tackle. Outside linebacker
Justin Houston
leads the league in sacks with 7.5. He had three against the Jaguars and Joeckel and 4.5 against the Eagles and Johnson, so the Houston-Pugh matchup is one to watch.
Thirteen turnovers in three games is enough to choke any offense. Obviously, there are other problems, like a feeble running game. But assuming the Giants don't cough it up a bunch of times against the Chiefs on Sunday, isn't it reasonable to expect them to score some points?
Graziano:
Yes, the Giants' offense should be scoring points. With
Eli Manning
at quarterback,
Hakeem Nicks
and
Victor Cruz
at wide receiver,
Brandon Myers
at tight end and a very talented, if star-crossed,
David Wilson
at running back, they have the weapons to score against anyone. Some week, they will. However, the blocking problems up front are so significant right now that the offense is completely choked off. Manning did not even have time to get to his first or second read on most plays Sunday before he was getting hit, and Carolina's front four got into the backfield on running plays as well. I would expect the Giants to play around with formations a bit to try to help out the line -- maybe run more plays from the shotgun or the pistol. That could be a problem if center
David Baas
(who had an MRI on his neck Monday) is unable to play. The Giants sure look as though they're capable of outscoring the Chiefs, but they have to find a way to keep those Chiefs defenders off Manning long enough to give him time to throw the ball.
I'm curious about the Andy Reid Revenge Tour aspect of the game. The Giants hammered Reid's Eagles in Week 17 last year in his final game as Philadelphia's coach. Obviously, he had a dead team at that point and his fate was sealed. But Reid was 8-3 the past five years against the Giants, sometimes with inferior Eagles teams. Do you think ol' Andy's got something up his sleeve for his old rivals from New Jersey?
Teicher:
Hard to say what Reid will have the Chiefs do this week. The Chiefs had nothing special for another of his old division rivals, the Cowboys, two weeks ago. Dallas was the better team for much of the game. The Chiefs were able to survive that day with plenty of grit and the backing of a loud home crowd. But it appeared he coached with some inside knowledge against the Eagles last week. The Chiefs seemed to dial up consistent pressures that played to
Michael Vick
's weaknesses. Other than one long pass, the Chiefs were also able to eliminate
DeSean Jackson
as a threat. Regarding the Giants, I would think Reid would realize, as you point out, that New York is better equipped to win a scoring war than the Chiefs. It plays to Kansas City's strengths if the game is a low-scoring one. It may be instructive that the last two times while coaching the Eagles that Reid beat the Giants, neither team reached 20 points.
The Giants have allowed a ton of points this year, but how much of that is a factor of lousy field position given the 13 turnovers? The one thing I'm most surprised about with the Giants defensively is their lack of a pass rush, which is usually a staple for that team. The pieces still seem to be in place. What explains the inability to get pressure on the opposing quarterback?
Graziano:
That is, for me, the most significant issue facing the Giants. The Panthers had more sacks Sunday (seven) than the Giants have in their past eight games (six) dating back to last November.
Jason Pierre-Paul
, who had 16.5 sacks in 2011 and 6.5 in his first nine games of 2012, has only one in his past 10 games. He played with a back problem last year and had surgery to correct it in June, and he admitted last week that he hasn't been able to play like his old self because of the physical limitations. But he needs to, or else this Giants' pass rush will be ineffective and the defense will be ordinary as a result.
Justin Tuck
isn't what he used to be,
Mathias Kiwanuka
isn't consistently creating pressure and rookie
Damontre Moore
has not practiced enough because of a preseason shoulder injury. If the Giants aren't getting to the quarterback, they're not a good defense. And Pierre-Paul needs to elevate his game or else they're just too easy to stop.
What about that Kansas City passing offense? The Giants are familiar with
Alex Smith
from his recent San Francisco days and had some success against those teams. How do you describe the way Smith is functioning in Reid's offense?
Teicher:
Efficient is the best way to describe Smith. He's not making mistakes and putting the Chiefs in bad situations. He has four touchdown passes and hasn't thrown an interception or lost a fumble yet. In large part because of his solid work, the Chiefs were 5-for-5 scoring touchdowns inside the red zone. He has been able to identify some favorable matchups and take advantage. That changed last week against Philly when the Chiefs were only 1-for-6 getting a touchdown while inside the 20. The Chiefs have used mostly a short passing game, which plays to Smith's strengths. But most of their big passing plays have happened because the receiver made significant yards after the catch. Even at that, Smith is completing only 61 percent of his passes, a low number given the high-percentage nature of a lot of those throws. Smith has been able to put pressure on opposing defenses with his ability not only to scramble out of trouble but also to gain some yardage on the option and other running plays.
.
September, 26, 2013
9/26/13
12:00
PM ET
The
Denver Broncos
and
Philadelphia Eagles
will collide in high-speed fashion Sunday at Sports Authority Field at Mile High in a 4:25 p.m. ET kickoff.
The 3-0 Broncos feature the league's highest-scoring offense -- their 127 points are 31 more than any other team this season after three weeks -- and quarterback
Peyton Manning
has thrown for more touchdowns (12) than 29 teams have scored overall.
The Eagles, at 1-2, lead the league in rushing and yards per play (7.0), so this one could have the look of a drag race, think Mile-High Nationals, a summer staple for race fans on the Front Range.
Eagles team reporter Phil Sheridan and Broncos team reporter Jeff Legwold break down the game.
Legwold:
Phil, you have been around the Eagles for a long time and have seen the organization go through many changes. Coach Chip Kelly's offense was certainly the talk of the offseason around the league, as most teams discussed wanting to join the fun, to go faster, to get more snaps, to stress defenses with speed. But given what the Broncos have done on offense this season, how fast does Kelly really want to go in Denver? Is there a risk of exposing his defense if he gives the Broncos too many possessions?
Sheridan:
There is enormous risk, Jeff, but my sense of Kelly is that he'll want to put the pedal to the metal anyway. He's trying to build a culture, with an aggressive approach to every aspect of the sport. I don't see him easing up for one game, no matter the specific challenges. Besides, I think the Eagles' only chance is to try to match the Broncos score for score and take their chances with a close, high-scoring game. As the Eagles learned the hard way the past two weeks, their defense is not good enough to shut down an opponent at crunch time.
That leads me to this question: Doesn't Denver's up-tempo offense put stress on the Broncos defense? Oakland seemed to move the ball as the game wore on. Doesn't that suggest the Broncos will be vulnerable to
Michael Vick
,
LeSean McCoy
and the rest of the Eagles offense?
Legwold:
I think that is the risk overall with the move toward up-tempo offenses around the league. It's all well and good to be fast on offense, snapping the ball at light speed, but those 45-second possessions that end in a three-and-out are just about the worst thing for any defense that just got to the sideline. That's one of the most interesting items about the Eagles so far: They have had just one three-and-out that ended in a punt in 38 possessions.
The Broncos were aggressive against the Raiders defensively last week, and linebackers
Wesley Woodyard
and
Danny Trevathan
did a quality job keeping
Terrelle Pryor
hemmed in. The Broncos are a speed defense overall, up and down the depth chart, so the teams that try to run out of open formations, like the three wide, tend not to do as consistently well as the teams that keep them in the base defense and pound away a bit. But McCoy and Vick will easily be their toughest challenge in the run game of the young season. In terms of defense, how would you expect the Eagles to approach the Broncos -- come after Manning a bit or drop into coverage and hope they can fill the gaps?
Sheridan:
The Eagles' best bet might be to close their eyes and just pray Manning fumbles the snap. Don't think that's in the game plan, though. Seriously, they know their only hope is to generate some pressure from unexpected sources, be incredibly disciplined in their gap and coverage assignments and be exponentially better at tackling than they have been. They're not going to outsmart Manning, but if they can make him a little uncomfortable and get a break or two -- a fumble, a tipped pass that gets picked off -- they can keep the Broncos from running away with the game. Denver thrives on yards after the catch, which is what killed the Eagles in their two losses.
I was interested in your comments about getting the Broncos into their base defense, because the Eagles have used a lot of three wide receiver sets to get defenses into nickel personnel. So much depends on the corners, so let me ask A) If
Champ Bailey
is playing, and B) Why
Dominique Rodgers-Cromartie
is so much better than he was in Philadelphia for two lost seasons?
Legwold:
Bailey has not played since injuring his left foot in a preseason loss to the Seahawks in mid-August. He certainly wants to play, keeps saying he's "close" and even upped to it "very close" last week. The Broncos would like him out there, especially in this one, but he's going to have to move around better than he did a couple of hours before kickoff Monday night when it was pretty clear he was going to miss his third consecutive game. But if he shows a little better movement this week, especially Thursday and Friday, I think he'll be in uniform.
On DRC, the Broncos gambled a bit on tough love. They essentially, and Rodgers-Cromartie has said this as well, told him what was wrong with him on his visit. They told him why he wasn't playing as well as he should and that they could fix it if he was willing to be coached hard. He said he was and has been. A gifted athlete, Rodgers-Cromartie has been the saving grace with Bailey's injury and has played like a No. 1 guy. I won't be surprised if the Broncos try to work out a little longer deal at some point in the coming months.
I know we've spent plenty of time on offense, but I am wondering if Kelly sees Vick as the long-term future at quarterback -- or as long term as a 33-year-old can be -- or does Kelly have bigger plans at the position?
Sheridan:
I would love to know the answer to that one too. The Vick situation is fascinating. If he has a great year and somehow gets the Eagles into the playoffs (not as far-fetched as it sounds in an NFC East where half the teams are 0-3), it would be awfully hard to let him walk. But can you re-sign a guy at his age, with his injury history, and expect him to be the guy when you're really ready to contend in one or two or three years? My hunch is that Kelly would love to get one of the quarterbacks in next year's draft, that this year is about getting as much of the rest of the program in place as possible. But that would make much more sense if he had gone with
Nick Foles
or even rookie
Matt Barkley
than with Vick, who is just good enough to keep you from drafting high enough for a franchise quarterback.
Since it's a subject of discussion, let me ask you about the altitude. Do the Broncos believe it gives them a physical advantage, or do they see it more as a psychological thing? Is their home-field advantage about thin air or having good teams with loud, passionate fans rocking the stadium?
Legwold:
The Broncos believe it gives both a physical and mental advantage. Objectively, for an elite athlete to work for three or so hours in Denver likely has minimal impact on performance. But who's to say even a sliver of impact isn't enough to tip the scales at times. The Broncos' record at home over the decades is well over .600 since 1960, and in September games, they are over a .700 winning percentage at home. The Olympic Training Center is in Colorado and many of the world-class cyclists on the planet train in the area, so it means there's some athletic benefit for the Broncos to work in the altitude. The Broncos particularly feel it's an advantage when they go fast on offense. Watch the Ravens defense in the second half of the opener and it was pretty clear that group didn't enjoy Manning at 5,280 feet.
Phil, great stuff and that should cover it. It could be a long night for both defenses with these two high-powered offenses going at it.