AFC West:

2013 NFL Week 7 Double Coverage
October, 18, 2013
10/18/13
12:00
PM ET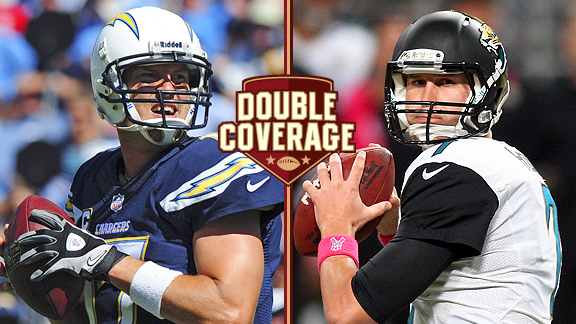 USA TODAY SportsPhilip Rivers and Chad Henne are coming off strong Week 6 efforts heading into Sunday's game.
The
Jacksonville Jaguars
haven't given the crowd at EverBank Field much to cheer about this season.
The team has lost both of its home games by a combined score of 65-5 and
totaled
just 383 yards of offense. But there's some optimism for Sunday's game against San Diego because the Jaguars are coming off their two best performances of the season.
They were both losses, but the Jaguars were in the game in the fourth quarter and had their two best offensive outputs of the season.
San Diego is coming off an impressive victory over Indianapolis, which put the Chargers squarely back in the hunt for a playoff spot.
Jaguars reporter Michael DiRocco and Chargers reporter Eric Williams break down the matchup:
DiRocco:
The NFL didn't do the Chargers any favors with a Monday night game followed by a game in Jacksonville that kicks off at what would be 10 a.m. West Coast time. Is this much of an issue with the team and what, if anything, are they doing in terms of modifying their schedule to compensate?
Williams:
Teams are always at a disadvantage traveling across the country while coming off a short week. Players injured during the Monday night game have a shorter recovery time, which makes it harder for them to get back on the field. San Diego receiver
Eddie Royal
suffered a toe injury against the Colts, so his availability for Sunday remains uncertain. The Chargers will travel to Jacksonville on Friday, giving them more time to get acclimated to the time change. San Diego also practices at about 11 a.m. PT during the week, so the body clock of the players should be used to getting up and being ready to compete at that time. Since 2012, the Chargers are 4-3 in 10 a.m. PT starts.
Jacksonville played the Broncos tough on the road, moving the ball on offense and forcing three
Peyton Manning
turnovers. How much confidence does that effort give the Jaguars as they try and get their first win?
DiRocco:
That was by far the Jaguars' best performance of the season, and the game was much closer than nearly everyone anticipated. And while the players were encouraged by the way they played, they were still disappointed in the outcome because they continued to make critical mistakes that extended drives or put the offense in a hole. There isn't anything but the normal level of frustration seeping into the locker room, though, because the players have bought into coach Gus Bradley's "the process is important" approach. This means they're concentrating on improving and becoming more consistent, which in turn will lead to victories. They feel good about themselves because they played better, but they can't be too confident because they're still winless.
A former Jaguars player, cornerback
Derek Cox
, has come under a little fire for the way he has played this season after signing a significant contract. What's your take on how he has played and whether he's been worth the money?
Williams:
Cox deserves a full season of evaluation before we consider him an under-performer, but he certainly can play better. He signed a four-year, $20 million contract, including $10.25 million in guaranteed money, as San Diego's No. 1 corner of the future. Cox made his first interception of the year last week against Indianapolis, is second on the team in pass deflections with four and has 26 tackles on the year. He's played every game, even after suffering a minor knee injury against Dallas three weeks ago. But Cox also has been beat deep a few times, and has not made as many game-changing plays you would like to see from a shutdown corner.
Chad Henne
is expected to get the start again Sunday while
Blaine Gabbert
continues to recover from a hamstring injury. Is either player the long-term answer at quarterback, or are the Jaguars looking to draft their franchise signal-caller in 2014?
DiRocco:
One of the top priorities this season was to find out if Gabbert was the player around whom general manager Dave Caldwell could build the franchise. Six games in, however, they're no closer to that answer because Gabbert has missed three games because of injuries. He hasn't played well when he's been on the field, either. Henne has played well, however, and is coming off a 303-yard performance against Denver. That being said, neither of them appears to be the long-term answer. Gabbert has been maddeningly inconsistent and still makes the kind of throws that cause you to look around and go, "What was he thinking?" Henne is more consistent, but still leaves too many plays out on the field. The Jaguars are heavily scouting quarterbacks throughout the season -- Caldwell has already been to see Louisville's Teddy Bridgewater play -- and I'd be shocked if they didn't take one with their first-round pick in 2014.
Speaking of quarterbacks, what is it that has sparked
Philip Rivers
' mini resurgence this season? Is coach Mike McCoy's offense just a perfect fit for him?
Williams:
McCoy and offensive coordinator Ken Whisenhunt have emphasized ball security and getting the ball out quickly, all while empowering Rivers to make more decisions at the line of scrimmage in the team's new, up-tempo offense. So far it's worked. Rivers is third in the NFL in passing yards (1,847), third in passer rating (108.7) and tied for second in the league in passing touchdowns (14). He's had much better pass protection this season, getting sacked just 10 times through six games. Tight end
Antonio Gates
is healthy again, and the addition of
Danny Woodhead
has made teams pay for bracketing Gates. And the emergence of rookie
Keenan Allen
has given Rivers someone who can consistently win against one-on-one coverage on the perimeter.
Speaking of talented pass-catchers,
Justin Blackmon
is playing like the dominant No. 1 receiver the Jaguars expected when they selected him in the first round last season. But has he gained enough control over his off-the-field issues so that they do not affect his on-the-field availability again in the future?
DiRocco:
That's the biggest question with Blackmon, and so far the answer appears to be that he has. Teammates and coaches were impressed with the way he handled himself during his four-game suspension. He worked out pretty hard and gained eight pounds of muscle, attended meetings, got someone to throw with him at a nearby field and did some work in the community as well. He seems to have matured a bit, but there is a bit of a holding-their-breath feeling about Blackmon. It all comes down to how much football means to him and whether he makes smart decisions, but he doesn't have a great track record there.
.
October, 18, 2013
10/18/13
12:00
PM ET
There will always be games when a player returns, with his new team and wearing a new set of NFL colors, to the city where he once worked. Happens all the time.
And then there is this week. When the former face of a franchise, a future Hall of Famer, returns, not as a legend in the final days of his career, but as a 37-year-old vying for the league's MVP award, having the season of his life with a Super Bowl hopeful.
Peyton Manning
returns to Indianapolis as the 6-0
Denver Broncos
will meet the 4-2
Indianapolis Colts
in Lucas Oil Stadium. ESPN.com Broncos team reporter Jeff Legwold and Colts team reporter Mike Wells break down this week's game.
Legwold:
Mike, let's get right to it. Manning. Colts. Indianapolis. There isn't much precedent in the league's history for a player of Manning's stature returning, playing as well as ever, to meet his former team. How has it played there? And just how many of the current Colts were even teammates with Manning?
Wells:
As much as I hate to admit it, safety
Antoine Bethea
, a former Manning teammate, said it best inside the locker room in San Diego on Monday, "We see players come and go all the time," and that the media will make a big deal about it. Bethea was the first Colt not named Jim Irsay to talk about Manning's return. Coach Chuck Pagano didn't even want to talk about it on Tuesday. There are only 11 players still on the roster from when Manning played here. The Colts respect Manning, but they also want to prove they've moved on and they can win without him.
You've been around Manning for more than a season now. Do you get a sense that he'll be more pumped than what he is every weekend?
Legwold:
Manning has already been on the media merry-go-round earlier this season when he faced his brother Eli for the third and likely final time in his career. He didn't like it that much and said as much. I think he certainly will want to show, at least in some way, he appreciated his time with the Colts and that he enjoyed the successes there. In the end he will try to play it straight through the week. That said, when Manning arrived in Denver, those close to him said he was initially surprised the Colts actually released him, even though it made sense financially and for the overall direction of the franchise due to the uncertainty surrounding how he would recover from his neck surgeries. As one of the most competitive people in a league full of competitive people, there is likely a part of him that wants to show what he has left for a team that considers itself to be a Super Bowl contender.
To that end,
Andrew Luck
has consistently seemed comfortable in his role as the team's leader in the post-Manning era, how do you think he will handle all of this? And will he have some added adrenaline?
Wells:
Luck hasn't given any indication that he'll prepare for or approach the game any different. It obviously wasn't the same magnitude as what Sunday will be, but the second-year quarterback was put under the spotlight earlier this season when he returned to the Bay Area, where he starred at Stanford, to take on his college coach, Jim Harbaugh, and the
San Francisco 49ers
. Luck played within himself -– 17-of-26 for 159 yards --and I expect him to do the same thing this weekend. Don't be surprised if offensive coordinator Pep Hamilton tries to get Luck going early in front of the sold-out Lucas Oil Stadium crowd. But don't expect to see Luck throwing the ball 45 times unless the Colts dig themselves into a big hole.
I was little surprised Broncos coach John Fox took exception to Colts owner Jim Irsay's comments to USA Today. Is that normal for Fox to respond the way he did?
Legwold:
From the Broncos' perspective, some in the organization see it as Irsay gladly reaping the benefits of the Colts' success with Manning at quarterback, including a new stadium that allowed the city to host a Super Bowl, and now acting as if one Super Bowl win in Manning's tenure sticks in his craw. Fox simply came to the defense of his player, something he does when he sees it as necessary and something that only strengthens his standing in the Broncos' locker room. Manning almost always takes the high road publicly in such things, as he did this week, but there isn't much question he has one of the game's longest memories when it comes to what's been written or said.
Much of what is, or isn't said, this week won't matter much once the ball is snapped, but on the field what do you think the Colts' defensive plan will be against the Broncos' offense?
Wells:
Don't expect the Colts to sit back in a Cover 2 the way Jacksonville did. That's not defensive coordinator Greg Manusky's style. The cornerbacks will press up on the receivers and they'll continue to gamble to try to make a play. That may not be the right approach to take because as you know, Manning makes teams pay for their mistakes. It'll be interesting to see if
Robert Mathis
, another one of Manning's former teammates, is able to get off the edge and get to Manning. Mathis is tied for the league lead in sacks with 9.5. The area of concern for the Colts is at linebacker. Linebacker
Jerrell Freeman
, the team's leading tackler, had to sit out the second half of last week's game at San Diego with a concussion.
Speaking of linebackers, the Broncos will have
Von Miller
for the first time this season this weekend. Do you expect him to be rusty after being suspended for the first six games?
Legwold:
On the field that may be the biggest question of the week. Miller, under a provision added to the league's collective bargaining agreement in 2006, could attend team meetings during his suspension and work out at the team's strength and conditioning center. He could not practice or attend games. So, all of the on-field work he has done with the strength coaches has been a solo affair. The question will be if he stayed up to speed in the team's defensive playbook – he says he has. He is an impact rusher, a "game-wrecker" as Pagano likes to say (Pagano is a Boulder, Colo., native). Miller's adrenaline will be off the charts, especially early in the game. It wouldn't be a shock for the Colts to test him with a little misdirection early to see if he's up to the challenge. But Miller should have an impact in the pass rush, especially if his conditioning is as good as he says it is.
A lot of folks here are interested to know how Pagano has done healthwise this season following last year's cancer treatments. How important is he to the team's success?
Wells:
The fact that Pagano was able to overcome cancer to be back on the sideline coaching at the end of last season is a remarkable story in itself. The players like how he motivates them and is constantly positive. I don't think there are many head coaches in the NFL who would think about heading over to Lowe's (he ended up having somebody else go for him) to purchase mousetraps as a reminder for his team not to overlook winless Jacksonville after beating San Francisco the week before.
So much is said about Denver's passing game, but what about its rushing game? Can it be effective the same way San Diego was last week?
[+] Enlarge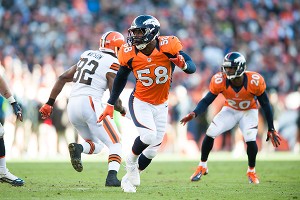 Dustin Bradford/Getty ImagesVon Miller will make his season debut against Andrew Luck and the Colts.
Legwold:
Much of the Chargers' offense comes from first-year head coach Mike McCoy -- the Broncos' offensive coordinator last season. Denver certainly noted the success the Chargers had running at the heart of the Colts' defense, especially with a zone run scheme. For all of the talk about how much the Broncos throw the ball, and they throw it with purpose in any down-and-distance situation, they are still fifth in the league in carries with 180, or 30 per game. With Manning at quarterback, with this coaching staff, they will always be pass-first, but offensive coordinator Adam Gase's mentor in the league was Mike Martz. And Martz's high-flying offenses always had a major run-game component.
With the Colts' run game, and with Luck 20
th
among the league's starters in pass attempts, is there an element of having a system in place that doesn't require Luck to have to do everything for the team to win?
Wells:
Offensive coordinator Pep Hamilton, who held that same role at Stanford with Luck, is big into being a run-first team. The Colts have stuck to that mindset through the first six games. But it'll be interesting if Hamilton loosens things on the offense this season after the Colts ran for a season-low 74 yards last week at San Diego. Luck gives the Colts the best chance to win. They'll need Luck's arm to beat the Broncos because Manning & Co. are going to put points -- a lot of them -- on the board this week. It's hard to imagine the Colts will be able to run the ball well enough to keep Manning on the sidelines looking antsy to get back on the field.
Passing the ball is probably a good idea since the Broncos are last in the league in defending the pass (338 yards a game). Why have the Broncos defended the pass so poorly?
Legwold:
Some of it, especially over the first four games of the season, was a good bit of stat padding late in blowouts by opposing offenses. But there is an element that is a personnel issue as well.
Elvis Dumervil
left in free agency after the fax fiasco in the offseason, Miller was suspended and
Champ Bailey
missed five games after injuring his left foot in the preseason. That's 17 Pro Bowl appearances from guys who were in the lineup last season when the Broncos tied for the league lead in sacks. And they have had some sacks -- 17 thus far -- but those plays have often been clustered near the end of games with the Broncos having built 20-point leads. They haven't consistently pressured opposing passers this season and as a result some of those quarterbacks are finding some openings against a steady diet of man coverage in the Broncos' secondary. They know they have to get to Luck this weekend or he will pick away at them.
That should do it, enjoy the game.
.
October, 17, 2013
10/17/13
12:00
PM ET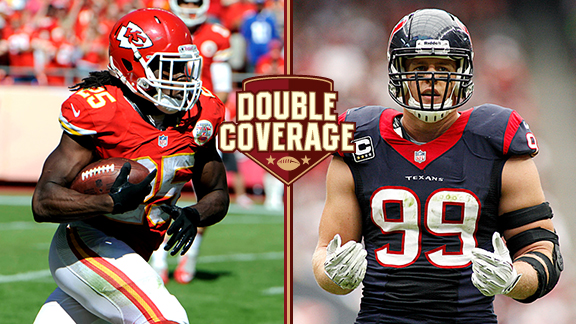 USA TODAY Sports, Icon SMIContaining Jamaal Charles will be key for J.J. Watt and the Houston defense.
Some role reversal will be in play Sunday when the
Kansas City Chiefs
and
Houston Texans
meet at Arrowhead Stadium. The Chiefs were 2-14 last season but now are 6-0 and one of the NFL's two remaining unbeaten teams. The Texans were 5-0 last season and on their way to an 11-1 start but are 2-4 after losing their last four games.
ESPN Chiefs reporter Adam Teicher and Texans reporter Tania Ganguli discuss Sunday's game.
Teicher:
After the collapse against Seattle, blowouts the past two weeks, explain Gary Kubiak's thinking in starting
Case Keenum
over
T.J. Yates
, give a little description of his strengths and weaknesses and how ready to do you think he is to play against one of the NFL's better defensive teams in a difficult stadium for visiting teams?
Ganguli:
He wants a spark. It's as simple as that.
Coming out of Kevin Sumlin's offense at the University of Houston, Case Keenum had a lot to learn on the NFL level. He didn't do too much talking in his college offense and had fewer responsibilities in running the plays. He also had to transition to playing under center like so many shotgun spread quarterbacks do. Yates beat out Keenum for the backup job at the beginning of the season, but they were close. Keenum has a very nice deep ball, which isn't something we've seen out of the Texans very much this year. You ask a great question about his readiness to face Kansas City's defense on the road. That's not easy for veterans to face. And it won't be an easy beginning for Keenum.
What do you think have been the most important factors in the Chiefs' fast start this season?
Teicher:
If their success can be boiled down to one factor, it's field position. The Chiefs have started 17 possessions on their opponent's end of the field while the opponents have started three possessions on Kansas City's side of the field. The best starting field position for the opponent this season has been the Chiefs' 42. So the Chiefs aren't just consistently winning the turnover battle -- at plus-12, they're best in the league -- they're using it to their benefit. They haven't put their defense in a bad position all season. Their offense doesn't generate many big plays, so favorable starting field position is a necessity. The Chiefs have also scored a touchdown on an interception three times. They are consistently getting pressure on the quarterback even when they don't get the sack. They're putting teams in a lot of third-and-long situations and getting off the field.
Turnovers aside, why aren't the Texans scoring more points? With
Arian Foster
and
Ben Tate
running the ball and
Andre Johnson
and
DeAndre Hopkins
catching it, shouldn't they be producing more on offense?
Ganguli:
Turnovers have been a huge factor in why the Texans aren't scoring, probably the biggest. But we can talk only so much about it. The Texans' red zone efficiency has been a problem. On Sunday against the Rams, for example, Houston scored once on six trips to the red zone. Its goal-to-go efficiency was only 33 percent. Those kind of numbers hurt. It's a departure from earlier this season when the Texans' red zone offense was fantastic. Against the
San Diego Chargers
in Week 1 and the
Tennessee Titans
in Week 2, Houston entered the red zone seven times and scored a touchdown every time. Some consider the Texans' red zone play calling to be conservative. I had ESPN Stats & Information look into it, and the Texans have run 53 red zone plays -- 28 passes and 25 runs. Of those, 10 have been passes into the end zone. That ranks in the lower half of the league as a percentage of total plays and pass plays.
Speaking of numbers, the Chiefs have put up some incredible pass-rushing numbers and have more than twice as many sacks as the Texans have. Are they as good as their numbers indicate? How can an opponent neutralize the pass rush?
Teicher:
They've been pretty good with the pass rush. Consistent. They're disrupting the quarterback even when they don't bring him down. And they can come at him from many places and angles. That's maybe the most impressive thing about it. Seven players had at least a half-sack Sunday against the Raiders.
Justin Houston
(9.5 sacks) and
Tamba Hali
(7.5) are their top pass-rushers, but even taking those guys out of the picture, the Chiefs have 14 sacks from eight players. Nose tackle
Dontari Poe
has been the key, providing a strong, consistent inside pass rush. Inside linebacker
Derrick Johnson
and strong safety
Eric Berry
are two of the other players to watch when the Chiefs send more than four to the quarterback. The best way to neutralize their rush is to have an effective running game. Runs by mobile quarterbacks have hurt the Chiefs this season, but otherwise only one running back, Philadelphia's
LeSean McCoy
, has had a big game against the Chiefs.
When the Texans are on defense, there might be a lot of favorable matchups for them. Other than the obvious ones like
J.J. Watt
and
Brian Cushing
, who are some of Houston's defenders who are playing well?
Ganguli:
Outside linebacker
Whitney Mercilus
has played well with an expanded role this season. He was one of the most productive rookies in the league last year on a per-snap basis and leads the team with 4.5 sacks this season. Nose tackle
Earl Mitchell
has been solid but isn't on the field much. Safety
Danieal Manning
had been playing well and was about to become a bigger part of the Texans' return game. But Manning suffered a knee injury Sunday that will land him on injured reserve. As a whole, the Texans' defense has played well, but it could help the Texans more if it created more turnovers and committed fewer penalties.
The Chiefs' offense has done enough given how strong the defense has played. Is that going to bite them?
Teicher:
Eventually it will, perhaps as soon as Sunday. The passing game has been particularly unproductive.
Alex Smith
is completing just 56.5 percent of his passes, an alarmingly low number in Andy Reid's version of the West Coast offense that features a large number of high-percentage passes. Some of that is his fault, but protection has been leaky and Smith has been forced to run for his life on too many plays. Right tackle
Eric Fisher
, the first overall pick in this year's draft, has been lousy. Most everything the Chiefs get offensively comes from
Jamaal Charles
. He leads the team by a sizable margin in rushing, receptions, receiving yardage and touchdowns. I'd be surprised if he can keep this up over 16 games and maybe more, so the Chiefs need to develop other threats.