AFC West:

2013 NFL Week 8 Double Coverage
October, 25, 2013
10/25/13
12:00
PM ET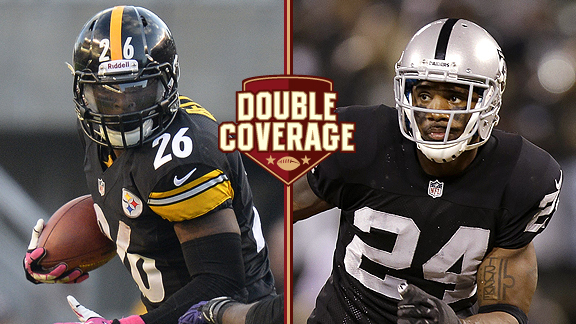 AP PhotoLe'Veon Bell has given the Steelers a running game while Charles Woodson and the secondary will need to try to generate some turnovers.
A cross-country rivalry as heated as it is old school is renewed between the
Oakland Raiders
and
Pittsburgh Steelers
on Sunday at the O.co Coliseum.
The Raiders (2-4) are coming off a much-needed bye week in which they were able to address their numerous injuries, while the Steelers (2-4) seem to have righted their ship with two straight wins after an 0-4 start.
ESPN.com Raiders reporter Paul Gutierrez and Steelers reporter Scott Brown break down the matchup:
Gutierrez
: Hey, Scott, there are several obvious storylines between these two old rivals -- the Immaculate DE-ception, as it's called in the streets of Silver and Blackdom, the Criminal Element, as Chuck Noll put it to George Atkinson and the Soul Patrol, the Raiders beating Cliff Stoudt to send Terry Bradshaw into retirement, etc. But now there seems to be another focal point rising: the emergence of Raiders quarterback
Terrelle Pryor
, a Steel City kid who grew up in nearby Jeannette and is a huge fan of the Steelers. He told me he was a big fan of
Ben Roethlisberger
and would have to tuck away his boyhood fandom feelings when facing the Steelers. So my question is this -- while we know Pryor is seen as a sort of tainted figure in Columbus, Ohio, how is he perceived in Pittsburgh? Remember, he initially committed to play college hoops at Pitt for Jamie Dixon.
Brown
: Wow, that seems like ages ago that Pryor was a Pitt basketball recruit, but he sure could play. His basketball and football exploits at Jeannette make Pryor one of the greatest athletes ever to come out of Western Pennsylvania. There are still a ton of people here rooting for him -- in almost every other game. Pryor's ties to the Steelers go beyond cheering for Roethlisberger. Pryor's mentor in high school was Roethlisberger's longtime backup,
Charlie Batch
, and the Steelers gave Pryor a look before the 2011 supplemental draft.
Pryor represents a completely different challenge than Baltimore's
Joe Flacco
-- whom the Steelers faced last weekend -- because of his athleticism. Pryor certainly isn't the passer Flacco is, but his running ability will tax the Steelers' defense like no quarterback they faced to this point. Pryor seems to be going through the normal ups and downs for a first-year starter at quarterback, and that leads me to two questions: Have the Raiders finally found a quarterback to build around, and what does Pryor need to do to beat the Steelers?
Gutierrez
: I've said it before and I'll say it again: If Pryor is not Mr. Right for the Raiders, he is most definitely Mr. Right Now. The Raiders have gone all-in with the man fans call TP2 -- even changing the offense to become more of a zone-read scheme to take advantage of his skill set. Quarterback coach John DeFilippo told me he actually wants Pryor to run more to take advantage of his natural gifts. And yet, there is no doubt the Raiders would love to have the prototypical pocket passer going forward. Pryor, it should be noted, is working hard to become that quarterback, which is one of the reasons he's been working with quarterback guru Tom House on his passing mechanics. If Pryor becomes a quarterback who can run, rather than a running quarterback who can pass, then yes, Pryor is the man for the Raiders going forward. To beat the Steelers, Pryor has to keep their defense off balance, and not get rattled like he did in Kansas City. Then again, much of that was because of his offensive line getting liquefied.
As such, it seems the Steelers have found themselves and gotten their legs under themselves with two straight wins. They get their groove back, or is it a lot of fool's gold?
Brown
: It is fool's gold if they don't find a way to solve the Raiders in Oakland. When the Steelers have been good they have always found a way to win games such as this one. That's not taking anything away from the Raiders, either. I think their defense has played well, Pryor has a ton of promise and the Coliseum is a tough place to visit. But the Steelers should have the clear edge in quarterback, and a veteran defense should be able to contain Pryor and force the first-year starter into a turnover or two. The Steelers have won their last two games because they have been able to run the ball, stay away from turnovers and not lean too heavily on Roethlisberger. Defensively, they have not given up the big play and have forced teams to kick field goals after they have driven into Steelers territory. I need to see the Steelers employ that same formula for another week before I am ready to say they have found their groove. The Raiders have been coming up with their share of takeaways, and my question is: Why have they been so successful in generating turnovers? Do they need to win the turnover battle by a decisive margin to beat the Steelers?
Gutierrez
: To quote Blackstreet, no diggity, no doubt (I know that's No. 1 on your iPod, right?). Here's the funny thing about the Raiders and takeaways -- they did not have a single interception until Week 5, against San Diego, when they picked off
Philip Rivers
three times. Oakland has not had one since (granted it has played only one game since, at Kansas City, and then enjoyed the bye). In fact, the Raiders have a turnover differential of zero, with nine takeaways and nine turnovers. Even coach Dennis Allen stressed this week to the media that the turnover battle was going to be huge. And really, it always is. But when you have little depth and are one injury away from catastrophe on the offensive line, turnovers can be that proverbial straw.
Speaking of which, the relationship between Roethlisberger and Todd Haley seemed to teeter on the brink last year. Now, in their second year working together, have quarterback and offensive coordinator found common ground?
Brown
: I'm not ready to say the two are golfing buddies yet, even though they would make a heck of a team in a better-ball event. But there appears to be a whole lot more trust and give and take between the two this year. Roethlisberger talked about it earlier this week when he successfully lobbied for the shovel pass that the Steelers installed for the Ravens game to go to tight end
Heath Miller
instead of a wide receiver. He said Haley has been receptive to those kinds of "tweaks," as Roethlisberger has been when Haley has wanted to make a change to a play. The best thing for their working relationship is if the Steelers continue to win, and I think we're finally seeing what Haley can do when he doesn't have one arm tied behind his back as a playcaller. That was the case at the beginning of the season because of injuries.
Darren McFadden
had a big game against the Steelers last year. Does he have another one in him or do the Raiders have too many issues up front to run the ball effectively against the Steelers?
Gutierrez
: Here's the thing about McFadden: He still has home run potential, but there are far too many O-fers mixed in there. Yes, he had a big day against the Steelers last year, rushing for 113 yards on 18 carries. But 64 of those yards came on one run, a play then-quarterback
Carson Palmer
audibled into and McFadden did not realize, and if you take out that one run, his career-low 3.3 yards per carry for the entire 2012 season drops to 2.9 yards. It's the same this season as 108 of his 267 rushing yards have come on four long runs against Jacksonville. Remove those bursts, and he's averaging 2.4 yards per carry. Unfair? Maybe. Small sample size? Yup. But you can make numbers do whatever you want, and with McFadden, who is in a contract year, he needs to be put in space to make plays. It's really that simple. A beat-up O-line is not going to help him, either.
.
October, 25, 2013
10/25/13
12:00
PM ET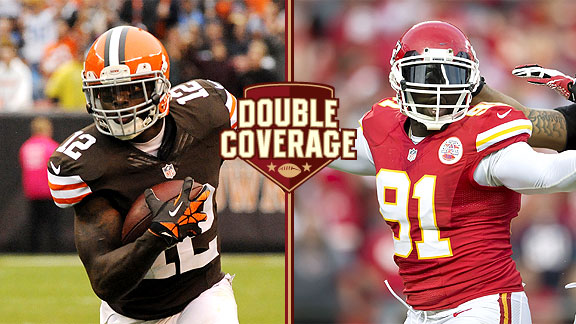 Getty ImagesJosh Gordon and the Cleveland offense have their work cut out for them against Tamba Hali and the undefeated Chiefs.
The 7-0
Kansas City Chiefs
are the NFL's last remaining unbeaten team and could use a victory over the
Cleveland Browns
on Sunday at Arrowhead Stadium. The Chiefs are one game ahead of the
Denver Broncos
in the AFC West race, and following a Nov. 3 game against the Bills in Buffalo, their schedule takes a decidedly more difficult turn.
The Browns rallied from an 0-2 start to win three consecutive games, but after losing quarterback
Brian Hoyer
for the season with a knee injury, they've lost two straight, allowing 31 points in each loss.
ESPN Chiefs reporter Adam Teicher and Browns reporter Pat McManamon discuss Sunday's game.
Teicher:
Browns coach Rob Chudzinski announced Wednesday
Jason Campbell
will take over for
Brandon Weeden
at quarterback. This is the third time in four weeks that the Chiefs will face an opponent starting a different quarterback than the week before. Against an aggressive defense that gets after the passer and creates turnovers like Kansas City's, will the Browns benefit from a change to Campbell?
McManamon:
In this case, the Browns might be better off pondering the single wing, because neither Campbell nor Weeden is especially adept at avoiding the rush. In many ways, this is the worst possible matchup for the Browns' quarterbacks. One hasn't played, and the other's confidence is lacking in a big way. Campbell is probably a little more mobile than Weeden, but that's because Weeden is more like the Statue of Liberty. The way the Browns are at quarterback, there's no reason to think the Chiefs won't add significantly to their sack total.
While we're discussing sacks and the Chiefs' defense, Adam, what is the key to that sacking onslaught this season? Is it players, new players, new scheme, speed, a combination of all or something different? Did you see this coming?
Teicher:
I can't say I saw this coming, but they had the pieces to have a strong pass rush. They just needed better direction, and they're getting that from Bob Sutton, their new defensive coordinator. They're creative with their blitzes but are getting pressure even when they send four or fewer players after the quarterback. The Chiefs have 35 sacks, and 24 have come when rushing four or fewer players. The key is nose tackle
Dontari Poe
, who is generating a nice, consistent push up the middle.
Tamba Hali
and
Justin Houston
are good edge pass-rushers, but the Chiefs have a lot of other guys capable of putting pressure on the quarterback. Neither inside linebacker
Derrick Johnson
nor strong safety
Eric Berry
blitz a lot, but they're effective when they do.
Statistically, the Browns look like they're playing good defense -- solid against the rush, opposing quarterbacks not lighting it up against them. So how is it they're allowing a little under 30 points over their past three games?
McManamon:
File this under the old "numbers can be deceiving" category. It's tough to say a team that has given up 24, 31 and 31 points in the past three weeks is playing good defense because points allowed is the single most important defensive statistic. The Browns' main problem is third downs. They can't get off the field. Overall, the Browns are tied with Seattle for the league lead in yards per play (4.5), but they are 29th in third downs (opponents converting 45.3 percent). Because of that, the Browns have 492 defensive snaps, fourth highest in the league. That's what happens when a team's offense is struggling and its defense can't get off the field.
Speaking of deceiving,
Alex Smith
completes 58 percent of his throws, 28th in the league. His yards per attempt ranks 29th (6.28). How are the Chiefs undefeated at this point with their quarterback so low in these important numbers?
Teicher:
That speaks to the strength of their defense. Defense has carried the Chiefs through these seven games, and offense has just been along for the ride. But for the Chiefs to remain undefeated much longer or go deep into the playoffs, those numbers have to improve. That's where the potential growth in Kansas City's offense lies, particularly with Smith's completion percentage. Smith doesn't throw a lot of passes way beyond the line of scrimmage, so his percentage should be much higher. He's certainly capable. He completed 70 percent for the
San Francisco 49ers
last year. Receivers aren't dropping a high percentage of passes. Protection has been a problem at times. He has had to unload before he's ready on a number of attempts. Another problem has been the inability of receivers to consistently get open.
Willis McGahee
leads the Browns in rushing but is averaging only 2.9 yards per carry. Does he have anything left at this point in his career, and can the Browns take some pressure off their quarterback Sunday by having a consistent running game against a defense that, despite the numbers, has played well against the run?
McManamon:
Not really on both counts. McGahee gives what he has, but there's a reason he was available to sign when the Browns traded
Trent Richardson
. McGahee has little speed; Norv Turner joked he could go outside as long as he starts inside. But he can burrow for 3 or 4 yards if he has to. The problem is how much he can play. He had 26 carries against Buffalo but just 21 the past two games combined. He hasn't averaged more than 3.7 yards per carry in a game this season. The other options are stretches:
Chris Ogbonnaya
's value is in pass protection, and
Fozzy Whittaker
is ... well ... Fozzy Whittaker. The Browns had their reasons for trading Richardson, but their lack of a legitimate running game will cost them as the season continues.
The Browns have had a revolving door with their coach. Why do you think Andy Reid's voice is being heard so well in Kansas City?
Teicher:
He walked in the door with some impressive credentials, better than those of any Chiefs coach since Dick Vermeil and just two players remain from Vermeil's time in Kansas City. So Reid immediately had everyone's attention. The other thing was that so many of the players were ready to be led in a positive direction. They were tired of losing and tired of people within the organization having different agendas and pulling in different directions. They were ready to buy into something positive. It helped Reid that the Chiefs had an easy early-season schedule and took advantage of it. I wonder how this would have gone had the Chiefs started losing games to some lousy teams right away.
October, 25, 2013
10/25/13
12:00
PM ET
Already this season,
Denver Broncos
quarterback
Peyton Manning
has faced his younger brother, Giants quarterback
Eli Manning
, and has made his first visit to Indianapolis as an opposing player.
So, what's another reunion?
Washington Redskins
coach Mike Shanahan will stand on a sideline inside Sports Authority Field at Mile High for the first time since the Broncos fired him following the 2008 season. That ended a 14-year tenure as the head coach, which included two Super Bowl wins with current Broncos executive vice president of football operations
John Elway
as his quarterback.
The Broncos are 6-1, having suffered their first loss of the season against the Colts in Week 7. The Redskins (2-4) have won two of their last three after an 0-3 start. ESPN.com Redskins reporter John Keim and Broncos reporter Jeff Legwold break down this week's game:
Legwold:
John, we'll get to the football in a minute. Sunday's game is essentially unprecedented in that a coach is coming back to face the team with which he won a Super Bowl -- one that is now run by his former quarterback. How has Shanahan described all of this? And do you get any kind of sense it means any more to him than any other opponent?
Keim:
You probably know as well as anyone how Mike gets in these situations. He's talked about how important Denver is to him because he spent 21 years there, his kids were raised there and he still maintains a home in the area. But Shanahan is as competitive as they come, and there's no doubt his mindset is not on sentimentality, but on proving he should not have been fired in the first place. I remember hearing stories while he was in Denver about him, after winning the Super Bowl, showing reporters their newspaper clippings from early in the season. He coaches with a chip; it's what drives him to be successful.
I think Mike might feel better if the Broncos' offense wasn't playing so well. But have defenses started to attack them differently -- and with more success -- lately?
Legwold:
For all of their struggles this season -- and at 0-7, the Jaguars have had plenty -- it was Jacksonville's defense that opened the box a bit, and the Colts took that cue. It was the Jaguars, being such a heavy underdog, who played more aggressively on defense than any of the Broncos' first five opponents. Jacksonville's defensive backs were more physical with the Broncos receivers, and the Colts went to the next level with that. The Colts played in press coverage much of the time on the outside, matched up one-on-one on the Broncos wideouts, kept the two safeties deep and defended the run with seven in the box most of the night. Now, it is a testament to the Broncos offense that "holding" it to 33 points, as the Colts did, was a season low. But it is probably a template others will try to duplicate, at least until the Broncos show they have an answer.
To that end, how do you think the Redskins will attack Manning and the Broncos' wide receivers?
Keim:
They have to be aggressive, as they were against
Tony Romo
and against
Jay Cutler
, until he got hurt. The Redskins will not blitz every down by any means; they feel good about their ability to pressure with four -- thanks to having linebackers
Ryan Kerrigan
and
Brian Orakpo
and nose tackle
Barry Cofield
. But they will blitz from the slot and send the safety off the edge once in a while. Anything up the middle will come from the linebackers. What they've also tried to do the last couple weeks against very good receivers is jam them and disrupt timing. They won't do it every down; sometimes they'll do it at the line and sometimes they'll wait a couple yards. They will mix coverages; Washington uses a lot of three-corner, one-safety sets and that enables corner
Josh Wilson
to sometimes disguise his position. Will he be in the slot? Strong safety? That occasionally buys them time to get free on the rush. They will have a tough time against
Wes Welker
, as everyone does. But with issues at safety this week --
Brandon Meriweather
's suspension and
Reed Doughty
's concussion -- I think you have to mix it up. If they try to just play coverage against Peyton Manning, he will pick them apart. It's not their style to just sit back.
Are you surprised by what Denver's offense has done? If so, what surprises you?
Legwold:
I'm a little more surprised defenses were so passive early in the season in terms of how often they rushed Manning, especially after he simply torched coverage looks week after week. Despite the avalanche of touchdowns through the weeks, team after team chose coverage over pressure, and that's probably understandable, given Manning has routinely eaten up blitz packages like breath mints throughout his career. But until the Jacksonville game, defenses had rushed Manning with four or fewer on 70 percent of his dropbacks. The Jaguars and the Colts were more aggressive and had some success against a battered offensive line. There is a slight chance right tackle
Orlando Franklin
(knee) could be back this week -- that is the most optimistic scenario with the bye coming next week for the Broncos -- but left tackle
Ryan Clady
is on injured reserve. Manning has always been quick to adjust, so the Broncos will handle some things better than they did against the Colts. But when they're right and in rhythm, there are defensive coordinators who say the Broncos are as close to unstoppable as the league has to offer because they routinely have four pass catchers in the pattern who can consistently beat one-on-one coverages.
Staying on quarterbacks, the general feeling around the league seems to be that
Robert Griffin III
has been more himself over the last two games or so. Is that the case, or have the Redskins made some kind of adjustment to help him along?
Keim:
No, I think the adjustment has been more about Robert trusting his knee and feeling good enough to let loose again. The Redskins say there were runs for him in the game plan in the first couple weeks, but I think that was just lip service and a desire to try and con other teams. The reality is, Robert wasn't going to be running a lot early in the season. I also think Dallas and Chicago both played in a way that fed into his running: man coverage on the outside and a big focus on stopping running back
Alfred Morris
. The Bears played as if they had not seen the Dallas tape; there were times when most of the eyes were on Morris, a contrast to last season when they were more on Griffin. So he had to run more. But I really think this is about him feeling better -- not healthier, but just overall better.
Teams blitzed Griffin early in the season because he wasn't quite himself. They also played the zone read with a little more discipline (until last week). How do you think Denver will react to his style of play?
Legwold:
It's easy to forget in all that's happened all over the league since, but it was John Fox, former offensive coordinator
Mike McCoy
and current offensive coordinator Adam Gase who dropped the read option on the NFL in the 2011 season. The Broncos had
Tim Tebow
at quarterback then, and discovered he didn't function well in a traditional pro-style, dropback passing offense. So they unveiled the read option against the Raiders that season, won big and eventually made the playoffs at 8-8. The Broncos have since defended the look well, but Griffin will be the most explosive player they've seen running it. Defensive coordinator Jack Del Rio is aggressive and the Broncos like to try to force the issue.
Champ Bailey
won't play because of a foot injury, but Del Rio likes his other corners enough to play plenty of man coverages. They will likely use some sort of spy on Griffin in some down-and-distance situations, and take a measured approach in the pass rush so they don't get too deep into the backfield and give Griffin escape routes.
Staying with the Redskins' offense a little more, on the outside it looked as though there was at least a small rift between Griffin and both Mike and (offensive coordinator) Kyle Shanahan earlier this season. Was that the case, and if so, have they worked through it?
Keim:
A rift? Not sure if it went that far (though perhaps this is semantics), because that feels harder to repair. But there was definitely a little tension as the coaches and player sought to get on that so-called same page. From Griffin's perspective, what I've always heard is that it was a matter of him being able to trust his coaches -- that what they told him during the week would play out on Sunday. He needs to trust them. From Mike Shanahan's perspective, he always liked to let Griffin know who was in charge. For Shanahan, this is a business relationship, though Griffin seems to like having something more from those he works with. Shanahan only wants to win a Super Bowl. That's it. Griffin's dad didn't help the cause by talking about how his son shouldn't run the ball; the coaches would point out that Griffin's ability to run is why he was so good last year. He's not an accomplished passer yet and needs his legs to be dynamic. I've always felt this was an evolving relationship and one that could work. But I'll be curious to see what happens with it should the Redskins fail to turn their season around (and it becomes a disaster). Just keep in mind: Griffin is tight with the owner.
How did
Von Miller
look in his return and is he enough to save the Broncos' defense?
Legwold:
Miller looked like he had missed six weeks' worth of practice. At times he flashed his ability, but he also looked rusty and sluggish. Time will ultimately tell the tale, but it will be interesting to see if the extra 10-15 pounds he said he added in intense workouts during his suspension affect his play. His game before the suspension (for violating the league's substance-abuse policy) was predicated on speed off the ball, explosiveness and the ability to change direction at full speed, without losing any momentum toward the ball carrier. It was just one game, and publicly Fox keeps saying it will get better, but Miller did not consistently show that same explosiveness this past Sunday. Internally, some with the team are concerned Miller continues to avoid taking any full responsibility for what's happened. He is now in Stage 3 of the league's drug program, which means his next suspension is for at least a year,and he's tested up to 10 times a month for the remainder of his career. Yet he continues to say he doesn't have a substance-abuse problem or need any help in a treatment program. So, some are left to wonder how exactly he got all the way to Stage 3 without having a substance-abuse problem. Put it all together and Miller certainly does have question marks around him. On the field, though, the Broncos need him to be better than he was Sunday night if he's going to have the kind of defensive impact they hope to see.
In the end, with a 2-4 start, is Shanahan in any real trouble with owner Daniel Snyder if they don't rebound to make the postseason or at least be in the hunt down the stretch?
Keim:
I haven't heard Shahanan would be in that sort of trouble. I think it would take an outright disaster for anything to happen, and former Redskins tight end
Chris Cooley
, for example, recently said that Shanahan would return regardless (Cooley remains close to many in the organization). But the interesting part will be whether he gets an extension. Shanahan signed a five-year deal and has constantly said that owner Dan Snyder would give him all five; otherwise he would not have come here. But would he want to enter the last year of his contract without an extension? So there is a scenario under which Shanahan does not get fired, but presses Snyder for an extension. At that point, Snyder has a decision to make; if he doesn't grant the extension, then Shanahan could end up resigning. Once again, there could be offseason drama in Washington.
Do you view Denver as a legitimate Super Bowl contender, or do you have concerns that they're built more for the regular season than postseason success?
Legwold:
In the end, if they can avoid too many more major injuries, they'll have the offense to put themselves in the title hunt. The question will be, can they find enough defense from a unit that, somewhat surprisingly, hasn't performed nearly to the level of last season? Also, they have to play with a little more edge on offense. Receivers can't always be looking for a flag because there is some contact, and they can't react as poorly as they sometimes do after fumbles or other misfortunes. Just get back up and play. But it is a talented group who generally works hard across the board, and when it plays with purpose and toughness, it can be the best the league has to offer. It's a matter of keeping their eye on the ball, as it were, and closing the deal.
.