AFC West:

2013 Week 1 HOU at SDG
September, 10, 2013
9/10/13
4:32
AM ET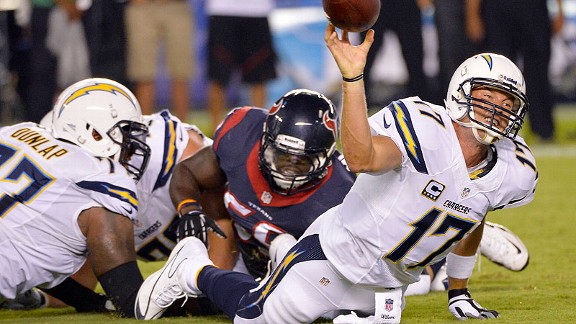 Robert Hanashiro/USA TODAY SportsPhilip Rivers and the Chargers fell flat in the second half, surrendering a 21-point lead.
SAN DIEGO -- Maybe it's the stadium.
It has to be something. Neither coach Norv Turner nor general manager A.J. Smith can be blamed this time. They are both gone.
The
San Diego Chargers
began a new era Monday night, and if it weren't for another second-half meltdown, it seemed like a pretty promising start. New coach Mike McCoy's team was improved in many areas. And quarterback
Philip Rivers
was mostly surprisingly good.
But these are the Chargers, so none of that meant much. In the end, McCoy suffered a Turner-esque defeat to start his head coaching career. After building a 21-point third-quarter lead, the Chargers suffered a 31-28 loss to the
Houston Texans
late Monday night to put a cap on Week 1 of the 2013 season.
"We're sick," Rivers said. "I'm sick, that we're not 1-0."
A dominating first-half performance by the Chargers ushered in the Tom Telesco-McCoy era. But the game ended up smacking of the Smith-Turner regime.
The collapse seemed to be coming the entire second half. All the crazy things that don't happen in normal games started happening to the Chargers. As Texans kicker
Randy Bullock
's winning 41-yard field goal sailed through the uprights as time expired, there wasn't much shock in Qualcomm Stadium. It just seemed like a typical ending.
They've come to expect it around here.
Turner's six-season tenure in San Diego was riddled with unlikely losses. It all came to a head last season when the Chargers blew a 24-point halftime lead and lost 35-24 to Denver on a Monday night. It was one of the biggest comebacks in NFL history. The game helped McCoy, who was Denver's offensive coordinator at the time, become one of the hottest head coaching candidates in the league.
After the Chargers hired McCoy, they were able to take some solace from the embarrassing loss. At least they got one of the guys responsible to come to their side. McCoy was brought in to change San Diego's losing culture. He was supposed to put an end to colossal collapses like the one against Denver and the famous fourth-and-29 loss to visiting Baltimore last November.
As the Chargers soared to the huge lead by playing near-flawless football in the first half, many might have believed McCoy would indeed prevent a Turner-like finish.
Then all kinds of Turner-like things started to happen.
The Chargers gave up big plays on third-and-18 and third-and-13 to keep two Texans' scoring drives alive. They were penalized on a field goal which Houston parlayed into a touchdown -- a gigantic four-point swing in the fourth quarter.
Then Rivers threw an interception that was returned for a touchdown by Houston linebacker
Brian Cushing
to tie the game at 28 with 9:30 to go. The San Diego offense stopped after taking a 21-point lead. Brilliant play-calling dried up. The Chargers had 10 yards in their final five drives.
It was just like the Turner era. Honestly, as I walked to the interview area, I half expected to see Turner's familiar blank stare.
But this is on the new regime. These are the new Chargers, even though the results are all too familiar.
After reveling in a Monday night San Diego collapse 11 months ago, McCoy will live with the reality that his first night as the Chargers' coach ended similarly. To his credit, he handled it well.
"The effort was there," McCoy said. "They did a nice job. We just didn't finish it. It comes down to finishing a football game. We got to do a better job moving forward."
That's the thing about this night. The Chargers played well. Yes, they did some bad things at the worst possible times. But this easily could have been a big win for a team from which not much is expected.
Rivers showed he is fitting in well with McCoy's scheme. He looked more poised and relaxed than in the past two years, over which he committed 47 turnovers. Yes, he threw an interception and yes, it was paramount to the loss. But Rivers wasn't a mistake waiting to happen Monday night. His four touchdown passes were the reason why the Chargers jumped out on Houston.
Many young players on both sides stood tall for San Diego. A maligned offensive line put in strong work against Texans pass-rusher
J.J. Watt
. San Diego's young receivers came up big. And the Chargers' young defense made Houston fight for most of the night.
There were signs of a good team. But, in the end, the Chargers fell apart again.
NFL veteran and San Diego newcomer
Dwight Freeney
tried to put a positive spin on it by saying this team will learn a lesson from the devastating collapse. Freeney was trying to be positive. But what he doesn't realize: San Diego can teach lessons on such defeats, regardless of who is leading the charge.
September, 10, 2013
9/10/13
2:36
AM ET
SAN DIEGO --
Observed in the locker room after the San Diego Chargers' 31-28 loss to the Houston Texans on Monday night
:
Rivers
Quiet, please
: Predictably, this was not a cheery place. It was very quiet. Few players talked among themselves. The Chargers were polite with media, but there weren't many who wanted to rehash the details of blowing a 28-7 third-quarter lead.
A 'sick' feeling
: As always, San Diego quarterback
Philip Rivers
stood to face the questions. The loss was bitter, he said, but he was dealing with it. "There was never a feeling of desperation," Rivers said. "We were in control. We stayed poised. ... We're sick, I'm sick, that we're not 1-0."
Falling short
: San Diego cornerback
Shareece Wright
bemoaned the fact that the Chargers' defense couldn't make many big plays in the second half.
Learning experience
: New San Diego pass-rusher
Dwight Freeney
called it a lesson. That said, Freeney is a newcomer. Many of these Chargers have been here before -- and watched a 24-0 halftime lead turn into a 35-24 loss to Denver last October.
September, 10, 2013
9/10/13
1:57
AM ET
SAN DIEGO -- A look at another jaw-dropping come-from-ahead loss for the
San Diego Chargers
-- this time
31-28
to the Houston Texans -- as the Chargers begin a new era:

What it means for San Diego:
The Chargers are well, the Chargers. Unreal. And it's not all Norv Turner's fault. Turner's teams were known for blowing games. Last year, on a Monday night, the Chargers turned a 24-0 halftime lead against Denver into a 35-24 loss. Stunningly, the Mike McCoy era has started in similar fashion. The Chargers led the Texans 28-7 in the third quarter. What a disappointing start for McCoy, who by the way was with Denver last year. His team was so impressive for so long Monday night, but the misery continues. Quarterback
Philip Rivers
was great for most of the night, but he will be remembered for an interception that Houston's
Brian Cushing
returned for a score to tie the game at 28.
Letting Houston back in:
The Chargers' defense faltered the second half. It gave up huge plays on third-and-18 and third-and-13 to allow the Texans to cruise back into the game. The special teams also got into the choking act. The Chargers were called for a penalty on a field goal that gave Houston new life. The Texans ended up scoring a touchdown. That was a huge four-point swing.
Stock watch:
San Diego receiver
Eddie Royal
had three catches, two of which were touchdowns. He was targeted often. Rivers seems to trust him. Overall, it was a good night for San Diego's maligned offensive line.
King Dunlap
and crew held star pass-rusher
J.J. Watt
in check for the most part. Not a lot was expected from this unit, but it came up big for much of the game.
What's next:
The Chargers go to Philadelphia to face the NFL's flavor of the moment. Chip Kelly's Eagles are the big curiosity in the league after beating Washington on Monday night. There is no doubt the Chargers' defensive players will have to put on their track shoes for this one. The Eagles' offense goes fast.