AFC West:

2013 Week 1 Upon Further Review AFC
September, 10, 2013
9/10/13
12:00
PM ET
An examination of four hot issues from the San Diego Chargers' 31-28 loss to the Houston Texans:
Another collapse:
Norv Turner is no longer the Chargers' coach, but a similar thing happened. The Chargers blew a huge lead again in the first game of the Mike McCoy era. San Diego had a 28-7 lead with less than 11 minutes remaining in the third quarter Monday, only to be outscored 24-0 the rest of the game. Last October, on a Monday night, the
Denver Broncos
came back from a 24-0 halftime deficit to beat the Chargers 35-24. McCoy was Denver's offensive coordinator in that game. Seeing such a promising start end a familiar way to begin the McCoy era is difficult for San Diego to digest.
[+] Enlarge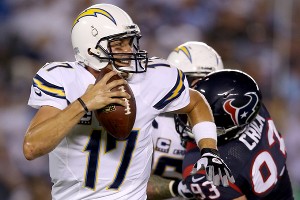 Jeff Gross/Getty ImagesPhilip Rivers threw four touchdown passes, but struggled in the fourth quarter Monday night.
Rivers' fourth-quarter failures:
San Diego quarterback
Philip Rivers
was terrific for the first 34 minutes of the game as he threw four touchdown passes. But as the Texans came back, Rivers was unable to spark his team. Rivers was 1-for-7 in the fourth quarter, including an 18-yard interception return for a touchdown by Houston linebacker
Brian Cushing
to tie the game at 28-28. According to ESPN Stats & Information, since the start of last season Rivers has an NFL-worst 7.7 fourth-quarter Total QBR and a league-high 13 turnovers.
Great start:
The Chargers squandered a dynamic start to the game. After a great stop on special teams, the San Diego defensive came on the field and forced Houston quarterback
Matt Schaub
into an interception on the first offensive play of the season. Defensive tackle
Cam Thomas
intercepted the ball at the Houston 14. On the next play, the San Diego offense punched in a touchdown on a pass from Rivers to
Ryan Mathews
. It was a stunning turn of events. In the end, it meant little.
Get better on third-down defense:
The Chargers improved on third down defensively some last year after finishing dead last in the NFL in 2011. But the Texans came back fueled on third-down success Monday night. The Texans converted on third-and-18 and third-and-13 during the comeback. This is a good, solid defense. But destructing on third-and-long is no way to build a winner. There are many reasons Houston came back. But it all started on third down.
September, 9, 2013
9/09/13
12:00
PM ET
An examination of four hot issues from the Oakland Raiders' 21-17 loss at the Indianapolis Colts:
[+] Enlarge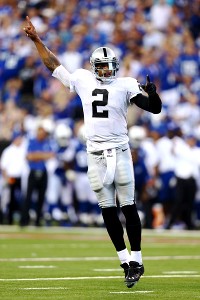 Andy Lyons/Getty ImagesTerrelle Pryor joined some elite company with his dual-threat performance on Sunday.
It's TP2 Time:
Even if
Terrelle Pryor
is not Mr. Right for the Raiders, it's obvious he's Mr. Right Now. Pryor's playmaking ability and his knack for extending plays and, thus, hiding some deficiencies in the offensive line gave the Raiders a shot at upsetting the host Colts. He became just the seventh QB to pass for at least 200 yards (217) and rush for 100 (112) in a regular-season game, joining the likes of
Michael Vick
, who did it twice, Randall Cunningham,
Cam Newton
, Aaron Brooks, Steve Young and Donovan McNabb. "I wanted to dice 'em up," Pryor said, reflecting upon his fateful final drive, on which he led the Raiders to the Colts' 8-yard line but suffered a 16-yard sack before throwing an interception at the 6-yard line.
King's issues:
Punter
Marquette King
was anything but proud of his first-ever NFL game. "I just have to watch film," he lamented, "and take notes." And he needs to regain his confidence going forward. Sure, he averaged 50.5 yards on two punts, but his net was only 29 yards after his first punt -- which he mis-hit and which was fielded off the ground and returned 23 yards by
T.Y. Hilton
-- and his second just missed being downed inside the 5-yard line and instead rolled into the end zone for a touchback. Plus, King was the holder on
Sebastian Janikowski
's missed 48-yard field goal attempt to end the first half, the first time SeaBass missed from inside 50 yards since 2011. "It's my fault," King said. "It's me." Of course, there was also his getting "blasted" covering on his first punt. "I got kind of dizzy getting up," King said. "But I'm tough. I'm a football player at the end of the day, so I took it."
East side problems:
The last time the Raiders won a game in the Eastern time zone? Try Dec. 6, 2009, when
Bruce Gradkowski
led a comeback in Pittsburgh. Since then, Oakland is 0-11 playing three time zones away, being outscored by a combined 353-178 and losing by an average score of 32-16. Since Dec. 15, 2002, when the Raiders lost at Miami, Oakland is 5-28 in the Eastern time zone. The Raiders have two more games on the East Coast this season, playing at both the
New York Giants
(Nov. 10) and
New York Jets
(Dec. 8).
Of explosive plays:
Coach Dennis Allen made a point last season to make "explosive plays" -- plays that gain at least 16 yards through the air or 12 yards on the ground -- a point of emphasis. Limit the opponents' while maximizing your own, and your chances for victory increase. So how did the Raiders do against the Colts? Oakland had nine explosive plays -- six passes and three runs -- all by Pryor. Indianapolis had eight explosive plays, five through the air and three on the ground. None of the Raiders' plays, though, ended as scores, while a 20-yard
Andrew Luck
pass and a 19-yard Luck run were TDs.
September, 9, 2013
9/09/13
11:40
AM ET
An examination of four hot issues from the Chiefs' 28-2 win over the Jaguars:
[+] Enlarge

AP Photo/Phelan M. EbenhackThe Chiefs' Justin Houston consistently hounded Jaguars QB Blaine Gabbert on Sunday.
September, 6, 2013
9/06/13
11:20
AM ET
An examination of four hot issues from the Denver Broncos' 49-27 win over the Baltimore Ravens:
[+] Enlarge

AP Photo/Jack DempseyPeyton Manning's historic performance Thursday night should end speculation on whether he can still deliver.

This just in: Peyton Manning's arm is just fine. Manning is in his 16th season and he often talks about how he's a different player after his neck surgeries than he was before them. It was no small thing for him to come back from a missed 2011 season. But since his return to the field last season, questions about his arm strength have taken on a life of their own. That was especially true after he seemed to struggle with his grip in the frigid playoff loss to the Ravens last January. Even Thursday night as the Broncos were knocking off the rust in the first half, there were plenty of missives about what it looked like Manning couldn't do. Bottom line: At 37 years old, the guy just tied an NFL single-game record with seven touchdown passes -- something nobody else has done since 1969, even in these pass-happy times. In short, he can throw it however he needs to throw it. Does he throw with the raw velocity he had as a 24-year-old? Probably not, but it doesn't matter. You don't need a hammer if you're a surgeon.

The Broncos will need more than 2.8 yards per carry in the run game -- you know it, they know it and the American people now know it after Thursday night's nationally televised affair. The best way to protect Manning from opposing pass-rushers will always be the Broncos' ability to use play-action and to pound the ball when they want to close things out. And if you can't run the ball, nobody is going to spend much time being fooled by play-action, and, really, there's no reason Manning should still be taking drop-backs up 22 points with a few minutes to play, but he had to because the Broncos couldn't get a first down if he didn't.

It's never too early to crank up the hysteria in Denver. The Broncos, amid a three-decade sellout streak, have always been this region's sports gemstone. But they're a team that hasn't always handled success very well in recent years, and now they'll have plenty of verbal rose petals tossed at them. After an offseason filled with bad decisions and statement after statement from team officials that included "the Broncos are aware of the incident," their organizational composure will be tested in the coming weeks.

It remains to be seen if this defense can dig in and slug it out deep into a close game, especially without Von Miller in the lineup until Oct. 20. They had their defensive difficulties deep into the second quarter Thursday night. It's easy to forget that the Ravens led 17-14 at the half and Baltimore quarterback Joe Flacco's jersey looked like it still had creases in it. Until Miller's return, they have to generate something more from the front seven in the pass rush, especially if teams go big and the Broncos have to rush out of their base 4-3 package.