AFC West:

2013 Week 12 SD at KC
November, 24, 2013
11/24/13
10:19
PM ET
KANSAS CITY, Mo. -- Even as
San Diego Chargers
tight end
Ladarius Green
blazed past
Kansas City Chiefs
defensive backs
Quintin Demps
and
Brandon Flowers
as if the two were standing still for a 60-yard touchdown reception, something else ran through his mind.
"I just hoped I didn't trip," Green said, smiling. "Or fall down and fumble or something. I was just so excited. I don't think I ran by him. I think he took a bad angle. It just looked kind of deceiving. C'mon now, I'm not that fast."
San Diego quarterback
Philip Rivers
begs to differ.
"He's the fastest guy on the team," a smiling Rivers said in the locker room afterwards. "That might make some of the receivers mad, but it's true in my opinion."
As promised, the Chargers used Green more often against Kansas City, and it paid big dividends. Green was targeted four times, and finished with three receptions for 81 yards, including his first career touchdown reception in
San Diego's 41-38 victory
.
Those numbers do not include what would have been a 35-yard reception in the second half that was called back because of an ineligible player downfield penalty on San Diego offensive lineman
Jeromey Clary
.
The heir apparent to
Antonio Gates
, Green still has some work to do, according to his mentor.
"I try to do as much as I can to help mold him into a starter in this league," Gates said. "I see that in the future for him. I was once a guy in that situation. Unfortunately I played and started as a rookie. I think once you put everything you have into a situation like I have and my career, and you play with a guy and are like, 'Wow, he's starting in the league and he's working.'"
Rivers and Reid get cozy:
After completing a pass to Green near the Kansas City sideline, Rivers argued with the officials when Kansas City head coach Andy Reid stepped between the San Diego quarterback and the referee, bumping him from behind as if telling Rivers to get back out on the field.
Rivers had a few words with Reid before running back to the huddle.
"He kind of bumped me, but it was all in fun," Rivers said. "He probably coaches a lot like I play, with a lot of passion, respect and love for the game. That's how I played today. I had a lot of interaction with the fans behind me, but it was all good clean fun."
Injury update:
Running back
Ryan Mathews
suffered a hamstring injury in the second half and was replaced by
Ronnie Brown
. Offensive lineman
D.J. Fluker
suffered what looked to be a leg injury, but should be OK. Receiver
Eddie Royal
had to leave the game in the final quarter with a chest injury according to U-T San Diego, and did not return. And defensive lineman
Corey Liuget
suffered an unknown injury on the final play of the game, and had to be helped off of the field.
November, 24, 2013
11/24/13
8:26
PM ET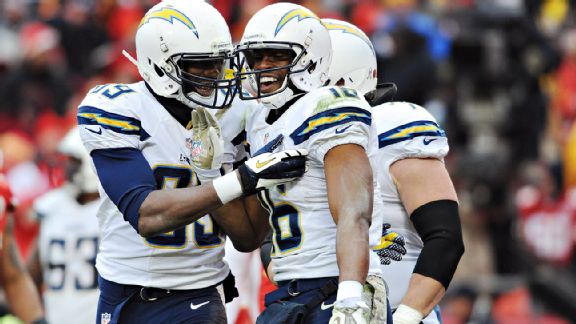 Denny Medley/USA TODAY SportsSeldom-used receiver Seyi Ajirotutu caught the game-winning touchdown catch with 24 seconds left to play.
KANSAS CITY, Mo. -- Hold off from shoveling dirt on the
San Diego Chargers
.
Led by another efficient performance by
Philip Rivers
, along with a key catch by a special-teams ace who seldom sees the field on offense, receiver
Seyi Ajirotutu
, the Chargers moved the ball with ease against the top-ranked defense in the NFL in a cathartic
41-38 win
over the
Kansas City Chiefs
at Arrowhead Stadium.
The 41 points was the most scored by San Diego at Arrowhead in 27 years.
The win was therapeutic for the Chargers because they finally were able to finish in the final moments, and at 5-6 are tied with five other teams for the final AFC wild-card spot with five weeks left in the regular season.
Heading into Sunday's matchup at Kansas City, five of San Diego's six losses had come with a chance for the team's offense to tie or win on the final drive of the game.
"We've had some difficult losses, but the true character of our team came out today," San Diego coach Mike McCoy said. "And give the players, the coaches and everyone in the organization a lot of credit for battling through."
Chargers tight end
Antonio Gates
said his team finally caught some breaks.
"You can see the tables turning," Gates said. "We kind of got the calls down the stretch that normally went the other way. And we made the plays we needed to make."
Defensively, the Chargers gave up a season-high 38 points and allowed nearly 400 yards of total offense, yet San Diego emerged victorious.
Just what you'd expected from this up-and-down team -- loser of three straight -- right?
"A win is a win," San Diego linebacker
Reggie Walker
said. "We've played better and lost. It was ugly and we have some things to work on, but I'm just glad we won at the end of the day. We needed that, big time."
Down 14-10 at halftime, the Chargers scored 31 points in the second half. San Diego benefited from Kansas City's two best pass-rushers --
Tamba Hali
(ankle) and
Justin Houston
(arm) -- leaving the game due to injury. But even with those two out, the Chargers still had to execute on offense.
Rivers was sacked just once and was hit four times on 39 throws.
He played as well as he has all season, finishing 27-of-39 for 392 yards and three touchdowns. Rivers completed passes to eight different receivers, posting a 127.3 passer rating and throwing for more than 300 yards for the fifth time this season.
And when his team needed it, Rivers marched San Diego 78 yards with 1:22 left on a seven-play scoring drive, capped by a 26-yard touchdown to Ajirotutu.
"There's not many things that cause me to completely spaz out," Rivers said. "But a touchdown to win is one of them."
Rivers delivered a perfect ball, but the play of Ajirotutu, an undrafted free agent in his fourth season out of Fresno State, says what this team is all about.
Heading into this contest Ajirotutu had played 10 offensive snaps through 10 games. He made a couple of big catches last week on San Diego's final drive that came up short against Miami. Ajirotutu was pressed into duty against the Dolphins because
Keenan Allen
was out with a knee injury.
And he was in there during the final drive against Kansas City because
Eddie Royal
was not available due to a reported chest injury.
"It's a route that he's going to run a 15-yard stop, unless he gets some form of Cover 2," Rivers said about the winning score. "So I reminded him when he broke the huddle, not that he needed to be reminded, that if you get [Cover 2], get up the boundary in a hurry."
Ajirotutu did what his quarterback asked, and the result was his first touchdown since his rookie season.
"I know the plays," Ajirotutu said, when asked what his strengths are. "I know what to do. The opportunity or moment isn't too big for me. And then just having that connection with the quarterback -- if you make plays for a quarterback, they like to keep throwing you the ball."
The Chargers have now won 10 of their past 12 games against Kansas City, and since 2004 are 6-4 at Arrowhead. They now head back home to Qualcomm Stadium, where they will play four of their last five to finish the season.
"It was just a huge win for us,"
Eric Weddle
said. "But if we lose next week at home, it will be irrelevant."
November, 24, 2013
11/24/13
8:00
PM ET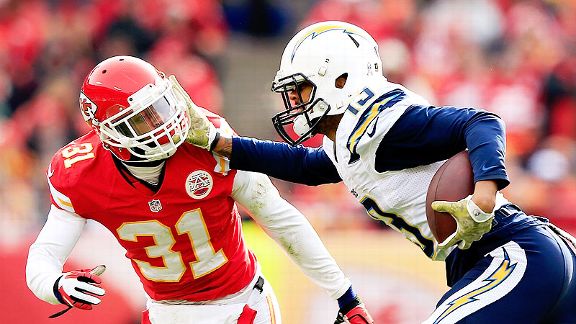 Jamie Squire/Getty ImagesKeenan Allen had one of the best games of his season with nine catches for 124 yards.
KANSAS CITY, Mo. -- Their public mantra after a colossal defensive collapse was "no excuses." It's in their best interest if that's what the
Kansas City Chiefs
truly believe.
Otherwise, they may be destined to fail in a similar manner over the final five games. It's far too convenient to say they played their worst defensive game of the season in a 41-38
loss
to the
San Diego Chargers
because they played most of it without their two featured pass-rushers, the injured
Justin Houston
and
Tamba Hali
.
To claim that would be to ignore reality. The Chiefs have now allowed 400-plus yards for the third straight game and Hali and Houston were in the lineup for the first two.
The Chiefs have now allowed at least 27 points in their past two games, the first one with Hali and Houston available for every play. The Chiefs have now played four straight games with either zero sacks or one, the first three with Hali and Houston on the field.
The fact is the Chiefs have steadily been building toward a collapse like this on defense for some time. They were having trouble extinguishing opponents with quarterbacks of dubious NFL credentials, so it should be no surprise they were beaten decisively by Denver's
Peyton Manning
last week and San Diego's
Philip Rivers
on Sunday, with or without their top pass-rushers.
Bob Sutton's defensive schemes have been figured out or, if you prefer, exposed. The Chiefs will need to respond, whether that's with pass-rushers Hali and Houston or their replacements,
Frank Zombo
and
Dezman Moses
.
"We've got to make it work," cornerback
Brandon Flowers
said. "We get paid to win games. The coaches get paid to put the players [filling in] in position to make plays. It's going to be hard to adjust to the caliber of players they are but we've got to make it happen.
"It's tough losing your Pro Bowl pass-rushers with the way those guys dominate and get pressure. We have to change up a little here and there but at the end of the day we are out there to stop [opponents] whoever comes on the field. Whoever comes in is more than capable of helping this defense win games. As a unit, we have to get better."
That's a healthy attitude, one the Chiefs will need to make the necessary improvements. Hali left the game for good early in the second quarter with an ankle injury, Houston later in the same period with a sprained elbow. Each has an MRI scheduled for Monday.
That's 20 sacks for the season the Chiefs had sitting in their locker room rather than on the field chasing Rivers. For what it's worth, the Chiefs led 7-3 when Hali departed and 14-3 when Houston left.
They were bound to have trouble covering San Diego's many crossing routes regardless of who was rushing Rivers. The Chargers had an incredible 228 yards after the catch. Rivers was 11-of-13 for 199 yards on third-down passes, astounding numbers against a defense that entered the game leading the league in third-down efficiency.
Many plays defined Kansas City's day, none more than San Diego's winning touchdown, a 26-yard pass from Rivers to
Seyi Ajirotutu
with 24 seconds left. The Chiefs sent five rushers after Rivers but couldn't get there in time.
The Chiefs had decent coverage on Ajirotutu and cornerback
Sean Smith
narrowly missed knocking down the pass.
"I thought it was a great throw on his part," Chiefs coach Andy Reid said of Rivers. "They say it was a game of inches. We were off by an inch right there on the coverage. We had a man over the top of him and a man underneath him and Philip hit it in the right spot."
That's what happens when the quarterback is a player the caliber of Rivers and not, say, Buffalo's
Jeff Tuel
.
So it's not a stretch to say that earlier in the year, Smith would have gotten in the way of that pass. Or that in the first two months of the season safety
Quintin Demps
would have caught the Rivers pass in his hands earlier in the fourth quarter rather than drop it. Or that the pass on San Diego's winning drive that bounced off the hands of tight end
Antonio Gates
to Chiefs safety
Kendrick Lewis
and finally to linebacker
Derrick Johnson
would have landed in Johnson's hands rather than harmlessly on the ground.
In September or October, the Chiefs probably would have made all of those plays and handled Rivers and the Chargers with ease. In November they look a step slow and are having a difficult time keeping up with their opponents.
It's not too late for the Chiefs to regain that step. But they need to hurry. Manning and the
Denver Broncos
are coming to Arrowhead next Sunday.
They have a better chance of getting it back if they accept the premise that their defensive problems run much deeper than the loss of two players, no matter how important they might be.
November, 24, 2013
11/24/13
4:48
PM ET
KANSAS CITY, Mo. -- A few thoughts on the
San Diego Chargers
'
41-38 win
over the
Kansas City Chiefs
.
What it means:
The Chargers end a three-game losing streak and remain in the AFC wild-card conversation by defeating Kansas City. At 5-6, the Chargers also earned their first AFC West win this season.

Ajirotutu comes up big:
A special-teams standout rarely used on offense, receiver
Seyi Ajirotutu
made the game-changing play for San Diego, reeling in a
Philip Rivers
26-yard pass for a touchdown with 24 seconds left for the winning score.
Stock watch:
Rivers finished 27-for-39 for 392 yards and three touchdowns, including an 11-yard touchdown to
Danny Woodhead
, a 60-yard score to
Ladarius Green
and the winning TD to Aijirotutu. With the three touchdown passes, Rivers became the sixth quarterback in NFL history to throw 20 touchdown passes in eight straight seasons, joining
Peyton Manning
(13 years),
Brett Favre
(12),
Drew Brees
(10),
Dan Marino
(10) and
Eli Manning
(8).
Stock watch, Part 2:
San Diego's young receivers continue to blossom. Green, in his third year, finished with three receptions for a career-high 80 yards, including his first touchdown. And
Keenan Allen
continues to show why he's one of the best rookie receivers in the league, totaling nine catches for 124 yards.
Gates reaches milestone:
With three receptions for 21 yards,
Antonio Gates
reached 700 career receptions. Gates also topped 9,000 career receiving yards, reaching that mark in fewer games (158) than any tight end in NFL history.
What's next:
The Chargers return home to face AFC North leader Cincinnati on Sunday at Qualcomm Stadium.
November, 24, 2013
11/24/13
4:35
PM ET
KANSAS CITY, Mo. -- A few thoughts on the
Kansas City Chiefs
' 41-38
loss
to the
San Diego Chargers
:

What it means:
The Chiefs lost their second straight game to fall to 9-2. They could still end the day tied for first place in the AFC West if the
Denver Broncos
lose to the Patriots Sunday night in New England.
Stock watch:
Quarterback
Alex Smith
for much of the day was having his best game of the season. But he sailed a pass in the middle of the third quarter well over the head of wide receiver
Donnie Avery
, and the interception by safety
Marcus Gilchrist
gave the Chargers the ball at the Kansas City 16. From there, the Chargers scored the touchdown that put them ahead. Smith later rallied the Chiefs, but the Chargers eventually had too much for the Kansas City defense, which allowed almost 500 yards. Rookie cornerback
Marcus Cooper
had his second straight subpar game. He had particular trouble covering wide receivers
Keenan Allen
and
Eddie Royal
on shallow crossing routes.
Rushless:
The Chiefs played much of the game without their two top pass-rushers, outside linebackers
Justin Houston
and
Tamba Hali
. Each left the game in the first half with an injury, Hali to his ankle and Houston to his elbow. The Chiefs, ahead 7-3 when Hali left the lineup and 14-3 when Houston left the game, clearly weren't the same team after their departures. The Chargers went on two long touchdown drives immediately after the Chiefs began playing without either one. Their replacements were veteran
Frank Zombo
, signed as a free agent from the
Green Bay Packers
during the offseason, and
Dezman Moses
, who was claimed off waivers from the Packers to start the regular season.
What's next:
Control of the AFC West race could rest with the outcome of next Sunday's game against the Broncos at Arrowhead Stadium. The Broncos won 27-17 in their first meeting last week in Denver.