AFC West:

2013 Week 12 TEN at OAK
November, 24, 2013
11/24/13
9:49
PM ET
OAKLAND --
Matt McGloin
was not necessarily the story of the game Sunday. Not when the
Oakland Raiders
lost to the
Tennessee Titans
, 23-19, after
Sebastian Janikowski
missed two field goals and the defense could not hold onto a lead with more than six minutes to play.
McGloin
But McGloin is the story going forward as Raiders coach Dennis Allen said McGloin would get his third consecutive start on Thursday in Dallas.
"Yeah, I thought Matt played well," Allen said. "And for him to lead us back when we needed a touchdown, he got us the touchdown we needed to give us the lead. We just couldn't hold it defensively."
McGloin finished with 260 yards on 19 of 32 attempts. He had a costly interception deep in Raiders' territory that resulted in a Titans field goal, but his woulda-coulda-shoulda game-winning drive seemingly solidified his standing. All with
Terrelle Pryor
active and watching from the sidelines as McGloin's backup.
It was a 75-yard drive in five plays that culminated with McGloin standing in the pocket just long enough to take a ferocious hit while delivering a perfectly placed ball to
Marcel Reece
down the left sideline for a go-ahead 27-yard touchdown pass. The Raiders led, 19-16, with 6:10 to play.
"Just couldn't get things going early on, you're going to have days like that, unfortunately that was one of those days today," McGloin said. "But I thought we did a good job of adjusting at halftime. and it was great to see that we were able to make those changes and continue to get better and figure things out and work things out."
Adjustments? Indeed, after having four passes batted at the line in the first half, McGloin, who is listed at 6-feet-1, did not have a single pass batted down after halftime.
And he was not set up nicely with two possessions starting at the opponents' 16-yard line like he was last week in Houston.
Still, he battled back.
"Passes get knocked down," McGloin said. "It happens to everybody. They did a good job of kind of not rushing at certain points and kind of reading the quarterback, where his eyes were going and things like that, and jumping at the right time.
"They made a lot of good plays, so give them credit. I don't think I had any passes batted down last week. It's just one of those days, it happens."
November, 24, 2013
11/24/13
9:20
PM ET
OAKLAND -- There was an empty can of Copenhagen long cut sitting in his locker, along with a three-quarter-filled spit cup. A can of Red Bull energy drink was present, as well as a full bottle of water, an empty Gatorade bottle, a spoiled banana peel and another, unpeeled banana.
There was no
Sebastian Janikowski
, though. The items at his locker had nothing to say for their benefactor after he missed two field goals Sunday to run his season total of misses to seven in the
Oakland Raiders
' four-point
loss
to the
Tennessee Titans
, 23-19.
[+] Enlarge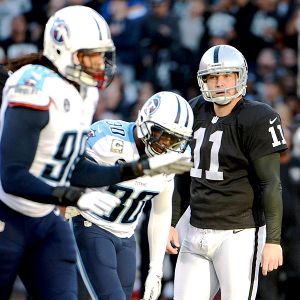 Kirby Lee/USA TODAY SportsSebastian Janikowski has now missed seven field goals this season.
To be fair, Janikowski is rarely, if ever at his locker during media access periods. But to be true, it marked at least the third game this season the usually dependable Janikowski had misses that cost the Raiders dearly, along with the season opener at Indianapolis and the
Matt Flynn
game against Washington.
"We're not making them, not consistently enough," said coach Dennis Allen. "We have to continue to work to get better there. I feel like Sebastian is going to work through this. I still have all the confidence that when I send him out there that it's going to go through.
"So it's just something that we have to go through and we have to get better in that area."
Fair enough, but Allen has been saying the same things since the opener against the Colts. And 11 games in, it no longer seems prudent for Janikowski to blame an unfamiliarity with first-year holder
Marquette King
for his shortcomings.
Yet that's exactly what Janikowski did during a mid-game "interview" with radio sideline reporter, and former teammate,
Lincoln Kennedy
. Janikowski told Kennedy he did not like the hold on one of his misses.
Janikowski shanked a chip-shot 32-yard attempt toward the northern end zone to close the first half. All six misses on the season had come from the left hash mark. It was his second miss from fewer than 40 yards of the year after making 85-of-86 from that distance the previous five seasons combined.
Then, Janikowski's 48-yarder midway through the third quarter, in the same direction but from the right hash, went high over the left upright and was ruled wide left.
Janikowski glared at King and then pleaded his case with the officials, to no avail.
Only in Oakland would a placekicker's troubles garner front-page news. Then again, it was Al Davis who used a first-round draft pick on Janikowski in 2000 when Jon Gruden preferred running back
Shaun Alexander
or receiver
Sylvester Morris
.
And Janikowski, 35, has gone on to become the franchise's all-time leading scorer and signed a four-year extension worth as much as $19 million.
He's been the Raiders' most dangerous weapon in recent years … just not since his long-time holder,
Shane Lechler
, left this offseason for Houston.
And while his 52-yarder in the first quarter was his second-longest of the season, behind the 53-yarder he hit against the
Philadelphia Eagles
on Nov. 3, it also marked the first time since Nov. 26, 2010 he missed two field goals in a game.
It was the second time he had missed two since 2008.
Then there's this: Janikowski has missed as many field goals through 11 games this season (seven) as he did the previous two seasons combined.
Allen, though, was not about to throw all of the blame at the feet of Janikowski.
"I'd say it's a field-goal unit problem," Allen said. There's 11 guys out there; it's not all on one guy. We have to improve in that area -- snap, hold, kick, protection. The goal is to get the ball through the uprights, and there's 11 guys responsible for making sure that happens."
The last person to make contact with that ball, though, is Janikowski , and neither he nor the personal effects at his locker were talking.
November, 24, 2013
11/24/13
3:15
PM ET
OAKLAND -- Rookie right tackle
Menelik Watson
is an apparent healthy scratch for the
Oakland Raiders
as Watson, who was
not
on the team's injury report this week, is among their seven inactive players.

Terrelle Pryor
's right knee, though, is healthy enough that he is active and will be
Matt McGloin
's backup at quarterback.
The Raiders will have more of their undrafted free agents starting against the
Tennessee Titans
-- three, McGloin, left guard
Lucas Nix
and receiver
Rod Streater
-- than players they have drafted over the past two years -- two, defensive tackle
Stacy McGee
and linebacker
Sio Moore
.
Here are the inactives for both teams:
Raiders: SS
Tyvon Branch
, DE
Jason Hunter
, RB
Darren McFadden
, OL
Lamar Mady
, WR
Denarius Moore
, OT Menelik Watson, QB
Tyler Wilson
Titans: OT
Byron Stingily
, DT
Mike Martin
, QB
John Skelton
, WR
Damian Williams
, CB
Micah Pellerin
, C
Kevin Matthews
, LB
Zac Diles