AFC West:

2013 Week 15 SD at DEN
December, 13, 2013
12/13/13
2:25
AM ET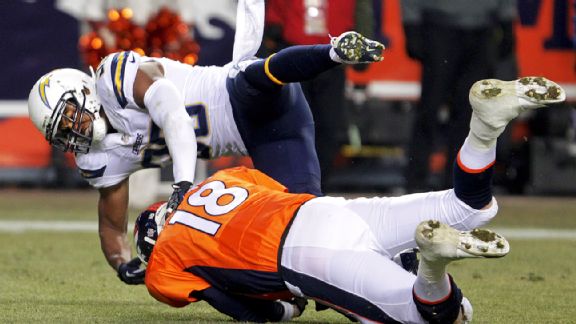 AP Photo/Joe MahoneyMarcus Gilchrist and the Chargers held Peyton Manning and the Broncos to a season-worst 20 points.
DENVER --
San Diego Chargers
middle linebacker
Donald Butler
said it plainly:
"We dominated."
Yes, the Chargers only won by seven points Thursday night --
27-20 over AFC West division rival Denver
-- to keep their slim playoff chances alive.
But really, the game was never that close. San Diego's much-maligned defense held the NFL's top-rated offense, on its home field, to season lows of 20 points and 295 total yards.
In a short week, Chargers defensive coordinator John Pagano put together a masterful game plan. At times the Chargers seemed like they were in Denver's huddle, anticipating when quarterback
Peyton Manning
would check down or when he would audible to a run at the line of scrimmage.
The Chargers played mostly nickel defense, with five defensive backs. With regular nickel cornerback
Johnny Patrick
out due to an ankle injury, safety
Marcus Gilchrist
moved back to the position he manned his first two years with the team and
Jahleel Addae
took his spot at safety.
Gilchrist was active, finishing with six tackles and a sack.
"Some of the disguises, it looked like to me from the sideline, were really beneficial," San Diego quarterback
Philip Rivers
said. "
[Eric] Weddle
was all over the place, along with Donald Butler. Gilchrist played the nickel today, which was kind of his home from years past. And I think he had a heck of a game."
Denver came into the contest No. 1 in the NFL in third-down efficiency, but the Chargers held the Broncos to 2 of 9 (22 percent) on third down. San Diego forced Denver into three consecutive three-and-outs at one point.
"We just watched film and did a lot of walk-throughs," said cornerback
Shareece Wright
, who finished with team highs of seven tackles and two pass deflections. "We focused a lot on watching film, and just knowing what they did to us the first game. When you play a team twice, you better be ready the second time."
The Chargers defeated a Manning-led Denver team for the first time Thursday. San Diego also snapped Denver's 10-game win streak in AFC West contests since Manning came aboard last season.
For the second straight game against Denver, the Chargers held the ball for more than 38 minutes. But unlike the earlier game, a 28-20 loss, San Diego finished drives with touchdowns, grabbing a 24-10 lead early in the third quarter and holding off a late Denver rally.
"We didn't have the ball much," Manning said. "And when we had it, though, we didn't do enough with it. Give San Diego credit, they played better than we did."
Offensively, the Chargers rode the wide shoulders of running back
Ryan Mathews
, who topped the 1,000-yard mark for the second time in his pro career. Mathews rumbled for 127 yards on 29 carries, including a 23-yard touchdown run. Mathews now has 1,012 yards with two games left to play.
"We just wanted to establish the run," Mathews said. "We've got big, good guys up front. And they were just working their tails off. And for how hard they work, you really want to succeed for them. So I was trying my best to get positive yards every play."
Rivers threw for only 166 yards, but he was efficient, finishing 12-of-20 with two touchdown passes, no interceptions and a 120 passer rating.
San Diego coach Mike McCoy joked about a misunderstanding that led some to think he guaranteed a victory over the 11-3 Broncos, saying he and Denver executive John Elway shared a laugh about it before the game.
But McCoy remained steadfast in the belief that his team could beat the Broncos, one of the favorites to win the Super Bowl.
"I've never gone into a game that I did not think the football team I was either playing or coaching on wasn't going to win," McCoy said. "I'm not saying it's a guarantee, but that's the confidence I have as a player and as a coach, and in the players I have in our locker room."
At 7-7, the Chargers are back into the hunt for the final AFC wild-card spot. But even if they win out, San Diego will still need some help from other teams around the league.
"It's just staying alive," Rivers said. "We know that we need help. We obviously know that we have to win the next two, and then we need some help. But we've just got to keep it one game at a time, and enjoy the heck out of the turn we've made. And see if we can keep it going."
December, 13, 2013
12/13/13
2:15
AM ET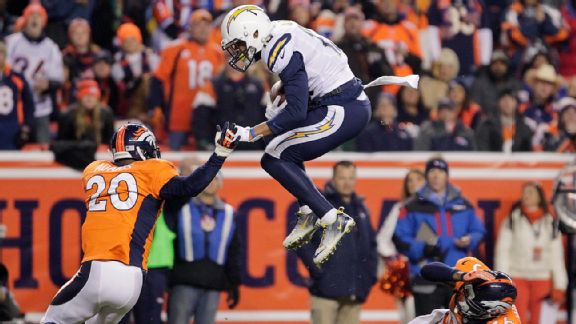 AP Photo/Joe MahoneyKeenan Allen landed in the end zone twice, and the Chargers proved too elusive for Denver all night.
DENVER -- It's one thing to say you don't like Thursday night games. It's another thing to play like you don't like Thursday night games.
And the
Denver Broncos
, just four days after their 11th win of the season put them on the inside track for home-field advantage in the AFC playoffs, looked wobbly, tired and more than a little gassed in a
27-20 loss
to the
San Diego Chargers
at Sports Authority Field at Mile High.
They looked, well, beatable. On their home field, no less. In a game they will -- should they have to make a January trip to Foxborough, Mass. -- not remember all that fondly.
"I'd say we didn't have our best stuff. … They obviously did a better job getting ready on a short week than we did," Denver coach John Fox said.
But the Broncos aren't alone in the predicament they put themselves in Thursday night. The NFL record book is peppered with high-flying, throw-it-around offenses that have faced the same problem when it comes to getting into the trophy games: What happens when things don't go exactly right?
When the timing isn't there, when somebody else has a good plan, when the field isn't in good shape, when it's windy or somebody gets hurt. Even the best of the best touchdown producers through the years have needed a Plan B to pull them through at some point.
And, on a night when Chargers defensive coordinator John Pagano (a Boulder, Colo., native) was able to finally slow the train that has been the Broncos' offense, Denver did not have an alternative. The Broncos were a three-dimensional example of a one-dimensional attack, managing just 18 yards on 11 carries.
They had three-and-outs on three consecutive possessions in the second quarter.
Demaryius Thomas
,
Julius Thomas
and
Eric Decker
had three receptions combined in the second half, and
Peyton Manning
's longest completion was for 22 yards. The Broncos had a season-low time of possession of 21:11, and a team that had averaged 27.9 first downs per game came up with only 19 against the Chargers.
"We didn't have the ball much," Manning said, "and when we had it, though, we didn't do enough with it. … We got beat by a team that played better than us."
The Broncos teased a little with 10 points on their first two possessions, including a touchdown on their first drive after Chargers coach Mike McCoy elected to give Manning the ball to open the night after San Diego won the coin toss. But, after those two scores, there was a 29-minute span of game time in which the Broncos gained all of 13 yards on 13 plays.
"From that standpoint, we had those three three-and-outs in a row, and that ended up, it was damaging enough to cost us the lead," Manning said. "And [we] were never able to recover from that."
For those who have wondered what the Broncos would look like if they didn't have a pile of touchdowns along for the ride, the picture was not pretty. A defense that has largely been considered a ball-and-chain to the operation did not rise up, did not make a play when it was needed, did not pull the team through when it had an opportunity to do just that.
The Chargers were the 14th consecutive team to score at least 17 points against Denver this season. They rushed for 177 yards and converted six of 12 third downs. These numbers were just the latest addition to a somewhat alarming pile of issues for a Broncos defense still searching for answers in mid-December.
"They made a lot of plays on third down, and that's the tale of this game, not getting off the field on third down," linebacker
Wesley Woodyard
said. "Thursday night or not, it shouldn't matter. Any time you step out on that field, you have to put out your full effort, and [Thursday night] we fell short of that."
"We've got to get a lot better, we know that," defensive tackle
Terrance Knighton
said.
The Broncos didn't get much out of the third phase, either. Returner
Trindon Holliday
made a couple of questionable decisions fielding the ball early in the game, and
Nate Irving
committed a comeback-crushing neutral-zone infraction in the third quarter that turned a much-needed stop into a San Diego first down. The Chargers kept the ball and ground seven more minutes off the clock, seven minutes the Broncos could have used before all was said and done.
"That penalty was a killer right there. … We didn't stop the run; we didn't stop the pass," cornerback
Chris Harris
said. "We have to get that right. We have the players in here to do it, but we have to get that done."
The Broncos are still 11-3, still in position to win their division and still in position, with a little help from somebody against the Patriots along the way, to gain home-field advantage in the AFC playoffs. Only the Texans and Raiders remain on the Broncos' schedule.
But, on a night when the offense reached out a hand because it needed some help, there was none to be found. And a team that has operated with so much confidence behind a historic offense came away with an uncomfortable feeling.
"We weren't the best team on the field tonight," Woodyard said. "And it showed."
December, 12, 2013
12/12/13
11:32
PM ET
DENVER -- A few thoughts on the
San Diego Chargers
' 27-20
win
over the
Denver Broncos
.
What it means:
The Chargers gave the Broncos their first home loss of the season, and now are 6-2 at Sports Authority Field since 2006. With the win, San Diego scratches back to the .500 mark, and at 7-7 remains alive for the final AFC wild-card spot, pulling to within a half-game of Baltimore (7-6) and Miami (7-6).

Broncos' offense tamed:
San Diego's defense forced Denver into three straight three-and-outs at one point, as the Broncos punted an unusual four times during the contest.
Peyton Manning
was out of sync, finishing 27-of-41 for 289 yards and two touchdowns. He had a pass intercepted by San Diego linebacker
Thomas Keiser
. The Broncos were held to 18 rushing yards, and the Chargers held Denver to a season-low 20 points.
Keenan Allen flashes again:
Chargers receiver Keenan Allen may have nailed down this year's offensive rookie of the year award with a scintillating performance on national television. Allen had just two receptions for 29 yards, but both were for touchdowns, including a 19-yarder in which he hurdled over Denver's
Kayvon Webster
on his way to the end zone.
Stock watch:
Running back
Ryan Mathews
eclipsed the 1,000-yard mark for the season for the second time in his four-year pro career. Mathews ran for 128 yards on 29 carries, including a 23-yard run for a score. It's the fifth time this season Mathews has rushed for more than 100 yards, as Denver's defense had no answer for San Diego's running game. Mathews has 1,013 yards with two games to play.
What's next:
The Chargers return home to face AFC West division rival Oakland on Sunday, Dec. 22, at 4:25 p.m. ET.
December, 12, 2013
12/12/13
11:28
PM ET
DENVER – A few thoughts on the
Denver Broncos
'
27-20 loss
to the
San Diego Chargers
:

What it means:
When quarterback
Peyton Manning
and many of his teammates said they didn't like Thursday night games, they meant it. The Broncos looked woozy for much of this one, with poor decisions, ill-timed penalties and their most sluggish outing of the season, one that ended a 13-game regular-season home winning streak. And the loss certainly didn't do them any favors in the race for home-field advantage in the AFC given that the
New England Patriots
hold the head-to-head tiebreaker.
Stock watch:
The Broncos came into the game having surrendered at least 17 points in every game this season, and while public opinion about their defense couldn't have been much lower than it's been of late, the group took yet another dip in this loss. The Broncos struggled mightily in both their base look and their specialty packages as Chargers coach (and former Broncos offensive coordinator) Mike McCoy and offensive coordinator Ken Whisenhunt consistently put them on their heels.
Bad timing:
Already trailing 24-10 and needing as much time on the clock as possible to get back into it, the Broncos showed a remarkable lack of discipline. On a fourth-and-4 with 8 minutes, 28 seconds left in the third quarter, they handed the Chargers a gift-wrapped first down when
Nate Irving
was called for a neutral-zone infraction on a punt. The Broncos were later penalized for having 12 men on the field because the defense couldn't work out its substitutions. As a result, the Broncos didn't get the ball back again until there was 1:32 left in the third quarter. As it turned out, those were seven minutes they could have used.
Find the young guys:
It's pretty clear how offenses have decided to attack the Broncos' secondary. They're going to find rookie
Kayvon Webster
in coverage outside, and when they can isolate safety
Duke Ihenacho
in the middle of the field in coverage, they're going there. Chargers quarterback
Philip Rivers
repeatedly worked over Webster, especially after the Broncos elected to match up
Dominique Rodgers-Cromartie
on
Keenan Allen
. Rivers kept swinging away at the rookie, and then would go at Ihenacho when the Broncos were in six- or seven-defensive-back packages. It's one of the reasons the Broncos have moved
Omar Bolden
into Ihenacho's spot in the base defense.
What's next:
With the regular-season home schedule in the books, the Broncos get an extended break before they head to Houston to face the 2-11 Texans, who have already fired Gary Kubiak as coach. The Texans have the No. 2 pass defense in the league (183.6 yards allowed per game), but the Broncos are going to need to reset themselves and get back to business.
December, 12, 2013
12/12/13
4:45
PM ET
DENVER -- Will the
San Diego Chargers
take the air out of the football to slow down
Peyton Manning
and the
Denver Broncos
on Thursday?
The Chargers' offense might be the most effective weapon in keeping the ball out of Denver's hands.
Rivers
According to ESPN Stats & Info, the Chargers rank first in the NFL this season averaging 6.3 plays per drive. Also, San Diego averages 29.9 seconds per play, the fourth-slowest in the league, resulting in the second-highest time of possession.
The Chargers are an even 43-43 all-time in night games, and 4-5 in Thursday night contests.
The last time San Diego played on the road on Thursday night, the Chargers lost at Kansas City 31-3 on Oct. 16, 1997.
Steal some possessions:
Just another way of saying San Diego's defense needs to create some turnovers to flip field position and keep the ball away from a potent Denver offense. The Chargers forced seven turnovers through the team's first 10 games, but have created seven turnovers in the past three. The Chargers are 4-1 in games they have a plus-1 or better turnover differential. Denver has turned it over 25 times this season.
Get off the field on third down:
The Broncos are the No. 1 offense in converting third downs at 48.2 percent. Defensively, the Chargers are No. 22 in the league on getting off the field on third down at 40.2 percent. That number needs to be better for the Chargers on Thursday.
Mathews
Score in the red zone:
Last game against Denver, the Chargers settled for too many field goals in a 28-20 loss. But the Chargers have been better inside the 20-yard line of late, going 6 of 10 in the past three games. Handing the ball to
Ryan Mathews
to keep defenses honest in the compact space of the red zone helps.
Win the kicking game:
The Chargers could use some explosive plays in the kicking game to help swing field position. And bottling up Denver's talented kick returner
Trindon Holliday
will be a point of emphasis for San Diego's coverage units. Holliday did not play last week against Tennessee because of a shoulder issue.
Tackle:
What ultimately beats teams defensively is Manning's willingness to take the check-downs and let his receivers make plays. So it will be important for San Diego's defense to make good open-field tackles and not let the Broncos spring loose for big gains. Same thing in the running game -- don't give up any easy plays for scores. Make Denver earn it.