AFC West:

2013 Week 15 Upon Further Review
December, 16, 2013
12/16/13
8:00
AM ET
OAKLAND, Calif. -- A few thoughts on the
Kansas City Chiefs
' 56-31
win
over the
Oakland Raiders
:
[+] Enlarge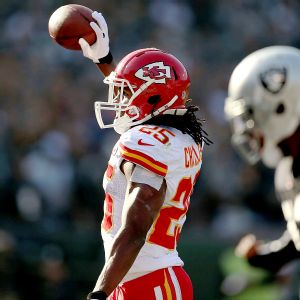 Photo by Jed Jacobsohn/Getty ImagesJamaal Charles caught eight passes for 195 yards and four touchdowns against the Raiders. He added another 20 yards and a TD rushing.
Death by screen:
The Chiefs made the Raiders look as if they'd never covered the screen pass on their first play from scrimmage.
Jamaal Charles
took that one 49 yards for a touchdown. He later scored twice more on screen passes, from 39 and 16 yards. Charles, who also scored a 71-yard touchdown on a downfield pass, was used consistently on screens because of what the Raiders did against the Chiefs in their previous meeting in October. Their pass rush sacked quarterback
Alex Smith
twice and hit him on numerous other occasions. "They do a great job rushing the passer and their blitz package is phenomenal," coach Andy Reid said. "We felt that since we didn't score one time in the first five drives against them the last time, we thought maybe the screen game would help us get going. It was something with their great pass rush that we felt we needed to slow it down a little bit."
A perfect Smith:
Smith's stat line brought him a perfect passer rating of 158.3. Smith was 17-of-20 for 287 yards and a career-high five touchdowns. He lost a fumble for the first time this season, but that doesn't count against his passer rating. "Teammates make me look good," he said. "I didn't do much. Three screens for touchdowns. I've never been a part of anything like that or seen that."
Turnover party:
The Chiefs expanded their league lead in turnover differential with a plus-six Sunday. The Chiefs intercepted five passes and recovered a pair of Oakland fumbles. The Chiefs started seven possessions on Oakland's side of the field, six times after creating a turnover. The Chiefs scored four touchdowns following an Oakland turnover. Meanwhile, the Raiders didn't start any of their 14 possessions on Kansas City's side of the field. The Chiefs are now plus-21 this season in turnover differential.
More big plays:
The Raiders gained 461 yards, marking the fifth time in the past six games the Chiefs have allowed more than 425. Oakland had seven plays of 20 yards or more. This one was more troubling than games against veteran quarterbacks
Peyton Manning
and
Philip Rivers
. "Defensively, we've got to do a little bit better," linebacker
Derrick Johnson
said. "We know that. But it's good when you know you can correct some things and we get a win at the same time."
December, 16, 2013
12/16/13
8:00
AM ET
OAKLAND, Calif. -- An examination of four hot issues from the Oakland Raiders' 56-31 loss to the
Kansas City Chiefs
:
Charles
McGloin
Charles in charge:
Charles Woodson
laughed, sort of. The Raiders' veteran free safety was asked why the three screen passes to Chiefs running back
Jamaal Charles
, which went for touchdowns of 49, 39 and 16 yards, were so effective. "I have no clue," Woodson offered. "I have no clue. You've seen screens get out of the gate before, but to have a team go back to it and beat you almost every time, there's no explanation for it. ... That's hard, man, to watch a guy run up and down the field like that, basically untouched." Charles finished with 215 yards from scrimmage and a franchise-record-tying five touchdowns -- in three quarters (he sat the fourth quarter). "Some people find their peak at the beginning of the season, some people find their peak at the end of the season," Charles said. "I'm known as a player that, as the season goes on, I get stronger and stronger."
Matt McGloin, gunslinger?
The undrafted rookie quarterback seems to be taking more chances of late, and really, he has to with the Raiders falling behind so early now. Which, in part, explains his four interceptions. "I mean, as a quarterback, it's your job to protect the football," he said. "But at the same time it's your job to throw touchdown passes and throw first downs and complete passes downfield. I'm going to throw the ball. I'm going to take my chances. I'm going to try to get yardage and get completions in big chunks. That's the way I play the quarterback position. That's the way a lot of guys play the quarterback position."
Injuries:
Woodson left the game for a bit with a rib injury in the second quarter that he said has been an issue for a while. In fact, he said last week was the first time he did not wear a rib guard in a game. But linebacker
Miles Burris
did not finish the game after injuring an ankle making a tackle on a punt midway through the fourth quarter. Burris was the only Raiders player to not finish due to injury, said coach Dennis Allen.
Of explosive plays XIV:
And now for our weekly tracking of "explosive" plays. As deemed by Allen, such a play is one that gains at least 16 yards through the air, 12 yards on the ground. The Raiders had 10 such plays against the Chiefs -- eight passes and two runs. Kansas City had seven explosive plays, six passes and one run, with four TD passes and a TD run. In 14 games, the Raiders have 104 explosive plays (75 passes, 29 runs), with eight passing TDs and four running scores. Oakland's opponents, meanwhile, now have 98 explosive plays combined -- 77 passes (12 TDs) and 21 runs (three TDs).
December, 13, 2013
12/13/13
12:00
PM ET
DENVER -- A review of four hot issues from the
San Diego Chargers
' 27-20
win
against the
Denver Broncos
.
[+] Enlarge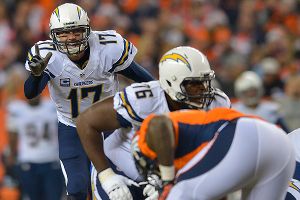 AP Photo/Jack DempseyWith their upset of Denver, Philip Rivers and the Chargers stayed in the thick of the playoff chase.
Home sweet home?
At 7-7 and a half-game back in the race for the final AFC wild-card spot, the Chargers play their final two games at home against AFC West rivals Oakland and Kansas City. San Diego likely will be favored in both games, with a reasonable chance to finish the regular season 9-7. Winning out doesn't guarantee the Chargers a playoff berth, but the teams in front of them face tough remaining schedules. Baltimore (7-6) faces the Lions in Detroit on Sunday, hosts New England and finishes at Cincinnati. Miami (7-6) plays host to the Patriots on Sunday, travels to Buffalo the following week, and finishes at home against the
New York Jets
. Though the Chargers have an easier remaining schedule, they haven't exactly been dominant at home of late, going 3-3 this season, and are 11-11 at Qualcomm Stadium since 2011.
Keiser rolls:
He called it the biggest play of his professional career. With San Diego clinging to a 24-17 lead and
Peyton Manning
driving the Broncos toward a potential score, outside linebacker
Thomas Keiser
dropped back into coverage and picked off his first pass of the season at Denver's 33-yard line. Manning was pressured by Chargers defensive lineman
Corey Liuget
, causing a short throw. The turnover led to a 35-yard field goal by
Nick Novak
with 2:41 left, giving the Chargers some breathing room. "This was really important, not only for us winning the game, but keeping our season alive," Keiser said about the play.
Chargers dominate field position:
San Diego's win really amounted to scoring touchdowns when it needed to, and controlling field position. Consider this: The average start of Denver's drives was its 19-yard line. San Diego's average starting drive began on its 34. Chargers punter
Mike Scifres
pinned Denver inside the 20-yard line three times. After the Broncos took a 10-3 lead with 1:22 left in the opening quarter, the Chargers held the ball for 24:48 of the next 30 minutes, running 44 plays to Denver's 13.
No explosive plays:
The Chargers gave up five passing plays of 18 yards or more against Denver in the first meeting, including a 74-yard touchdown reception by tight end
Julius Thomas
. But on Thursday, Denver's longest play from scrimmage was 22 yards, as San Diego's secondary did a good job of keeping running backs and receivers in front of them and limiting big gains. "We've really stressed the way we play in the back end," San Diego safety
Eric Weddle
said. "If we play together, communicate and get lined up, we can play with anyone."
December, 13, 2013
12/13/13
12:00
PM ET
ENGLEWOOD, Colo. -- An examination of four hot issues from the
Denver Broncos
' 27-20
loss
to the
San Diego Chargers
.
First-and-yuck:
In a season when it seems like quarterbacks around the league are routinely adding another passing record to their résumés, the Chargers turned back the clock against the Broncos. On the 29 first-down plays in which San Diego quarterback
Philip Rivers
didn't take a knee Thursday night, the Chargers ran the ball 23 times for 103 of their 177 rushing yards in the game. The total included
Ryan Mathews
' 23-yard touchdown run in the third quarter. The Chargers were particularly effective in the second half when they had 67 rushing yards on first-down plays alone to keep the ball away from the Broncos.
[+] Enlarge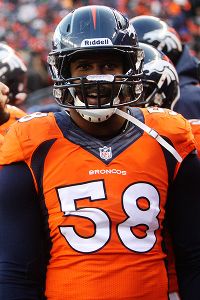 Chris Humphreys/USA TODAY SportsThe Broncos need more big plays from linebacker Von Miller, who has just five sacks in eight games since returning from a suspension.
Flag waving:
The Broncos use plenty of personnel groupings on defense that have helped them in the past when they have been able to create some favorable situational matchups. But on a short week, they struggled to get people on and off the field at times. They were penalized twice on defense for having 12 men on the field, both on first down (they've been penalized three times for the infraction the entire season). Overall, the Broncos remain one of the league's most penalized teams with 103, including 33 combined offensive and defensive holding penalties. They are one of just four teams with at least 100 penalties, and have 47 more than the league's least penalized team (Miami).
More pressure:
The Broncos' defensive backs are taking plenty of heat these days. (Plenty of it is deserved.) But the Broncos also aren't exactly making quarterbacks uncomfortable on a consistent basis. They've played 14 games -- one more than every other team but the Chargers -- and currently find themselves in a cluster of teams tied for 11th in sacks. They got to Rivers twice Thursday night in 25 dropbacks, a good ratio, but they are allowing quarterbacks -- especially the top-shelf ones -- to get to their second and third reads and that's often where the trouble starts in coverage.
The Broncos are often in man coverages, and their personnel in the secondary hasn't allowed them to hold up deep into plays when quarterbacks like Rivers,
Tom Brady
or
Andrew Luck
have time to come off the primary receivers.
Von Miller
has flashed elite-level work at times with tackles for loss in the run game and some forced turnovers, but the Broncos' top pass-rusher has just five sacks in eight games since returning from his suspension. No, sacks aren't everything, but the Broncos need more than five from Miller in an eight-game span, especially when games are in the balance. Miller still hasn't had the kind of wall-to-wall, four-quarter efforts he routinely put up last season.
Match game:
There was a time when if the Broncos needed to match a cornerback on an opponent's top wide receiver, no matter where that receiver lined up, it was
Champ Bailey
who was asked to do it. Bailey has played in just three games this season because of a left foot injury, and he wasn't all that confident in what he was doing in those three games. But Thursday the Broncos needed help on Chargers wide receiver
Keenan Allen
, who had two catches for two touchdowns, one of those when Broncos cornerback
Dominique Rodgers-Cromartie
lined up across from Allen but then passed him off in coverage. So, the Broncos kept Rodgers-Cromartie locked up on Allen for the remainder of the game. Allen did not have another catch, and using Rodgers-Cromartie as their lockdown corner is something the Broncos may look at in the coming weeks.