AFC West:

2013 Week 16 DEN at HOU
December, 22, 2013
12/22/13
8:20
PM ET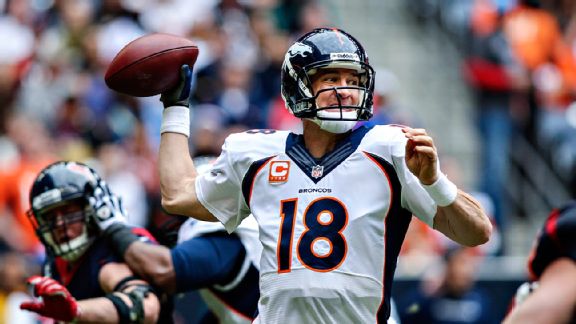 Troy Taormina/USA TODAY SportsPeyton Manning owns the single-season record for TD passes, surpassing Tom Brady with No. 51.
HOUSTON -- There are times when history demands a Sharpie.
A little mark, here and there, to make sure things don't get lost in the shuffle. But along with the third consecutive AFC West title and a first-round postseason bye the Broncos brought with them on their chartered flight Sunday night, there were two pieces of football history.
Two footballs, bearing small notations from Broncos equipment manager Chris Valenti on the laces to label
Peyton Manning
's 50th and 51st touchdown passes of the season, were along for the ride.
"And that's unbelievable," said Broncos cornerback
Champ Bailey
, after Manning's four-touchdown day led the Broncos to a 37-13 victory against the
Houston Texans
. "The guy is in his 16th year. For what this game takes out of you, for what it takes to get yourself ready to perform at the level he performs, to make it into your mid-to-late 30s and to play at the level he is right now, to do what he's doing, it's unbelievable. I know everybody sees the numbers and the numbers are records, almost every week a record, but the only people who really appreciate what he's doing, how he's doing it, at this stage of his career are probably the people that play. But everybody better enjoy it, because it might be a long time before anybody does anything like this after all he's been through.''
It has taken the Broncos almost a year to get from last season's playoff disappointment to where they are right now. From a double-overtime shocker against the Ravens to what Texans interim head coach Wade Phillips called the "best season ever'' for a quarterback.
In 15 games, Manning has broken the single-season record for touchdown passes and is 265 yards from tying the single-season record for passing yards, and the Broncos now are 18 points from setting a single-season scoring record.
The Broncos are 28 points from being the league's first 600-point team, and they have five players who have scored at least 10 touchdowns, two 1,000-yard receivers, a 1,000-yard rusher and one medical marvel at quarterback. Manning finished his work Sunday a long way -- something on the order of a football light year -- from a hospital bed with questions swirling in his mind about whether the NFL would still be a part of his life when his recovery had gone as far as it would go.
Asked whether even he would have believed, in those days and weeks immediately following the Sept. 11, 2011, surgery to remove a herniated disc from his spinal cord, that he would throw 51 touchdown passes in a season, Manning said: "
No, probably not. I had no real expectations, because I couldn't really get any doctor, or anyone, to give me some sort of gauge or timetable or strength recovery, and believe me, I asked every question you possibly could. A lot of them said maybe it would come back to this level, it may not, there was definitely some wait and see. ... But it would be hard to say you could have imagined this at that point.''
It would be hard to imagine for most anyone not named Manning, Brees or Brady, at any point in any year. The record will show Manning finished 32-of-51 passing for 400 yards to go with four touchdowns against the Texans.
It will show it came in a game that was 16-13 earlier in the fourth quarter, a game that was Manning's 12th game of the season with at least 300 yards passing, his fourth game of the season with at least 400 yards passing and his eighth game of the season with at least four touchdown passes.
Or as Bailey put it: "Ridiculous, ridiculous, ridiculous. It just shows you what the guy is made of, what he's about.''
The tough part, however, whether the Broncos like it or not, accept it or not, is still coming. They signed Manning, after all, not only to topple some history, but to chase Super Bowl wins and put some additional hardware in the team's lobby.
And as frustrating as it has been for those who get signed checks from Broncos owner Pat Bowlen to listen to folks continually say nothing else matters, that all-or-nothing mantra lives in the public domain, even as the Broncos have continued to do astounding things on offense that are worthy of appreciation.
There also are lingering questions about the Broncos' defense, questions about the special teams. Questions that grew bigger with a left knee injury to Broncos linebacker
Von Miller
that many with the team are not optimistic about, as well as a 51-yard return by the Texans, and yet another muffed punt from Denver return man
Trindon Holliday
.
There also is some slightly unfinished business when the Broncos play for home-field advantage in Oakland next Sunday, a win they will need to force everyone else in the AFC's playoff field to come chase them around at 5,280 feet.
"Right now it's about getting ourselves set up just right for the next season, and that's the playoffs,'' safety
Mike Adams
said. "We need to do everything we can to get everything in line for that. Concentrate on Oakland, enjoy this, enjoy what happened [Sunday], but get ready for Oakland. This team knows how to go about it; we'll get our minds right for what's to come.''
But those are questions for another day. For now, for this moment, there are touchdowns and history.
There is the maybe-never-again feel that came with a quarterback's 51st touchdown pass in a single season. A quarterback with spinal fusion hardware in his neck, a knee brace and an ankle brace.
A quarterback who didn't know what the future would hold grabbing yet another piece of history.
"My dad [Ron, a retired Navy SEAL] told me a long time ago it's always important to dream dreams and pay the price to make them come true,'' coach John Fox said. "But this is the dream edge of that saying."
"And that's, like I said, unbelievable,'' Bailey said. "And he'll be in there [Monday] getting ready to go for more. I always approach it like that, but when a guy like Peyton does that, that means everybody else has to do it, too. We all need to get ready to go for more.''
December, 22, 2013
12/22/13
8:10
PM ET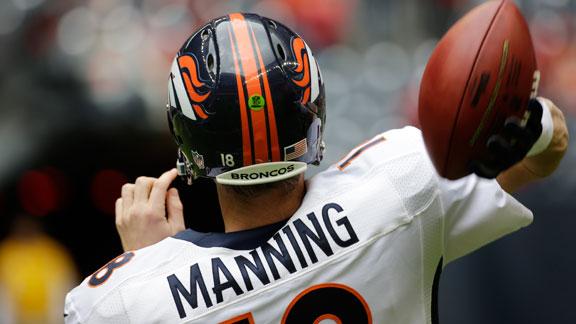 HOUSTON -- While at least one of the footballs
Peyton Manning
threw for a touchdown Sunday will be on the way to the Pro Football Hall of Fame in the coming days, yet that play was not Manning's pick as the most important in the Broncos' 37-13 victory against the
Houston Texans
Sunday.
Manning's selection wasn't even anything the Broncos did on offense.
No, when it came to a play Manning singled out following the Broncos' 12th victory of the season it was an interception by safety
Mike Adams
on the second play of the fourth quarter.
"Mike Adams' interception, in my opinion, was the play of the day,'' Manning said. "We were in a little rut on both sides of the ball and that really spring-boarded the whole team.''
The final score and Manning's record day may have camouflaged that thought. But with 14 minutes, 21 seconds left in the game Sunday, the Broncos held just a 16-13 lead and the Texans had a first-and-10 at their own 20-yard line with the Broncos having put three consecutive three-and-outs on offense in the third quarter.
Texans quarterback
Matt Schaub
tried to fit the ball in up the right sideline to rookie wide receiver
DeAndre Hopkins
. Adam cut in front of Hopkins, snatched the ball out of the air and got toe-tapped to get both feet in-bounds.
"I just read the quarterback's eyes and I jumped it,'' Adams said. "Definitely was a game-changer, we just started getting things rolling after that.''
"I probably forced that one on the sideline,'' Schaub said. " … I just scrambled, tried to make a play, probably better just throwing it away in that situation, but in this type of game, we ought to go try to make plays.''
Adams joked after the game he was able to get his feet in-bounds because he watched his daughter Maya in ballet classes.
"You weren't supposed to be listening to that,'' Adams said with a laugh. "Watching my daughter do baller all the time, that's how I got my feet in.''
The play did seem the snap things in line for the Broncos on both sides of the ball. The Broncos offense turned Adams' play into a touchdown in just two plays later, for a 23-13 lead.
"Points off turnovers, that's what you always want,'' Adams said. "That's the goal, give the ball back to Peyton and our offense and get points. That's how it works.''
The Broncos then scored on their next two possessions as well. The Broncos defense, though it had some frustrating moments of a missed tackle or two to go with a Texans receiver running free too many times for defensive coordinator Jack Del Rio's liking, finished with a better than it had had much of the time this season. The Texans' 13 points amounted to the fewest the Broncos have allowed in any game this season as Houston finished with just 240 yards.
"We always pride ourselves on making strides, just getting better every week,'' Adams said. "This is a stepping stone to the next season to come ... and that's the playoffs.''
December, 22, 2013
12/22/13
4:06
PM ET
HOUSTON -- A few thoughts on the
Denver Broncos
'
37-13 win
over the
Houston Texans
:

What it means:
On a day when things were tougher than many had anticipated, the Broncos got the division title they wanted as well as a first-round bye by virtue of the win and Kansas City's loss to Indianapolis.
Stock watch:
Broncos quarterback
Peyton Manning
came into the game on the doorstep of several single-season records, including touchdowns and passing yards. He threw his 48th, 49th, 50th and 51st touchdown passes of the season to break the record set by
Tom Brady
in 2007. And while the Texans were effective much of the day, slowing the Broncos to field goals in the red zone, Manning still had 296 yards passing by halftime on the way to his 12th 300-yard game of the season. It was also his eighth game of the season with at least four touchdown passes.
Mix and match:
The Broncos continued to stir things up on defense with a bevy of personnel groupings as they try to search for answers on the brink of the postseason. They rotated several players at safety depending on down and distance, used
Jeremy Mincey
at defensive end just five days after he signed with the team, and had
Champ Bailey
in the lineup for just the fourth time this season. Bailey didn't play in the base defense but did appear in all of the specialty packages.
Miller injured:
Broncos linebacker
Von Miller
left the game in the middle of the first quarter with a left knee injury and didn't return. Miller will be evaluated on Monday, but his absence could be seen in the team's pass rush, and it would be a significant concern if he misses time. The Broncos struggled to get pressure with four rushers after Miller's departure and had to take far more chances to get to
Matt Schaub
, adding defensive backs to the mix. It left some openings in coverage, and that trade-off will be an issue if Miller is out for any significant time.
What's next:
The Broncos wrap up the regular season in Oakland against a Raiders team limping to the finish. The Broncos would like to end the regular season as healthy as possible, but they haven't always been sharp down the stretch and need to smooth out a few rough edges. That's especially true on defense, where they continue to look for the groupings that will give them some success.