AFC West:

2013 Week 16 Upon Further Review
December, 23, 2013
12/23/13
8:00
AM ET
KANSAS CITY, Mo. -- An examination of four hot issues from the
Kansas City Chiefs
'
23-7 loss
to the
Indianapolis Colts
:
Preseason in December:
Next Sunday's final regular-season game against the
San Diego Chargers
in San Diego is now meaningless to the Chiefs. Since the
Denver Broncos
won Sunday, the Chiefs have been eliminated from any chance of winning the AFC West championship or getting a first-round playoff bye. The Chiefs also cannot fall below the fifth seed in the AFC playoffs. In that case, the smart thing for coach Andy Reid to do is rest key players such as quarterback
Alex Smith
and running back
Jamaal Charles
. Reid, though, wasn't saying how he would handle the game. "I haven't even gotten that far. I wasn't anticipating this right here," Reid said after the Colts game. There's something to be said for heading into the playoffs with some momentum, although that's not worth the risk of losing a star player such as Smith or Charles. "To a certain extent, I think you you want to have some rhythm, a good taste in your mouth headed into the playoffs," Smith said.
Poe
Poe's meltdown:
Nose tackle
Dontari Poe
is normally mild-mannered and quiet, seen but not heard. That's what made his taunting penalty so unusual. He was penalized after the Chiefs stopped the Colts on a third-down play in the third quarter. The penalty allowed the Colts to continue a drive that eventually ended with a field goal. Poe said after the game that he couldn't remember what he said to get the penalty. "There's no excuse for that," Reid said. "He knows that. He's a smart kid, and that's not his M.O."
Injury update:
Outside linebacker
Tamba Hali
entered the game with some soreness in his knee, and he left the game in the fourth quarter after it swelled. He was scheduled for an MRI. Wide receiver
Dwayne Bowe
took a shot that left him with a sore neck, although he was able to remain in the game. The Chiefs played without two injured starters, outside linebacker
Justin Houston
and offensive tackle
Branden Albert
. While it was obvious during the week Albert wouldn't be available against the Colts because of a sore knee, it appeared Houston's dislocated elbow had healed to the point that he could play. But Houston missed his fourth consecutive game.
Robinson in for Cooper:
The Chiefs made a change at nickel back, replacing beleaguered rookie
Marcus Cooper
with veteran
Dunta Robinson
. There was no indication the change is permanent, and Cooper could be back in the lineup for next week's game against the Chargers.
December, 23, 2013
12/23/13
8:00
AM ET
ENGLEWOOD, Colo. -- An examination of four hot issues from the
Denver Broncos
' 37-13
win
over the
Houston Texans
.
Clean it up:
The Broncos tightened things down as Sunday's game wore on, but penalties continue to be an issue for a team that has done so much right elsewhere this season. The Broncos were flagged nine times in the win -- one was part of offsetting fouls in the fourth quarter so the down was replayed -- the seventh time this season they've been flagged at least nine times in a game, including declined penalties or offsetting. It was a particularly rough start, as the Broncos had three penalties by the time they had run their first punt return and their first six plays on offense. The Broncos were flagged just twice in the second half, including the offsetting foul.
[+] Enlarge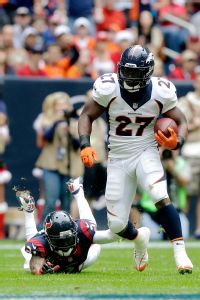 AP Photo/Patric SchneiderKnowshon Moreno rushed for 76 yards against the Texans.
High gear:
Wide receiver
Eric Decker
has battled through a toe injury as well as a shoulder injury. Each seemed to affect his play at times early on this season. In the first 11 games combined, he had three touchdown catches. But as defenses have often directed help in coverage to
Demaryius Thomas
,
Julius Thomas
or
Wes Welker
, Decker has become the Broncos' closer in the scoring zone. He has seven touchdown receptions in the past four games, including four against the Chiefs on Dec. 1 and two Sunday against the Texans.
Big rebound:
It might be difficult to scan the rosters of the playoff teams and find a player who has adjusted his standing on the depth chart more this season than running back
Knowshon Moreno
. Moreno's roster spot was shaky, in question, with some concerns over his durability when the Broncos opened training camp. He had had another surgical procedure on his knee this past offseason. But with Moreno's 76 yards on 11 carries Sunday, the former first-round selection in the 2009 draft has his long-awaited first 1,000-yard season. He is tied for the team lead among the Broncos' position players with 12 touchdowns (10 rushing, two receiving), has run with passion as well as power and has been consistently reliable in pass protection as well as a receiver. And he will be key to any Broncos postseason run.
Variety pack:
Going into Sunday's game, the Broncos had run 77.5 percent of their plays out of a three-wide receiver set, but against the Texans' physical 3-4 look and with Welker sidelined with a concussion, they showed once again they can operate with impact out of a two-tight end look. The Broncos also adjusted that look depending on the situation. They opened the game in a three-wide receiver, two-tight end set -- no running back -- which they ran for their first six plays from scrimmage. In some other pass-first situations, they used
Jacob Tamme
and Julius Thomas at the two tight end spots, with Tamme lined up like a slot receiver. When they wanted a little more bulk in a run look, they used Thomas and
Virgil Green
together, often on the line of scrimmage. It stressed the Texans linebackers in coverage and gives the Broncos some quality options as they move into the postseason, even if Welker returns for the playoffs as expected.
December, 23, 2013
12/23/13
8:00
AM ET
SAN DIEGO -- An examination of four hot issues from the
San Diego Chargers
' 26-13 win over the
Oakland Raiders
.
Defense shows resiliency:
San Diego defensive coordinator John Pagano's unit held an offense to 20 points or less for a fourth straight game in helping to lead the Chargers to a scrappy win. During that stretch, San Diego has forced eight turnovers. Oakland had the ball three times in the red zone, but the Chargers held them to one touchdown.
Eric Weddle
corralled his second interception of the season on an acrobatic catch in the second quarter, leading to a 7-yard touchdown by
Ryan Mathews
. The play was Weddle's 18th career interception.
Woodhead
Mathews grinds out yards:
Heading into Sunday's contest, the Raiders were the No. 9 defense against the run, holding opponents to 104 yards per contest. Oakland limited San Diego to just 36 yards in the first game. But that didn't matter, as San Diego offensive coordinator Ken Whisenhunt stuck with the running attack. Mathews finished with 99 yards on 25 carries, and
Danny Woodhead
added 52 rushing yards, as the Chargers controlled things on the ground. San Diego is 5-0 when Mathews carries the ball more than 20 times in a game. Mathews set a single-season career mark with 1,111 yards this season.
Scoreboard watchers:
For a second straight week, San Diego players will be watching the scoreboard before their game against Kansas City on Sunday. In order to have a chance to make the playoffs, San Diego (8-7) needs Baltimore (8-7) to lose on the road against Cincinnati and Miami (8-7) to fall to the
New York Jets
at home to finish as the final wild-card team in the AFC. Both of those games take place at 1 p.m. ET, while San Diego's game against Kansas City begins at 4:25.
Loud and proud?
San Diego coach Mike McCoy made an impassioned plea for Chargers fans to show up in big numbers for the team's final home game against the Chiefs. "We need our largest, loudest -- however you want to say it -- fan support this week," McCoy said during opening remarks after his team's win over Oakland. The Chargers were the first team to have a game blacked out locally on TV this season, and needed a 24-hour extension from the league to sell enough tickets so the Oakland game was not blacked out. Even then, a larger number of folks who have showed up for each home game have been fans of the opposing team. San Diego quarterback
Philip Rivers
remarked that on offense he had to go to a silent count at the end of the game because of the constant hum of the opposing team's crowd. That's not exactly a home-field advantage. "It's not a complaint, but here at home there's a little bit of a muffled noise all the time," Rivers said. The Chargers are 4-3 at home this season.
December, 23, 2013
12/23/13
8:00
AM ET
An examination of four hot issues from the
Oakland Raiders
' 26-13 loss to the
San Diego Chargers
:
Penalties, again:
If it did not sting enough that 15 flags were thrown at the Raiders and that a season-high 12 penalties were accepted (in fact, it is the most penalties ever levied at Oakland under second-year coach Dennis Allen, along with the dozen they had last year at Atlanta), consider this: Six penalties resulted in Chargers first downs. Talk about bad timing. "I really think it boils down to guys pressing to try to make something happen," Allen said. "We're not sticking to our fundamentals and technique like we're supposed to. That's what happens when you don't stick to your fundamentals. ... Today a lot of the penalties were during the [run of] play." The Raiders had 108 penalties for 939 yards in 2012 -- both figures ranked eighth in the NFL. This season, they have 114 penalties (ranking second) for 902 yards (seventh).
Streater
McGloin
Streater shut down:
Rod Streater
entered Sunday needing to average 77 yards receiving over the Raiders' last two games to become Oakland's first 1,000-yard receiver since
Randy Moss
in 2005. And after catching one pass for 2 yards on Sunday, yeah, well, you can do the math -- Streater needs a career-high 152-yard receiving day against the
Denver Broncos
next week to join Moss. Not likely. But imagine the outrage if he finishes 39 yards shy of the milestone. That's the distance of the pass he appeared to catch in the fourth quarter for a touchdown but was ruled incomplete. As for his lack of production, Streater said he was simply covered, opening up opportunities for the likes of
Andre Holmes
and
Denarius Moore
. "A lot of the downfield stuff was covered," quarterback
Matt McGloin
said, "so you have to give them credit."
A not-so-happy homecoming:
Kevin Burnett
spent only two years with the Chargers, but it was obvious from his several skirmishes the game meant a little something extra to the linebacker, who called San Diego home in 2009 and 2010. His thoughts, then, on returning as a member of the Raiders? "It's good to be living," Burnett said, "to have another day to come out here and play the game that I love. Other than that, it pretty much [stinks] right now. I don't know how else to put it."
Of explosive plays XV:
And now for our weekly tracking of "explosive" plays. As deemed by Allen, such a play is one that gains at least 16 yards through the air, 12 yards on the ground. The Raiders had five such plays against the Chargers, all through the air. The Chargers had six explosive plays, four passes and two runs. In 15 games, the Raiders now have 109 explosive plays (80 passes, 29 runs), with eight passing TDs and four running scores. Oakland's opponents, meanwhile, have 104 explosive plays combined, 81 passes (12 TDs) and 23 runs (three TDs).