AFC West:

2013 Week 3 KAN at PHI
September, 20, 2013
9/20/13
2:45
AM ET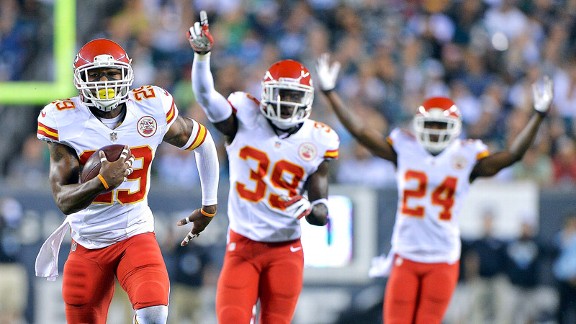 John Sleezer/Kansas City Star/MCTEric Berry intercepted Michael Vick's second pass and took it back for a 10-0 Chiefs lead.
PHILADELPHIA -- The world will no doubt find fault with the fast-paced, no-huddle offense of Chip Kelly and the
Philadelphia Eagles
now that it has proven to have a few flaws.
A better idea might be to give credit to the
Kansas City Chiefs
, who left town after a
26-16 victory
Thursday over the Eagles, for having one of the league's best defensive teams. Burdened with a sputtering offense that settled for field goals to end four drives, the Chiefs controlled the game with a defense that scored a touchdown on
Eric Berry
's 38-yard interception return, forced three other turnovers and sacked Philadelphia quarterback
Michael Vick
five times.
The Eagles had 431 yards of offense -- including 260 rushing -- and inflicted some damage. But it added up to little. The Chiefs were the clear winners in that battle.
"They are an explosive offense," Chiefs coach Andy Reid said. "They have a great scheme and they have a great guy, a great coach, calling the plays, so I knew it was going to be a challenge. They're going to get a big play here and there. You've got to try to limit that as best you can, and I thought our guys did that. Our defense is coming together each week."
The 3-0 Chiefs were actually excellent defensively right from the start. They strangled the
Jacksonville Jaguars
in the regular-season opener, then held off the
Dallas Cowboys
in Week 2. The Chiefs headed to Philadelphia having allowed just 18 total points, second-lowest in the league to Seattle's 10.
So it should have been no secret the Chiefs had something good going on defense. But the Eagles had something special going on offense, having scored at least 30 points in each of their first two games.
Something had to give. The Eagles had four plays of at least 40 yards Thursday, but the Chiefs made the plays that determined the result.
Kansas City had a short week to prepare for Philadelphia's unorthodox offense, and conventional wisdom held that would give the Eagles an advantage. But the Chiefs have been preparing for some time, either directly or indirectly, for Philadelphia's fast pace.
"We've been working on the no-huddle since [offseason practice]," linebacker
Justin Houston
said. "They're not the only team that's going to do it. We know Denver is going to do this, too. We were prepared for this."
With both Vick and
LeSean McCoy
having big nights rushing, the Chiefs were often embarrassed when the Eagles ran. McCoy in particular was able to make the Chiefs look bad on a number of tackles, showing that in one regard, at least, Kansas City has some work to do.
But the Chiefs probably won't face another team with a combination of skilled runners like the Eagles have in McCoy and Vick.
The passing game was another matter entirely. Vick entered the game as the NFL's third-leading passer.
DeSean Jackson
entered the game as its leader in receiving yardage.
The Chiefs battered Vick early and often, intercepting him twice and sacking him five times. Jackson had one big catch, a 40-yarder, but otherwise accounted for 22 yards.
Houston took advantage of his matchup with Philadelphia rookie tackle
Lane Johnson
by getting to Vick 4.5 times. Houston leads the NFL with 7.5 sacks and could wind up challenging the Chiefs single-season record of 20, set by Hall of Famer Derrick Thomas in 1990.
"There is no limit for him," nose tackle
Dontari Poe
said. "You can tell he wants it."
Otherwise, pass-rushers credited good coverage for the consistent pressure on Vick, while the defensive backs credited the rushers. There's enough credit to go around, though the Chiefs don't seem to have much interest in it.
"We don't need anyone else outside of our group telling us how good we are," said cornerback
Sean Smith
, who had an interception. "We know how hard we practice, how hard we work and how well our talents complement each other."
The upcoming schedule could set up the Chiefs for a nice defensive run.
Their next game is against
Eli Manning
and the Giants. After that, though, they face this succession of quarterbacks:
Jake Locker
,
Terrelle Pryor
,
Matt Schaub
, whoever the Browns use and rookie
EJ Manuel
. They'll face some of the better quarterbacks in the league over the season's second half, including
Peyton Manning
twice,
Philip Rivers
twice,
Andrew Luck
and
Robert Griffin III
.
By then, the world might indeed know what the Chiefs already do about their defense.
"It doesn't matter what everyone else thinks," Houston said. "We're just going to keep rolling. We're on a mission. We have a bigger goal in mind."
September, 20, 2013
9/20/13
12:57
AM ET
PHILADELPHIA – Observed in the locker room after the
Kansas City Chiefs
' 26-16
victory
over the
Philadelphia Eagles
.

Reid
Reid's homecoming:
With Thursday's game over, Chiefs coach Andy Reid acknowledged that coming back to Philadelphia, where he led the Eagles the previous 14 seasons, was special. "I really didn't think much about it until the game was over,'' said Reid, who received a nice ovation from fans when he came out on the field before the game. "I saw that and I appreciated that."
Avery saves passing game:
The Chiefs traded unproductive starting wide receiver
Jon Baldwin
during the preseason, in part to make room in the starting lineup for
Donnie Avery
-- who had seven catches for 141 yards Thursday. Avery burned the Eagles several times by catching short crossing patterns and taking them for long gains. "He gives us great balance,'' quarterback
Alex Smith
said. "He really complements
Dwayne (Bowe)
on the other side."
Injury report:
Starting left guard
Jeff Allen
left the game with a strained groin muscle. Cornerback
Brandon Flowers
, who was on the injury report all week, re-injured his knee.
September, 19, 2013
9/19/13
11:56
PM ET
PHILADELPHIA -- A few thoughts on the
Kansas City Chiefs
'
26-16 win
over the
Philadelphia Eagles
on Thursday night:

What it means:
The Chiefs are 3-0 for the first time since 2010, and they are, for the time being, all alone in first place in the AFC West for the first time since they won the division that same season. (Denver would move back into a first-place tie by winning on Sunday.)
Stock watch:
Linebacker
Justin Houston
had 4.5 sacks, topping the three he had in the season-opening win in Jacksonville. He leads the league in sacks with 7.5.
Jamaal Charles
overcame a slow start to rush for 92 yards and a touchdown. Rookie tackle
Eric Fisher
had another lousy game; the Eagles frequently took advantage of him in their pass rush. Actually, it wasn't a strong night for the offensive line as a whole. The other tackle,
Branden Albert
, was penalized twice for lining up in the backfield instead of on the line of scrimmage.
Avery's big night:
It wasn't quite a career game for wide receiver
Donnie Avery
, but he carried the Chiefs' passing game. Avery had seven catches for 141 yards, dwarfing the contributions of any other receiver. Charles had also seven catches, but those produced just 80 yards. Avery's career bests are nine catches and 163 yards.
Turnover party:
For the third straight game, the Chiefs didn't commit a turnover. On the other hand, they took the ball away from the Eagles five times. But they scored only 13 points off those takeaways. Safety
Eric Berry
scored a touchdown on a 38-yard interception return, but otherwise the Chiefs managed just two field goals. The Chiefs entered the game having scored a touchdown on each of their five trips inside the opponent's 20-yard line this season; they were just 1-for-6 Thursday night.
What's next:
The Chiefs are off until Sept. 29, when they return to game action against the
New York Giants
at Arrowhead Stadium. With a victory, the Chiefs would be 4-0 for the first time since 2003.