AFC West:

2013 Week 3 OAK at DEN
September, 24, 2013
9/24/13
2:27
AM ET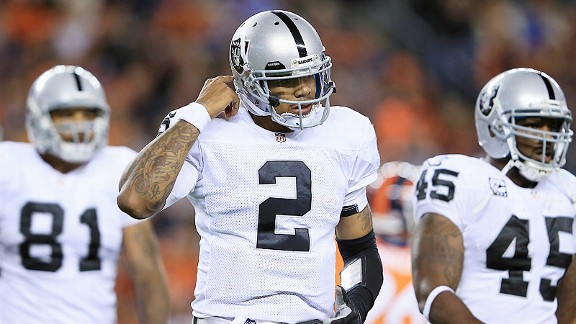 Doug Pensinger/Getty ImagesTerrelle Pryor was more than 50 minutes through another solid showing before being knocked out.
DENVER -- For one of the few times in his short tenure as
Oakland Raiders
coach, Dennis Allen seemed outwardly frazzled.
He had just been asked if
Terrelle Pryor
would be available on a short week to face the
Washington Redskins
on Sunday in Oakland, and the notoriously cool Allen blinked.
"I have no idea," Allen said.
Indeed, the concussion suffered by Pryor when the quarterback ran into a blitzing
Wesley Woodyard
and endured a helmet-to-chin hit in the fourth quarter of the Raiders' eventual
37-21
loss to the
Denver Broncos
on Monday has thrown uncertainty into Oakland's most capricious position.
Pryor, who is as raw as he is electric as a playmaker, has made strides in three starts this season, and even if he is not the Raiders' Mr. Right, he is indeed their Mr. Right Now.
Against the Broncos, he had a career-best quarterback rating of 112.4, completing 19 of 28 passes for 281 yards, including a 73-yard touchdown catch and run by
Denarius Moore
.
"The big stage doesn't bother him at all," Moore said of Pryor. "It's like he has been a starting quarterback for five years now."
Pryor did not commit a turnover for the second consecutive game and also rushed for 36 yards on four carries. But he lost two yards on that vicious hit by Woodyard, which laid him out face-down in the grass for a few seconds. Pryor stayed in the game for two more plays before leaving for the locker room.
There is no question Pryor is growing into the role, even with such a small sample size.
But now? Pryor has to pass the NFL-mandated concussion protocol to be cleared just to practice, let alone play in an NFL game. Again, in a short week.
Allen would not begin to hypothesize about his starting signal-caller's availability. And Pryor, because he was diagnosed with a concussion, was not required to speak to reporters after the game, though he was at his locker and did not appear outwardly dazed.
How big of a blow would it be for not only Pryor but also the Raiders if he is out next week?
"It would be a big blow," Raiders safety
Charles Woodson
said. "It's a guy that's getting his chance, and with each week he's getting a little bit more comfortable.
"He did some good things tonight, so it would be a tough blow [to lose him], especially for him and his development as a player if he's not able to shake it off and bounce back and come back next week."
The irony, then, was one locker away from Pryor.
Matt Flynn
has not spoken to the media since, for the second consecutive year, he lost a training-camp battle to a younger prospect after signing a big-money deal.
But there was Flynn, taking over for Pryor after his departure, with the Raiders at the Denver 20-yard line with 2:19 to play.
"That's part of the job," Flynn said. "You've got to be ready at any time.
[+] Enlarge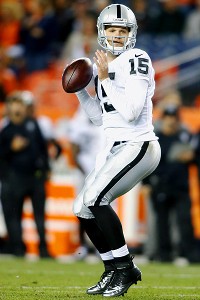 Chris Humphreys/USA TODAY SportsIn late relief of a concussed Terrelle Pryor, quarterback Matt Flynn guided the Raiders 20 yards to their final touchdown.
"I'm always going to be ready. I'm always going to prepare, and that's one thing this team will never have to worry about, is me being ready."
Flynn wasted no time. He attempted a pass into the end zone to Moore on his first play, though the ball fell incomplete.
Then Flynn hit
Marcel Reece
in the flat and the fullback rumbled to the 1-yard line. Two plays later,
Darren McFadden
won a race to the right pylon and Flynn had a scoring drive -- albeit a 20-yard scoring drive -- in his Raiders debut.
Yeah, it's part of the backup's job description, but that does not mean it's easy, right?
Flynn smiled softly.
"You're into every play, you know every play that's run, so you're still into it, and you're looking at the cards on the sidelines so you have a good feeling for what they're trying to do defensively," he said. "And as much as you can, you try to keep your body as warm as you can. You can get a little cold out there physically, but once you're in there, the adrenaline starts pumping and it kind of takes care of itself."
Flynn, who last week started taking reps as a holder for place-kicker
Sebastian Janikowski
, is making $6.5 million this season. He was general manager Reggie McKenzie's guy, the presumptive starter after being acquired from Seattle following a year watching then-rookie
Russell Wilson
dazzle for the Seahawks.
It has been tough, then, for the competitor in Flynn to watch history repeat itself, with Pryor surprising even McKenzie to win the gig after Flynn's sore elbow betrayed him in camp, right?
"It's definitely tough," Flynn allowed. "I don't know if this is the time or place to talk about that … let's just keep it about Denver, and we've got to get better than that."
And therein lies the rub.
Pryor's concussion brings the whole sordid tale to the surface. Just in time for Washington to come to town with its just-as-damaged-goods young quarterback in
Robert Griffin III
.
Just don't ask Allen about that matchup … yet.
September, 24, 2013
9/24/13
2:07
AM ET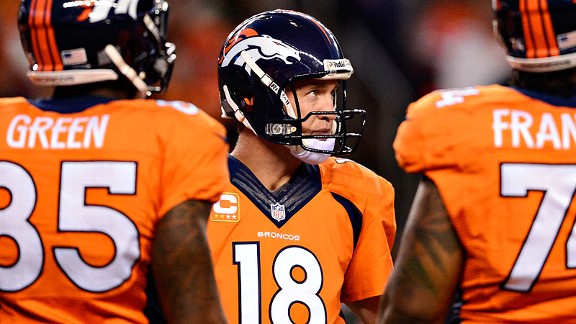 Aaron Ontiveroz/Getty ImagesPeyton Manning and the Broncos are geared toward a distant vision: the postseason.
DENVER --
Peyton Manning
was in a hurry Monday night. After one of the sharpest games of his Hall of Fame career, he hustled into the
Denver Broncos
' locker room. Then he jumped into a cold tub. He emerged after 20 minutes, dressed and spoke to reporters with his teeth still chattering and his hands stuffed deeply in his pockets.
"Short week," he said, gasping for air as he warmed up. "Trying to recover."
No sir. Manning didn't take a single moment to consider what he accomplished during the Broncos'
37-21 victory
over the
Oakland Raiders
. He didn't seem to care a lick, as he might say, about becoming the first quarterback in NFL history to throw 12 touchdown passes in his first three games. His icy glare betrayed no interest in Monday night's 86.5 completion percentage, the highest for his career in games with at least 20 attempts.
If he was pleased with the Broncos' 127 points and 1,460 yards through three games -- the second- and fourth-best marks, respectively, in NFL history -- he gave no indication.
"I still think there is plenty we can improve on," he said. "I really do."
This reaction seemed wholly appropriate to me. It reflected my own and perhaps yours as well. Like Manning, we've been here and done this before. We've dutifully recorded his individual records and accomplishments. It's as if we're numb to his elite play.
Oh, Manning completed 32 of 37 attempts for 374 yards and three touchdowns? Huh. Was it in the Super Bowl?
Yes, the only drama remaining in Manning's Hall of Fame career, and the only thing most of us are really paying attention to, is what will happen when this Broncos team reaches the playoffs. Admit it. We're all in a hurry to get there, Manning included. Can he win another Super Bowl? Or is this another year of regular-season romps and a playoff dud?
A survey of the Broncos' locker room revealed an undercurrent of the same feeling. Receiver
Wes Welker
shrugged his shoulders when asked about Manning's performance. After all, what is there to say about a prologue? Fellow receiver
Eric Decker
, who caught eight passes for 133 yards, said that "our goal is to win championships" and added that "you don't think about" individual game accomplishments.
Frankly, these are
nothing but preseason games for the Broncos,
warm-ups to the real thing that is still more than three months away. There is no sense judging anything this team does until then.
We've done that enough already. As you are surely aware, Manning's teams have made eight one-and-done playoff appearances -- including the Broncos' 2012 divisional-round loss to the
Baltimore Ravens
. So pardon me -- and Manning, and the rest of the Broncos -- if we can't get too worked up about another brilliant regular-season game.
"Maybe in 10 or 15 years," Decker said, "I'll look back at stuff like this."
To be fair, Manning is playing as well as he ever has. What we saw Monday night was an elevation of even his elite standards. He carved up every defensive look the Raiders gave him, completing 15 consecutive passes at one point in the first half. All five of his incompletions were either knocked down by Raiders defenders or dropped by his receivers, according to ESPN Stats & Information.
Through three games, Manning has had just 33 passes fall incomplete and hasn't thrown an interception in 122 passes. I'm not trying to diminish any of that.
Manning, of course, briskly shook his head when asked to compare this start to others in his career. (Or maybe he was still cold.)
"I don't have a great comparison to other years," he said.
Of course he does. He just isn't interested in discussing it, not yet anyway, not when there is so much time between now and what really matters. The Broncos might be the best team in the NFL at the moment, one that will get better when suspended linebacker
Von Miller
and injured cornerback
Champ Bailey
return, but we all know that doesn't mean a thing.
If the NFL crowned a champion of the regular season, Manning would have more rings than fingers. It doesn't, of course, and he knows it as well as anyone. So let's hurry this thing along. Is it January yet?
September, 24, 2013
9/24/13
1:55
AM ET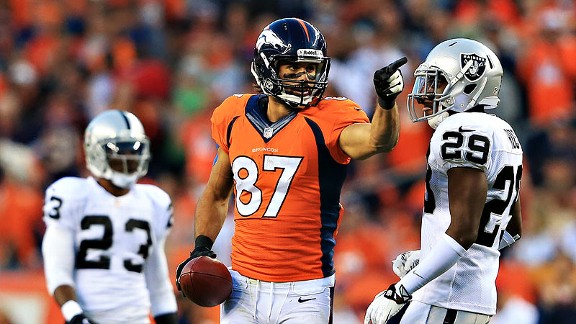 Doug Pensinger/Getty ImagesEric Decker and the Denver Broncos are heading in the right direction in the AFC West.
DENVER -- Three weeks into the season and there is one team in the NFL that has scored more than 100 points.
Actually, one team in the NFL that has scored more than 110 points. OK, one team in the NFL that scored more than 120 points.
And with their third consecutive game with at least 37 points the
Denver Broncos
formally announced their plans in the AFC West on Monday night with a nationally-televised
37-21 win
over the
Oakland Raiders
at Sports Authority Field at Mile High.
Raiders rookie tight end
Nick Kasa
, a suburban Denver native who played at the University of Colorado and has spent a lifetime discussing the Broncos with friends and relatives, may have put it the best.
"They're a devastating team," Kasa said. "That's obvious from [Monday night]."
As August drew to a close, there were plenty of folks in and around the NFL who wondered how things would look in the AFC West. After all, the Broncos, with
Peyton Manning
behind center, are surrounded by three rebuilding projects in the division.
The Raiders are in the second year of what has been the league's most extreme makeover and sported 10 different defensive starters from a year ago Monday night. In San Diego, former Broncos offensive coordinator
Mike McCoy
is in his first season as the team's head coach.
They are both 1-2 after three weeks and despite some quality moments in those three games -- small glimpses of potential -- they both look like there's plenty of work still to do before all is said and done this season.
The Chiefs are another matter. First-year coach Andy Reid has Kansas City out of the gate at 3-0 with a defense that has surrendered just 34 points. But Chiefs-Broncos matchups are for another day.
What the Broncos showed Monday was division games are important to them. Everybody talks a good game about division games, about how they're the only guaranteed road into the postseason for any team, but idle mid-week chatter is one thing, getting it done is another.
The Broncos showed the focus of a team with designs on bigger things, and that they want to leave no doubt in the division along the way.
Quarterback Peyton Manning will routinely say division games "count double," and losses in the division, especially home losses in the division, sting a little more. John Elway reeled in perhaps the greatest marquee player to hit the open market in the free-agency era. One of the reasons he wanted Manning so badly, beyond the extended and sometimes breathtaking list of quarterback stuff, was Manning's constant push for his team to be a little better tomorrow than it was today.
Elway has described it as "that uncomfortable feeling," at times.
That can be seen in how the Broncos have handled their division business of late. In 2011, or YBM (the year before Manning) when they won the division at 8-8 overall, they were just 3-3 in AFC West games. Last season, Manning's first in Denver, the Broncos were 6-0 in the division on the way to a 13-3 mark.
Or as linebacker
Wesley Woodyard
put it after Monday's victory: "It's a division opponent, and the Raiders, they always bring their best shot. I hate losing to any division guys, especially the Raiders."
The bottom line is, in a league cocooned in overreaction, with every win celebrated like a lunar landing and every loss treated with a this-team-stinks-forever approach, the good teams simply need a get-off-my-lawn guy or two to keep the heads level. They need some grumpiness to sweep up the rose petals that get tossed from time to time.
Sure, there is a line there between some kind of joyless pursuit of victory and the easily obtained misplaced ego, but a good team needs some perspective as much as touchdowns. And the Broncos showed Monday night they are good, ruthlessly good at times, with a dose of perspective.
Manning threw three touchdown passes, was as dialed in with the Broncos receivers as he has been at any point in his career -- at one point late in the first half both of his incompletions were drops -- and the Broncos put up their second 500-yard game of the season.
The defense stifled the Raiders' run game -- Oakland had averaged just more than 198 yards rushing coming in -- as Oakland finished with 49 yards on 17 carries. Yet after surrendering a touchdown in the third quarter and another in the fourth quarter, Woodyard, for one, was swatting away any compliments.
"No, I'm not pleased at all," Woodyard said. "We gave up 21 points. We've got to stop them at the end of the game. I'm not satisfied at all with that win. … We'll definitely take a win any time we can get one, but to give up 21 points, got to stop that leaky football."
Monday's win was the Broncos' first in division play this season and will also be the last time they face a division opponent until Nov. 10, at San Diego. A lot can happen between now and then, but it's pretty clear Denver has the goods and may have to wrestle with itself a bit along the way because of it.
"We have to just play our football," Broncos defensive tackle
Kevin Vickerson
said. "I say fast, physical and violent, but we can't give up garbage points, make mistakes, things like that. We just have to keep grindin', man. Win your division first, worry about week to week; do that and things will work out. And we want things to work out, so everybody knows you have to do that. We're 3-0 and moving on. That's it, look at the win and get to work."
September, 24, 2013
9/24/13
12:45
AM ET
DENVER -- Observed in the locker room after the
Denver Broncos
'
37-21
win against the
Oakland Raiders
:
Bailey
Closing in:
You don't need to be around
Champ Bailey
for very long to understand how difficult it is for the 15-year veteran not to be on the field when the Broncos (3-0) have so much going for them. The cornerback, who injured his left foot in a preseason loss to Seattle, struggled a bit in warm-ups Monday, and the Broncos decided to hold him out of a third consecutive regular-season game. After the victory, though, Bailey maintained he's "close'' to being back. But for a player who's never played in a Super Bowl, it's clear Bailey wants to join what is clearly a team with February potential.
Lost opportunity:
Rookie running back
Montee Ball
, who was put into Monday's win to help close things out down the stretch, lost his second fumble of the season. And given
Ronnie Hillman
's 66 yards on nine carries, it could push Ball down the depth chart in a rotation where carries are already difficult to come by.
Webster comes up big:
He was an unheralded pick in April's draft, but rookie cornerback
Kayvon Webster
continues to impress the Broncos with his poise and preparation. The key: pop quizzes from his teammates. "Sometimes they just start asking me questions to see if I know what we're doing," Webster said, "sometimes even when the coaches aren't around.''
Ihenacho tweaks ankle:
Broncos pulled safety
Duke Ihenacho
, who injured his right ankle in the Week 2 victory over the Giants, out of Monday's game in the second half. Ihenacho tweaked the ankle late against the Raiders, but looked to be moving pretty well after the game.
September, 23, 2013
9/23/13
11:44
PM ET
DENVER – A few thoughts on the
Oakland Raiders
'
37-21
loss to the
Denver Broncos
:

What it means
: Under the brightest lights a regular-season game can provide, the Raiders showed they are not yet ready for prime time. Not when
Peyton Manning
is at his peak. Manning carved the Raiders up Monday, at one time completing 15 consecutive passes en route to throwing for 374 yards on 32-of-37 passing with three touchdowns. The defense was simply worn down, and the offense did not come to life until it was too late. And
Terrelle Pryor
took a nasty blow on a helmet-to-helmet hit by
Wesley Woodyard
late in the fourth quarter. Though Pryor stayed in the game for another play, he left for the locker room and was replaced by
Matt Flynn
.
Stock watch
: Falling --
Darren McFadden
. A week after rushing for 129 yards on 19 carries, McFadden was stopped time and again by the Broncos, who stuffed the box and dared the Raiders to beat them with the pass. Through three quarters, McFadden had just 8 yards on 10 carries; he finished with 9 yards on 12 attempts. He finished with more yards passing.
Why not try the FG?
:
Sebastian Janikowski
kicked a record-tying 63-yard field goal in the Mile High air here two years ago, so what about 15 more feet into the closed end of the stadium to close the first half? Instead, coach Dennis Allen had Pryor drop back for a Hail Mary … and the play, and half, ended with a dispiriting sack.
Trickery:
No, McFadden could not get it going on the ground. So he went to the air. Taking a pitch from Pryor, McFadden rolled to the right, stepped up and fired a perfect spiral to fullback
Marcel Reece
for a 16-yard touchdown pass that got the Raiders (1-2) within 30-14 late in the third quarter. It was the eighth TD pass by a Raiders running back, along with Marcus Allen (4), Harvey Williams (2) and Tony Teresa (1), the first since Williams in 1996.
What's next
: The Raiders (1-2) host Washington on a short work week. Washington is 0-3 for the first time since 2001. The teams have traded victories in their past four meetings, Oakland winning in 1995 and 2005, Washington winning in 1998 and 2009.
September, 23, 2013
9/23/13
11:43
PM ET
DENVER -- A few thoughts on the
Denver Broncos
'
37-21 win
over the
Oakland Raiders
:
What it means:
The Broncos opened up division play with a rather tidy message to their AFC West brethren. The Broncos showed offensive versatility, playing with both power and speed, to go with a defensive edge despite
Von Miller
and
Champ Bailey
missing their third consecutive game. Beating the Broncos on their home field -- at altitude -- looks like a daunting task.

Stock watch:
Wide receiver
Eric Decker
had a tough season opener when he dropped a touchdown as well as another pass that would have been a certain third-down conversion in the win over the Ravens. He had another drop in the win over the Giants in Week 2. Despite those drops, Manning had targeted him more than any other player in the Broncos' first two games. It all came together for Decker on Monday. He had six catches for 113 yards and a touchdown in the first half finished with eight catches for 133 yards.
Mission impossible:
There are NFL defensive coordinators who say defending Manning under any circumstance is a tall order, but give Manning four receivers who can consistently win one-on-one matchups and it's a long night waiting to happen for a defense. Of Manning's first 21 completions on Monday, six went to Decker, five to
Demaryius Thomas
, six to
Wes Welker
and two to
Julius Thomas
.
Before the third quarter ended, Manning had completed passes to eight different players.
Webster steps up:
Throughout training camp and the preseason, Champ Bailey talked about rookie cornerback
Kayvon Webster
's instincts, confidence and ability to bounce back from the inevitable tough play. And when
Tony Carter
left the game in the first quarter with a right ankle injury, Webster stepped in and chipped in with two big hits and steady work the rest of the way in the team's nickel and dime packages.
What's next:
Break out the stopwatches with the pedal-to-the-metal Eagles set to come to Denver on Sunday. Philadelphia, however, may need all of its thrill-packed offense since the Philadelphia defense is 26th in the league in points allowed per game (28.7) and 30th in yards per game allowed (438.3).