AFC West:

2013 Week 3 Upon Further Review AFC
September, 24, 2013
9/24/13
3:13
PM ET
An examination of four hot issues from the Raiders' 37-21 loss to the Broncos:
[+] Enlarge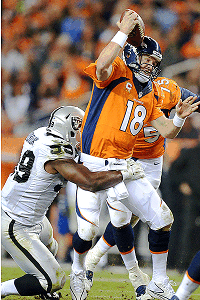 Kirby Lee/USA TODAY SportsWith the exception of this sack by Lamarr Houston, the Raiders weren't able to hound Denver QB Peyton Manning on Monday night.
Not helping themselves:
The Raiders knew they had to get off to a quick start and minimize their mistakes against Denver, in general, and quarterback
Peyton Manning
, in particular. No dice. Not when Oakland had a season-high 77 yards in penalties, and when Manning completed 32 of 37 passes for 374 yards. "Playing a team like the Broncos, you don't really have any room for error," Raiders safety
Charles Woodson
said. "Playing against Jacksonville, you have some room for things and you can make up for it. But with [Manning], you can't. He's going to find whatever weakness you have out there. If you're not fundamentally sound, he's going to find it [and] he's going to exploit it. He did it tonight."
Where's the pass rush?:
With Manning working with a surgeon's precision, no wonder the previously blitz-happy Raiders could not get to him. Oakland entered the game with nine sacks but was able to get Manning only once, though it was a violent blindside hit by defensive end
Lamarr Houston
that resulted in a fumble, the type of hit you rarely see Manning endure. "He has his protection set a certain way and when he drops to five yards he stays right in the middle of the pocket where he's comfortable and wants to throw the ball," Houston said. "So it's kind of hard to get to a quarterback dropping five yards, and not seven or nine."
Polish Cannon under wraps?:
If ever there was a time to attempt a record field goal, this was it. Five seconds remaining in the half, the Raiders at the 50-yard line facing the closed end of a stadium in which
Sebastian Janikowski
made a 63-yarder two years earlier. Alas, coach Dennis Allen went conservative, and
Terrelle Pryor
, who would later suffer a concussion, was sacked. "I thought we had a better chance of being able to get a Hail Mary pass," Allen said, "rather than trying to attempt a 67- or 68-yard field goal." Not sure everyone else in the organization agrees, though.
Of explosive plays III:
And now for our weekly tracking of "explosive" plays -- as deemed by Allen, such a play is one that gains at least 16 yards through the air, 12 yards on the ground. The Raiders had nine such plays against the Broncos, one run and eight passes, while Denver had eight explosive plays, three runs and five passes. In three games, the Raiders have 26 explosive plays (10 runs, 16 passes), with two passes for touchdowns, both in Denver. Oakland's opponents, meanwhile, have 23 explosive plays combined, six runs and 17 passes with a touchdown each way.
September, 24, 2013
9/24/13
11:50
AM ET
ENGLEWOOD, Colo. -- An examination of four hot issues from the Denver Broncos' 37-21 win over the
Oakland Raiders
on Monday night:
Need more security:
Despite all of the good the Broncos' offense constructed last season, their running backs were still among the league's worst at hanging on to the ball (a league-leading seven lost fumbles, tied with Buffalo for highest in NFL). And this season, even as they pile up the points and platitudes, Denver's running backs have already lost two fumbles -- both by rookie
Montee Ball
. And eventually it's going to sting because those are often momentum-swinging plays. The Broncos need to be able to close games out without having to rely on quarterback
Peyton Manning
to throw on late-game, third-and-4 situations because they don't trust the backs to hang on to the ball.
[+] Enlarge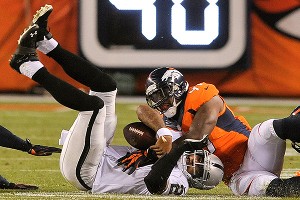 AP Photo/Jack DempseyRobert Ayers has filled the pass-rushing void left by Von Miller's suspension and Elvis Dumervil's departure.
Ayers on verge of breakout:
He may be just an overnight sensation five seasons in the making. Through the defensive changes, role changes and on-field struggles at times, DE
Robert Ayers
has always contended that all he really needed was an opportunity and the right fit in the system. Well, he leads the team with three sacks, and no player may have benefited more from Jack Del Rio being back for a second consecutive year as the Broncos defensive playcaller than Ayers has.
The four-pack:
Manning has no shortage of impact targets and has used them liberally in three games, with five different players having caught at least one touchdown pass. The Broncos are also one of just three teams after three games to have four different players with at least 14 receptions. New Orleans and Dallas are the other two.
Woodyard a foundation player:
He may not get the attention some other guys do around the league, but in a season when
Von Miller
and
Champ Bailey
haven't played in the Broncos' defense yet, linebacker
Wesley Woodyard
is this team's Swiss Army knife given all the personnel groupings Del Rio likes to use. Woodyard played all 54 snaps on defense Monday night, and only cornerback
Chris Harris
and safety
Rahim Moore
have logged more snaps for Denver's D this season.
September, 23, 2013
9/23/13
12:00
PM ET
An examination of four hot issues from the
San Diego Chargers
' 20-17
loss
at the
Tennessee Titans
:
Offensive line woes:
San Diego headed into Sunday's contest already down an offensive lineman when
D.J. Fluker
was ruled out because of a concussion.
Michael Harris
played solid in place of Fluker at right tackle. But the Chargers potentially lost two more starters up front against Tennessee. San Diego coach Mike McCoy told reporters after the game left tackle
King Dunlap
had a concussion. Left guard
Chad Rinehart
also had a turf toe injury in the second half and did not return. Already thin up front, the Chargers do not have enough quality depth to withstand that many starters being out heading into next week's Dallas game.
[+] Enlarge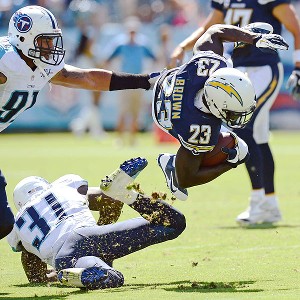 AP Photo/Mark ZaleskiRonnie Brown's touchdown was San Diego's first rushing score in almost a year.
Throw to score, run to win:
While the Chargers have one of the top passing offenses in the NFL through three games, they still have trouble consistently running the ball. San Diego's struggles to move the chains late to close out games can be partially attributed to the team's inconsistent ground game. According to ESPN Stats & Info,
Ronnie Brown
's 1-yard touchdown run in the second half was San Diego's first rushing touchdown since Week 5 against the Saints last year. That's a head-scratching statistic. The Chargers finished with a respectable 102 rushing yards against Tennessee.
Ryan Mathews
led the way with 58 rushing yards on 16 carries. Third-down back
Danny Woodhead
added 31 yards on the ground and had seven catches for 55 yards. But the Chargers failed to successfully run the ball when it mattered most -- at the end of the game.
Turnover drought:
Seahawks coach Pete Carroll says that one of his primary philosophies is "It's all about the ball" -- meaning take care of it on offense and look for ways to create turnovers on defense. Through the first three games, San Diego has struggled in one of the top indicators on whether a team will win or lose: turnover differential. San Diego has created one turnover through three games, which is among the worst in the league. However, the Chargers did create a sudden-change situation when Tennessee punter
Brett Kern
fumbled the snap, recovering his own fumble at Tennessee's 30-yard line. The Chargers turned that opportunity into a
Nick Novak
44-yard field goal. The Chargers have a minus-3 turnover differential through three weeks.
Third down struggles:
Heading into Sunday's contest, the Chargers were converting an impressive 58.6 percent of their opportunities on third down, tops in the NFL. But against Tennessee, the Chargers finished just 3-of-9 on third down, including being 0-for-3 in the first half. Just a week ago, San Diego ran a season-high 79 plays against an up-tempo Philadelphia offense. However, that same offense managed just 53 plays compared to 68 plays for Tennessee. The Titans' ability to effectively run the football also led to a 31:38 to 28:22 edge in time of possession.
September, 20, 2013
9/20/13
3:00
PM ET
An examination of four hot issues from the Kansas City Chiefs' 26-16 win against the Philadelphia Eagles
:
[+] Enlarge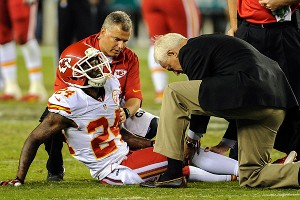 John Geliebter/USA TODAY SportsBrandon Flowers and the Chiefs scoff at the notion they were faking injuries to slow the Eagles' offense.
Were they faking it?
Eagles fans weren't happy when Chiefs cornerbacks
Sean Smith
and
Brandon Flowers
didn't get up after different plays in the second half. Fans thought the injuries were a tactic to slow down the fast-paced Philadelphia offense. Both players got a laugh from the notion they weren't truly injured. Smith pointed to a bandage on his arm covering the spot where he said he received an IV for the leg cramps that sidelined him temporarily. Flowers was on the injury report during the practice week with a sore knee and didn't return after he left the game. "My knee just couldn't hold up any more," Flowers said. "I didn't think I was going to play today. I wasn't going to fake it at the end of a tight game to go to the locker room and leave my team out there."
Killing the clock:
The Chiefs, for the second straight week, were able to protect their lead with a long, clock-eating drive. They had a 15-play, 75-yard drive in the fourth quarter that consumed more than eight minutes and ended with a field goal that turned out to be the final points of the game. The Chiefs had the ball for more than 12 minutes in the fourth quarter.
Leaving points on the field:
The Chiefs entered the game having scored a touchdown on each of their five trips inside the opponent's 20-yard line, but that streak came crashing down in Philadelphia, where they scored only one touchdown in six trips inside the Philadelphia 20. By settling for four field goals, the Chiefs turned a game that could have been a blowout into a tight affair. "If we were any better, with the way our defense was playing, the game wouldn't have been as close as it was," quarterback
Alex Smith
said. "It's something we need to get better at. We had a lot of opportunities down there early. You've got to capitalize, at least a couple of times."
Fast start:
The Chiefs, notorious for their slow starts in many recent seasons, are 3-0. By beating the Giants at Arrowhead Stadium in their next game on Sept. 29, they would move to 4-0 for the first time since 2003. Their schedule over the next several weeks should offer them a chance for sustained success. After they play against the Giants, the Chiefs will face Tennessee, Oakland, Houston, Cleveland and Buffalo before their schedule takes a more difficult path. Among their final seven games, the Chiefs will play against the Broncos and Chargers twice, as well as against the Colts and Redskins.