AFC West:

2013 Week 5 DEN at DAL
October, 6, 2013
10/06/13
11:10
PM ET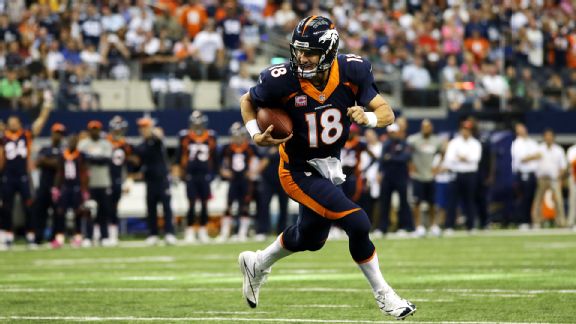 AP Photo/Tony GutierrezPeyton Manning tossed another four touchdown passes, and he also ran one in on a bootleg.
ARLINGTON, Texas -- Before the
Denver Broncos
arrived in Texas, the general consensus was they had lived the life of football luxury over the season's first month.
Their future Hall of Fame quarterback and the players around him were piling up so many points, the Broncos were inducing yawns on the way to 20-something-point wins. But it did all sort of raise the question, the one about how they would do if somebody really got up in their grill, slapped a touchdown or two on them early, forced a couple turnovers and put them on their heels.
"I guess I would say we would respond. That's what we felt in here," linebacker
Danny Trevathan
said. "I'd say we would find a way. We always believe that, and, you know,
Peyton Manning
would do what Peyton Manning does."
It was there Sunday for the Broncos, all kinds of vocational trouble tossed onto their doorstep, waiting to see what they would do with it. And, in the end, the Broncos sorted through the pile, albeit not always in the most appealing of fashions, and Manning did in fact do what he's done so many times before as the Broncos moved to 5-0 with a
51-48 victory
over the
Dallas Cowboys
at AT&T Stadium. Along the way, Manning moved into second all time on the NFL's career passing yards list (61,371), passing Dan Marino.
"I think it was just everybody fighting together, fighting until the end," Broncos wide receiver
Wes Welker
said. "You always want to have these kinds of games in the regular season to make sure you have that toughness."
Ultimately, the Broncos' toughness and their place in history will be measured by what happens after the new year begins. But Sunday gave them the chance to show they aren't just another pretty face.
No, the Cowboys, including several players who said this past week they were "sick and tired" of hearing about Manning and the Broncos, were inhospitable hosts with an upset on their mind. They scored touchdowns the first two times they had the ball and built a 17-7 lead after a third scoring drive to start the game. The Cowboys forced a fumble from wide receiver
Eric Decker
to end the Broncos' first possession. They made the first interception of a Manning pass this season. The Broncos were missing five defensive starters by game's end, and the Cowboys were ahead 48-41 with seven minutes, 19 seconds left.
"That's the best team in football that we played," Cowboys coach Jason Garrett said. "We stepped to that challenge. … We didn't do enough to win the game. They did, and we have to learn from it."
With suspended linebacker
Von Miller
and injured cornerback
Champ Bailey
yet to play this season, the Broncos' weekly flirtations with history seemed at an end as Cowboys quarterback
Tony Romo
was on the way to 506 yards passing. Defensively, the Broncos saw Romo find opening after opening as cornerback Chris Harris (concussion), linebacker
Wesley Woodyard
(neck) and defensive end
Robert Ayers
(shoulder) went to the sideline with injuries and did not return. But on a get-up-off-the-mat kind of day, it was almost fitting that Trevathan found a way to get the defense off the field and give Manning a chance to erase the bad stuff in the game's closing minutes.
Manning led a nine-play, 73-yard drive to tie the score at 48, but the Cowboys' offense, which had scored touchdowns on its previous four possessions of the second half, now had the ball with plenty of time -- 2:39 -- and all three timeouts, plus the two-minute warning, to close the deal. On first down, Romo took a sack from the Broncos'
Shaun Phillips
. On second-and-16, Romo tried to force the ball to tight end
Gavin Escobar
, and why not? Led by
Jason Witten
's seven catches for 121 yards, the Cowboys tight ends had enjoyed room to work against the Broncos defense for most of the afternoon.
"We had seen some things on tape we thought we could use," Romo said.
But Romo didn't quite unleash his best fastball -- "I just didn't get as much on it," he said -- and Trevathan cut underneath Escobar to make the interception. The same Trevathan who had been carted off the practice field Wednesday with a knee injury that his teammates, coaches and anyone else who saw the play thought was season ending.
"God works in mysterious ways," Trevathan said. "I felt that pop [Wednesday]. I started seeing baby memories and stuff out there. I thought I was done."
Trevathan's interception gave the Broncos the ball at the Cowboys' 24-yard line with 1:57 to play, all of their timeouts in their pockets and Manning at quarterback. They moved the ball all of 14 yards, with Manning taking the ball and hitting the deck on the last three plays from scrimmage. And with that,
Matt Prater
, who has spent much of the season kicking extra points and 50-yard field goals, trotted on and calmly hit the 28-yard game winner as time expired.
"I try to treat every kick the same," Prater said. "My mindset all year has been I kind of go with the flow, and when you have the opportunity to make a kick, you make it -- no matter the score -- when it is in the game or whatever. But it's always good to kick one with the game on the line and help us come away with a win."
"People say we haven't been tested or whatever," Broncos safety
Rahim Moore
said. "And it was kind of ugly; it was bad, good, bad, good, bad, good, bad, good … but it's how you finish, and we finished on good. That's what matters."
October, 6, 2013
10/06/13
10:45
PM ET
ARLINGTON, Texas -- For virtually all of
Knowshon Moreno
's football life, folks have asked him to fight for more, finish the play and when the game is on the line to get every inch he can.
Until Sunday.
"And I've never been part of that before," the
Denver Broncos
running back said.
It was an odd sight Sunday to close out the Broncos'
51-48 victory
against the
Dallas Cowboys
, but yet there was the league's highest-scoring offense trying not to score a touchdown.
Yes, in a game tied 48-48, with the two quarterbacks already having combined for nine touchdown passes, the Broncos did not want to score a touchdown. And after linebacker
Danny Trevathan
had given the Broncos the ball at the Cowboys' 24-yard line with 1 minute, 57 seconds to play, they tried their best not to.
After four plays the Broncos faced a third-and-1 from the Cowboys' 2-yard line. But not wanting to give the ball back to the Cowboys if they scored -- there was still 1:40 left on the clock at that moment -- the Broncos wanted to give the ball to Moreno and have Moreno get a first down, but not a touchdown.
A request that, at least initially, as he faced a difference of 36 inches between the score and a first down, flummoxed Moreno.
"We did not want to give [the Cowboys] the ball back. I've never been in a situation quite like that at the end," said quarterback
Peyton Manning
. "We needed to get the first down, but we didn't need to score. That difference was about a half of yard. Knowshon and I were arguing at the end, he basically asked: 'How am I supposed to do that? How am I going to get a half a yard, but not get a yard and a half.' [I said] 'You can't, you can't score.'"
"I was confused on how to do it," Moreno said. "Peyton said, 'Just do it it.' Whatever he says, do. You always talk about first down, fall-down mentality. I've never been part of that before."
So, Moreno took the ball and powered into the middle of the Cowboys defense and stopped himself just short of the goal-line in the sea of humanity.
"You try to go down,'' Moreno said. "... But at the same time it was a little crowded in there, so I tried to get the first [down]. I looked over at it and I was like let's see how close I can get without going in."
From there Manning took a 4-yard loss before taking a knee twice and Broncos kicker
Matt Prater
kicked the 28-yard game-winner on fourth down.
October, 6, 2013
10/06/13
9:05
PM ET
ARLINGTON, Texas -- Observed in the locker room after the
Denver Broncos
51-48
win
against the
Dallas Cowboys
:
Manning
Don't tell:
Broncos quarterback
Peyton Manning
said, in order to get everyone else on offense to sell it as a business-as-usual run play, he didn't tell anyone, either in the huddle or on the sideline, that he planned to run the naked bootleg for a 1-yard touchdown just before halftime. He made the decision as soon the Dallas defender covering tight end
Julius Thomas
went in motion with the tight end. "If you do it every five years, it's a good tendency-breaker,'' Manning said.
Battered:
The Broncos had a substantial injury report and will have plenty of players to be evaluated Monday. Defensive end
Robert Ayers
(left shoulder), linebacker
Wesley Woodyard
(neck) -- the Broncos said it was a shoulder injury during the game -- cornerback
Chris Harris
(concussion), and running back
Ronnie Hillman
(left ankle), all eventually did not return to the game. Hillman was walking with just a slight limp following the game and was set to return to Denver with his ankle taped.
Get used to it:
Broncos safety
Rahim Moore
has been Manning's teammate for less the two seasons, but says it would take a lot to surprise him about the future Hall of Famer. "He's a special player, a special player who makes special plays … He's done it over and over again.''
Hit the road:
There were plenty of Broncos, coaches included, who noticed just how many Broncos fans had wheeled and dealed themselves into the crowd of 92,758 for the game. Coach John Fox said; "It was surprising, I had our whole team convinced it was us against the whole stadium, and I wasn't telling the truth.''
October, 6, 2013
10/06/13
7:50
PM ET
ARLINGTON, Texas -- A few thoughts on the
Denver Broncos
'
51-48 win
over the
Dallas Cowboys
at AT&T Stadium:

What it means:
The Broncos were forced to adapt and overcome Sunday. The Cowboys jumped out to a 14-0 lead,
Peyton Manning
threw his first interception of the season and the Broncos lost three more starters on defense to injuries: cornerback
Chris Harris
(concussion), defensive end
Robert Ayers
(shoulder) and linebacker
Wesley Woodyard
(shoulder). It was all in the pile of trouble for the Broncos, yet they still came away with a win.
Stock watch:
It had to happen at some point, but the Broncos' defense has taken some hits on the stat sheet this season with
Von Miller
and
Champ Bailey
yet to play in '13. Cowboys quarterback
Tony Romo
feasted on the linebackers in coverage throughout the day, and he repeatedly targeted cornerback
Tony Carter
, who was in the game far more than planned because of Harris' injury.
Not the usual:
The Cowboys' beleaguered secondary, which had surrendered two 400-yard passing games to opposing quarterbacks before the Broncos arrived, was able to limit Denver's ability to get the ball to wide receiver
Demaryius Thomas
for much of the day. By the time the fourth quarter began, Thomas still had just two catches for 13 yards until he had a well-timed, drive-saving 26-yard reception late in the game to go with another leaping grab with just 1:49 to play.
Bumps and bruises:
The Broncos kept 11 defensive backs coming out of training camp -- a rare move for any team (they kept nine out of camp in 2012) -- and they have now needed every one of them. They have kept Bailey on the roster rather than designating him for return from injured reserve now five games into the season, and Harris will have to pass concussion protocol to even return to practice. Suddenly,
Quentin Jammer
and second-year cornerback
Omar Bolden
could become extremely important to the Broncos' defensive plan.
What's next:
The
Jacksonville Jaguars
entered Sunday's game as the league lowest-scoring team with 31 points in their first four games -- 13 fewer points than the idle 0-4
Buccaneers
had scored in their first four games. Things did not get better as Jacksonville scored 20 Sunday but finished with a pile of injuries for its troubles. The Jaguars will arrive in Denver to find an irate team which narrowly escaped against the Cowboys.