AFC West:

2013 Week 6 IND at SDG
October, 15, 2013
10/15/13
3:10
AM ET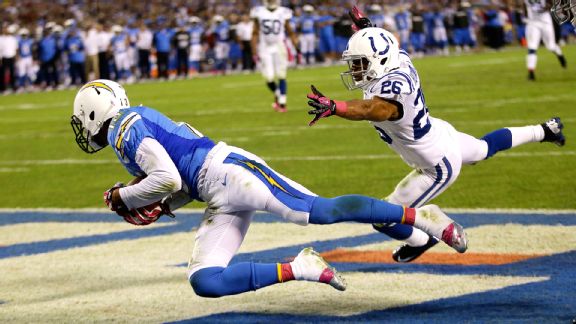 AP Photo/Lenny IgnelziRookie receiver Keenan Allen had nine catches for 107 yards and a TD on "Monday Night Football."
SAN DIEGO -- Want to hear something scary?
At least for opposing defenses.
San Diego Chargers
rookie receiver
Keenan Allen
said there's still room for improvement after scorching the Indianapolis Colts' secondary on nine receptions for 107 yards, including a 22-yard reception for a score in his team's convincing
19-9 win
on Monday night.
"I'm still a rookie," Allen said, smiling. "But yeah, I'm definitely trying to grow and develop as a player. I'm just taking it all day by day and trying to gain confidence."
With fellow receiver
Malcolm Floyd
on injured reserve with a season-ending neck injury, Allen has stepped in nicely and earned
Philip Rivers
' trust.
In just six short games, Allen is developing into a No. 1 receiver for the Chargers, someone who can be counted on to create impact plays on a weekly basis.
"We just have to sustain it now," Rivers said. "Sustain the confidence, the trust and the consistency. It may be a four-catch week next week, but his play is going to be key -- being there when his number is called."
Through six games, Allen has made his mark. He's totaled 23 receptions for 332 yards and two touchdowns. Only
DeAndre Hopkins
(25) and
Tavon Austin
(24) have more receptions than Allen among rookie receivers, but both of those players were drafted in the first round.
Allen was considered a first-round talent but tumbled down the draft board because of NFL teams' concerns about a posterior cruciate ligament injury he suffered during his final season at Cal.
Allen said he uses that as motivation.
"I think so," he said. "A lot of teams didn't want to take a chance on me because of my knee. I wasn't really concerned about my knee, but it happened, so I just try and keep playing ball."
At 6-foot-2 and 211 pounds, teammates say Allen is faster than he looks. His bigger body helps him create separation against smaller defensive backs. But he also can make defenders miss after the catch, which contributes to his 14.4 yard-per-catch average.
"He's definitely is deceiving, his speed," San Diego cornerback
Shareece Wright
said. "And he has more short-area quickness -- getting off the line he's really quick. He's not a heavy dude; he's like a long, not heavy, but not skinny guy."
So what other receiver does Allen compare to?
"He's really unique," Wright said. "He has that long torso like a track athlete. He's not a
Malcom Floyd
. He's not a
Vincent Brown
. He's not a
Danario Alexander
. He's just kind of his own dude. He's Keenan Allen."
Rivers said Allen's 22-yard touchdown was another confidence-building catch-and-throw between the young receiver and a veteran quarterback. Allen wasn't the primary read on the play, but Rivers saw a way to get the ball to Allen in the back of the end zone, and, fortunately, Allen saw the same thing.
"The safety, he drove on Gates and got too far down the field, and Philip threw it over his head, and he couldn't come back to it, and I just tried to run up under it," Allen said.
Said Rivers: "Those are the kind of trust-building plays that you have to make. You don't make that play until you make that play. That doesn't come up like that ever in practice. So you don't really know until you throw it -- 'Is he thinking what I'm thinking?' And then when you make it, you're like, 'All right, check mark on that.' You build confidence that way, by making plays in games like you did today."
.
October, 15, 2013
10/15/13
2:21
AM ET
SAN DIEGO -- Observed in the locker room after the
San Diego Chargers
19-9
win
over the
Indianapolis Colts
.
Novak on the money:
San Diego kicker
Nick Novak
finished 4-for-4 on field goals, including a season-long 50-yarder with 1:22 remaining to seal the win. Novak said he received an extra boost trying to match kicks with one of the best clutch kickers in the game in Indianapolis'
Adam Vinatieri
, who finished 3-for-3.
"I'm a big Rocky fan," Novak said. "So I just try to keep that eye of the tiger, keep that focus mentality where I come through for the team and do my job. Vinatieri was doing the same thing. Even going against a guy like Vinatieri, I try to lift my game and match him kick for kick. He's a competitor, and I love that."
Mathews
Mathews hits century mark:
For the first time since a Dec. 11, 2011, contest against Buffalo when he rushed for 114 yards, San Diego running back
Ryan Mathews
topped the 100-yard mark in a regular-season game. Mathews finished with 102 yards on 22 carries. He said breaking the 100-yard mark still means something.
"You want to reach that peak as often as you can," Mathews said. "I just have to give all the credit to my O-line. They did a great job tonight, just pushing guys out of the way and opening up those holes."
San Diego coach Mike McCoy said his team went into Monday's contest against Indianapolis focused on running the football after finishing with just 36 rushing yards against Oakland last week.
"Everyone took it to heart how we ran the football last week, which was poor, to say the least," McCoy said. "I think we averaged 1.7 [yards] a rush last week. It's unacceptable. The coaches answered the challenge. And we put it out there that we've got to run the football better."
Another turning point?
San Diego quarterback
Philip Rivers
felt Monday night's game could be a turning point for this team, putting them back into playoff contention, or in evaluation mode for next year.
But San Diego players said the same thing after a big win over Dallas two weeks ago, but then lost to an undermanned Oakland team a week later. So what makes this game different?
"It definitely can, but now we've got to see where it turns," Rivers said. "We started in the right direction, and we've got to make it turn that way. This was a big team win. I had the feeling that this was kind of an old-school NFL win, in the sense that we played great defense and we didn't turn the ball over. We weren't anything great offensively, but we didn't turn it over. And we got points at the end of those drives."
October, 14, 2013
10/14/13
11:48
PM ET
SAN DIEGO -- A few thoughts on the
San Diego Chargers
' 19-9
win
over the
Indianapolis Colts
.

What it means:
The Chargers' roller coaster of a season continues, as San Diego rebounds from a disappointing loss to the AFC West rival
Oakland Raiders
last week to defeat one of the best teams in the NFL in the Colts, controlling the tempo for most of the game. At 3-3 overall, the Chargers jumped back into the AFC playoff hunt.
Ground McCoy:
Known for his pass-first approach, San Diego coach Mike McCoy let the ground game lead the way for the Chargers offensively. After rushing for just 32 yards against Oakland last week, the Chargers ground out 147 rushing yards.
Ryan Mathews
led the charge with his first 100-yard rushing game of the season, totaling 102 yards on 22 carries. San Diego's ability to sustain a running game led to a 38:31 to 21:29 advantage in time of possession.
Stock watch:
Playing with two frontline players out in linebackers
Donald Butler
(groin) and
Jarret Johnson
(hamstring), San Diego's much-maligned defense played well, holding Indianapolis to 2-for-10 on third downs and just 267 total yards. The Colts averaged 27.8 points a contest heading into Monday's contest, but the Chargers held them to just nine. Cornerback
Derek Cox
capped the night with the Chargers' first interception since the team's first defensive play of the season by defensive tackle
Cam Thomas
.
Keenan Allen time:
Watch out
Antonio Gates
, because San Diego rookie receiver Keenan Allen is developing into
Philip Rivers
' favorite target right before our eyes. He was targeted a team-high 12 times, finishing with a career-high nine catches for 107 yards, including a 22-yard reception for a score.
What's next:
The Chargers hit the road, travelling to Jacksonville to take on the Jaguars on Sunday for a 1 p.m. ET kickoff time.
October, 14, 2013
10/14/13
6:15
PM ET
SAN DIEGO -- Ken Whisenhunt, offensive coordinator for the
San Diego Chargers
, says his offense shouldn't be surprised by anything the
Indianapolis Colts
do defensively in Monday's matchup here at Qualcomm Stadium.


The Colts, led by defensive coordinator Greg Manusky, and more important, defensive-minded head coach Chuck Pagano, run a similar style 3-4 defensive front as little brother John Pagano, defensive coordinator for the Chargers.
"There are some similarities," Whisenhunt said. "When you watch tape, you'll see some things and say, 'Hey I recognize that.' But it's different players. They run some things differently and when you get into some of the different varieties of it, whether it's the sub packages, there are differences.
"But there's no question that it helps that we've been able to go against the base defense when we're going against Pags [John Pagano]. John [Pagano] does a nice job with our guys as far as what we see and that'll help."
While the schemes may be similar, the Colts pose more of a threat on defense because of the personnel on the side of the ball, including the NFL's leading sack man
Robert Mathis
(9.5 sacks), along with ball-hawking cornreback
Darius Butler
(2 interceptions, one returned for a TD).
So the Chargers will have to do a much better job protecting the football than they accomplished against the Raiders last week, which leads to the first thing I'll be looking for in tonight's contest.
1. Ball security:
Through five games, Indianapolis has forced 10 turnovers, including seven interceptions. The Colts forced just 15 turnovers all of last season, so this year's defense is doing a much better job getting after the football. The Chargers turned it over five times against Oakland last week. If San Diego has a repeat performance, this game could be over by halftime.
2. Run the football:
Yes, it would be great to see
Philip Rivers
sling the rock and put up another 400-yard passing day, right? Wrong. The Chargers ran for a paltry 32 yards last week. That's not going to get it done. If
Ryan Mathews
is healthy, he should get at least 15 touches to keep the Colts' defense honest.
3. Wrap-up:
Indianapolis is in the top five in the league in rushing, averaging 142 rushing yards a contest. They've got a new toy in running back
Trent Richardson
, and they plan on using him. The Chargers are only giving up 117 yards a contest. It will be important for
Corey Liuget
,
Cam Thomas
and
Kendall Reyes
to play tough up front defensively, and for the back end of San Diego's defense to make sure tackles in open space.
4. Make a play on defense:
It's been five games, and San Diego's secondary has yet to haul in an interception. Defensive tackle Cam Thomas has the team's only pick, and that happened on San Diego's first defensive play of 2013. The Chargers need to make a couple of game-changing plays on defense to help flip field position, and steal a few possessions from
Andrew Luck
.
5. A special play on special teams:
San Diego's return game has yet to make a big play this season. Today would be a good day for one. Again, the Chargers will need to match scores with a pretty potent Indianapolis offense. And getting an impact play on special teams could help San Diego's chances to stay in the game.