AFC West:

2013 Week 6 JAC at DEN
October, 14, 2013
10/14/13
7:00
AM ET
DENVER -- There may be no better player in the
Denver Broncos
' defense to represent Jack Del Rio's "if you show me something I'll play you" mantra than
Malik Jackson
.
When the Broncos selected Jackson in the fifth round of the 2012 draft, they liked the idea that Jackson had started at both end and tackle at Tennessee. And they hoped he could be a rotational player at both spots initially who, with time and a little good fortune, could grow into more. But then Jackson showed some pop in pass-rush situations as a rookie and Del Rio was quick to play him up front in the specialty looks on defense.
[+] Enlarge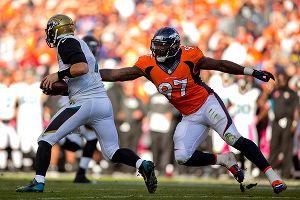 Justin Edmonds/Getty ImagesMalik Jackson single-handedly shut down Jaguars drive in the third quarter, making all three stops.
Then he started to appear more and more in rotations, both inside and outside, even playing in front of the Broncos' No. 1 pick this past April, defensive tackle
Sylvester Williams
. Then Sunday, with defensive end
Robert Ayers
sidelined with a shoulder injury, Jackson got plenty of work early and often in the Broncos' 35-19 victory over the
Jacksonville Jaguars
.
"Malik, man, he came up big,'' said Broncos defensive tackle
Kevin Vickerson
. "A young guy who went in there and made things happen. That's what you want, you want guys to go in when we need them to and make things happen.''
Make things happen? With the Broncos having pushed the lead to 28-19 with just over four minutes remaining in the third quarter, Jackson didn't just make some things happen -- he had the series of his football life.
With the Jaguars looking at a first-and-10 at their own 20-yard line, Jackson sacked Jacksonville quarterback
Chad Henne
for a 7-yard loss on first down. On second down he tackled Jaguars running back
Maurice Jones-Drew
for a 1-yard loss. And on third down, on a stunt with defensive end
Shaun Phillips
, Jackson sacked Henne for a 5-yard loss.
Overall Jackson finished with seven tackles, the two sacks and a pass batted down. The quick-witted Jackson was asked to talk about his first sack following the game.
"What happened on the first play?'' Jackson responded. When he was told it was a sack, he said: "Of course, I forgot what happened. Then the second play we had a great call by Coach Del Rio, I did my job and made the play. The third play, I had the second sack and Shaun Phillips just made a great play and I came around and got the sack. So I really got to give thanks to Shaun Phillips."
Certainly, since Del Rio has routinely promised to find a spot in the defensive scheme for those who produce when given the chance, Jackson could be looking at even more action in the coming weeks. He has three sacks in the past two games combined. Coming into the game Jackson had played 43 percent of the defensive snaps this season.
"You know, the greats keep it up, that's what I've said, it isn't just one week and that's it," Jackson said with a smile. "Last week was my first sack and this time I had two, hopefully they just keep falling into my lap. But I don't want it to be one game and that's it. I want to keep helping the defense, whatever they need me to do, whatever Coach Del Rio says the job is, I want to do the job."
October, 13, 2013
10/13/13
10:00
PM ET
DENVER -- Their left tackle is on injured reserve, their right tackle left
Sunday's game
with a knee injury, their center never started an NFL game at the position before the season opener. And yet the only quarterback in the league who has been sacked fewer times than the
Denver Broncos
'
Peyton Manning
over the season's first six games is rookie
Mike Glennon
.
And Glennon has played in just two games for the
Tampa Bay Buccaneers
this season.
But the Broncos do have some concerns in the offensive front as they begin to prepare for their next game against the
Indianapolis Colts
. With
Ryan Clady
(foot) already on injured reserve and center
Manny Ramirez
still working through the position's nuances -- he and Manning didn't connect on two snaps Sunday, both bobbles were recovered by the Jaguars -- the Broncos will now hope for the best when it comes to right tackle
Orlando Franklin
.
Franklin suffered a left knee injury with 12:16 remaining in the third quarter on a 1-yard touchdown run by Broncos running back
Knowshon Moreno
. Franklin was briefly examined on the Broncos bench by team doctors and then taken to the locker room and did not return to the game.
Franklin then left the stadium Sunday evening using crutches and is scheduled for an MRI Monday morning.
"Obviously we have our fingers crossed on Orlando,'' Manning said.
Franklin has started every game since he was a second-round pick n the 2011 draft -- 41 consecutive games including three career postseason games and Sunday's start. In his absence, and with tackle
Winston Justice
having been a inactive for the game, the Broncos moved right guard
Louis Vasquez
to Franklin's right tackle spot after the injury and put
Chris Kuper
in at right guard.8
Vasquez has started all 60 of his career NFL games at guard and isn't believed to have played tackle in any of his games at Texas Tech. He has worked sparingly at tackle during Broncos' practices as the Broncos have tried to cross-train their linemen to at least be able to get through a game in a new spot. Manning said, however, it likely influenced how offensive coordinator Adam Gase may have called plays in the second half as well as the audibles Manning used.
For his part Kuper is still working to come back from multiple ankle surgeries as well as a severe infection in the joint this past offseason. He was limping noticeably following the game.
So it's possible the Broncos work Justice at right tackle this week -- he was a starter for the
Philadelphia Eagles
and Colts at the position -- to allow Vasquez to move back to right guard.
"It was a pretty good example of versatility,'' Manning said. " … I know [Kuper] has been hungry to get out there, he's worked real hard to get healthy and then pretty good versatility with [Vasquez] going to right tackle, I'm not even sure he's ever played tackle.''
"Our offensive line coach Dave Magazu does a terrific job of rotating guys, we do that a lot during training camp and even during the season,'' Broncos coach John Fox said. " ... We'll see with Orlando.''
October, 13, 2013
10/13/13
9:20
PM ET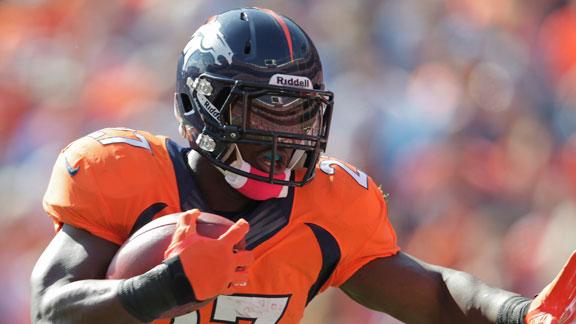 DENVER -- For the most part the
Denver Broncos
have been able to cocoon themselves in their south suburban practice complex, tucked away in their day-to-day efforts, to avoid the swirl of mile high expectations that surround the team.
And as they blitzed through the season's first five weeks with one 40-plus point game after another, a total that included two 50-point efforts, it was easy for them to keep all the Super-Bowl-or-bust chatter at arm's length for the most part, one of those quirky things people like to talk about. But in what turned into a
35-19 victory
against the still-winless
Jacksonville Jaguars
, the Broncos were booed by many on hand as they jogged into the locker room with a 14-12 halftime lead and following their sixth win of the season the Broncos bristled some at the what-happened theme of the questions that awaited them.
"It definitely wasn't a cakewalk," Broncos cornerback
Champ Bailey
said. " … Look, I am not surprised how [the Jaguars] played, not at all. I tried to tell people all week, you can't think you're just going to jump on people all the time. You could see on the film they played hard, whether they won or not, they played hard. Nobody is a cakewalk in this league, nobody, and when everybody starts thinking any of this easy, that's just not right. You have still go out and play every week because everybody has some players who can beat you. That's how it is. We got the win, we move on."
The Jaguars had scored just five touchdowns this season coming into the game and scored just once on offense against the Broncos. But the Broncos had three turnovers, two on dropped snaps from
Peyton Manning
to go with a Manning interception returned 59 yards for a touchdown by Jaguars linebacker
Paul Posluszny
. Until the Broncos turnd a fake punt into a 35-yard run by
David Bruton
late in the third quarter that seemed to shake them from their doldrums a bit -- the Broncos scored to close out that possession and their next one as well -- a horrific upset had loomed.
"I've heard people tell me it looks easy," is how Broncos coach John Fox put it. "There is nothing about it that's easy, it's all hard. I'm just pleased we're sitting here 6-0 … You know there is resistance out there, it's called the other team."
"Football's hard," Manning said. " … You score a lot of points and people take it for granted, I think even people in your own building maybe take it for granted. It's not easy to win football games. I learned long ago never to take winning for granted."
In the end, the Broncos, who entered the game as one of the biggest favorites in league history in the eyes of those who set betting lines, are still one of two undefeated teams in the league and have scored a league-leading 265 points, which is a record pace of 44.2 points per game.
Asked to rate the day, particularly on offense, running back
Knowshon Moreno
said: "Like a C. C is a good enough, it was good enough today, but it won't be good enough to win games down the road. [The Jaguars] played a really hard game all day and we made a lot of mistakes. Still a lot we have to fix."
"We appreciated this win," Manning said. "I think we have handled it pretty well."
October, 13, 2013
10/13/13
8:32
PM ET
DENVER -- Observed in the locker room after the
Denver Broncos
'
35-19 victory
over the
Jacksonville Jaguars
:
Worries up front:
In a season when they have already lost left tackle
Ryan Clady
for the year because of a foot injury, the Broncos now have to hope for the best with right tackle
Orlando Franklin
. Franklin left Sports Authority Field at Mile High using crutches after a left knee injury and will get an MRI on Monday. When Franklin left the game, the Broncos moved right guard
Louis Vasquez
in at right tackle and put
Chris Kuper
at right guard. Quarterback
Peyton Manning
was still not sacked in the game.
Tough love:
Denver is an old-school football town that lives and breathes with its NFL team, but the level of expectations following this team in the wake of January's playoff loss to the
Baltimore Ravens
was plainly evident when, leading 14-12 at halftime, the team left the field to the sound of plenty of boos. "I guess they didn't like the situation at the half," said defensive end
Malik Jackson
. "I guess if they want to be the coach, they have to come try out for the job."
Turn it over:
It was the Broncos' first three-turnover game of the season, with all three Sunday involving Manning in some way. Manning had an interception returned 59 yards for a touchdown by Jaguars linebacker
Paul Posluszny
, fumbled a snap and later dropped a low shotgun snap from center
Manny Ramirez
. Manning, however, was quick to own the plays following the game, even calling the interception "a bad decision, just a complete force."
Ready for Von:
Linebacker
Von Miller
will return to work full-time Monday after finishing his six-game suspension for violating the league's substance-abuse policy. He is expected to be in the lineup Sunday in Indianapolis against the Colts. "People keep talking about our defense, they haven't seen our defense yet.
[Champ] Bailey
just came back today, and we get Von back this week. That's our defense."

AFC WEST SCOREBOARD
Friday, 8/22
Saturday, 8/23
Sunday, 8/24