AFC West:

2013 Week 6 Upon Further Review AFC
October, 15, 2013
10/15/13
12:00
PM ET
SAN DIEGO -- An examination of four hot issues from the Chargers' 19-9 win over the
Indianapolis Colts
.
Are the Chargers a playoff team?
Denver and Kansas City are both undefeated atop the AFC West at 6-0, making dreams of a division title unrealistic for the Chargers. Still, San Diego (3-3) is only a half-game behind 3-2 Miami for the final AFC wild-card spot. The Chargers have impressive wins over Dallas and Indianapolis at home, and disappointing losses at Oakland and Tennessee. They should (never assume anything with this team) take care of business on the road against winless Jacksonville heading into the bye week. Returning from the bye week, San Diego has three of four games on the road, including trips to Washington and Miami. If the Chargers can get through that tough stretch still hovering around .500, they will have a chance to compete for a playoff spot with four of five games at home to close out the regular season.
[+] Enlarge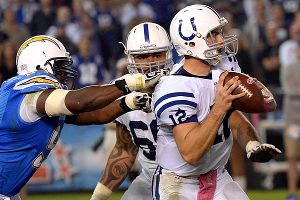 Kevork Djansezian/Getty ImagesThe San Diego defense kept Andrew Luck uncomfortable for much of Monday's game.
Little brother wins again:
Chargers defensive coordinator John Pagano continues to get payback for all the roughing up he received from older brother and Indianapolis head coach Chuck Pagano during their younger years. The younger Pagano put together a good, aggressive scheme that created constant pressure in Andrew Luck's face, and he's now 8-1 against Chuck when the two teams they coach have faced each other in the NFL. San Diego's defense had been an area of concern after struggling to stop
Terrelle Pryor
last week. But even without frontline players
Donald Butler
and
Jarret Johnson
, the Chargers executed on defense, holding one of the top-scoring offenses in the NFL to just nine points.
Secondary plays to its potential:
San Diego had just one interception heading into the Monday night game against Indianapolis, and that occurred on the first defensive play of the season against Houston, a tipped ball by Johnson hauled in by defensive tackle
Cam Thomas
. So it was important for cornerback
Derek Cox
to record his first interception of the year on Luck's final pass of the night to seal the victory. San Diego's secondary held Luck to 202 passing yards, no touchdowns and a 66.2 passer rating. The Chargers also were helped by five Indianapolis drops, but for the most part, San Diego's secondary played tight coverage and made plays on the back end. The return of cornerback
Shareece Wright
to the starting lineup also seemed to improve the team's pass coverage.
O-line key to success:
With the return of left tackle
King Dunlap
to the starting lineup, the Chargers rolled out their fifth different starting offensive-line combination in six games. Usually, that's a bad sign for a unit that depends on cohesion and chemistry for consistent play. But no matter what players rotate in, San Diego's offensive line has been rock-solid in pass protection and jump-starting the run game. Philip Rivers has been sacked just 10 times in six games. And San Diego's offensive line helped pave the way for
Ryan Mathews
to run for more than 100 yards for the first time since December 2011. Offensive line coach Joe D'Alessandris created some versatility by having all of the linemen learn different positions, and that should pay dividends in the second half of the season once everyone is healthy up front.
October, 14, 2013
10/14/13
12:30
PM ET
ENGLEWOOD, Colo. -- A review of four hot issues from the
Denver Broncos
'
35-19 win
against the
Jacksonville Jaguars
:
[+] Enlarge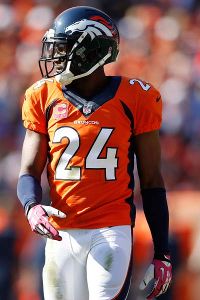 Chris Humphreys/USA TODAY SportsThe Denver Broncos could use the veteran experience of cornerback Champ Bailey, who returned to the secondary Sunday for the first time this season.
Air defenses:
The Broncos got cornerback
Champ Bailey
back Sunday, and linebacker
Von Miller
, who returns next week, says he's ready to be the impact player he was before his six-game suspension for violating the league's substance-abuse program. During their absences, opposing quarterbacks have found room to work in these pass-happy times. The Jaguars'
Chad Henne
had the fourth 300-yard passing game the Broncos have surrendered this season -- he's 29th among league starters in passing yards. In the past two games, the Broncos have surrendered 809 passing yards and registered three interceptions. Last season, the Broncos did not surrender a 300-yard passing game until their playoff loss to the
Baltimore Ravens
in January, when
Joe Flacco
threw for 331 yards in the Ravens' win.
More pressure:
To that end, the Broncos have to find a way to consistently pressure opposing passers. Miller should help if he has done the work he and those around him keep saying he's done, but
Malik Jackson
had both Broncos sacks Sunday, and the two plays came during the same series in the third quarter. And that was against a battered Jaguars offensive line that has surrendered the fourth-most sacks in the league (22) after Sunday's games.
Catch-and-run:
With defenses consistently dropping at least seven players into coverage, including linebackers often sprinting away from the line of scrimmage at the snap, the Broncos have picked their spots and still found big plays. Quarterback
Peyton Manning
has been patient much of the time with at least 15 completions of 10 or fewer yards in each of the past five games and at least 18 completions of 10 or fewer yards in four of those games, including Sunday, when he had 19 completions of 10 or fewer yards against the Jaguars. Yet, the Broncos still lead the league with a gaudy 8.7 yards per pass attempt.
Power up:
The Broncos again showed they can go big on offense, with two- and three-tight-end sets effectively moving the ball. After right tackle
Orlando Franklin
left the game in the third quarter, the Broncos used tight ends
Julius Thomas
,
Joel Dreessen
,
Virgil Green
and
Jacob Tamme
in a variety of situations, including a pile of snaps on scoring drives in the third and fourth quarters. Thomas played all 74 snaps on offense against the Jaguars, while Dreessen played a season-high 19 snaps on offense, Green played 15 and Tamme nine. Using more of these sets may be something the Broncos give a long look at since Franklin is expected to miss several weeks.
October, 14, 2013
10/14/13
12:30
PM ET
An examination of four hot issues from the
Oakland Raiders
'
24-7 loss
to the
Kansas City Chiefs
:
[+] Enlarge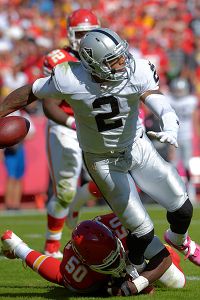 AP Photo/Reed HoffmannDespite what the numbers said, Terrelle Pryor maintained, "I didn't take a beating."
Growing up?
Terrelle Pryor
was sacked 10 times, and the Chiefs registered 14 quarterback hits on him. Pryor carried the ball six times and gained 60 yards, but he was also picked off three times, and those interceptions resulted in 17 points for the Chiefs. You could say Pryor took a physical, as well as a mental, beating, no? "I didn't take a beating," he said. "I'm a big man, a grown man. They just tackled me. They got me and they made great plays. It was not a beating, though." For what it's worth, Pryor is listed at 6-foot-4 and 233 pounds. But you have to wonder how he rebounds from the biggest, ahem,
beating
of his young NFL career.
More SeaBass drama:
Sebastian Janikowski
has now missed more field goals (four) in six games than he did all of last season (three). And each of the left-footed kicker's misses have come from the left hashmark. "I don't know what the deal is with that there," said long-snapper
Jon Condo
. "I mean, it's probably just more coincidence." Sunday's miss, from 51 yards, was short after he seemed to stub his toe on the grass. "Right as soon as he kicks it, I can tell if he strikes it good, and I knew, I heard it," Condo added. "Even the ball flight, you saw it kind of got up. The wind was coming the opposite way, and the rotation on it, we didn't get a drive."
Missed opportunities:
The Raiders are rebuilding, no doubt, but they still need to learn how to tighten their grip. Two crucial mistakes cost them in the first half. First was Janikowski's missed field-goal attempt with 12:26 to play in the first half. One series later, Pryor hit
Denarius Moore
for a 39-yard touchdown, meaning that had Janikowski connected earlier, the Raiders could've been looking at a 10-0 lead with their defense dominating. At least until Mistake No. 2:
D.J. Hayden
's pass-interference penalty while covering
Dwayne Bowe
on third-and-10 from the Oakland 24-yard line. Hayden never turned to look for the ball. Kansas City went on to score a touchdown, and so what could've been a 10-3 halftime lead for Oakland was instead a 7-7 tie.
Of explosive plays VI:
And now for our weekly tracking of "explosive" plays. As deemed by coach Dennis Allen, such a play is one that gains at least 16 yards through the air or 12 yards on the ground. The Raiders had five such plays against Kansas City (two runs and three passes), while the Chiefs had three explosive plays (one run and two passes). In six games, the Raiders have 45 explosive plays (15 runs, 30 passes), with one TD on a run and four passing scores. Oakland's opponents, meanwhile, have 41 explosive plays combined (nine runs and 32 passes) with a touchdown each running and passing.
October, 14, 2013
10/14/13
12:30
PM ET
A review of four hot issues from the
Kansas City Chiefs
'
24-7 win
against the
Oakland Raiders
:
[+] Enlarge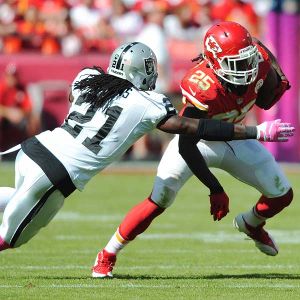 Denny Medley/USA TODAY SportsThanks to running back Jamaal Charles, the Chiefs' offense continues to hum along. But what happens if Charles isn't scoring touchdowns?
Too much Charles, Part I:
Running back
Jamaal Charles
supplied 128 of the Chiefs' 216 yards and both of their offensive touchdowns. Otherwise, the Chiefs produced next to nothing offensively, a troubling development for a team trying to identify reliable offensive threats in addition to Charles. The Chiefs had trouble handling the Oakland defensive front, the result being consistent pressure on quarterback
Alex Smith
. He completed just 14-of-31 for 128 yards, and his season completion percentage slipped to a feeble 56.5. Smith hasn't thrown a touchdown pass in the past two weeks. The Chiefs can survive with such meager offensive production as long as their defense continues to strangle opponents. If the day comes when the defense collapses, the Chiefs appear headed for trouble.
Too much Charles, Part II:
Another offensive failure has been the inability of rookie RB
Knile Davis
or RB
Cyrus Gray
to develop into players who can produce while Charles gets some rest. Davis was in for one snap against Oakland and fumbled after catching a short pass. The Chiefs are understandably fearful of using Davis; given his fumbles, lining up in the wrong place, and running the wrong play, he is completely unreliable. Gray didn't play at all on offense. He isn't as much of a threat as Charles, particularly in the running game. But Gray is a dependable receiver and solid pass protector who should get a few snaps in the hopes of preserving Charles for an entire season.
Catching Houston:
The team sack race appeared over after three games when one outside linebacker,
Justin Houston
, had 7.5 sacks while the other,
Tamba Hali
, had just 1. But Hali, after sacking Oakland quarterback
Terrelle Pryor
3.5 times on Sunday, is within range of Houston. Houston has 9.5 sacks, which is tied for the NFL lead with
Robert Mathis
of Indianapolis. Hali is fourth at 7.5. The Chiefs lead the NFL with 31 sacks.
Winning the turnover battle:
The Chiefs forced three turnovers and the Raiders one, leaving the Chiefs at plus-12 in turnover differential for the season. Don't overlook the importance of that statistic in the Chiefs' 6-0 record. The Chiefs and the sluggish offense have benefited from favorable field position several times this season, while the defense has rarely been put in bad spots. The Chiefs have won the turnover battle in every game except against the
New York Giants
, in which both teams turned the ball over three times.