AFC West:

2013 Week 7 DEN at IND
October, 21, 2013
10/21/13
2:55
AM ET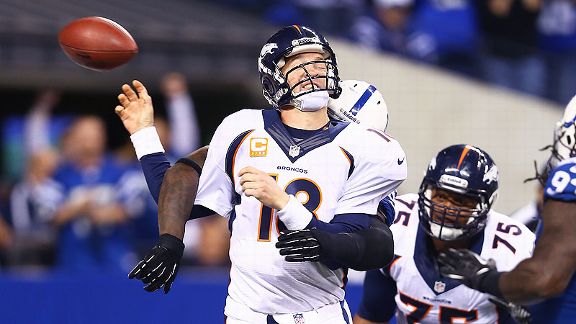 Andy Lyons/Getty ImagesAfter six dominant weeks, Peyton Manning and the Denver Broncos' aura took a hit Sunday night.
.
INDIANAPOLIS –- Three weeks ago, the
Denver Broncos
were being called unstoppable, undeniable. Now, after 3 hours, 43 minutes' worth of football inside Lucas Oil Stadium, they don't even lead their own division.
Such is life as they move to Week 8 after an emotionally charged, hype-fueled week. A week that saw the Broncos leave the Manning Goes Back to Indy Bowl with what turned out to be their most disjointed, most mistake-filled performance of the season.
The Broncos turned the ball over three times, including a
Peyton Manning
fumble that went into the end zone for a safety, were penalized 12 times for 103 hope-crushing yards and simply looked out of sorts in any and all football matters. Add it up and you have the Broncos' first loss of the season,
39-33
to the
Indianapolis Colts
-- a loss the Broncos essentially had coming.
"I think we can learn from it," Manning said. "We certainly have to improve from this game. We just weren't as sharp, execution-wise, as we'd like to be."
The fact they almost played themselves back into position to steal this one, until running back
Ronnie Hillman
fumbled on the Colts' 3-yard line with little more than three minutes to play, is a testament to their offensive power and Manning's ability to use every second available. But it also shows they are not immune to the things that befall the less fortunate in the league week in and week out and that simply unloading the buses isn't enough.
Start with Manning. The grand master of preparation was thrown the ultimate of curveballs. A rare return of a future Hall of Famer, still playing at the peak of his powers, to face his former team in a city that still loves him enough to pay tribute to him before the game. And the guy who has made a career of sorting things out, collating and categorizing, was on unfamiliar ground.
The Colts played a short video montage of Manning highlights before the national anthem that featured "Thanks Peyton" at the end of it. Manning acknowledged a frenzied crowd, saying "thank you" and "thank you very much" as he waved, before getting to work.
"I don't feel it was distraction by any means, I was fully prepared to play," Manning said. "Like I said, I was probably a little more tired coming into the game than I have been coming into some others. I guess that's probably just natural."
And in the end Manning's numbers were staggering: 29-of-49 passing for 386 yards and three touchdowns. It was his sixth 300-yard passing game, his fifth three-touchdown game and his first loss of the season. He seemed unsettled at times behind an offensive line that has now been juggled to cover for two injured tackles.
The Colts also played the Broncos' receivers far more aggressively than anyone else has this season and sacked Manning four times after the Broncos' first six opponents had sacked him a combined five times. The Colts, most notably
Robert Mathis
, repeatedly disrupted the Broncos' timing, and Manning never really found the groove he has spent much of the season in.
Manning was asked if he thought his passes were more wobbly than usual Sunday night.
"I throw a lot of wobbly passes," he said. "I throw a lot of wobbly touchdowns, too."
Asked if he had been injured on the second-quarter sack when Mathis had knocked the ball free, Manning deferred again: "It was a good hit, a good hit. … A healthy one is how we say it." Manning added that Mathis "is a great player who made a great play."
In the end, Manning called the week "draining" and said he had spoken to Colts owner Jim Irsay late in the week, before the Broncos had arrived in Indianapolis early Saturday evening. Irsay's comments, made at the league meetings earlier this month and published earlier in the week, that he was "frustrated" the Colts won just one Super Bowl in Manning's tenure in Indianapolis, brought a uncharacteristically strong response from Broncos coach John Fox on Tuesday, and they had the legs to run through the week as a tough-to-resist storyline.
"I enjoyed coming back here, I appreciated Jim Irsay, he was the one who called for that tribute. I appreciated that very much, I let him know," Manning said. "The game was disappointing for us, something we can learn from. I don't see that as being a lasting factor."
Manning was quick to say he was relieved earlier this season to have faced his brother, Giants quarterback
Eli Manning
, for what Peyton said would be the last time in his playing career. And he used the worked "relieved" again Sunday night as he summed it all up.
The Colts have now beaten the Seahawks, the 49ers and the Broncos, and in doing so have flexed some muscle and flashed some moxie. The Broncos were not up to the challenge Sunday night and certainly didn't play well enough to win this kind of game on the road if they were looking for some kind of measuring stick.
And while Manning won't be the subject of this type of week, this type of game ever again, the current state of the Broncos' football affairs is worth a look.
Many of the Broncos' penalties, especially the 15-yarders called against defensive tackle
Kevin Vickerson
, were avoidable and not the sort of thing a Super Bowl hopeful does with any frequency, especially when trying to construct a comeback. Turnovers in the kicking game and at running back continue to be two red flags.
And the injuries are starting to pile up, especially on the offensive line, and
Champ Bailey
's foot is a concern again as well.
"We could have had a better effort, that's part of it, get back in the lab and start working," linebacker
Von Miller
said.
"Most definitely we wanted to get this for Peyton. It's different when you're doing stuff for coaches. Peyton's a great teammate … for all of us. It hurts, I really wanted to go out there and get one for him."
They all did. They just didn't do enough to get it done.
.
October, 21, 2013
10/21/13
2:45
AM ET
INDIANAPOLIS -- It was a rare sight, but one of the biggest hits of the Broncos-Colts primetime affair Sunday night may have come from Colts punter
Pat McAfee
.
McAfee, lit up the Twitter-verse with his tackle on Broncos returner
Trindon Holliday
just before the end of the first quarter Sunday night. Holliday had fumbled a punt just minutes before, the Colts had recovered on the Denver 11-yard line and took all of one play to score.
McAfee kicked off following the touchdown and Holliday, who has returned a kickoff and a punt for touchdowns already ready this season, took the ball 7 yards deep in the end zone and elected bring it out. The former NCAA 100 meters champion got loose up the Broncos sideline before McAfee leveled him after a 56-yard return.
Replays, however, showed McAfee made helmet-to-helmet contact on the hit, which would subject him to discipline if the league sees it the same way. It didn't go un-noticed as the oft-fined Lions defensive tackle
Ndamukong Suh
posted on his Twitter account:
Big hit by the kicker on @SNFonNBC football! Wonder if he will get a........? #BroncosVsColts

— Ndamukong Suh (@NdamukongSuh) October 21, 2013
.
October, 21, 2013
10/21/13
1:25
AM ET
INDIANAPOLIS -- Observed in the locker room after the
Denver Broncos
' 39-33
loss
to the
Indianapolis Colts
:
Miller
Slow start:
Broncos linebacker
Von Miller
waited a long time to play in his first game of the season after serving his six-game suspension. He played in his usual rotations in the Broncos' base defense and specialty packages, but had limited impact, finishing with two tackles, one of those for a loss. "I feel great, I felt physically and mentally ready to go. They have a great team over there."
Fumbled opportunity:
It seems as though every time
Ronnie Hillman
earns his way back into good graces in the backfield rotation, he has a stumble. Sunday, with the Broncos trailing 39-30 and just more than three minutes to play, Denver was on the doorstep of the end zone before Hillman fumbled at the Colts' 3-yard line and Indianapolis safety
Antoine Bethea
recovered. Hillman quietly shook off requests for comment following the game on his way to the bus.
Bailey injured:
Broncos cornerback
Champ Bailey
, who missed the first five games of the season with a left foot injury, appeared to have reinjured the foot again Sunday. He was limping noticeably following the game and will be evaluated more Monday after the Broncos get back to Denver.
Protection issues:
Quarterback
Peyton Manning
had been sacked five times in six games combined coming into the night and was sacked four times by the Colts, including two by
Robert Mathis
. The Broncos' injuries up front seemed to finally catch up with them. Left tackle
Ryan Clady
is on injured reserve and right tackle
Orlando Franklin
was sitting out with an ankle injury. The Colts repeatedly pressed the edges, including forcing a fumble and an interception with hits on Manning. "You have to overcome," Manning said.
October, 21, 2013
10/21/13
12:15
AM ET
INDIANAPOLIS -- A few thoughts on the
Denver Broncos
'
39-33 loss
to the
Indianapolis Colts
:

What it means:
The Broncos found that their depth chart, like that of any other team in the league, can be dragged down by injuries. The Broncos sorely missed tackles
Ryan Clady
(injured reserve) and
Orlando Franklin
(ankle) on offense and cornerback
Champ Bailey
(foot), who left the game in the first half. The Broncos were choppy on all fronts, took several penalties, had ill-timed turnovers and paid the price.
Stock watch:
Linebacker
Von Miller
didn't show the benefits of the extra weight he had been quick to talk about in his return from his six-game suspension for violating the league's substance-abuse policy. You would expect some rustiness on Miller's part, but for at least his first game back, he was not nearly as explosive as he was last season. The Colts largely blocked him man-on-man and limited Miller's effectiveness both in the run game and pass rush.
No Holliday:
There is no question
Trindon Holliday
can change a game with his speed in the return game -- he has two touchdown returns already this season -- but there are times when he tries the Broncos' patience. Sunday night was one of those times. With the Broncos leading 7-3 in the first quarter, Holliday fielded a punt deep in Broncos territory and then lost the handle during the tackle. The Colts got the ball at the Broncos' 11-yard line and scored a touchdown on the next play.
A long wait:
Colts outside linebacker
Robert Mathis
is in his 11th season, and after being
Peyton Manning
's teammate for nine of those seasons, he finally got a chance to sack Manning. Mathis' sack and forced fumble in the second quarter led to a safety. The Colts then scored on the drive following the free kick to take a 19-14 lead. Mathis, who finished with two sacks, repeatedly blew by the Broncos' tackles --
Chris Clark
and
Louis Vasquez
-- and consistently collapsed the pocket.
What's next:
From one return to the other.
Washington Redskins
coach Mike Shanahan, who was the Broncos coach for 14 seasons and two Super Bowl wins, will bring his team to Denver next Sunday. It will be the first time Shanahan will have faced his former team since the Broncos fired him after the 2008 season. The Broncos have a much-needed bye week waiting for them after the Redskins game.
October, 19, 2013
10/19/13
7:00
AM ET
ENGLEWOOD, Colo. -- As much as everybody likes to say quarterbacks are facing each other, squaring off or going head-to-head, they have enough to do on your average, run-of-the-mill Sunday without really worrying about what the other guy across the field is up to.
Luck
Manning
But Sunday's prime-time affair between the
Denver Broncos
and
Indianapolis Colts
will be decided in large part by which quarterback handles the swirl that has accompanied the game the best.
There is a theory Colts owner Jim Irsay launched the "Peyton Manning's tenure wasn't as great as we'd hoped" offerings as Sunday's game approached to try to crank up the pressure and affect Manning's performance.
There is enough there that even former Colts coach Tony Dungy offered it up as a reason for Irsay doing something so ill-advised and, on many levels, ungrateful. Given a chance to shoot that theory down later in the week, Colts coach Chuck Pagano -- a Boulder, Colo., native -- didn't dispel it, saying only "time will tell."
So, Manning, who is the ultimate thinking quarterback, may have to allow himself the freedom to let it fly in the game, take some chances, perhaps even put the offense in the hands of the running backs for a time to simply settle in. It will be an emotionally charged game for him at a place where he once firmly believed he would finish out his career.
As far the Colts'
Andrew Luck
, there will be a lure, the same lure every ultra-competitive person feels at some point, to prove that Irsay made the correct decision. That the Colts are in good hands -- something most everyone in the league already believes, anyway -- as they move ahead in the post-Manning era.
It could be enough to embolden both defenses, especially the Broncos with linebacker
Von Miller
in the lineup for the first time after his six-game suspension for violating the league's substance-abuse policy. But with emotions running high, the setting is right for both defenses to take some risks to force the issue early in the game.
And that's something Manning hasn't seen a lot of this season as the Broncos' first six opponents have played three- or four-man rushes 70 percent of the time. Either way, the franchise quarterback who manages it all the best will likely be the one who walks away with the win.
October, 18, 2013
10/18/13
2:35
PM ET
ENGLEWOOD, Colo. -- To find a franchise quarterback, to mine the biggest of football diamonds, is hard.
As in once-in-a-career difficult and only if you're lucky. To find the keystone to build a franchise around is no small thing in the NFL, as the constant search for The Guy who can lead the way to where the victories and trophies are found always seems to be underway.
But in the end, it still may not be as hard as life as The Next Guy, or if the search isn't successful, The Next Guys.
[+] Enlarge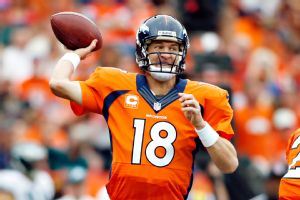 Chris Humphreys/USA TODAY SportsQuarterback Peyton Manning is giving Denver fans hope for a Super Bowl title again -- just as John Elway used to.
A search John Elway, the Broncos' top football executive and Hall of Fame quarterback, calls "one, in this day and age, you have to succeed at. You have to find the guy who can lead your football team. If you don't, you're going to have a hard time doing the things you want to do as an organization."
Elway was The Guy for the Broncos, his standing in the Rocky Mountain region still unrivaled, as the two Super Bowl trophies won in the last two years of his playing career sit in the lobby of the building he still works in. And after he finished his career on the field, Elway didn't retire to some far-off golf course.
He remained in Denver operating his businesses, including a restaurant that bears his name and an Arena Football League team, and generally is never very far out of sight, or out of mind, of the quarterbacks who had to follow him or the fans who kept hoping to see it happen once again. A list that included Brian Griese, Jake Plummer and
Jay Cutler
before Elway the executive signed
Peyton Manning
in 2012.
"It was probably difficult at times," Elway said this week. "There are always expectations. When you have a quarterback play for a long time and there's always hope. That's what a quarterback does, he gives fans hope that they can win a world championship. To me that's what most fans want -- they want to win a world championship. When you have a guy who's the quarterback who's giving them, year in, year out, hope to win football games, to be a good football team, then all of a sudden you go to the unknown, it can be hard for everybody."
It's why Sunday's game is the rarest of events. Not only did the Colts move from one franchise quarterback, in Manning, to a player they believe is another in
Andrew Luck
, the two will be on the same field. And they are not both 30-somethings as Hall of Famers Joe Montana and Steve Young were when they met as former teammates in the 1994 season as Montana's Chiefs faced Young's 49ers.
This is more Brett Favre facing
Aaron Rodgers
in 2009. For Sunday in Lucas Oil Stadium is past and future, hope and history, all mashed together in one place, something the level-headed Luck has accepted as part of his job.
"When you have a guy that was so successful for so long at a team you come in and you see 'OK, what are some things I can learn from him in talking to
Reggie Wayne
about preparation or some of the coaches that were here?'" Luck said. "But I never viewed it as having to replace Peyton. I viewed it as a great opportunity to play football and get paid to do it and get to play quarterback. How cool is that?"
[+] Enlarge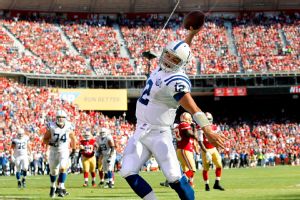 Cary Edmondson/USA TODAY SportsAndrew Luck has made moving on from the Peyton Manning era a smooth transition for the Colts.
Most personnel executives in the league would say Luck is a rarity in that regard and history is littered with quarterbacks who weren't as skilled as the Colts' 24-year-old both on the field and in the public eye.
For his part Plummer sits in the team's record book with the all-time best winning percentage for quarterbacks who started at least 25 games for Denver. Plummer, who was signed in free agency by former Broncos coach Mike Shanahan in 2003, went 39-15 (.722) in regular-season games for the team. But even he, with that success and three playoff trips, including a trip to the AFC Championship Game in the 2005 season, lived in Elway's shadow.
"[Brian] Griese, before me, probably had it a lot tougher than I did in some ways. I think Brian took the brunt of it," Plummer said. "But I think you have to kind of accept it, you can't change history, you can't change who did what. I never thought I had to be John Elway or duplicate what he did. … Of course you think about it in the big picture, it's John Elway, you want to give him the credit he deserves, the respect he deserves and at the same time you have to really focus on doing the best you can do, as you, for your team."
Ironically, Plummer said, it was Elway who gave him a key piece of advice along the way.
"He said just play hard, just play with all your heart, and people will see that," Plummer said. "That's how I always tried to play."
But it plays out in every NFL outpost, the most vivid when a quarterback who earns the gold jacket that comes with enshrinement in the Pro Football Hall of Fame is compared with those who follow him.
And there is the case of
Brock Osweiler
, a second-round pick in the 2012 draft, whose boss is a Hall of Fame quarterback, who sits with another future Hall of Famer in Manning each day in the team's meeting rooms. Osweiler has said, "I just try to soak it all up. There is no better place for a quarterback to learn how to be a quarterback in this league."
But there will be more big shoes to fill in more places, those who follow Tom Brady, Drew Brees, Rodgers, and yes, Manning a second time.
"It's just because everybody seems to want comparison all the time," Plummer said. "Comparisons, in anything, are not what it's about, I don't think whether we're talking about football or not. But let a kid be like he is, let a kid be what he becomes. It would probably be easier for everybody."
October, 18, 2013
10/18/13
12:00
PM ET
There will always be games when a player returns, with his new team and wearing a new set of NFL colors, to the city where he once worked. Happens all the time.
And then there is this week. When the former face of a franchise, a future Hall of Famer, returns, not as a legend in the final days of his career, but as a 37-year-old vying for the league's MVP award, having the season of his life with a Super Bowl hopeful.
Peyton Manning
returns to Indianapolis as the 6-0
Denver Broncos
will meet the 4-2
Indianapolis Colts
in Lucas Oil Stadium. ESPN.com Broncos team reporter Jeff Legwold and Colts team reporter Mike Wells break down this week's game.
Legwold:
Mike, let's get right to it. Manning. Colts. Indianapolis. There isn't much precedent in the league's history for a player of Manning's stature returning, playing as well as ever, to meet his former team. How has it played there? And just how many of the current Colts were even teammates with Manning?
Wells:
As much as I hate to admit it, safety
Antoine Bethea
, a former Manning teammate, said it best inside the locker room in San Diego on Monday, "We see players come and go all the time," and that the media will make a big deal about it. Bethea was the first Colt not named Jim Irsay to talk about Manning's return. Coach Chuck Pagano didn't even want to talk about it on Tuesday. There are only 11 players still on the roster from when Manning played here. The Colts respect Manning, but they also want to prove they've moved on and they can win without him.
You've been around Manning for more than a season now. Do you get a sense that he'll be more pumped than what he is every weekend?
Legwold:
Manning has already been on the media merry-go-round earlier this season when he faced his brother Eli for the third and likely final time in his career. He didn't like it that much and said as much. I think he certainly will want to show, at least in some way, he appreciated his time with the Colts and that he enjoyed the successes there. In the end he will try to play it straight through the week. That said, when Manning arrived in Denver, those close to him said he was initially surprised the Colts actually released him, even though it made sense financially and for the overall direction of the franchise due to the uncertainty surrounding how he would recover from his neck surgeries. As one of the most competitive people in a league full of competitive people, there is likely a part of him that wants to show what he has left for a team that considers itself to be a Super Bowl contender.
To that end,
Andrew Luck
has consistently seemed comfortable in his role as the team's leader in the post-Manning era, how do you think he will handle all of this? And will he have some added adrenaline?
Wells:
Luck hasn't given any indication that he'll prepare for or approach the game any different. It obviously wasn't the same magnitude as what Sunday will be, but the second-year quarterback was put under the spotlight earlier this season when he returned to the Bay Area, where he starred at Stanford, to take on his college coach, Jim Harbaugh, and the
San Francisco 49ers
. Luck played within himself -– 17-of-26 for 159 yards --and I expect him to do the same thing this weekend. Don't be surprised if offensive coordinator Pep Hamilton tries to get Luck going early in front of the sold-out Lucas Oil Stadium crowd. But don't expect to see Luck throwing the ball 45 times unless the Colts dig themselves into a big hole.
I was little surprised Broncos coach John Fox took exception to Colts owner Jim Irsay's comments to USA Today. Is that normal for Fox to respond the way he did?
Legwold:
From the Broncos' perspective, some in the organization see it as Irsay gladly reaping the benefits of the Colts' success with Manning at quarterback, including a new stadium that allowed the city to host a Super Bowl, and now acting as if one Super Bowl win in Manning's tenure sticks in his craw. Fox simply came to the defense of his player, something he does when he sees it as necessary and something that only strengthens his standing in the Broncos' locker room. Manning almost always takes the high road publicly in such things, as he did this week, but there isn't much question he has one of the game's longest memories when it comes to what's been written or said.
Much of what is, or isn't said, this week won't matter much once the ball is snapped, but on the field what do you think the Colts' defensive plan will be against the Broncos' offense?
Wells:
Don't expect the Colts to sit back in a Cover 2 the way Jacksonville did. That's not defensive coordinator Greg Manusky's style. The cornerbacks will press up on the receivers and they'll continue to gamble to try to make a play. That may not be the right approach to take because as you know, Manning makes teams pay for their mistakes. It'll be interesting to see if
Robert Mathis
, another one of Manning's former teammates, is able to get off the edge and get to Manning. Mathis is tied for the league lead in sacks with 9.5. The area of concern for the Colts is at linebacker. Linebacker
Jerrell Freeman
, the team's leading tackler, had to sit out the second half of last week's game at San Diego with a concussion.
Speaking of linebackers, the Broncos will have
Von Miller
for the first time this season this weekend. Do you expect him to be rusty after being suspended for the first six games?
Legwold:
On the field that may be the biggest question of the week. Miller, under a provision added to the league's collective bargaining agreement in 2006, could attend team meetings during his suspension and work out at the team's strength and conditioning center. He could not practice or attend games. So, all of the on-field work he has done with the strength coaches has been a solo affair. The question will be if he stayed up to speed in the team's defensive playbook – he says he has. He is an impact rusher, a "game-wrecker" as Pagano likes to say (Pagano is a Boulder, Colo., native). Miller's adrenaline will be off the charts, especially early in the game. It wouldn't be a shock for the Colts to test him with a little misdirection early to see if he's up to the challenge. But Miller should have an impact in the pass rush, especially if his conditioning is as good as he says it is.
A lot of folks here are interested to know how Pagano has done healthwise this season following last year's cancer treatments. How important is he to the team's success?
Wells:
The fact that Pagano was able to overcome cancer to be back on the sideline coaching at the end of last season is a remarkable story in itself. The players like how he motivates them and is constantly positive. I don't think there are many head coaches in the NFL who would think about heading over to Lowe's (he ended up having somebody else go for him) to purchase mousetraps as a reminder for his team not to overlook winless Jacksonville after beating San Francisco the week before.
So much is said about Denver's passing game, but what about its rushing game? Can it be effective the same way San Diego was last week?
[+] Enlarge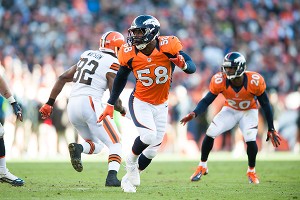 Dustin Bradford/Getty ImagesVon Miller will make his season debut against Andrew Luck and the Colts.
Legwold:
Much of the Chargers' offense comes from first-year head coach Mike McCoy -- the Broncos' offensive coordinator last season. Denver certainly noted the success the Chargers had running at the heart of the Colts' defense, especially with a zone run scheme. For all of the talk about how much the Broncos throw the ball, and they throw it with purpose in any down-and-distance situation, they are still fifth in the league in carries with 180, or 30 per game. With Manning at quarterback, with this coaching staff, they will always be pass-first, but offensive coordinator Adam Gase's mentor in the league was Mike Martz. And Martz's high-flying offenses always had a major run-game component.
With the Colts' run game, and with Luck 20
th
among the league's starters in pass attempts, is there an element of having a system in place that doesn't require Luck to have to do everything for the team to win?
Wells:
Offensive coordinator Pep Hamilton, who held that same role at Stanford with Luck, is big into being a run-first team. The Colts have stuck to that mindset through the first six games. But it'll be interesting if Hamilton loosens things on the offense this season after the Colts ran for a season-low 74 yards last week at San Diego. Luck gives the Colts the best chance to win. They'll need Luck's arm to beat the Broncos because Manning & Co. are going to put points -- a lot of them -- on the board this week. It's hard to imagine the Colts will be able to run the ball well enough to keep Manning on the sidelines looking antsy to get back on the field.
Passing the ball is probably a good idea since the Broncos are last in the league in defending the pass (338 yards a game). Why have the Broncos defended the pass so poorly?
Legwold:
Some of it, especially over the first four games of the season, was a good bit of stat padding late in blowouts by opposing offenses. But there is an element that is a personnel issue as well.
Elvis Dumervil
left in free agency after the fax fiasco in the offseason, Miller was suspended and
Champ Bailey
missed five games after injuring his left foot in the preseason. That's 17 Pro Bowl appearances from guys who were in the lineup last season when the Broncos tied for the league lead in sacks. And they have had some sacks -- 17 thus far -- but those plays have often been clustered near the end of games with the Broncos having built 20-point leads. They haven't consistently pressured opposing passers this season and as a result some of those quarterbacks are finding some openings against a steady diet of man coverage in the Broncos' secondary. They know they have to get to Luck this weekend or he will pick away at them.
That should do it, enjoy the game.
.
October, 18, 2013
10/18/13
7:00
AM ET
ENGLEWOOD, Colo. -- When
Denver Broncos
quarterback
Peyton Manning
has talked about the
Indianapolis Colts
' defense this week the name that often appeared in the sentence first was
Robert Mathis
.
And why not, the Colts outside linebacker is tied for the league lead in sacks, with 9.5, and once again the Broncos are likely to start a mix-and-match offensive line. Mathis, who was a defensive end during Manning's time in Indianapolis, part of a disruptive tandem with former Colts defensive end
Dwight Freeney
, was moved to outside linebacker in 2012 when the team switched to a 3-4 defense. And in his 11th season, he's still quick off the ball, quick to the corner and keeps working to the quarterback even if he is initially stopped.
Mathis routinely grinds out sacks because he keeps pressing the issue, often after opposing linemen believe they have shoved him far enough past the quarterback.
Mathis often lines up on the defensive left, which would put him directly across from this week's makeover in the offensive front. With right tackle
Orlando Franklin
sidelined because of ankle and knee injuries, the Broncos are expected to keep the lineup they used after Franklin left this past Sunday's game against the
Jacksonville Jaguars
.
That would put
Louis Vasquez
in Franklin's right tackle spot and
Chris Kuper
in Vasquez' right guard spot. It's been a crash course for Vasquez, who has only started at guard in his NFL career, but was cross-trained at tackle at times in offseason workouts as well as training camp
"Louis knew he was probably going to play some right tackle probably about two weeks after he got here,'' said Broncos offensive line coach Dave Magazu. "You kind of get into their comfort zone a little bit, make them learn a little more than their own position.''
Vasquez is a technically sound player, so much so he has been flagged for penalties just four times in his entire career. He is a power player with imposing size, but he has the reach of a tackle and played well after making the move this past Sunday.
Mathis will be a stern test of Vasquez' footwork however, given Mathis' ability to change direction and catch linemen leaning. At 246 pounds Mathis still rushes with power at times, usually as a change of pace or to shove a lineman off balance once he sees a mistake has been made.
The Colts figure to test whatever the Broncos have to offer in the right side of the offensive line and the Broncos may need to bulk up the formation from time to time with their two-tight end look. Defenses have played it conservatively thus far against Manning. According to ESPN Stats & Information, Manning has faced four or fewer pass-rushers on 70 percent of his dropbacks this season.
October, 17, 2013
10/17/13
3:15
PM ET
ENGLEWOOD, Colo. -- Score one for Colts quarterback
Andrew Luck
on escaping the rush this week.
The question came with the disclosure his answer would be forwarded to Broncos executive vice president of football operations John Elway, who like Luck was once a Stanford quarterback. But was he, Luck was asked, the best Stanford quarterback ever?
"No, probably [Jim] Plunkett is probably the best," Luck said with a laugh. "Go with that."
Ah, well played and just a sliver of a glimpse into why Luck already has made such a big impact in the league just 22 regular-season games into his NFL career and why so much more is expected. And while they were separated on The Farm by decades, there was more than one NFL personnel executive who had judged both before their respective drafts who believed Luck brought similar traits to the game as Elway did.
The size -- Luck is 6-foot-4, 239 pounds as compared to Elway's 6-3, 215 in his playing days -- the late-game heroics, the willingness to run into harm's way to go with the competitiveness and strength to get out of trouble, as well, were similar.
[+] Enlarge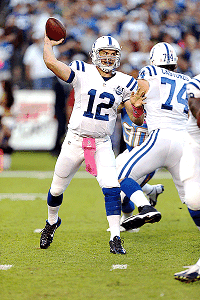 AP Photo/Paul JasienskiBroncos executive John Elway called Andrew Luck the "complete package" in his evaluation of the Indianapolis QB.
In his current role as Denver's top football executive, Elway directed the Broncos' efforts in the 2012 draft, the year Luck was selected No. 1 overall by the Colts, the same year Elway signed
Peyton Manning
in free agency. And as he looked at Luck in those pre-draft video sessions, did Elway see some of himself?
"I'm sure that's how I looked when I came out," Elway said with a smile. "I'm not sure how I would have looked to a personnel department or a GM who had to decide if I was going to make it or not. But I know this, you look at Andrew Luck, he had all the tools coming out. He had the tools you're looking for when it comes down to a franchise quarterback, not only athletically, but mentally, the smarts and the competitiveness, so to me he was the complete package."
"He's a heck of a quarterback," Manning said of Luck this week. "He played as a rookie, which is a challenge, but something I've always believed had a big impact on me and playing as a rookie I know Eli [Manning] said the same thing."
Elway has consistently said it isn't the act of throwing the football that gets most young quarterbacks in trouble, or whether they run too much, or not enough, that separates those who succeed and those who do not. It's a failure to grasp, especially in those first two or three seasons, what the job is in the NFL.
And the inability to deal with what comes with all of that, whether it's criticism from the outside, criticism from within his team or the expectations from everyone.
"That part right there takes more young quarterbacks down than the other part," Elway said. "It's not the physical part, usually. The physical part, as far as athletically, throwing the ball, moving around, that doesn't get most young quarterbacks. It's the task of the job, having the job, the pressure that comes with the job, the responsibility that goes along with the job. To me that's the hardest part to overcome when you start out. To me that's the difference between the guys that become great and the guys that don't."
Those who played with Elway and coached him will often say he was one of the most competitive people, in all things, they had ever encountered. Former Broncos coach Mike Shanahan once put it: "John wants to win, at everything, at whatever he's doing. And he's willing to do what needs to be done to do that. Those are the guys you can win with because they won't accept anything else."
Elway has said he wants to see it in any and all quarterback prospects. Not only the physical traits to do the job, but to look into the quarterback's eyes and see the desire to have the job, to grow in the job, to bounce back from the inevitable failures and growing pains of the job.
He said in his encounters with Luck he has seen all of that. And Elway believes that is always the first step on a quarterback's path to being the kind of franchise player every organization wants, the kind of guy who can make everyone in the huddle believe the best is yet to come.
"Because when you go and perform on the football field, to me that's when you gain the respect as a quarterback," Elway said. "It doesn't matter when you're drafted, you gain the respect of your teammates when you play well in tough situations. They now realize when things get tough they can follow. That comes when you perform, the confidence grows in you.
"And you have to be the calming influence. On and off the field there's no question about that, it was like I never wanted anybody to know they hurt me," Elway said. "If they got a good shot on me and I couldn't breathe, I made sure I got up to let them know they didn't affect what I'm doing. It's the same thing in that huddle, there's a calming force you have to be, no matter the chaos, no matter if we're all frustrated, no matter if we're having a bad day, somehow you've got to be the guy to try to straighten things out, the one to figure out how to win a game. And if it's not your day as a quarterback, figure out whose day it is and get them in a position to get everybody out of there with a win, some how, some way. Once you prove to yourself you can do it, then your teammates will trust you, rely on you and then you can make it something special."
October, 17, 2013
10/17/13
9:00
AM ET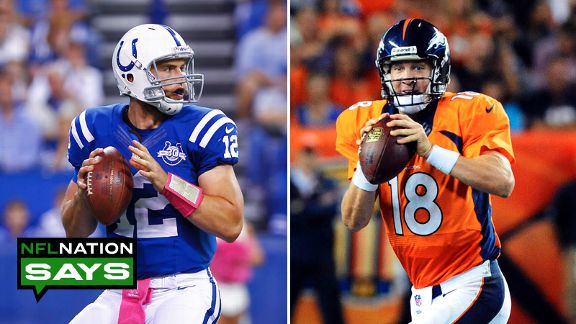 Getty ImagesAndrew Luck has shown some of same skills as Peyton Manning. How do they compare?
The past, present and future quarterbacks of the
Indianapolis Colts
will meet Sunday night at Lucas Oil Stadium, and ESPN's NFL Nation spent part of this week asking players if
Andrew Luck
is the next
Peyton Manning
.
Most of us should agree: There will never be another quarterback with Manning's combination of instincts, football intelligence, pocket presence and quick release. Let's not bother with that discussion. But can Luck provide the same essential service to the franchise? Will he guide the Colts at a high level through parts of two decades, as Manning did from 1998-2010?
Luck is off to a good start, having won 15 of his first 22 NFL games. Nine of those victories have come via game-winning drives in the fourth quarter, a topic we will inspect later this week, and he currently is the league's fourth-ranked quarterback via
Total QBR
. If he continues on that path, history tells us the Colts would have accomplished a rare feat in modern NFL history.
The chart illustrates the immediate transition from each of the nine Hall of Fame quarterbacks whose careers began after 1980. (We took the liberty of adding
Brett Favre
, eligible in 2016, as a 10th entry. Manning would be No. 11.) Usually, these transitions have failed and teams have taken decades to find a true franchise replacement. (Think: Terry Bradshaw to
Ben Roethlisberger
in Pittsburgh, Dan Fouts to
Philip Rivers
in San Diego and -- yes --
John Elway
to Manning in Denver.)
In some cases, they're still looking. (We're looking at you, Miami and Buffalo.)
The
Green Bay Packers
have proved to be the exception. If
Aaron Rodgers
plays out his seven-year contract, the Packers would have achieved 28 consecutive years of elite quarterback play from him and Favre. Can Luck be the Colts' version of Rodgers? Will he add a two-decade career on top of Manning's tenure?
Here's what ESPN's NFL Nation found:
October, 17, 2013
10/17/13
7:00
AM ET
ENGLEWOOD, Colo. – Most of the defenses that have lined up against the
Denver Broncos
this season have chosen to back off, try to take away big plays down the field and make quarterback
Peyton Manning
pick away at them.
And Manning has gladly done that, with ruthless efficiency. He's had at least 15 completions of 10 yards or fewer in each of the last five games, and at least 18 completions of 10 yards or fewer in four of the last five. Along the way, the Broncos have piled on the touchdowns – Manning's 23 touchdowns overall are still more than any other team has scored – and Manning is off to the best start of his career.
But if Colts defensive coordinator Greg Manusky sticks to what he's done so far this season, the Broncos' top three receivers could be in for a long battle Sunday night with the Colts' top three cornerbacks in aggressive, in-your-face man coverage.
Or as Manning put it: "I have to figure out how to stay away from [defensive end
Robert] Mathis
and complete some passes [against
Vontae] Davis
,
[Greg] Toler
and
[Darius] Butler
, who I think are really, really good cover corners.''
It would certainly be a large departure from what
Demaryius Thomas
,
Eric Decker
and
Wes Welker
have seen much of the time thus far. Teams have played the three in man coverage on a smattering of snaps in games, but the Colts have pressured opposing receivers far more at the line of scrimmage than many of their defensive peers around the league. And it's worked just fine as two of their opponents failed to complete 50 percent of their throws, and third foe managed just a 53 percent completion rate.
The Colts have also surrendered only five touchdown passes this season, or two fewer than Manning threw in the season opener.
It's a risky maneuver given Thomas' and Decker's size – 229 and 214 pounds, respectively – and Welker's proficiency for escaping man coverage in tight quarters. And the Colts may think better of it as they go through the week and watch Manning's 74 percent completion rate on video.
But if the Colts' defensive backs come strong with the press coverage, much of what happens in the Broncos' passing game could be decided in the 5-yard contact zone and by how well Thomas, Decker and Welker make their own room to work.