AFC West:

2013 Week 8 PIT at OAK
October, 27, 2013
10/27/13
11:15
PM ET
OAKLAND -- The thing with
Pittsburgh Steelers
quarterback
Ben Roethlisberger
is he is more ridden down than actually blasted whenever he is sacked.
There's a reason he is known as Big Ben and, at 6-feet-5, 241 pounds, he is hard to take down.
Moore
But the
Oakland Raiders
' defense did just enough to knock him around and, by the time Oakland's 21-18 victory was official, the Raiders matched a season-high with five sacks ... even if Roethlisberger simply shook off at least two others.
"Yeah, you have to hold on for dear life a little bit with Ben Roethlisberger," said Raiders rookie linebacker
Sio Moore
, who led Oakland with two sacks. "He's a good quarterback, and he knows how to escape guys. Half the time you think he's sacked.
"The biggest thing we were saying throughout the week was when he's down, he's not down, so keep going."
The five sacks also equaled a season high for Roethlisberger as the
Tennessee Titans
and
Minnesota Vikings
also got him five times.
Roethlisberger had a passer rating of 70.1, his worst since last Dec. 23 against the
Cincinnati Bengals
. He threw for 275 yards on 29 of 45 passing with a touchdown and two interceptions, one each by
Mike Jenkins
and
Tracy Porter
.
"They're good, good defense," Roethlisberger said of Oakland. "They got after us and they were better than us."
It was also the third time in his career Roethlisberger lost in Oakland.
"This is a great place to come play," he said. "The fans are passionate, and they just beat us."
The Raiders' defense, which also had five hits on Roethlisberger, limited the Steelers to 35 yards rushing, eight yards in the first half.
A year ago, in the Raiders' 34-31 comeback win, Roethlisberger lit the Raiders up for 384 yards, four touchdowns and no interceptions on 36 of 49 passing for a 123.2 QB rating.
The difference this time around?
"We are better in the secondary," Allen said. "We do a better job of covering. We do a better job of keeping the ball in front of us."
All of which allows the front seven to get more of a rush on the quarterback. Besides Moore, defensive end
Lamarr Houston
and defensive tackles
Daniel Muir
and
Vance Walker
had sacks.
"It was important that we were getting him down on the first try," Houston said. "That was one of the goals of our defense."
Added safety
Charles Woodson
: "For the most part, when we got hands on Ben, we got him down. If he was escaping, somebody else would get him down, and that's huge against Ben, because he makes so many plays, shedding guys off him, spinning out of tackles, and today our guys got him to the ground."
October, 27, 2013
10/27/13
10:25
PM ET
OAKLAND -- It was a simple zone-read-option play, really. But when
Terrelle Pryor
stuck the football in
Darren McFadden
's gut and saw
Pittsburgh Steelers
defensive end
Ziggy Hood
crashing down hard, the play turned into history.
Pryor pulled the ball out, allowed Hood to fly past him in fruitless pursuit of McFadden and the Raiders quarterback was, in a word, gone.
A block from receiver
Rod Streater
on Steelers safety
Troy Polamalu
on the right edge ensured it and Pryor's 93-yard scamper was the longest touchdown run by a quarterback in NFL history. It was also the longest run from scrimmage in Raiders franchise history, eclipsing the 92-yarder Bo Jackson had against the
Cincinnati Bengals
on Nov. 5, 1989.
[+] Enlarge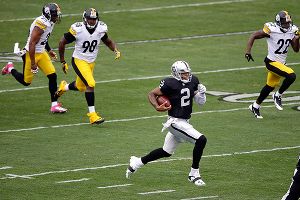 AP Photo/Marcio Jose SanchezTerrelle Pryor left the Pittsburgh defense in his wake en route to a 93-yard TD run.
And Pryor's play happened on the first offensive play of the game. Yes, it set the tone for Oakland's "hold on for dear life" 21-18 victory over the Steelers.
"I was saying that in my head: Polamalu has to get blocked," Pryor said. "When I was coming around the corner I saw
Ryan Clark
flying over with Darren on the fake. So if [Streater] gets his block on Polamalu, I'm going straight up and going to the house."
Done deal.
The entire right side of Oakland's offensive line had no idea what had happened until Pryor was already at or near midfield.
"I had my guy on the ground," said right tackle
Matt McCants
.
"I was driving my head into the crowd [of players tackling McFadden]," added center
Stefen Wisniewski
. "I thought it was kind of weird the crowd was cheering for D-Mac on a 5-yard run."
Right guard
Mike Brisiel
had just pulled to the left side and also thought McFadden took the handoff before looking up and seeing Pryor on Pittsburgh's 40-yard line, with nothing but daylight ahead.
"He was like a dadgum gazelle out there," Brisiel said.
Pryor finished with a game-high 106 yards rushing on nine carries. It more than made up for his 25.7 passer rating after he completed just 10 of 19 passes for 88 yards with two interceptions.
It was on the zone-read that Pryor made his most hay, so to speak.
According to ESPN Stats & Information, the Raiders rushed for a season-high 132 yards on zone-read plays after entering the game with the fourth-most rushing yards in the NFL on zone-read plays. Only the
Philadelphia Eagles
have rushed for more yards on zone-read plays in a game this season.
None of it came as a surprise to the Steelers.
"We looked at it," Pittsburgh coach Mike Tomlin said of Pryor's running ability. "He's done it in every game. That's kind of a component of their offense. I think I labeled that on Wednesday."
But the Steelers could not do much to stop it … at least in the first half.
Pryor said the offensive game plan changed after halftime, with the Raiders protecting a 21-3 lead and wanting to run out the clock.
Instead, the Raiders had just 35 yards of offense in the second half, with one first down.
"When you get that type of lead, you have to have that killer instinct," said Raiders coach Dennis Allen. "And we've got to be able to come out and be more effective in the second half of football games."
It was the third straight home game in which the Raiders jumped out to a quick lead -- 14-0 against Washington in Week 4 and 17-0 against San Diego in Week 5 -- only to watch it slowly erode away into nervous time.
"Like Coach said, we started fast, the defense was playing good," Pryor said. "It's a team win, whether we play great or the defense plays great. I think we had a phenomenal first half and then our defense had a phenomenal second half.
"At the end of the day, it's a team win."
And it all started with a historic run.
October, 27, 2013
10/27/13
8:52
PM ET
OAKLAND -- Observed in the locker room after the
Oakland Raiders
'
21-18 victory
against the
Pittsburgh Steelers
.
Wisniewski
A lunch pail mentality:
The Raiders have used a baseball bat in the past to foster a "bring the wood" mentality. Sunday, there in the middle of the locker room, was a silver hard hat and lunch pail. Right next to a bucket full of orange slices. Message received.
A popular man:
Darren McFadden
is in a contract year and his name is sure to get tossed around a lot before Tuesday's NFL trade deadline. And after he rushed for 73 yards and two touchdowns, the media swarmed around his locker, going about six reporters deep. Might it have been McFadden's swan song in Oakland?
First in, last out:
The makeshift offensive line, which regained the services of center
Stefen Wisniewski
, was the last unit to leave the locker room, with Wisniewski and right tackle
Matt McCants
doing everything but turning off the lights.
A new trend?
For the first time this season, quarterback
Terrelle Pryor
addressed the media at the podium, rather than at a crush at his locker. Then he joined former Raiders lineman
Lincoln Kennedy
for a radio interview in a small auxiliary room.
October, 27, 2013
10/27/13
7:33
PM ET
OAKLAND, Calif. -- A few thoughts on the
Oakland Raiders
'
21-18 victory
over the
Pittsburgh Steelers
:

What it means
: The Raiders ended their decadelong post-bye blues against a rival as ancient as it is disliked. Before Sunday, the last time Oakland won a game immediately after a bye was in 2002, the Raiders had been outscored by a cumulative 271-139 in going 0-10 in said games. The Raiders continued their streak of luck against Pittsburgh, winning their third straight against the Steelers in Oakland. And while the Raiders' offense got off to a quick start in building a 21-3 lead -- including
Terrelle Pryor
's record-setting 93-yard touchdown run on the first play of the game -- it continued its troublesome trend of going flat in the second half. The defense had to again make a late stand after getting outscored 15-0 in the second half.
Stock watch
: Falling --
Jacoby Ford
. Remember when he was an electric game-changer on offense and special teams as a rookie in 2010? Then came injuries and ineffectiveness. Sunday, he endured a rough one, misplaying two punts, fumbling a punt return out of bounds and losing a fumble on a reception deep in Pittsburgh territory that the Steelers would turn into their first touchdown.
Pryor's record run
: The Steelers had to know Pryor was a threat to run, right? And yet, on the first offensive play of the game, Pittsburgh bit hard on Pryor's zone-read option fake handoff to
Darren McFadden
going left, and Pryor, helped by sealing blocks from right tackle
Matt McCants
and receiver
Rod Streater
was gone. Pryor's 93-yard run was the longest by a quarterback in NFL history and the longest run in Raiders franchise history, eclipsing the 92-yarder running back Bo Jackson had against the
Cincinnati Bengals
on Nov. 5, 1989.
King crowns Brown:
Marquette King
fashions himself a football player rather than just a punter. He looked like one on his tackle of
Antonio Brown
in the fourth quarter that possibly saved a touchdown, popping Brown and riding him down after a 44-yard return.
What's next
: The Raiders (3-4) host the
Philadelphia Eagles
(3-5) for the first time since a 13-9 victory in 2009. Oakland has won three of the past four meetings with Philadelphia, coming out on top in 1995, 2001 and 2009 while falling in 2005.

AFC WEST SCOREBOARD
Friday, 8/22
Saturday, 8/23
Sunday, 8/24