AFC West:

2013 Week 8 Upon Further Review
October, 28, 2013
10/28/13
2:00
PM ET
A review of four hot issues from the
Oakland Raiders
' 21-18
win
over the
Pittsburgh Steelers
:
No staying power:
For the fourth straight home game the Raiders had a quick start, only for the offense to play the second half as if stuck in neutral. Against Washington, it was a 14-0 lead before losing 24-14. Against San Diego, the Raiders led 17-0 before hanging on for a 27-17 victory. Two weeks ago, it was a 7-0 lead at Kansas City that would have been 10-0 were it not for a missed field goal. And Sunday, the Raiders led 21-3 before beating Pittsburgh 21-18. Without saying it outright, quarterback
Terrelle Pryor
hinted the play calling got conservative in the second half against the Steelers, and the Raiders were trying to salt away an 18-point lead. Oakland, though, lost its momentum and had but one first down and 35 yards of offense after halftime. Coach Dennis Allen admitted the Raiders need to find a killer instinct.
[+] Enlarge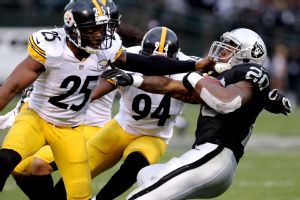 Kelley L Cox/USA TODAY SportsDid the Raiders get too conservative with their play calling in the second half?
FedEx for Tarver?
So incensed was defensive coordinator Jason Tarver at a personal foul call on cornerback
Mike Jenkins
with 8:48 left in the third quarter that Tarver was caught by TV cameras giving a one-finger salute to the officials. And no, he was not telling them they were No. 1. Former NFL vice president of officiating Mike Pereira wrote an online column saying he took it upon himself to alert the NFL about Tarver giving the refs the bird, er, business, and Tarver should expect a fine from the league. Three years ago,
Tennessee Titans
defensive coordinator Chuck Cecil was slapped with a $40,000 fine for flipping off the refs when he disagreed with a penalty. Oh, and the flags thrown at Jenkins were picked up, resulting in no penalty.
Ford stalls:
Three years ago
Jacoby Ford
was a playmaking game-changer for the Raiders. Sunday, he could not get out of his own way. Ford badly misplayed two punts, allowing one to be downed at the 1-yard line, the other to nearly glance off him for a turnover. He fumbled another punt return out of bounds and lost a fumble on a short pass catch in the flat. The Steelers turned that turnover into their first touchdown. "You put the ball on the ground in a game like that, you're giving them an opportunity to get back in the game," Allen said. "Good teams don't do that."
Of explosive plays VII:
And now for our weekly tracking of "explosive" plays. As deemed by Allen, such a play is one that gains at least 16 yards through the air or 12 yards on the ground. The Raiders had four such plays against Pittsburgh: two runs, including Pryor's 93-yard scamper on the first play of the game, and two passes, while the Steelers had five explosive plays, all passes. In seven games, the Raiders have 49 explosive plays (17 runs, 32 passes), with two TD runs and four passing scores. Oakland's opponents, meanwhile, have 46 explosive plays, nine runs and 37 passes with a touchdown each way.
October, 28, 2013
10/28/13
2:00
PM ET
ENGLEWOOD, Colo. -- A review of four hot issues from the
Denver Broncos
'
45-21 win
over the
Washington Redskins
:
[+] Enlarge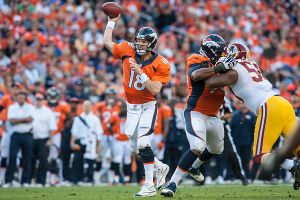 Dustin Bradford/Getty ImagesPeyton Manning may not throw the prettiest ball, but he's still getting the job done.
Wobbly history:
Quarterback
Peyton Manning
's passes seem to receive critical review every time he lets go of the ball. The Internet is alive with the word "wobbly'' or "duck'' through most of the Broncos' games. Is the 37-year-old's arm what it was before four neck surgeries and a year on the sideline? No, but he's adjusted in his comeback. His lower-body movements are a far more important part of his delivery now and he needs slightly more room in the pocket to stride into the throws because of it, which is why pressure up the middle affects him. But after eight games the guy leads the NFL in passer rating (119.4), yards passing (2,919), completions (237) and touchdowns (29). The touchdown total is already more than he had in six of his previous seasons as a starter and 10 more than any other quarterback at the moment. Perhaps folks should just take a breath and see how it turns out since there are plenty of guys with rocket-powered arms sitting at home watching every Sunday.
Kick start:
The Broncos sit at 7-1 heading into their bye week on a historical scoring pace, but they still haven't always come out of the gate very well. They have led four games after the first quarter and trailed in four games, including 14-7 to the Cowboys and 10-7 in their loss to the Colts. For the season, the Broncos have scored at least 76 points in every quarter except the first. They have scored 59 first-quarter points, while scoring 115 fourth-quarter points.
Need more specialness:
Injuries have pushed players up the depth chart and forced the Broncos to make adjustments on special teams. A unit that has consistently been a strength of the Broncos for much of the season had an uncharacteristically choppy outing against the Redskins. A too-many-men penalty on the field goal block unit kept a Redskins' drive going, and Washington scored a touchdown on the next play. The Broncos also surrendered their longest punt return of the season -- a 34-yarder by
Josh Morgan
-- that featured a missed tackle or two.
Flag days:
The Broncos, with six more penalties tacked on to their total Sunday, are among the league's penalty leaders. Only five teams have had more -- through Sunday's games -- than the Broncos' 55 accepted penalties, and only four teams have more penalty yards than the Broncos' 505. Most troubling, however, is on defense, where the Broncos have allowed more first downs by penalty this season (21) than any other team in the league. Defensive tackle
Kevin Vickerson
, with another ill-advised hit on a quarterback Sunday, leads all Broncos players with nine penalties this season, including two for unsportsmanlike conduct and two for unnecessary roughness.
October, 28, 2013
10/28/13
12:30
PM ET
A review of four hot issues from the
Kansas City Chiefs
'
23-17 win
against the
Cleveland Browns
:
[+] Enlarge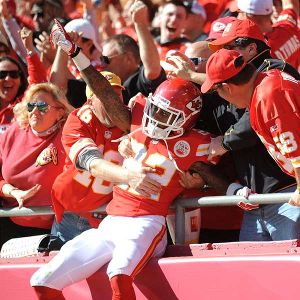 Denny Medley/USA TODAY SportsChiefs WR Dexter McCluster celebrates with fans his first receiving touchdown of the 2013 season.
Slowing Hali:
With five sacks in his previous two games, outside linebacker
Tamba Hali
had been one of the hottest pass-rushers in the league before he ran into Cleveland tackle
Joe Thomas
. Hali was held without a sack for the first time in six games. "Joe is a good player," Hali said. "You could say he's a great player. It's tough to beat him one-on-one. At times, I felt like I won some of the battles [but] the ball was coming out fast."
Sacking Smith:
The Browns sacked Chiefs quarterback
Alex Smith
six times, setting a season high for a Chiefs opponent. The Chiefs can help Smith by using his mobility and moving him from the pocket. Smith has the ability to throw accurately on the run. "A little bit of that is on me trying to make some plays in the pocket on third down," Smith said. "Of course, protection is important, but I don't think that was the sole [problem]." Smith has been sacked 24 times in eight games and hasn't gone one game without being sacked this season.
McCluster's big day:
The Chiefs have been looking for offensive production that comes from someone other than
Jamaal Charles
, and they got it from slot receiver
Dexter McCluster
. He led the Chiefs with seven receptions for 67 yards (both season highs for him), and scored his first receiving touchdown on a 28-yard catch from Smith. For the Chiefs, maybe the most encouraging of McCluster's stats was this: He caught seven of the 10 passes Smith threw his way. Previously, throwing McCluster's way had been a low percentage move for Smith. Before Sunday, McCluster had caught just 16 of the 31 passes thrown his way.
Looking toward the record book:
The Browns scored 17 points, tying a season high for Chiefs opponents. Tennessee also scored 17 against the Chiefs on Oct. 6. In Sunday's game in Buffalo, the 8-0 Chiefs can tie the NFL record for consecutive games of holding opponents to 17 points or fewer (held by the 1977
Atlanta Falcons
). The Chiefs' streak of eight is tied for second in league history with the 1970
Minnesota Vikings
and the 1971
Miami Dolphins
. Opponents have scored only 98 points against the Chiefs this season, but that's just fifth-best through eight games in franchise history.
October, 28, 2013
10/28/13
12:00
PM ET
A review of four hot issues from the
San Francisco 49ers
' 42-10
victory
against the
Jacksonville Jaguars
in London on Sunday:
[+] Enlarge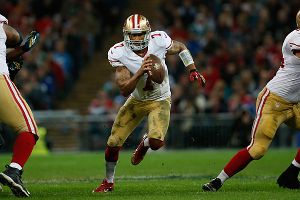 AP Photo/Matt DunhamColin Kaepernick and the 49ers ended the first half of their season with a dominant performance.
49ers are rolling:
The 49ers ended a 10-day road trip in style. They thrashed winless Jacksonville in London. This game was never in question as San Francisco led 28-0 in the second quarter. Last Sunday, the 49ers led the Titans 24-0 at one point. San Francisco has won five straight games and is 6-2 at its bye. The 49ers have scored at least 31 points in every game during the win streak. Sunday was an all-around great day for the 49ers. Kansas City improved to 8-0, so a third-round 2014 draft pick became a second-round pick to complete the trade of quarterback
Alex Smith
. The 49ers ended up with two second-round picks in the deal. It's a win-win.
Trade deadline looms:
Will the 49ers make a trade? The NFL trade deadline is 4 p.m. ET on Tuesday. They have been rumored to be interested in receivers for weeks. Still, it is unlikely a trade is made with
Michael Crabtree
and
Mario Manningham
returning. The NFL Network reported the team is willing to deal backup running back
Anthony Dixon
. He is a free agent at the end of the season. The 49ers likely wouldn't get much in return for Dixon. He is a key special teamer and might be the new kick returner.
Kyle Williams
was benched Sunday after a miserable game.
Kaepernick is explosive:
For the second straight game, 49ers quarterback
Colin Kaepernick
made big plays with his legs. He had 69 yards and a touchdown on 10 carries at Tennessee. Sunday, he had 54 yards and two touchdowns on seven carries. The 49ers are opening up Kaepernick in the ground game as the season goes on, and that's dangerous for opposing defenses.
Greg Roman sends message?
San Francisco's offensive coordinator Greg Roman had a great night calling plays on Sunday. It was varied and aggressive. The Jaguars' defense had no answer. It could serve as a retroactive reminder to first-year Jacksonville general manager David Caldwell, who didn't wait to interview Roman for the Jaguars head coaching job when the 49ers went to the Super Bowl, even though Roman and Caldwell were college teammates. Caldwell went with Gus Bradley. It seems it's just a matter of time before Roman gets the head-coaching call somewhere.