AFC West:

2014 Divisional Round SD-DEN
January, 13, 2014
1/13/14
12:15
AM ET
DENVER --
Broncos
quarterback
Peyton Manning
may have a long list of things he's worried about, a selection that now includes the
New England Patriots
in the AFC Championship Game, but a medical exam following whatever becomes of the Broncos' season is not one of them.
Manning was asked after the Broncos'
24-17 victory
over the
San Diego Chargers
on Sunday if a medical exam following the season, which according to a report from ESPN's Chris Mortensen will determine whether Manning plays in 2014, was weighing on his mind.
[+] Enlarge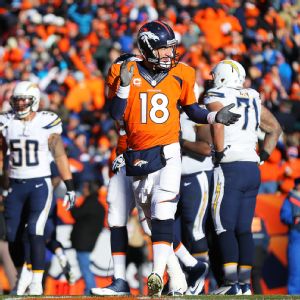 Justin Edmonds/Getty ImagesPeyton Manning said a medical exam that could sideline him for the 2014 season is not on his mind. "That question is way far ahead. I am not there."
"It's really not. What's weighing on my mind is how soon I can get a Bud Light in my mouth," Manning said. "That's priority No. 1. It was an intense game, up and down, a lot of emotions. Even the Patriots is [too far] ahead. And that question is way far ahead. I am not there."
Manning said last week that "certainly, the light is at the end of the tunnel for me, no question," so that fueled at least some discussion about his playing future. Much like last season when he underwent a medical exam before the new league year began, he will undergo a medical exam on his surgically repaired neck. If doctors give Manning the thumbs-up, he will play in 2014. If not, then he would not play next season.
Manning has always said if the doctors told him, even during his recovery following spinal fusion surgery, he shouldn't play that he would walk away from the game knowing "it's been a good run."
The Broncos privately say they have no indications Manning would not receive a go-ahead to play next season, and as it stands now, expect him to be behind center in 2014.
Manning finished the regular season with 5,477 passing yards and 55 touchdowns, both single-season records. Manning was 25-of-36 passing for 230 yards with two touchdowns and one interception in Sunday's win and said after the game that he's worried only about his next game.
"This team has been a one-week-at-a-time season," Manning said. "For all we've been through -- losing our coach, losing a lot of different guys to injury -- that approach has served us well, and I think we need to keep that approach from here on out."
January, 12, 2014
1/12/14
11:55
PM ET
DENVER -- This time the knee wasn't a question mark.
No, this time the knee was an exclamation point. It was the final piece of punctuation on a chapter the Broncos had waited a year to close.
When quarterback
Peyton Manning
knelt in victory formation on the last play of a
24-17 win
over the
San Diego Chargers
in Sports Authority Field at Mile High Sunday, you could say a hard-nosed January wind off the Continental Divide was simply an entire region's sigh of relief.
"Absolutely, we have been in a position like this before, except this time we found a way to get it done," Broncos cornerback
Champ Bailey
said. " ... Until the clock says zero, you don't have the win. This time we had the win, we kept our foot on the pedal."
It had been 365 days, 12 calendar pages and endless hours of what-if hand-wringing by many of the same people in many of the same seats, since Manning took a knee in a playoff game. A year since he took a knee with 31 seconds to play, two timeouts in hand, in a game the
Baltimore Ravens
had just tied at 31 on a remember-when bomb from
Joe Flacco
to
Jacoby Jones
.
You know the rest of the story. Manning threw a late interception, the Ravens kicked a field goal to win in double overtime on the way to an eventual Super Bowl title and the kneel down is replayed in family rooms across the Front Range.
On Sunday, with the Broncos holding a 24-17 lead, a growing nervousness swept over a home crowd that had watched a 17-0 lead evaporate in the fourth quarter. With 3 minutes, 6 seconds to play, the Broncos were indeed a little wobbly, facing a third-and-17 from their own 20-yard line and the weight of history resting on their shoulders, looking to drag them down.
"Aw man, third-and-17, tough position to be in as a team," Broncos tight end
Julius Thomas
said.
"We've been working on situations all year long ... that game last year forced us to address different kinds of situations all season long, training camp, during the season and Coach [John] Fox has called for situations," Manning said. " ... All that hard work paid off for us in that situation."
As he had for the entire afternoon, offensive coordinator Adam Gase had the Broncos in a three-wide receiver look with Thomas in the right slot. When the Chargers didn't walk a linebacker out on Thomas, Manning got the coverage he expected. At the snap Thomas moved through the flat, toward the sideline, and the Chargers did not get a defender there to help.
"It was a lack of communication on our part," Chargers coach Mike McCoy said.
Manning stepped up to avoid a Chargers rush that was closing in and dropped a perfect throw into Thomas' hands as he approached the right sideline. Thomas got both feet down, right in front of his teammates, and effectively ended a Chargers rally -- closing the book on last season's heartbreak.
"[Third-and-17] certainly a no-brainer there what you had to do," Manning said. "... Great play call by Adam, really was a big-time play call, got them in the right look and a good catch by Julius."
"Had a good look, Peyton threw a great pass, was able to get both feet in," Thomas said. "Just really gave us the opportunity to keep the offense on the field."
Three plays later Manning hit Thomas again, this time to convert a third-and-6 for good measure. In the end the Broncos didn't leave it to chance, didn't put their fate in somebody else's hot hand. This time they got the first down they needed, and then some. This time they kept the ball for the game's final 3:51.
They didn't give it back to a quarterback who had that look in his eye --
Philip Rivers
threw for 173 yards in the fourth quarter after throwing for 44 yards in the first three quarters combined. They didn't allow a chance for a miracle, didn't leave room for another can-you-believe-that, heart crusher they would have to live with for at least another year.
No, this time the Broncos handled their business and closed the deal.
"Philip got hot there in the second half and I did not want to give him the ball back there at the end," Manning said. "There was some real want-to on offense to stay on the field that last series ... We'll enjoy this one, you're supposed to enjoy these wins. They're hard to come by."
In the end, there were plenty of football reasons the Broncos won and moved on to the AFC Championship Game, plenty of plays that meant at least something along the way.
They had dragged a year's worth of baggage from a drama-filled season, a year's worth of second-guesses and why-didn't-you-just questions into the stadium Sunday. For some, their record-setting 606-point season had simply been labeled as an extended preseason because of last January's loss.
But the Broncos -- with that third-and-17, with that closing 3:51 of work -- can leave all that behind now. People should see a difference in the days ahead because of it, whether the Broncos will admit it or not.
"I really think the team needs to be commended for even getting to this point," Manning said. "A lot of teams had disappointing losses last year, Atlanta, Washington, everybody says in that locker room: 'Hey let's get back next year.' It just doesn't happen, it's hard to get back ... I told the team [Saturday] night, you need to be commended for getting back to this point. I mean we've been through more this year, it's hard to explain all the stuff we've been through ... We're proud and happy to be to this point and certainly want to keep it going."
January, 12, 2014
1/12/14
11:47
PM ET
DENVER --
Denver Broncos
cornerback
Chris Harris
Jr. will have an MRI exam Monday morning on his injured knee and ankle, and privately some team officials are not optimistic about what they will hear from the medical staff.
Both injuries will be examined, but there was more concern late Sunday night about his knee. Harris Jr. left Sunday's 24-17 victory against the
San Diego Chargers
in the third quarter and did not return.
The Broncos led 17-0 when Harris Jr. departed and Chargers quarterback
Philip Rivers
targeted Harris Jr.'s replacement --
Quentin Jammer
-- often down the stretch as San Diego scored all 17 of its points in the fourth quarter.
"I have to be better,'' Jammer said following the game. "There were some technique things I need to clean up.''
Harris Jr. has been the Broncos' most consistent defensive back and because of his versatility he plays in all of the team's packages. Harris Jr. played 1,042 snaps on defense in the regular season, the most of any Broncos player on that side of the ball. He was one of just two players -- linebacker
Danny Trevathan
was the other -- to even top 900 snaps in the regular season.
The Broncos will have to adjust plenty of things against the
New England Patriots
with Harris Jr. not expected to be available. The Broncos could leave Jammer in the base defense and keep
Champ Bailey
in the slot as the nickel cornerback.
They could move Bailey back outside if they think he's ready after three games since his return to the lineup from a left foot injury that kept him out of 11 games this season. And the Broncos could simply use rookie
Kayvon Webster
, who is playing with a cast on his surgically-repaired right thumb, more as well.
January, 12, 2014
1/12/14
11:10
PM ET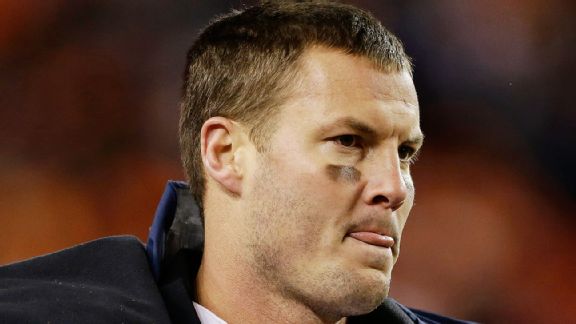 AP Photo/Charlie RiedelPhilip Rivers and the Chargers rallied for 17 points in the fourth quarter, but ultimately fell short.
DENVER -- The
San Diego Chargers
needed to play mistake-free football to defeat the top-seeded
Denver Broncos
in the AFC playoffs.
They didn't come close to that lofty standard, losing
24-17
to bring to an end the team's surprising playoff run.
However, staying true to his overarching philosophy, Chargers quarterback
Philip Rivers
said his teammates played with character, scoring 17 points in the fourth quarter and putting a scare into the sellout crowd at Sports Authority Field at Mile High.
"We have nothing to be ashamed of," Rivers said. "We fought together, played together. The way we competed and the character of this team allows us to hold our heads high."
The Chargers played keep away from the Broncos in the team's 27-20 victory here a month ago, controlling the ball for more than 38 minutes. But with workhorse running back
Ryan Mathews
slowed because of a left ankle injury, the Chargers could not use the running game to drain the clock and keep
Peyton Manning
and Denver's potent offense off the field.
"I was trying to do whatever I could," Mathews said in the locker room afterward. He was noticeably limping on his way to the team bus.
Mathews finished with just 26 yards on five carries, and did not play in the second half. The Chargers were held to 259 total yards, 65 on the ground, and finished 4-of-12 on third down.
San Diego led the league in third-down efficiency during the regular season, converting 49 percent.
Did offensive coordinator Ken Whisenhunt's head coaching interviews with Detroit, Tennessee and Cleveland this past week contribute to San Diego's struggles on offense?
Chargers head coach Mike McCoy wasn't buying it.
"Not one bit," McCoy said, when asked if Whisenhunt's interviews were a distraction. "I went through the exact same thing in the bye week last year. That was the furthest thing from my mind -- taking another job -- when we kicked off.
"That was the last thing I was thinking about, getting another job. We have a lot of pride in this profession as coaches, and you try to win. There's no guarantees, so you try to do everything you can for the organization you're working for, and that's who you work for. That was the attitude we talked about the whole time, and that's what Ken did."
While San Diego sputtered offensively, the Chargers stayed in the game with a defense that held the Broncos to less than 30 points for the third time this season. The only other team to keep the Broncos to less than 30 this season was Kansas City.
The Chargers forced two turnovers and kept the game within striking distance, allowing the offense to make a run in the final quarter.
"We played well," Chargers safety
Eric Weddle
said. "There wasn't many big plays, which is always our No. 1 goal going against them. Too many little mistakes, though."
The Chargers ultimately couldn't get off of the field on third-and-17 from Denver's 20-yard line with 3:06 left, with a miscommunication in coverage allowing Manning to complete a 21-yard strike to tight end
Julius Thomas
.
From there, Manning and the Broncos salted away the game.
Despite the loss, San Diego's surprising playoff run allowed 37 of its players to gain valuable experience competing in the NFL playoffs for the first time.
"Playoff football is awesome," Rivers said. "There is nothing better when it comes to the NFL. There is the NFL, and then there is NFL playoffs. It's in a separate column. You want to be in them."
Defensive lineman
Corey Liuget
, who finished with five tackles, looks forward to earning another chance to compete in the playoffs next season.
"We just have to learn from it," he said. "And next year, when we come into this type of environment, we know what we have to do."
Added cornerback
Shareece Wright
: "We have high expectations now. We expect a lot from this team, and each player. We're looking forward. And we're trying to take the positive out of everything."
In his first season as head coach of the Chargers, McCoy molded this group into a cohesive unit that, with a little more talent and seasoning, could develop into a consistent playoff contender.
"We became a team in a hurry this year," McCoy said. "It's not something that happens overnight. But it's something that we've built over time. And it showed a lot about them -- the way that they care about one another. We got a good group of guys."
January, 12, 2014
1/12/14
8:02
PM ET
DENVER -- A few thoughts on the
Denver Broncos
24-17
win
over the
San Diego Chargers
:

What it means:
A 365-day wait, with all of the questions and the collective angst from their faithful in tow, is over. The Broncos faced a pile of pressure from within and from the outside Sunday to repair what went wrong in the double-overtime loss to the
Baltimore Ravens
last Jan. 12. Sunday's win gave the Broncos their first postseason victory since a wild-card win over the
Pittsburgh Steelers
following the 2011 season. It gave the team their first AFC Championship Game appearance since the 2005 season and a rather hearty serving of relief after a third-and-17 conversion just before the two-minute warning. They will play better next week with the pressure off.
Stock watch:
There was a point this season when rookie running back
Montee Ball
had lost three fumbles -- he lost his third of the season Nov. 24 against the Patriots -- and the Broncos were considering dialing back his workload. But Ball promised then he could fix the problem and has kept his word. He hasn't fumbled since and the Broncos gave him premium carries Sunday. He showed the balance and the vision in traffic the Broncos saw when they drafted him. Ball had 52 yards on 10 carries by the time the third quarter drew to a close. Folks will see more of Ball moving forward as the Broncos would like to split the carries between him and
Knowshon Moreno
as evenly as possible.
Eye on Harris Jr.:
Before Broncos cornerback
Chris Harris
Jr. left Sunday's game with knee and ankle injuries, the Broncos defense was easily having its best outing of the season. The Broncos had frustrated Chargers quarterback
Philip Rivers
and controlled the run game. However, after Harris left early in the second half, things turned slightly, including a touchdown throw from Rivers to
Keenan Allen
with 12:59 left in the game with
Quentin Jammer
in coverage. Jammer was in for Harris Jr. The injury will be significant if Harris Jr. is unable to play next week. He has been their most consistent defensive back and he plays in every situation.
Wind-swept trouble:
Broncos offensive coordinator Adam Gase always said wind has a far bigger impact on the Broncos' offense than cold, rain or anything else. And on a blustery day -- with wind gusts in the 40-mile-an-hour range -- it had an impact at times on the Broncos' high-flying ways. Broncos quarterback
Peyton Manning
was efficient and the Denver offense moved the ball at will on multiple drives. But facing into the wind the Broncos also struggled at times and looked out of sorts. Toss in a few drops, an ill-timed penalty or two and a missed field goal, and the road got decidedly more bumpy for the Broncos in the second half. If they are going to be the last team standing, the Broncos will have to have a definitive answer against a healthy, physical opponent, when they can't work their passing game at warp speed.
What's next:
Manning versus Brady yet again. The
New England Patriots
will come to Denver for Sunday's AFC Championship Game. To make it to a Super Bowl, Manning will have to solve coach Bill Belichick's defensive riddle, and the Broncos will have to slow the Patriots' powerful run game.
January, 12, 2014
1/12/14
7:58
PM ET
DENVER -- A few thoughts on the
San Diego Chargers
'
24-17 loss
to the
Denver Broncos
in the AFC divisional round.

What it means:
The Broncos closed the door on San Diego's Cinderella season, but the Chargers provided a bit of a scare for Denver late by scoring all 17 of their points in the fourth quarter. San Diego's banged-up offense struggled to move the ball early. The Chargers had just 259 total yards. The Chargers finished 9-7 in the regular season and 1-1 in the postseason.
Chargers limp to the finish:
San Diego could not overcome several injuries that left the Chargers shorthanded. Running back
Ryan Mathews
tried to play through a balky left ankle injury. However, Mathews was mostly ineffective, finishing with 26 yards on five carries. Mathews did not play in the second half. Right guard
Jeromey Clary
was inactive due to a shoulder injury, with
Johnnie Troutman
replacing him at right guard. Linebacker
Manti Te'o
(concussion), safety
Marcus Gilchrist
(shoulder) and punter
Mike Scifres
(back) all suffered injuries during the game. Te'o did not return.
Rivers faces pressure:
Playing behind a makeshift offensive line,
Philip Rivers
was under pressure most of the contest. Rivers was sacked four times, finishing with 217 passing yards and two touchdown passes. Once again,
Keenan Allen
was Rivers' favorite target, finishing with six catches for 142 yards and two touchdown catches. Allen became the first rookie with 100-plus receiving yards and two touchdown receptions in a playoff game since
Willie Green
against Dallas in 1992.
Penalty watch:
San Diego coach Mike McCoy's team has usually been a disciplined group, but the Chargers finished with eight penalties for 63 yards, including four neutral zone infractions.
Stock watch:
Undrafted rookie free agent safety
Jahleel Addae
was one of the few bright spots for the Chargers. He finished with a team-high eight combined tackles, and also forced Denver tight end
Julius Thomas
to fumble, which was recovered by cornerback
Richard Marshall
. The play kept the Chargers in the game in the first half.
What's next:
San Diego begins preparing for the draft.
January, 11, 2014
1/11/14
7:00
AM ET
ENGLEWOOD, Colo. -- The
Denver Broncos
have said many things this week as they moved toward Sunday's divisional round game against the
San Diego Chargers
. And they've tried not to say some things as well.


Words like "playoffs" or "postseason" have been replaced in and around the team's suburban Denver complex. Those words have been dumped, from head coach John Fox on down, in favor of something they believe fits the situation a little better.
The Broncos simply call it "the tournament."
"Because once you lose, you're out," running back
Knowshon Moreno
said. "It's a tournament. Once you lose, you're going home. No one wants to be that team to go home so you have to do everything you have to do throughout the week to make sure those things don't happen -- and see what happens on Sunday."
The Broncos' three losses this season have come to the three other teams remaining in the AFC bracket. That includes a Dec. 12 loss to the Chargers, the Broncos only loss in Sports Authority Field at Mile High this season. But to survive and advance in the tournament format, the Broncos will have to deal with important matchups.
First and everything:
Last season's double-overtime loss to the
Baltimore Ravens
came on Jan. 12, 2013, so the Broncos will have waited a year to the day for a second chance, an opportunity to make things right. For months, they have been asked to discuss, analyze, characterize and sift through that crushing loss.
And quarterback
Peyton Manning
's 9-11 playoff record has been the topic of the week, both near and far, as has the weather, the wind, the Chargers' defense and anything else that has caused the Broncos' faithful to commence the hand-wringing.
That all certainly brings a lot of pressure to bear over the course of a year. How the Broncos gather themselves and execute early on could have a lot to say about how things go.
If the Broncos are tight and feeling the heat, the Chargers will have an easier time getting the tempo they want. When the Broncos have been at their best this season, they have jumped all over opposing defenses and given their own defense the luxury of playing with the lead. They have to find a way to lock in and get it done in front of a crowd that will have last season's loss in front of its collective mind, at least until the Broncos get another postseason win to push it out.
Left has to be right:
Chargers defensive end
Corey Liuget
repeatedly created problems against the left side of the Broncos' offensive line -- tackle
Chris Clark
and guard
Zane Beadles
-- in the Dec. 12 game, including hitting Manning's arm on an interception.
The Chargers used a variety of looks in the rush in that game, bringing defensive backs from off the ball and dropping front seven players into coverage, but in the end Liuget was the disruptive player in the San Diego front and made it all work. Chargers defensive coordinator John Pagano created enough uncertainty with the variety that the Broncos had uncharacteristic assignment mistakes.
Linebackers in the forefront:
Yes, both of Chargers rookie
Keenan Allen
's catches Dec. 1 against the Broncos went for touchdowns, but for the Broncos defense to have the kind of night they want linebackers
Danny Trevathan
and
Wesley Woodyard
will each need a quality day in coverage.
Allen is the only wide receiver among Rivers' top three targets this year. Tight end
Antonio Gates
was targeted 113 times by Rivers in the regular season -- the most on the team -- and running back
Danny Woodhead
was third, having been targeted 87 times.
But when Rivers throws to Woodhead, he gets a high percentage of completion with a double-take worthy 87.4 percent of those targets being caught. When the Broncos go to their nickel look -- and they played the nickel more than any other personnel grouping in the Dec. 12 game (34 snaps) -- that often puts Woodyard and Trevathan on duty in the intermediate routes.
To keep the Chargers from grinding out drives they have to keep the ball out of the hands of Gates and Woodhead.
Play big when small(er):
When the Broncos are in those smaller personnel groupings, they also have to defend the run with an edge. In the Chargers win, San Diego held the ball for 38 minutes, 49 seconds, and limited the Broncos' offense to a season-low 54 plays, including penalty snaps.
And they did it, at times, by finding just enough room to convert third downs against the Broncos' specialty packages when they had to, including
Ryan Mathews
' 23-yard run for a touchdown in the third quarter when the Broncos were in the dime.
Champ Bailey
's return to the lineup as the Broncos' nickel cornerback gives the Broncos a far more versatile look, especially with Bailey's sure tackling around the line of scrimmage.
Knowledge is power:
Certainly plenty has been made of Chargers head coach
Mike McCoy
's familiarity with Manning's game, offensive coordinator Adam Gase's philosophy and the Broncos' playbook as a whole because of McCoy's time in Denver.
But the Broncos know McCoy just as well and in the end these two division rivals won't have many secrets unless they break out something they haven't done much, or at all, already this season.
So how things get done will matter far more than who knew what before kickoff.
But the Broncos may need a little curveball to shake things loose and Gase has shown some precedent already this season to break out a little something new.
When Gase had the Broncos open the Dec. 22 win over the
Houston Texans
in a three-wide receiver, two tight end set -- no running back in the formation -- it was a look Denver had played for just once previously this season. The Broncos played the first six snaps of the game out of the look and effectively moved the ball against the Texans' base 3-4 defense.
With
Wes Welker
back in the lineup -- he did not play in the Dec. 12 game -- the Chargers will face more difficult choices in coverage and the Broncos will have more options, particularly with Welker and tight end
Julius Thomas
in the slot. The Chargers can't double both, and San Diego can't play safety
Eric Weddle
everywhere. So look for Pagano to try to muddy the water in coverage, dropping seven or even eight players into the passing lanes and look for the Broncos to turn up the heat on the Chargers cornerbacks, especially in the middle of the field.