AFC West:

2014 Memorable Plays Winner
July, 11, 2014
Jul 11
10:00
AM ET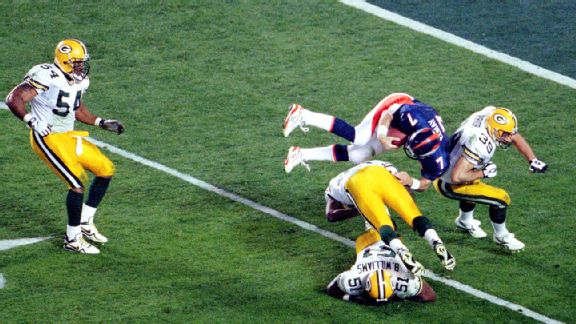 Photo by Kevin Reece/Getty Images
Score:
Broncos 31, Packers 24
Date:
Jan. 25, 1998
Site:
Qualcomm Stadium
We have a winner. The voters and I agree that The Helicopter is the
Denver Broncos
' most memorable play.
John Elway
played quarterback for 16 seasons for the Broncos, started five Super Bowls, and was the winningest starting quarterback in NFL history when he retired following the 1998 season. He went 148-82-1 with 47 game-winning or game-saving drives in the fourth quarter or overtime.
For many, he will always be the face of franchise, now as the team's top football decision-maker.

And if Elway says his put-it-all-on-the-line dive for a first down in the Super Bowl is the favorite play of his career, as he has stated on several occasions, it's probably worth a long look for any list, and it sits at the top of this one.
In terms of franchise context -- the context of Elway's career before the play and what the play meant on the game's biggest stage -- it is the most memorable play of all the plays the Broncos have run. It was Elway's fourth career Super Bowl start, his career was in the homestretch, and a Super Bowl ring had eluded him to that point.
The Broncos -- with a passionate fan base that has produced an ongoing streak of multiple decades worth of sold-out home games -- had done plenty through the years, but had not won a Super Bowl since the team's inception in 1960.
And with the title on the line and the game tied 17-17, Elway did what Elway had done so many times in so many situations; he turned trouble into football prosperity. But this time he hurled his then-37-year-old body at three Packers defenders to do it.
Tucked in the game's play-by-play, it reads simply as an 8-yard run for a third-quarter first down. But for the players on the field with Elway, those on the sideline, the coaches who saw it unfold, and thousands of the team's faithful who simply call it The Helicopter, it will always stand alone.
The late Mike Heimerdinger, the former Titans and Jets offensive coordinator who was a wide receivers coach in Denver at the time, once simply called it "probably the greatest thing I ever saw on a football field. You just knew when he started to run he was going to do it, and when he got up and went back to the huddle you just knew we were going to win that ring."
July, 11, 2014
Jul 11
10:00
AM ET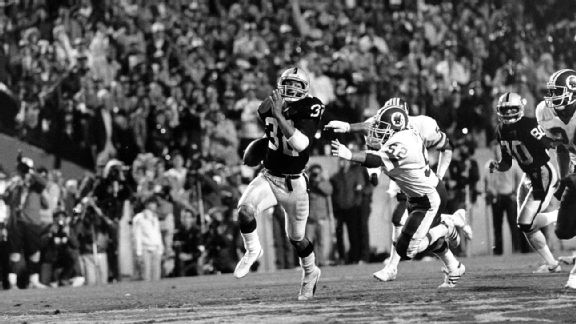 AP Photo
Score
: Raiders 38, Washington 9
Date
: Jan. 22, 1984
Site
: Tampa Stadium
We have a winner. The voters picked 17 Bob Trey O as the most memorable play in
Oakland Raiders
' franchise history, and I concur with the selection. Indeed, 17 Bob Trey O, or when Marcus Allen ran with the night in Super Bowl XVIII, is the play I consider most memorable in the long and winding history of the Raiders.
Sure, the Sea of Hands and the Holy Roller may have better monikers, but Allen reversing field on a busted play and breaking off a then-Super Bowl record 74-yard touchdown run on a play called 17 Bob Trey O tops the list.

For one, it happened on the game's biggest stage.
For another, it put a dagger into the defending champs and basically clinched the Raiders' third Lombardi trophy as it gave them a 35-9 lead on the final play of the third quarter.
Plus, it was the signature play of Allen's MVP performance, in which he ran for a then-Super Bowl record 191 yards, on 20 carries, with two touchdowns, plus two receptions for 18 yards.
Lastly, it got Allen a plug by the leader of the free world after the game, a seeming U.S. weapon in the Cold War.
"I have already had a call from Moscow," President Ronald Reagan told Raiders coach Tom Flores in the congratulatory phone call to the locker room. "They think Marcus Allen is a new secret weapon and they insist we dismantle him."
From his perspective, Allen said the run was like time travel, since everyone else seemed to slow down.
"You're in such a zone and at the height of instinct," Allen told ESPN Radio affiliate 95.7 The Game in a Super Bowl week interview this year. "You just really get out of your own way. Don't question it and just get out of your own way and just go. And that's what I did. It was just one of those games -- I had several of them -- but, obviously, to have it at that particular time was the greatest thing in the world."
Allen took the handoff from Jim Plunkett and went too wide to the left of pulling right guard Mickey Marvin, and was met by safety Ken Coffey. Allen had to immediately spin to his left, reverse field, and accelerate through a hole on the right side of the line. Then he raced to the left pylon.
"To make a run like that, in a game like that, at a time like that, it was just, it was pure magic," Allen told the NFL Network. "It was beautiful."
Which is why it's also the most memorable play in Raiders history.
July, 11, 2014
Jul 11
10:00
AM ET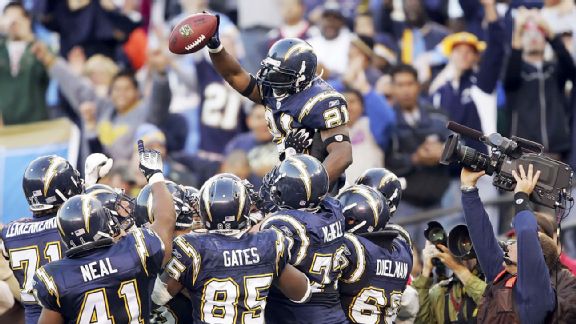 Lisa Blumenfeld/Getty Images
Score:
Chargers 48, Broncos 20
Date:
December 11, 2006.
Site:
Qualcomm Stadium
Voters got it right, picking LaDainian Tomlinson breaking the single-season touchdown record in the
San Diego Chargers
' 48-20 win over the
Denver Broncos
that clinched an AFC West title as the franchise's most memorable play.
Tomlinson scored three touchdowns in the game. The record-breaker came on a 7-yard run with just over three minutes left. Tomlinson took a handoff from
Philip Rivers
running to his left, bounced outside and evaded a tackle to reach the end zone.

Tomlinson finished the season with 31 total touchdowns, earning league MVP honors.
Certainly, Dennis Gibson's pass deflection against Pittsburgh served as a watershed moment in franchise history because it clinched San Diego's first Super Bowl appearance. However, that moment lost some luster when the Chargers were overwhelmed by San Francisco 49-26 in the big game.
The other candidate for most memorable was Kellen Winslow Sr.'s valiant performance in San Diego's 41-38 overtime win against Miami in a 1981 AFC divisional playoff game. Winslow finished with 13 receptions for 166 yards and a touchdown, but more importantly, blocked a field goal at the end of regulation that allowed his team to earn the win in overtime.
While Winslow's effort might have been the most impressive by a San Diego player in franchise history, it does not match what Tomlinson's performance meant to the franchise in terms of historical significance.
We also would be remiss in not mentioning a performance that did not make the cut -- running back Keith Lincoln's jaw-dropping 329 yards from scrimmage in San Diego's 51-10 dismantling of the Boston Patriots in the 1963 AFL title game, the franchise's only league title.
However, Tomlinson's record-breaking performance stands apart from the others for a few different reasons. The moment represents one of the shining accomplishments of the Chargers' return to a winning franchise during the decade of the 2000s.
Tomlinson's single-season-record 31 touchdowns still stands. His 145 rushing touchdowns ranks second all-time in NFL history, and Tomlinson is perhaps the best player in franchise history.
July, 11, 2014
Jul 11
10:00
AM ET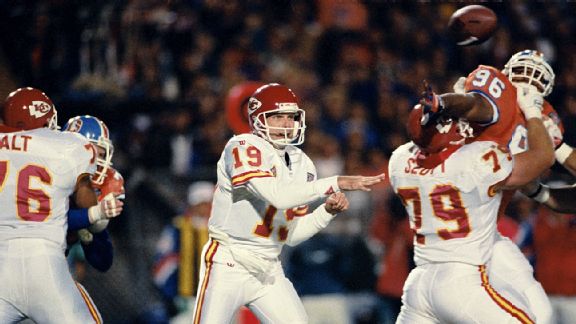 Joseph Poellot/Getty Images
Score:
Chiefs 31, Broncos 28
Date:
Oct. 17, 1994
Site:
Mile High Stadium
To me, settling on the three most memorable plays in
Kansas City Chiefs
' history was the difficult part. Picking just three meant leaving hundreds that were also memorable -- some positive and others negative -- behind.
The voters picked
Joe Montana
's late touchdown pass to
Willie Davis
as the Chiefs' most memorable play. The play lifted Kansas City to a dramatic win over
John Elway
and Denver in 1994 in one of the greatest Monday night games ever. The voting was tight -- with my choice, Otis Taylor's Super Bowl clinching touchdown, falling by two percentage points.
To me, choosing Taylor's TD as the most memorable play in the franchise's 54-season history really wasn't that difficult.

As great as Montana's TD throw and 65 Toss Power Trap might have been, they weren't quite to the level of Taylor's catch and run down the sideline for a 46-yard score in the Chiefs' only Super Bowl victory. That play wrapped up a 23-7 victory over the
Minnesota Vikings
and -- other than perhaps the final out of the
Kansas City Royals
' only World Series championship in 1985 -- might represent the greatest moment in Kansas City's sports history.
Let me put it another way: If you're a Chiefs fan, I defy you to watch the video of Taylor's catch and run and not get chills.
Taylor's touchdown isn't as storied as the Chiefs' other touchdown that day, Mike Garrett's 5-yard scoring run. That touchdown remains a big part of Chiefs history and not just because of its significance. The play known as 65 Toss Power Trap is also celebrated in Chiefs' lore because Stram, who was being recorded by NFL Films, announced it was coming and celebrated it after Garrett's touchdown.
But Taylor's TD was far more dramatic. While the Montana-to-Davis touchdown carried plenty of drama, it happened during an October game during a season in which the Chiefs would eventually finish 9-7.